Review:
Noreve 'Wallet Case for a Smartphone'
Score:
76%
With most of us taking two things everywhere we go - our smartphones and our wallets - an obvious question to ask at some point is "Why not put the two together?" Now, while there have been 'folio' cases for many smartphones for years, usually with a few token card slots inside the front flap, this brand new Noreve accessory takes the concept and dials it up to 11. With understandable caveats for bulk and (here) price!
Buy Link | Download / Information Link
The concept then, as with the much cheaper Olixar Primo Universal reviewed a whle back, is to go all out, with storage for all but the biggest 2018/2019 smartphones, a compartment for notes/bills, a zipped pocket for coins (e.g. for entry to things, car parks, etc.) and, in this case, up to six credit/debit/loyalty cards. Now that's what you call a case.
It comes with an obvious caveat, mind you, in that everything is in the one case. So if you lose (or get robbed of) this then you've lost your phone and your wallet. At least with a separate wallet and phone, you can use the phone to report the lost cards, and if the phone is gone then it's only a relatively minor inconvenience until it's replaced and restored from the Cloud.
Noreve have also gone 'all out' on the materials, as they usually do. Not only are we talking real leather, we're talking made-to-order leather - on the product page you get to choose the exact material/finish/colour and someone sits down and actually makes the perfect case you wanted.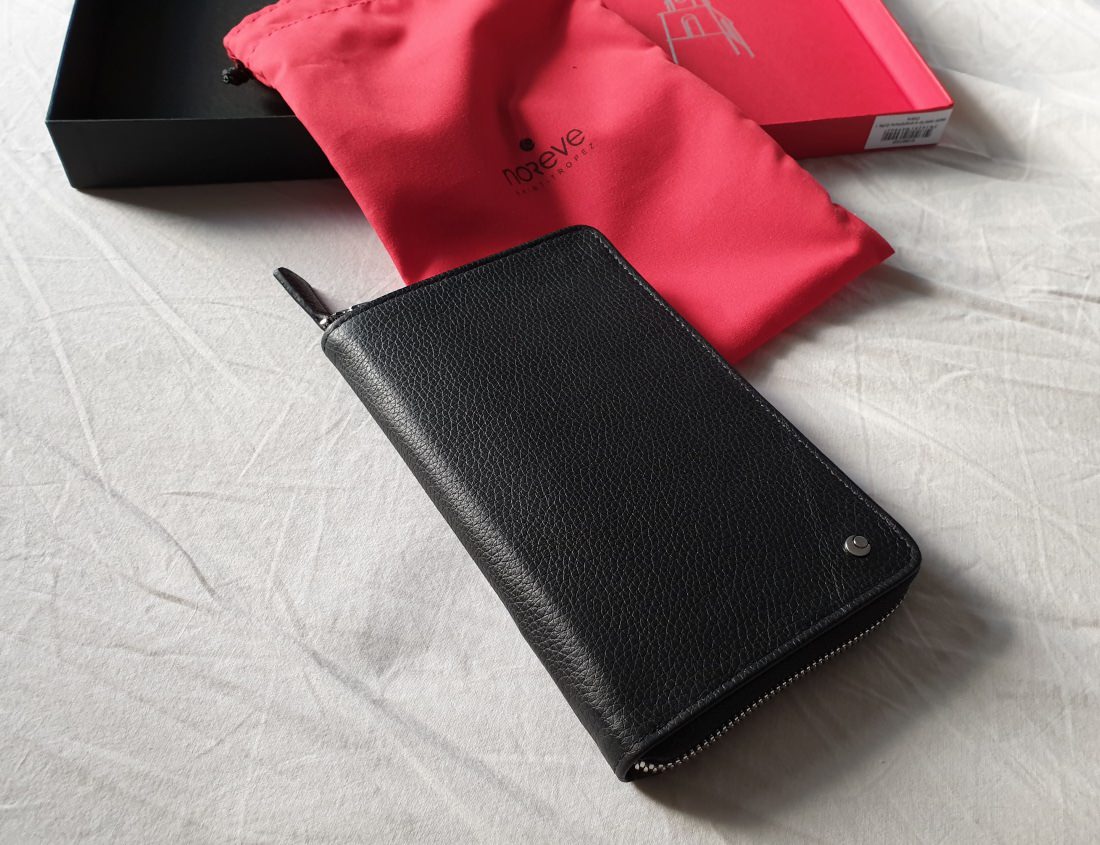 As usual with Noreve cases, it arrives in a luxury presentation box and bag. This time round though, it's entirely appropriate, for this case costs 220 Euros. Yes, you can close your mouth now.
While it's tempting to dismiss this on the grounds of price, remember that this could be a one-of-a-kind case that goes everywhere with you (literally) and which is a statement of luxury and ambitions wherever you find yourself. So price is almost irrelevant when looked at in this way. (Mind you, the more flamboyant you make the leather, the higher the chances that you'll get mugged or pick-pocketed, at which point I refer you to my worries over 'all your eggs being in one basket'.)
Still, the case is really well made - as you'd hope at the price. Pick this up and there's a feeling that it will 'last a lifetime'. Your grand-kids will be picking this up in your loft one day and opening it up and it'll still feel as premium then as it does now. It's that sturdy.
The photo below tells you most of what you need to know. The left pocket is for your (necessarily naked) phone, which should suit devices up to around 6" screens. The IDOL 4 Pro shown below was perfect, ditto the Lumia 950 XL, though some of the modern and larger Android designs (e.g. Galaxy Note 9) are too tight a fit. Do note that there are no 'sound holes' at the bottom (or indeed anywhere else) of the pouch - so ringing tones and other notifications will be somewhat muted - but then, with the case all zipped up, these would have been deadened anyway, there's no easy round this if it's an issue.
Interestingly, Noreve chose, for this first case to be made in this design, to put the opening on the left - I'd have expected it to be on the right, reducing the risk of the phone falling out when you open the wallet case too enthusiastically and reaching for a card in a hurry, say. There's also the way the back of the phone has to be (essentially) scraped past the outer zip every time you extract it, so expect some micro-scratches on a glass back. I fed this back to Noreve and, thankfully, they agreed. Future cases, i.e. from now on, will be made with the opening on the right. And, given that the cases are made to order, it's not as if they made a load of these the wrong way round already(!)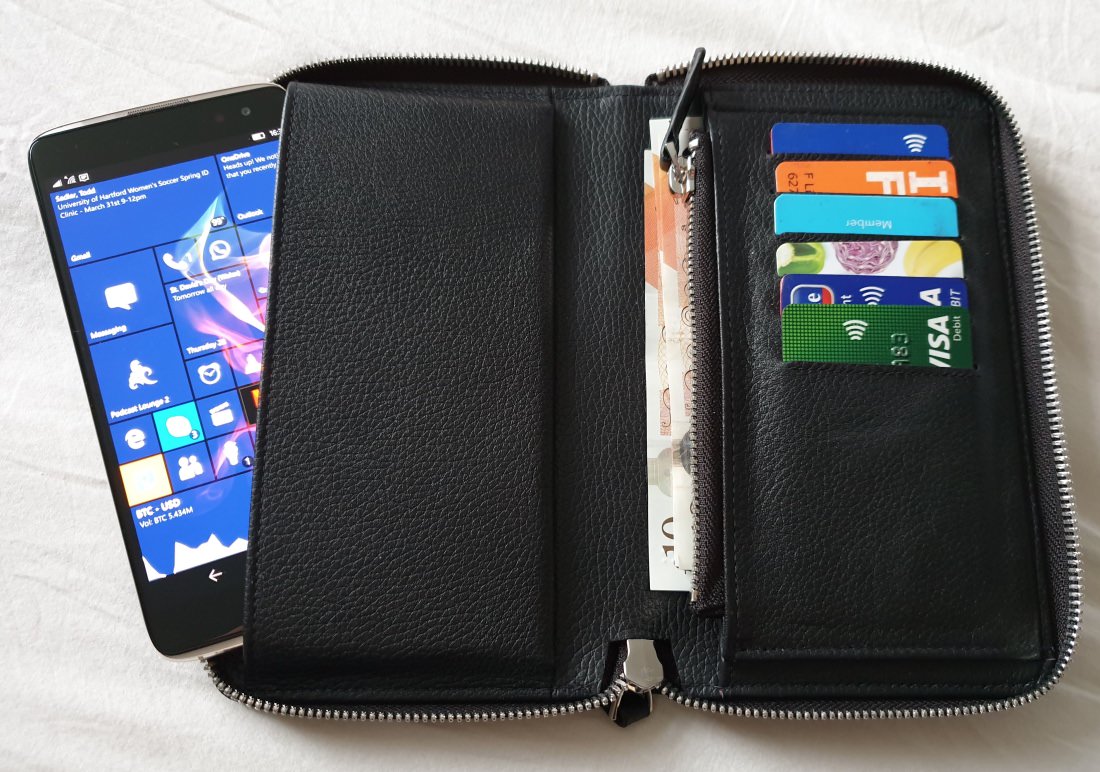 On the right side of the open case then, we have bank notes, coins and cards. The latter slots are individually stitched pockets - they're not just slits in a leather panel and, as a result, getting cards in and out is a pleasure. It goes without saying that if you stuff a load of coins into the middle zipped compartment then the whole case will get rather bulk and unwieldy - so go easy on the small change.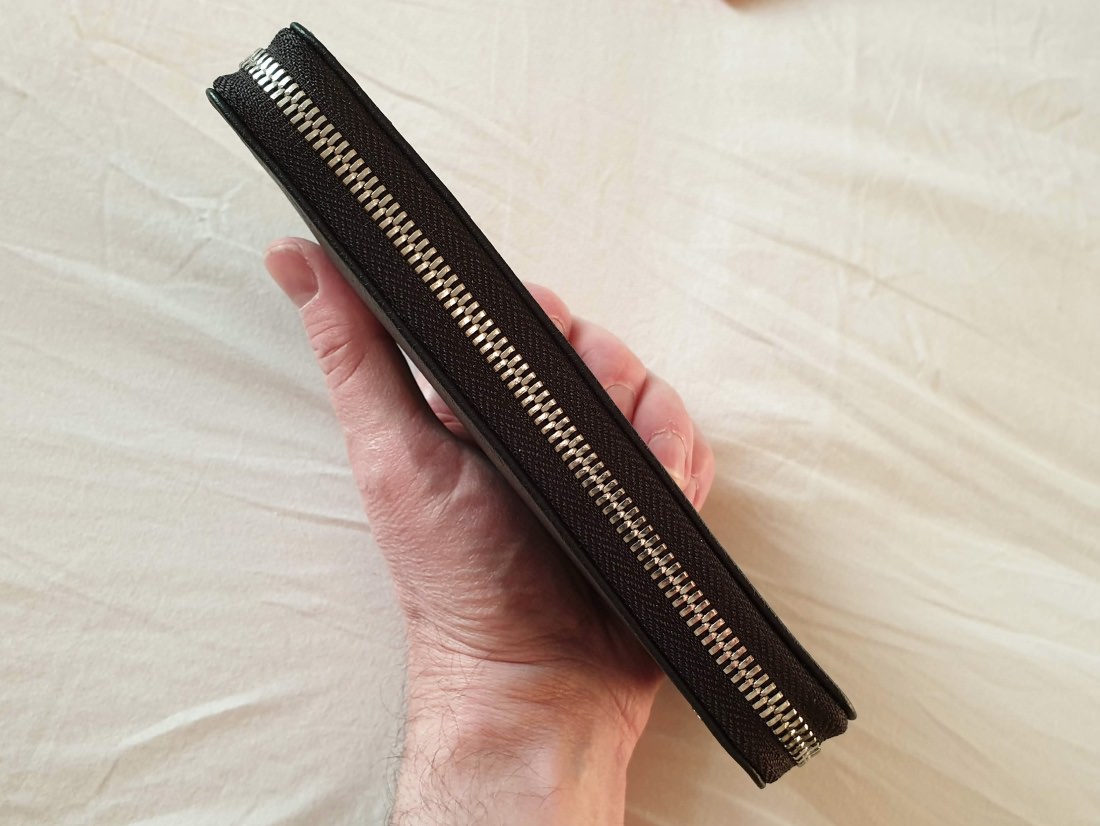 The zipped up 'all in one' does work though. It's pocketable too, though only just and you'd have to remove it when sitting down!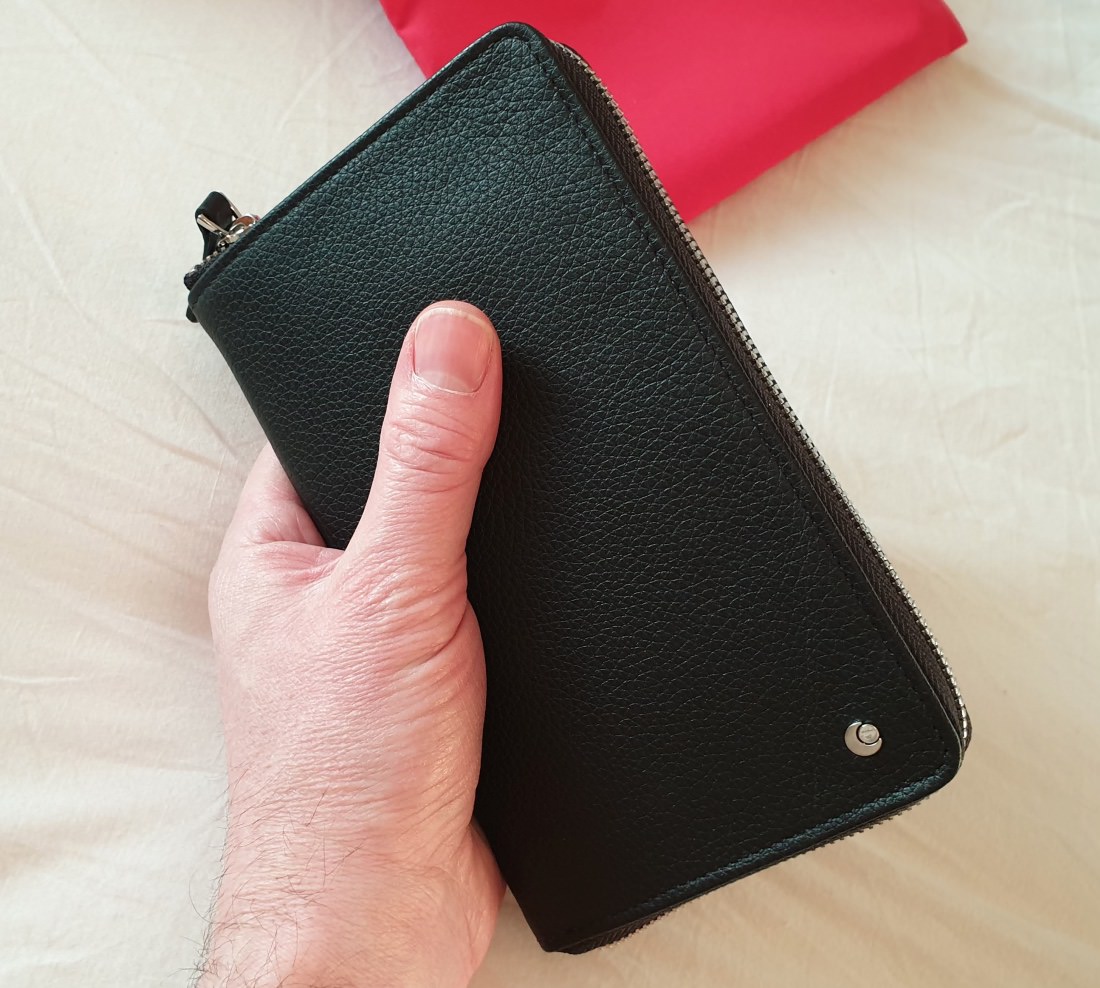 The Noreve Wallet Case is smart and solid. And, hands down, the most luxurious way to carry around your phone/money combination. Yes, the price is crazy, but I defy anyone to handle it and not grudgingly admit that you can see where they money has gone, in terms of a craftsman's time.
I did have fun trying out some of the customisation options on the Noreve product page and seeing how expensive I could get the Wallet Case to come out: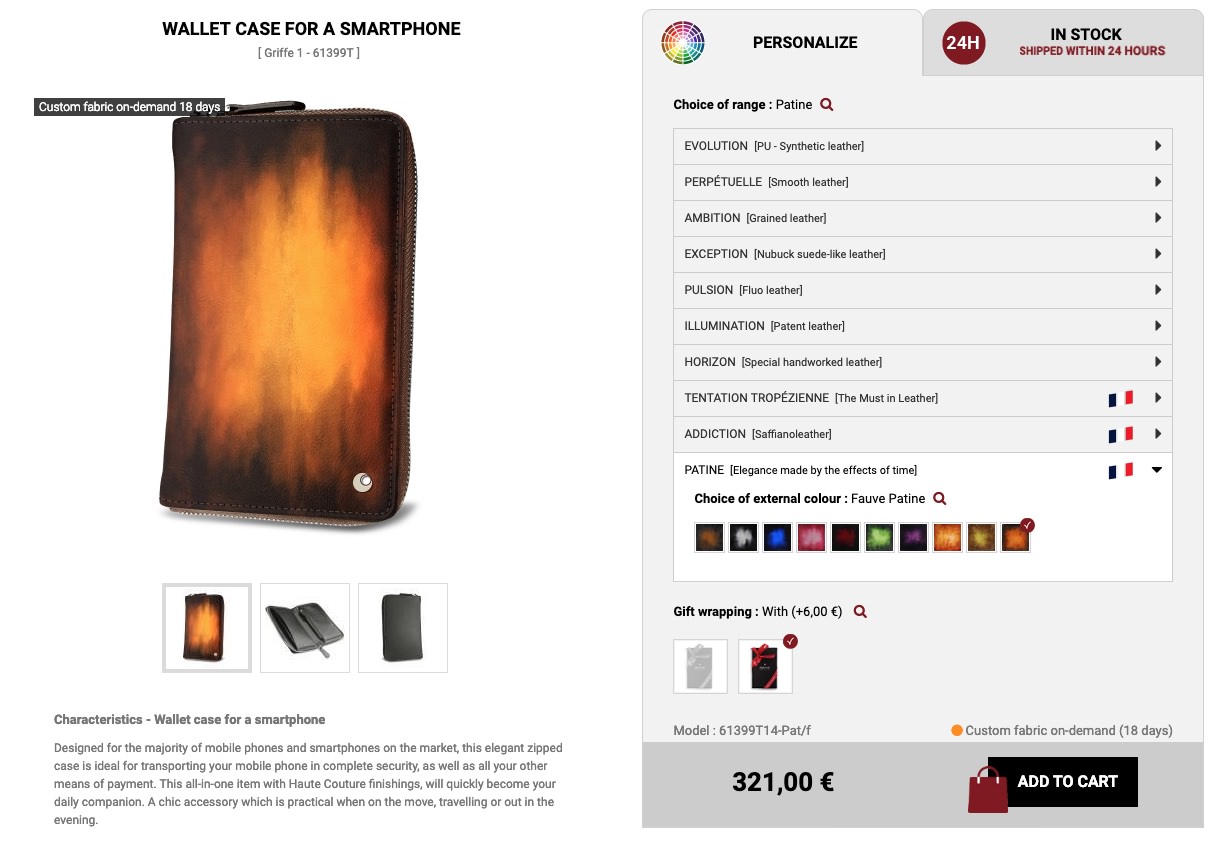 Go on, have a go and see if you can beat 321 Euros (about £300)!
This Noreve is an outrageous concept in many ways, but for the professional on the move, who wants plonking this down on a table to be a statement then this may be a good way to go.
PS. If your pockets aren't quite as (financially) deep then do look at the £20 Olixar Primo Universal instead.
Reviewed by Steve Litchfield at