Review:
Happy Superman: Mech Racing Karting Game UWP
Score:
75%
New UWP games aren't that common and first impressions here aren't brilliant, in terms of display scaling and ad placement. But look past these and there's a semi-decent 'Mario' style racing game with freemium elements that, for once, aren't totally oppressive.
Buy Link | Download / Information Link
In short, beggars can't be choosers for Windows 10 Mobile, circa H2, 2019!
You'll notice the left hand white bar in all the screens here - this is a by product of the game's graphics and layout being aimed at other platforms and merely ported into the Windows and UWP system. Still, it's worth perservering if you're a Mario Racing fan and want something new on your W10M phone...
From the Store description:
Happy Superman is a cartoon character focused on racing racing game, and is dedicated to giving players a beautiful dream of MMPRAC games. Kart games are played by simulating racing driving. Players enjoy the same speed and enjoy the same. You can experience gorgeous drift, and in each game, players will randomly get different kinds of powerful props to attack opponents, to ensure that they can easily win the championship, let everyone participate in the experience.

Join the race of cute heroes with Happy Superman - Car Transform Racing where the cars can transform themselves to real robots and wipe out all the obstacles and opponents on they way to win the race of destiny. Feel the rush, as you tear down the track at breakneck pace in thrilling races. Choose the best hero and car suitable with you. There are five types of superhero - Happy, Sweetheart, Careless, Faith and Careful - all of them are transformable cars. It's going to be bumpy funny rides with special energy boost and special skills specific to each superhero transform car.
Which all sounds great and it's true that Happy Superman plays smoothly and well. Which is actually amazing, since it obviously wasn't tested under Windows 10 Mobile - has it dropped this quickly off developers' radar? The Store doesn't actually list it for Mobile in the tagging, yet it installs and plays as you'd expect. Aside from the aforementioned white bar down the left side, the pop-up ads take a little experience to dismiss when they obscure an in-game panel, but I muddled through all of this and Happy Superman is still worth reviewing.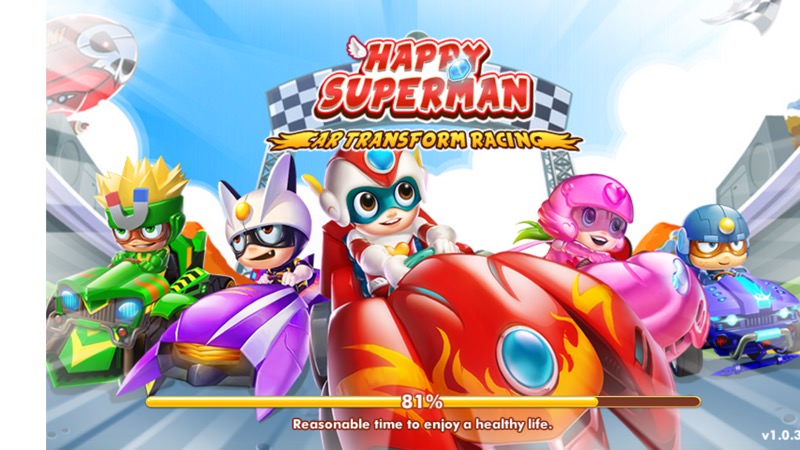 Loading is quick and then you're into a typical cartoony freemium system - as the description above suggests, you race (or buy) your way through to different and more capable cars with enhanced performance.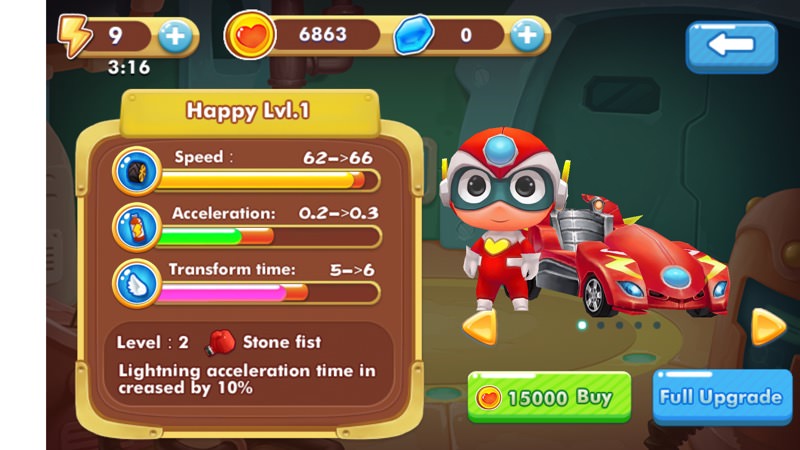 But what you really want to know is how the racing is. It's.... very Mario-like, in that the tracks are equally cartoony and chock full of 'bonus' cubes to drive through, pigs ('piggy banks'?) to collect as in-game currency, plus speed boosting catapults and, of course, villainous opponents who eill fire their own bonus weapons in your direction.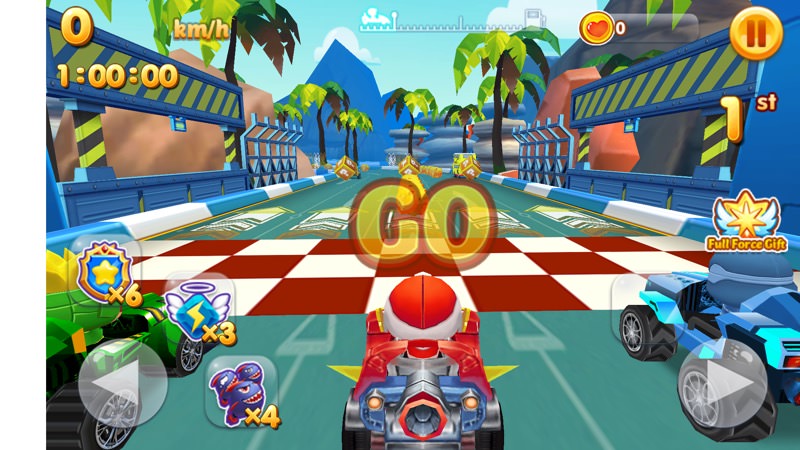 Acceleration is automatic (hey, you'd only keep a throttle mashed down anyway!) and steering is via on-screen thumb controls - I'd have liked to have had an accelerometer option, to steer with the phone in hand. Oh well. It works.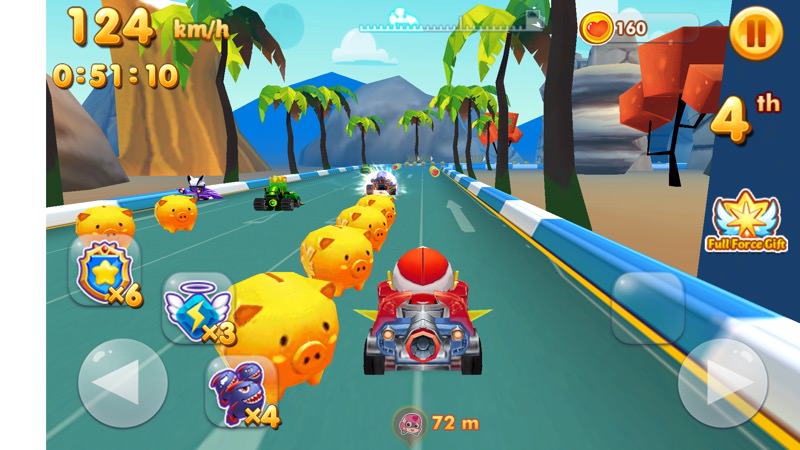 On-screen controls let you fire bonus weapons that you collect (e.g lightning bolts to take out opponents ahead of you), plus nitro capsules that launch you into the distance to overtake others. The graphics are console level, but only in as much as everything's styled in cartoon fashion - which rather goes with the genre.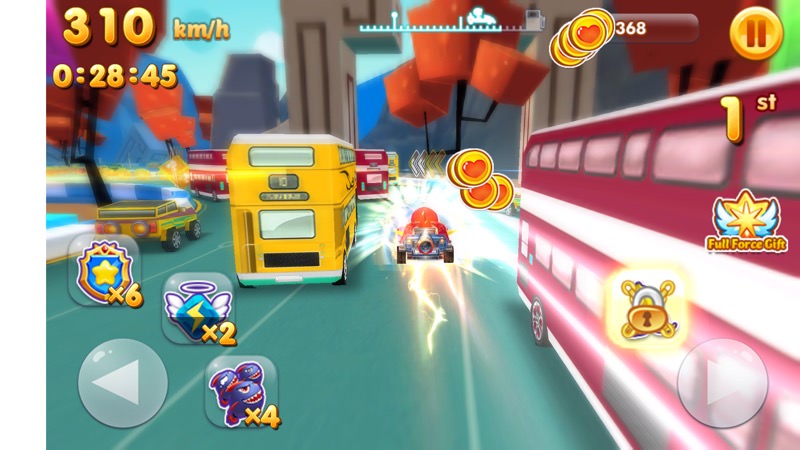 Lighting effects plus the aforementioned 'transformer' element see your car turned into a bus-munching monster vehicle that Michael Bay would have been proud of. There's more here than meets the eye. Not masses more, but enough to take note of.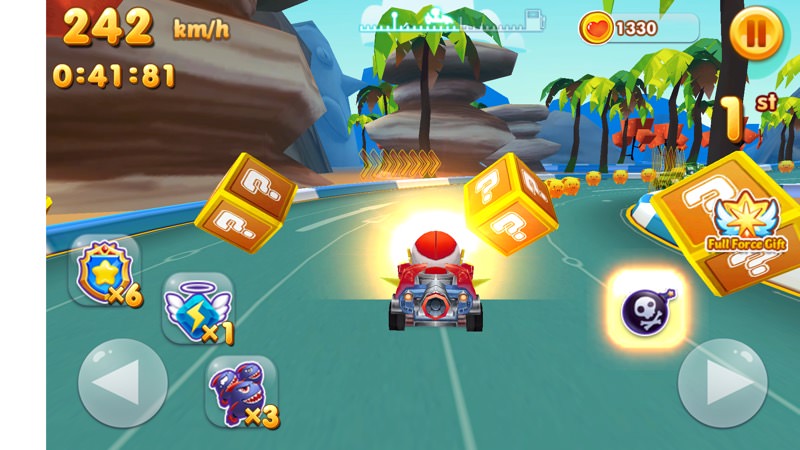 Races are very Mario-esque in terms of fighting your way up to '1st' by fair means or foul. In general, pick up as many pigs heads(!) as you can, pick up as many bonuses as you can, and mash everything that's available when you feel like you need a hand.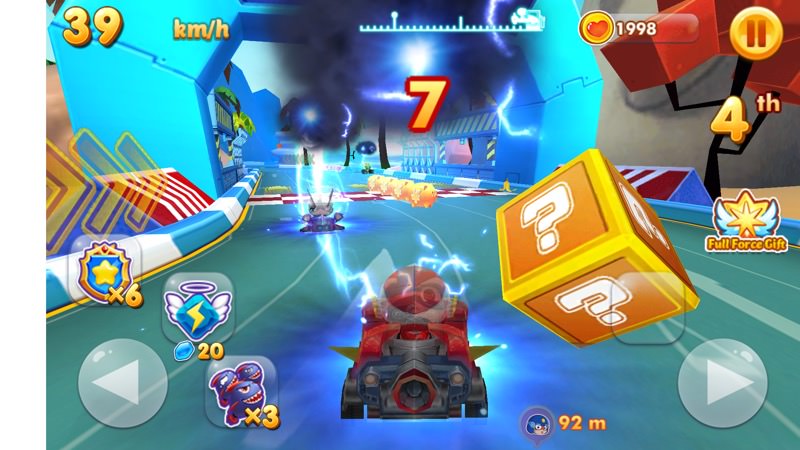 The freemium aspect hits home in two fairly quickly encountered ways - the 'transformer' bonuses need extra 'diamonds' in order to work after the first few times, so that's an initial $4 or so.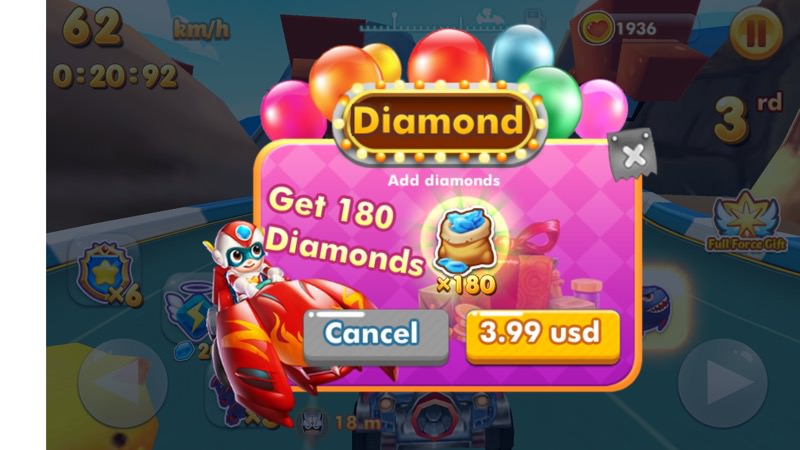 Then there's the classic freemium tactic of offering to let you resume ('resurrect') your current career in exchange for in-game currency. Note that I'm not being sniffy about any of this, freemium is a valid way for developers to make a living.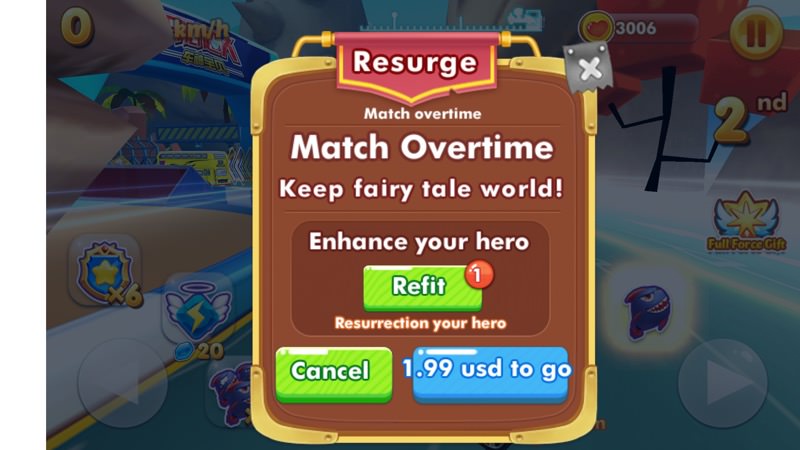 And part of the reason why I can be so relaxed about freemium here is that the in-game purchases are very restrained. In a world where the likes of Gameloft stiff users for up to $80 a time(!), the developers here keep the amounts affordably and realistically low. See below. Which is why I'm giving the game the time of day here.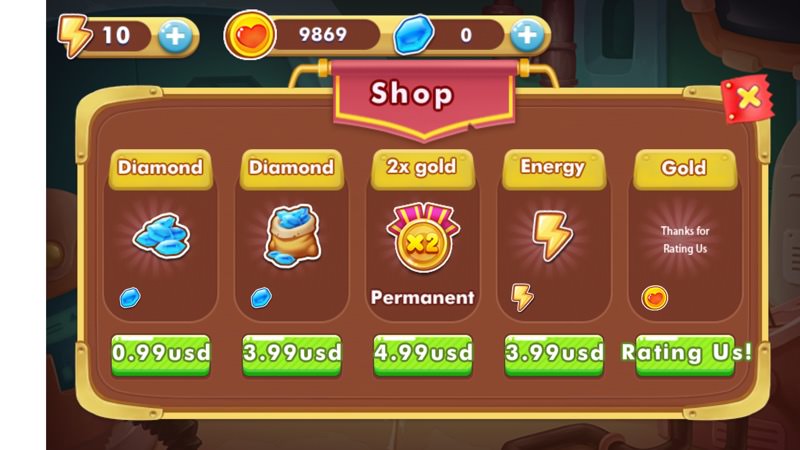 As you might imagine, I didn't get very far into the story set-up in terms of characters - this sort of thing is perhaps a little teenage for me. But it's there, perhaps for handing to your kids on a long car journey? Just be aware of the in-app-purchases, so make sure your Store purchases are password protected.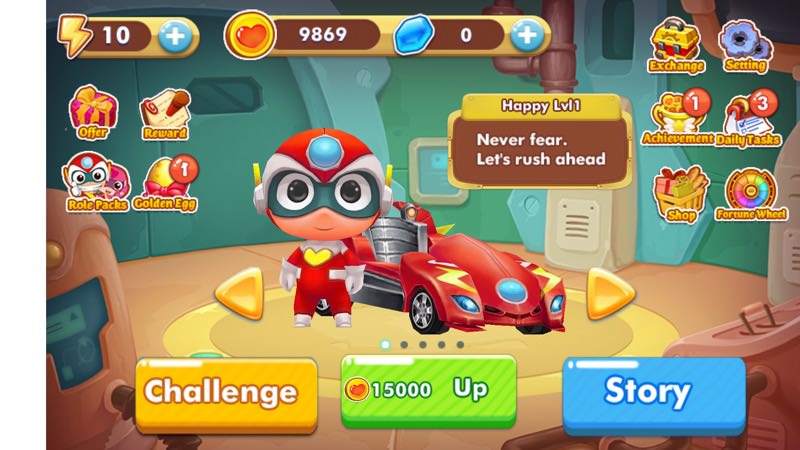 Overall, the rather crazily named 'Happy Superman: Mech Racing Karting Game' rather won me over. Display and advert-oddities aside, this is fast and fluid and the racing actually works, being fun and colourful. Not a bad game to evaluate on the platform - including on a Windows tablet or laptop/hybrid.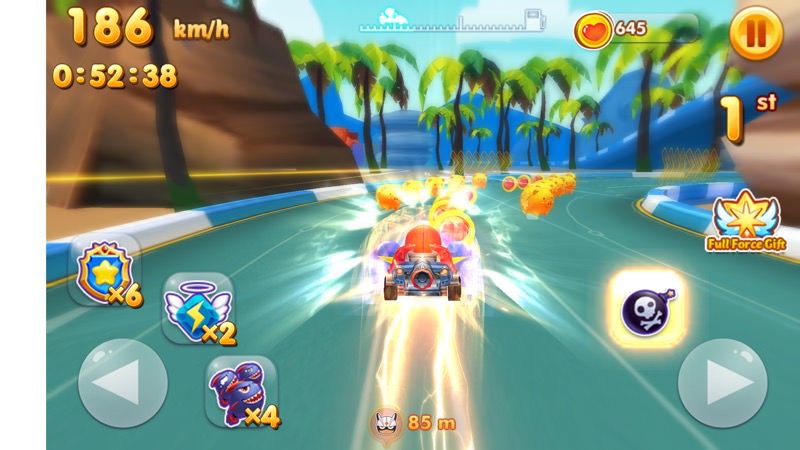 You can contact the developers here.
Reviewed by Steve Litchfield at