Review:
Choetech T555-F Fast Wireless Charging Stand
Score:
88%
There's one small issue with most Qi wireless charging pads... We all love them, charging our Lumias, Galaxies, iPhones, whatever, but the vast majority of them are horizontal, meaning that there's limited visibility of stuff arriving on the phone screen and limited interaction possible with the device. Pads are usually horizontal because then the user can align the phone's Qi coils with the pad precisely, whatever the model. Happily the new Choetech T555 is vertical and yet has multiple Qi coils so that most/all phones would still work with it, at up to 15W.
Buy Link | Download / Information Link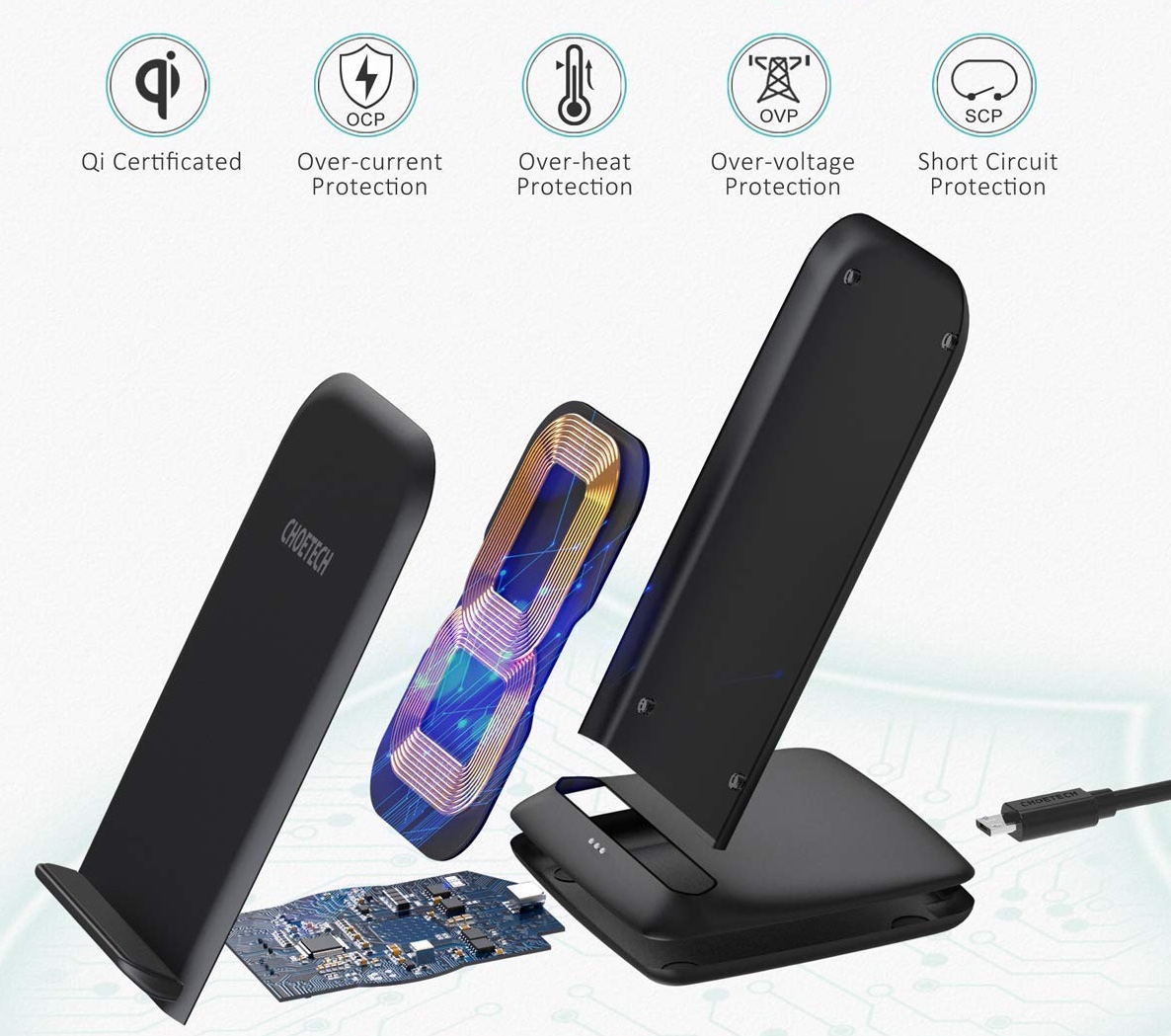 The exploded image above shows the component layout. In practice there's enough overlap that the stand managed to charge on every phone I tried, in both portrait and landscape - impressive.
The Choetech stand is made from tough plastic, which is fair, but it has enough weight not to get knocked over easily. I suspect that using metal would have had some adverse effect on the Qi charging functions.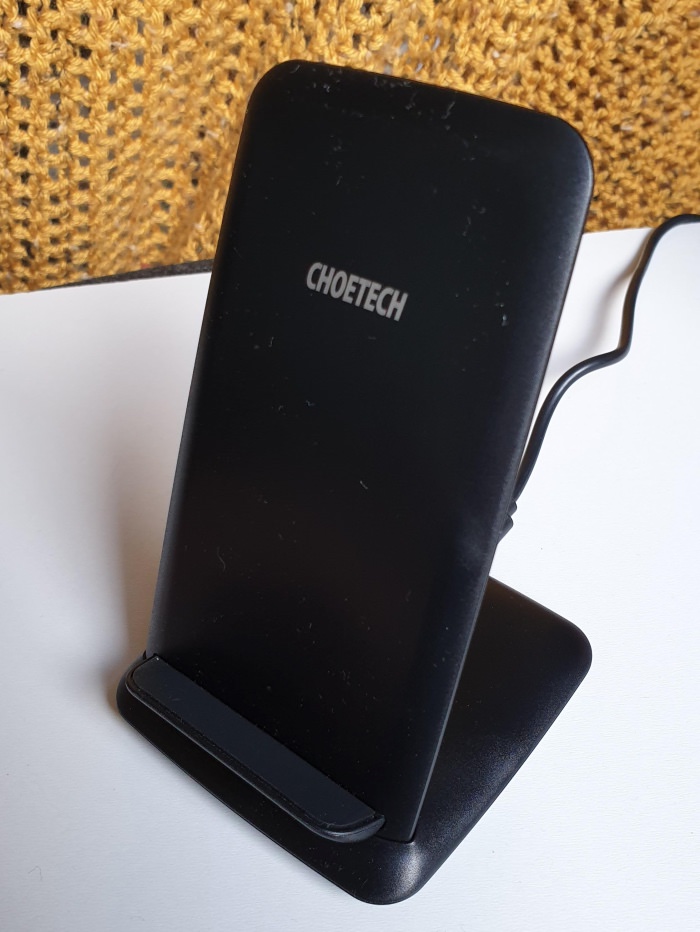 I had the Choetech recommended mains charger, with a microUSB lead. Yes, that's right, the single black mark here is that this accepts its (up to 24W!) input from ye olde microUSB, but in fairness, you're only going to have to plug this in once and then it'll all just sit on your desk (on four little rubber feet), so I'm giving it a pass.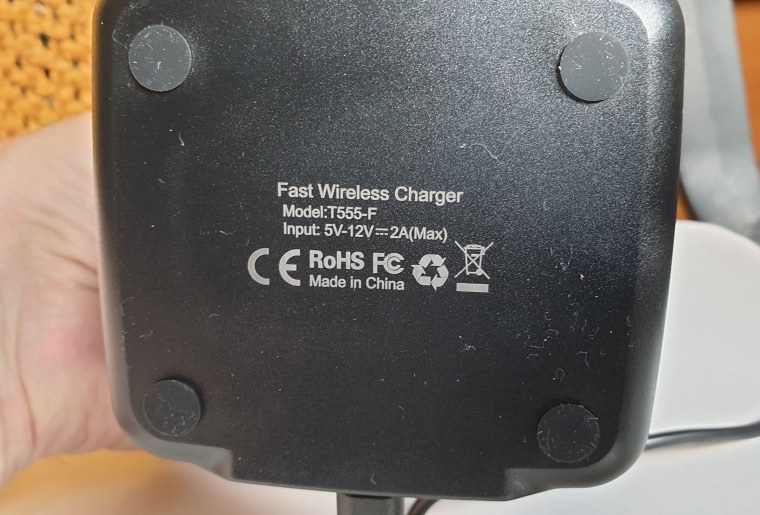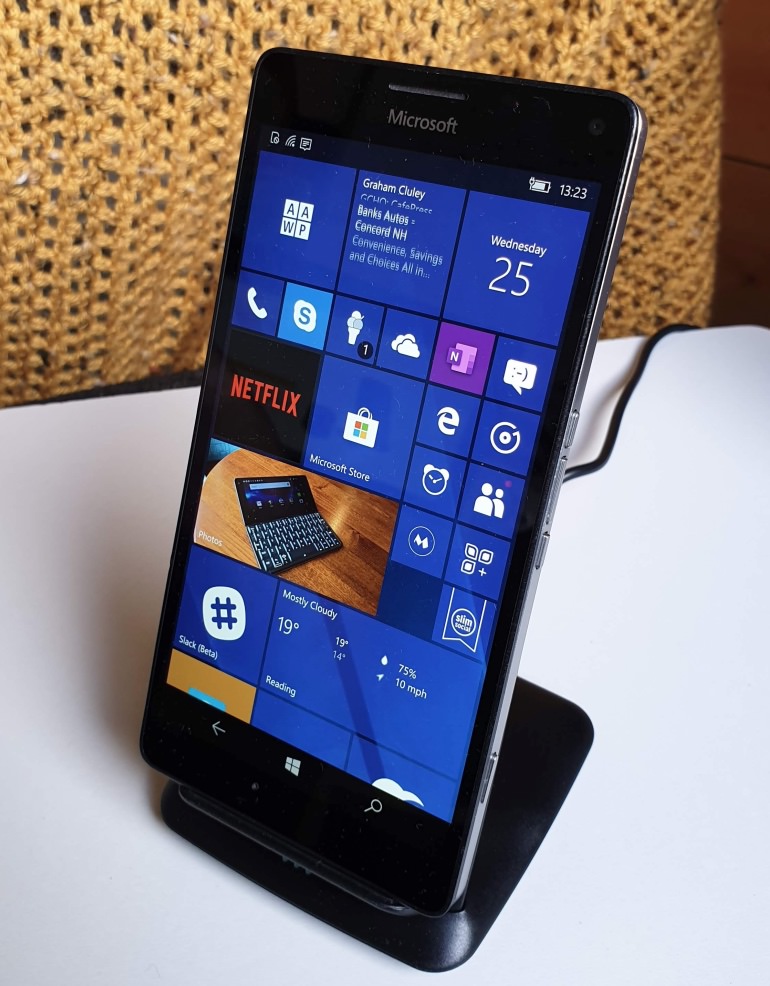 In use, the phone sits on a 'sticky' (well, that ultra-grippy finish often seen in car accessories) pad on a small ledge. Any phone with Qi capabilities then charges in portrait (as above) or landscape (as below) and I couldn't find a 'dead' spot. Landscape is particularly useful as watching media for long periods is a big battery drain and this way the phone's actually charging, rather than discharging.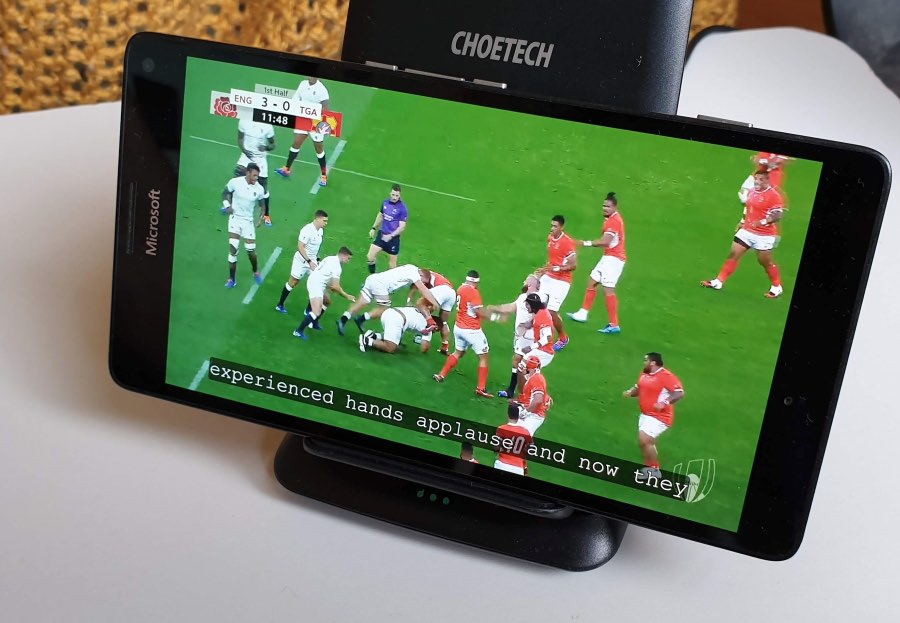 You'll have noticed the LEDs at the bottom of the stand. These light up VERY dimly (on purpose, to avoid distraction in a dark bedroom, I think), but do serve to indicate that charging is working. Oddly, there's no reason why there are three lights and they all come on each time. Bizarre!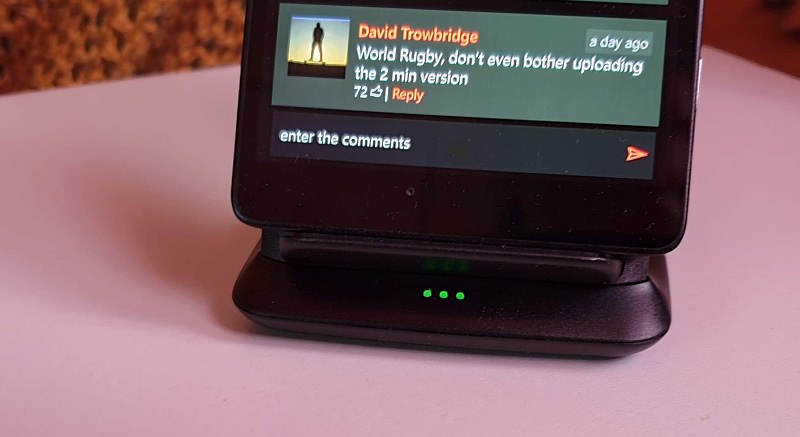 A simple horizontal Qi pad wouldn't have made it to AAWP's reviews section. But this is something more. Wirelessly charge and use your phone at the same time, and with the two coils making sure that whether you have a 'compact' (e.g. Lumia 950) or 'phablet' (Lumia 950 XL here) then charging will initiate. Charging power depends on the device concerned and what it will accept. The Lumia here charges at 1A, I think, while my Samsungs come in at 2A - your mileage will vary!
The T555-F stand is available on Amazon UK at £17, though this doesn't include a mains adapter. For your purposes any 2A capable USB source will do and most of us have mains adapters lying around. If in doubt, get the Choetech recommended one at £12, which outputs up to Quick Charge 3.0 and enables full 15W wireless charging if your phone hardware supports this (currently just the Samsung and LG flagships?)
I think this is well designed and made, worked perfectly, and is great value at the price quoted. If you too are fed up with phones always having to lie down to get their charge on, then this could be the solution. Worked for me!
See also the original Choetech product page.
Reviewed by Steve Litchfield at