Review:
ROMOSS 'Sense 8+' 26800(+)mAh, 18W value power bank
Score:
86%
When did power banks get so capacious and so cheap? A few years ago a 100Wh power bank would have been nigh-on science fiction and the best part of £100. Yet the Sense 8+ was sent in for review and it's £23 on Amazon UK. Yes, you read that right. Supporting multiple inputs and outputs, including Type C, of course, for Android and (here) Windows phones, this is a super value 'glove box' power bank to keep you and the family charged up day to day. If we're ever allowed out on trips again in these COVID-19 days, that is... [Updated]
Buy Link | Download / Information Link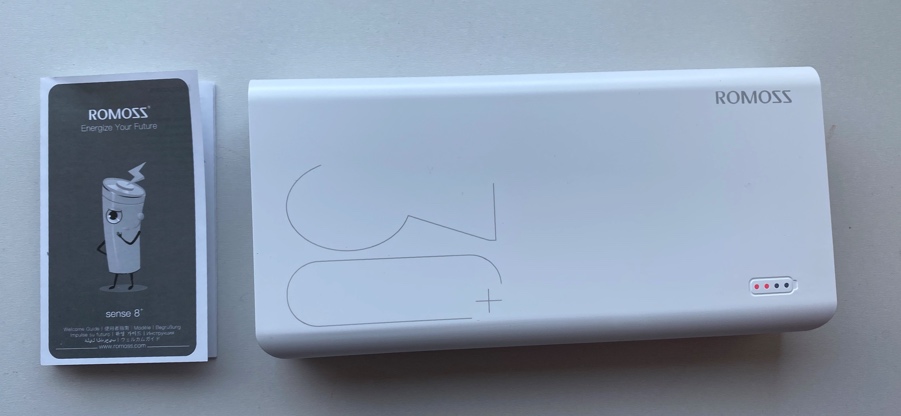 The price should ring a few warning bells, mind you. No showstoppers, but the main caveats here are:
Plastic construction (many of the premium power banks are rolled metal)
No 'Power Delivery' support here beyond the 18W quoted (typically 9V at 2A) through the Type C port, so don't expect this to charge laptops
No explicit simultaneous inputs for faster charging of the power bank
All three outputs can be in use at the same time, but there's some downscaling of the current to each, since the three combined can't ever exceed 18W in total

Just a 'four LEDs' charge indicator (not the LED digital display we've become used to)
No cables are supplied in the box (unusual, but it saves money again, and let's face it, anyone geeky enough to get this will have cables and power bricks coming out of their ears already)
So not top specification in terms of bells and whistles then. But the capacity (at 3.7V) is genuine and you're looking here at a power repository that can be brought along on a family trip out in order to charge everything from phones to tablets to games devices.
Although the Sense 8+ fits in the hand, it's a chunky beast (and heavy), understandably given the mass of Li-Ion cells inside. The '30+' legend on the case is odd, since the quoted capacity is quite a bit lower than 30,000mAh - ROMOSS PR tells me that that the internal capacity is just over 30,000 but they're not allowed to declare this on the product or packaging because Amazon's warehouses won't allow products over 100Wh. Um.... but now Amazon does know, because they can read this review, so....(!)
Anyway, the consumer (you) wins, with even more stored charge and capacity.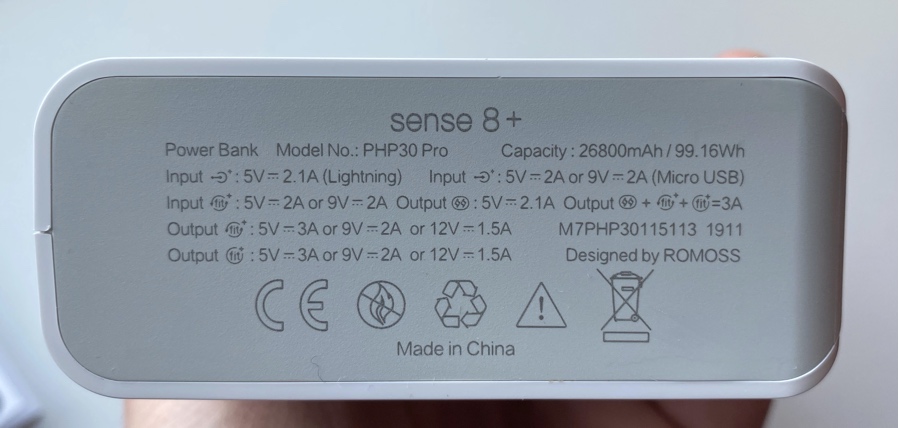 As with all good power banks, the specifications are printed on the case, though you have to have a degree in cryptography to really understand it all! In short, you can charge the Sense 8+ at up to 18A with any of three inputs, and you can output via Type C or two Type A ports. The end (uncoloured) USB-A port is just bog standard 5V at 2A, but the other (blue) one matches the Type C in being adaptable up to 12V.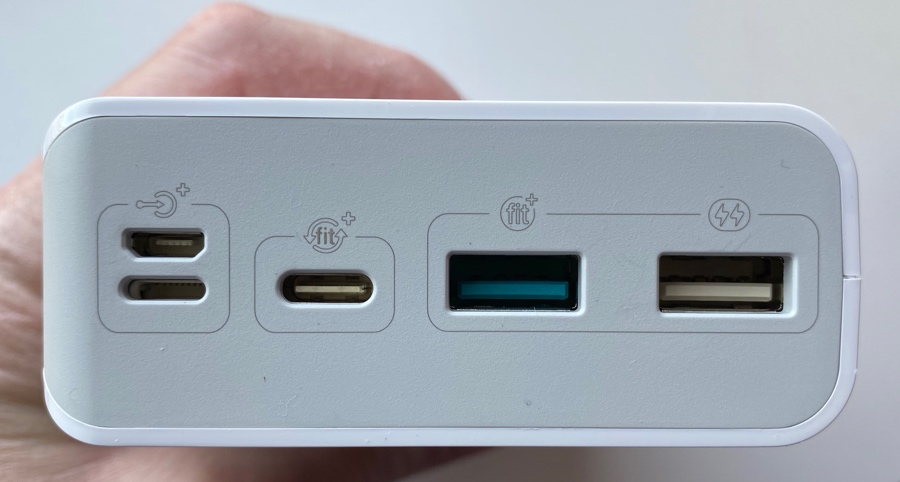 So you hook up a 'smart' device to one of the '+' sockets and it negotiates the right voltage and current to use, in the usual way, according to Quick Charge 3.0 or PD protocols.

A push of the side button reveals a guide to the charge state. It'll do, at this budget price point, I think.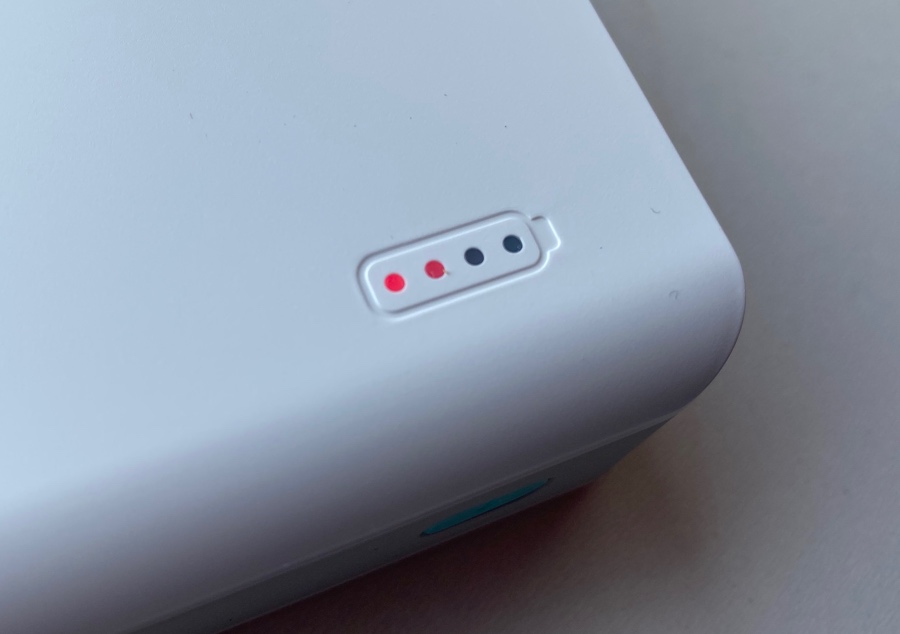 Put it all together and I had no issues charging a Windows, Android and iOS phone all at the same time, though in the real world you're going to have other devices (games consoles, cameras, tablets) which also need power from time to time. Note again that no cables at all are supplied in the box, so it's assumed that you have your own stock of these.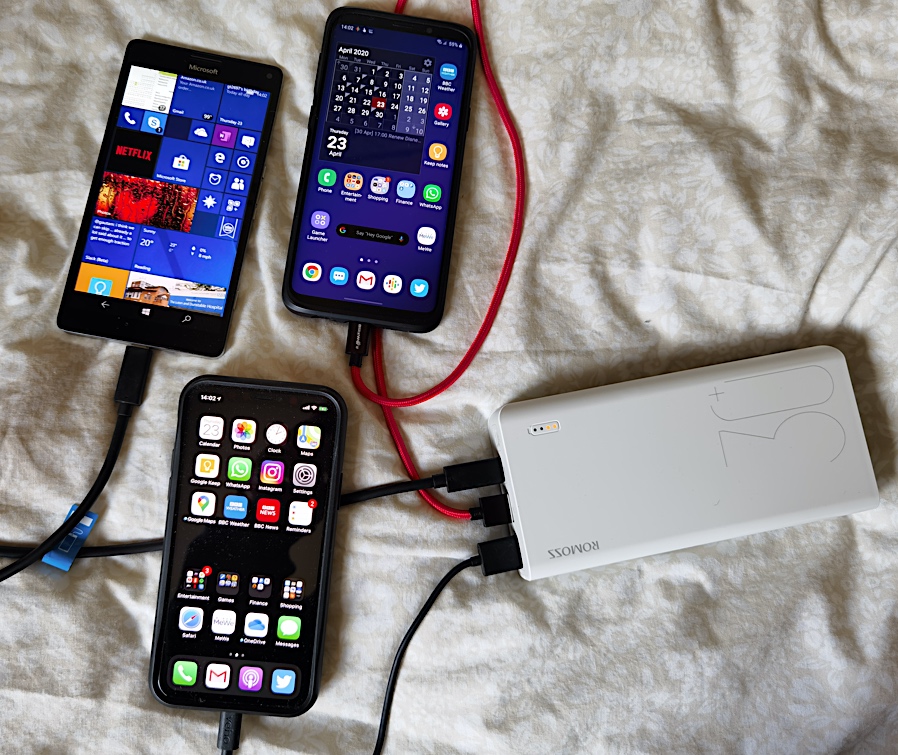 At £23 on Amazon UK at the moment, this is an outright steal, if you're in the market for something of high capacity and flexibility. Yes, it's chunky and bulky, but that's the physics of 100 or so Wh of Li-Ion goodness!
Reviewed by Steve Litchfield at