Review:
Outdoor Tracker UWP
Score:
88%
I've no idea how this UWP application got missed on previous excursions into the Store, but let's put that right now. Outdoor Tracker is a simple but very useful mapping and tracking utility, with the sole caveat that you have to be online (obviously) to access the underlying Open Street Map err... maps. Happily, it's easy to preload areas and map tiles that you need, for when you venture onto footpaths in the wild and windy hills and out of contact with networks. It's also Open Source and completely free, which is always good.
Buy Link | Download / Information Link
The idea behind Outdoor Tracker is an easy one to grasp - the Open Street Map database delivers on and off road mapping, with footpaths, bridleways, woods, water, and so on, across the entire planet. All the data is open sourced and contributed by people like you and I. On Windows 10 Mobile, the idea is to access the relevant map data as you roam around, having enormous fun discovering paths you never knew existed.
So yes, Windows 10 Maps, or one of the Google Maps front-ends, are fine for driving, but the moment you want to head down paths like the one below then you need Open Street Map or something similar: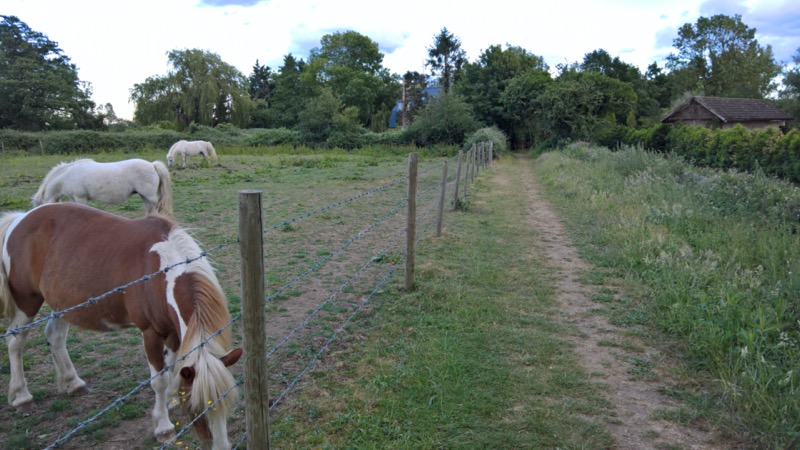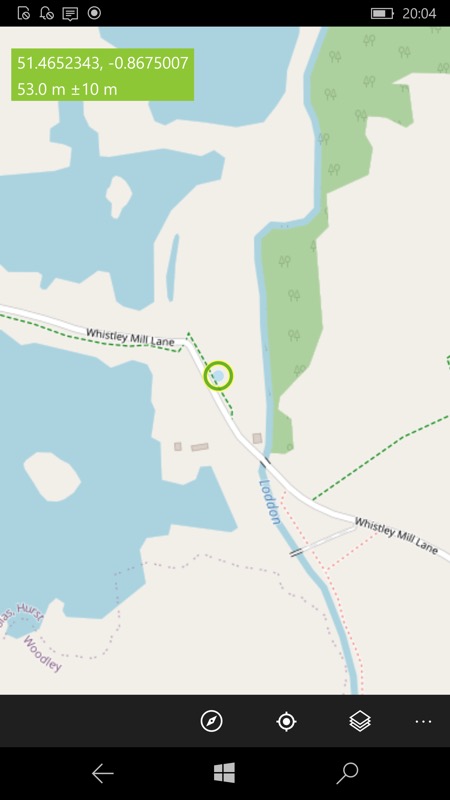 The photo above was taken at the spot on the map shown by the green circle, looking South-East. Obviously the accuracy of your position and the size of the circle depend on the accuracy of your smartphone's GPS, but in my experience GPS is so good nowadays on just about any device that you never need to worry. My Lumia 950 here had me down to about a couple of metres.
This then is the basis of Outdoor Tracker, delivering the worldwide Open Street Map tiles (at many resolutions/scales) to your Windows 10-powered phone. At each stage your position is reported (though I've blurred the lat/long for the shot below, left, since it's my home!!), along with as much or as little of the map as you want to see. There's the choice of 'North up' or 'Whichever way you're pointing', and it's handy to toggle between the two modes when hiking or cycling around.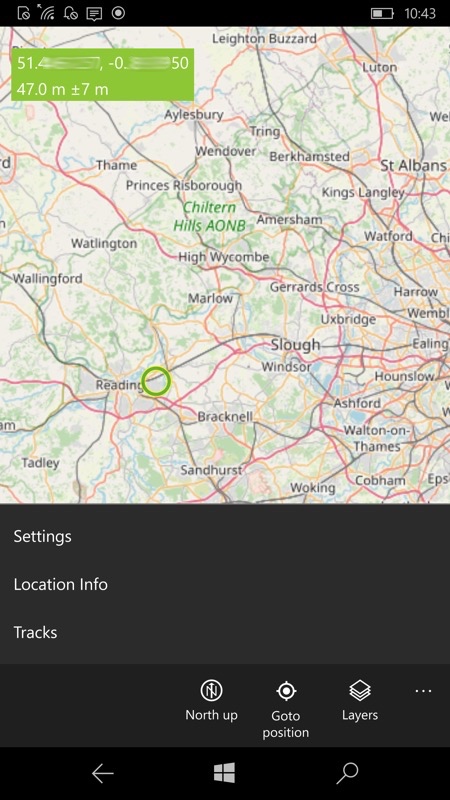 The 'Layers' control is a little misleading, since there's no way to easily add more than the map itself. Or maybe I'm missing something here? I tried looking for standard GPX files but these weren't recognised. So it's not clear what layers and formats are needed - extra layers are documented here, but the application offers no help for finding or using these. Still, it's Open Street Map that we're after, and these maps already contain a wealth of information.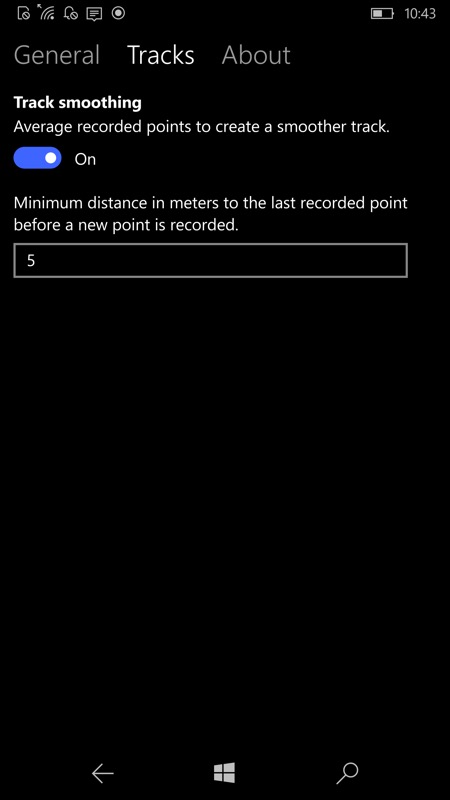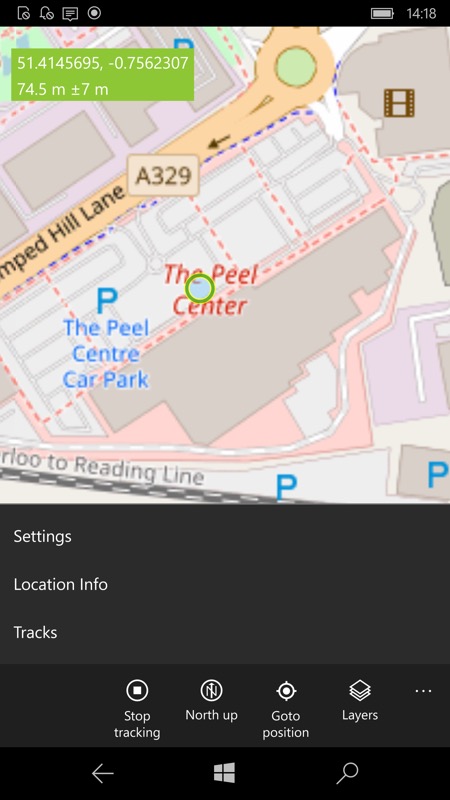 As you'll have gathered from the name, Outdoor Tracker, the 'tracking' bit is also important, i.e. the application notes your position every few seconds and plots this on the map, optionally saving each hike or cycle ride for later analysis. To start tracking, it's 'Tracks' on the main '...' menu and then tap '+'. It would have been nice to have had this on the main toolbar, but hey...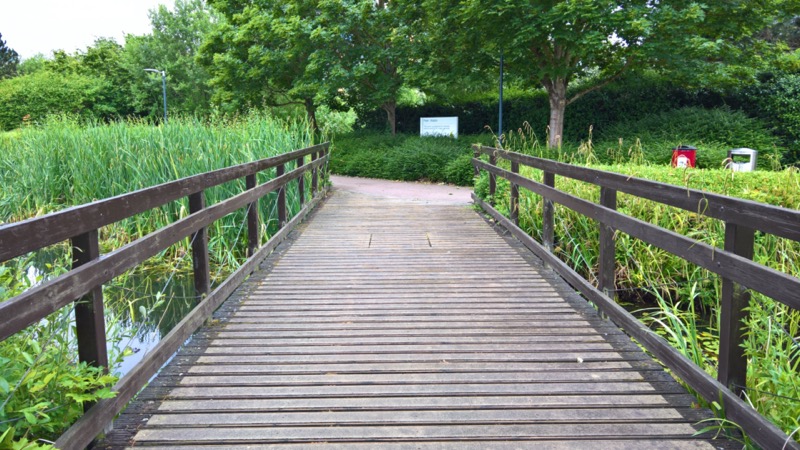 On your tracked walk then, you're kept up to date on the map and you can scroll around to see what's coming next and planning your route back home or to your car. In fact, some interaction is welcomed, since Outdoor Tracker doesn't auto-scroll the map to keep your position in the centre, i.e. leave it alone for five minutes and you're off the screen and then have to scroll or use the 'Go to position' control on the toolbar. Not a big issue, but worth noting.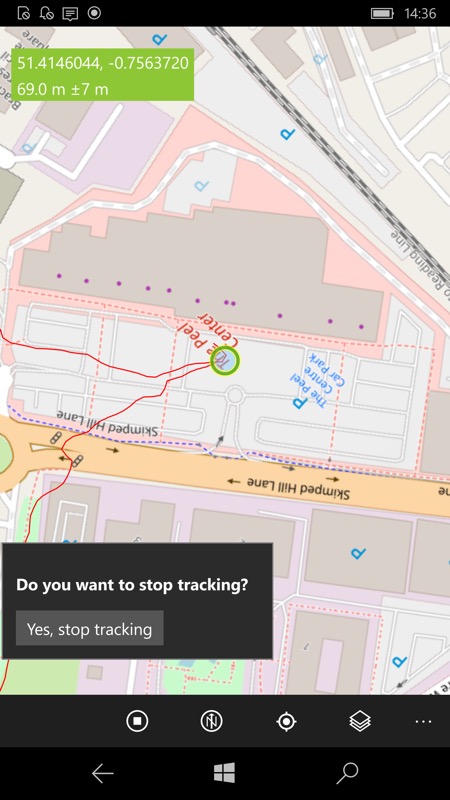 After your walk/cycle, tap on 'Stop Tracking' and your track is saved with a time and date-derived name. You can rename this as needed, and tap on it later to bring up the track for browsing around, as shown below: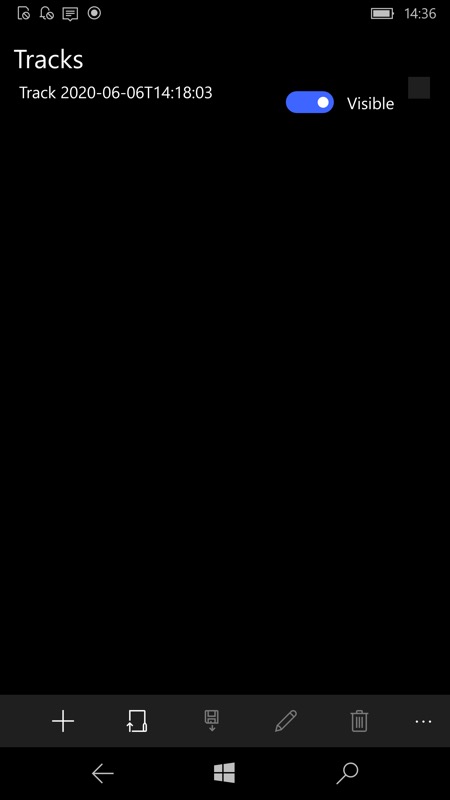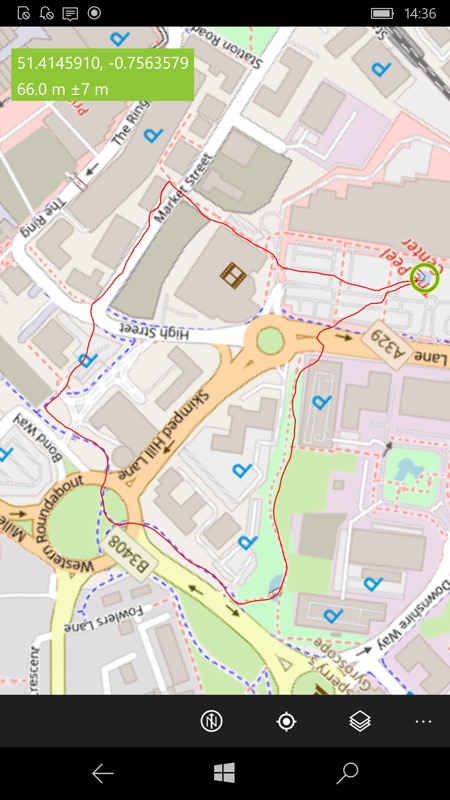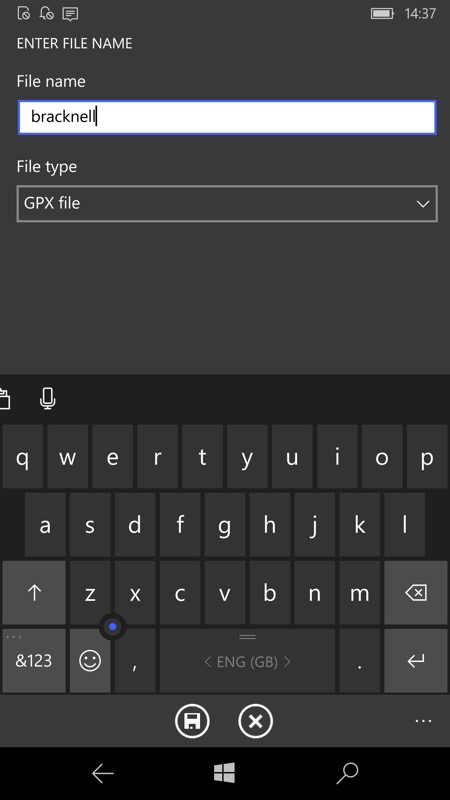 Note how I was avoiding roads and using Bracknell's excellent system of cycle ways and footpaths to get around - these don't appear on traditional maps, so you need something this detailed to see what's available. It all works rather well, especially for something that's completely free.
It's entirely probable that Outdoor Tracker is no longer receiving updates, as of 2020, since the last post on github.com was four years ago, but the access to Open Street Map itself is perfect and given that the app is free then you have nothing to lose by giving it a whirl. It's certainly earned a permanent place on my Lumia 950...
Reviewed by Steve Litchfield at