Review:
Choetech 10000mAh 2-in-1 Wireless Charger
Score:
84%
Qi wireless charging is starting to make it into power banks now and this is a great example of the breed, sent in for review by Choetech. As you'll see below, you can even charge three smartphones or other devices at the same time, which is impressive, perhaps on a family day out. It's tough, it's capable, it's very pocketable, and it's not too expensive. It even supports pass-through charging, so you can use it as a desktop Qi charging pad when at home.
Buy Link | Download / Information Link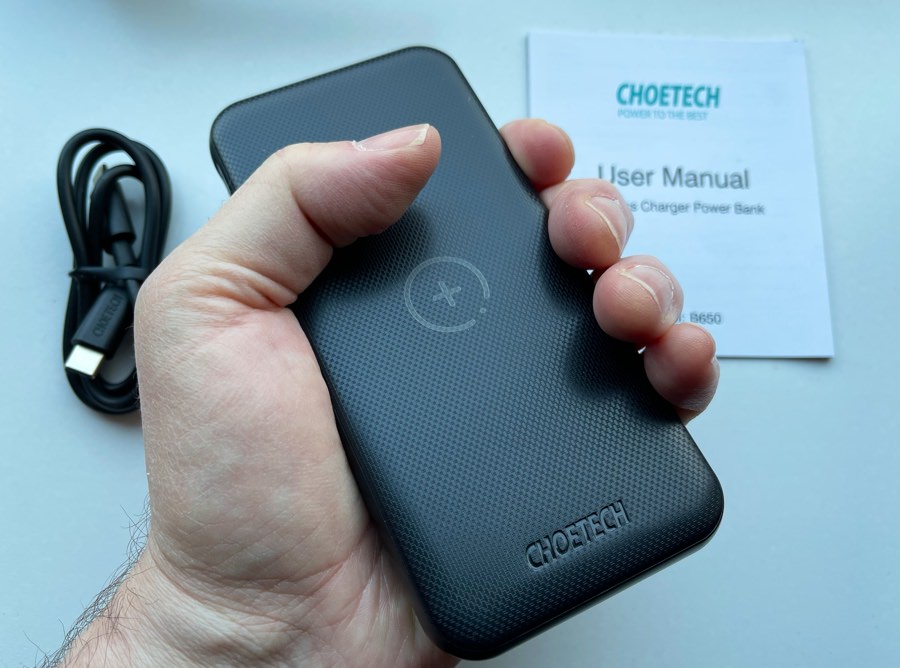 The same plan size as a smallish (for 2020) smartphone, this is finished in matt plastic and deliberately textured on the top so that a phone that's availing itself of the Qi coils won't move around or slip off. Elsewhere the plastic is quite slippery, but also not prone to fingerprints thankfully. And the whole slips in a pocket easily.
Down at the business end is the usual four LED status system, showing approximate charge left. 10000mAh sounds a lot of charge, but that's at 3.7V, so we're talking 7500mAh delivered sucessfully at 5V, taking into account electrical losses along the way. Then think that many modern smartphone batteries are up in the 4000-5000mAh range now, and even this power bank may only deliver one and half full charges. More commonly, of course, it'll be for emergency top-ups for you or your family, and it'll be fine for a day out or similar trip.
Also down the end is a Type C port that doubles as both input and output, i.e. you can use this to charge up the power bank at up to 18W over Power Delivery (/QuickCharge 2.0, which overlaps in this voltage range) from any convenient Type C mains charger. Charging this up from scratch takes just over two hours.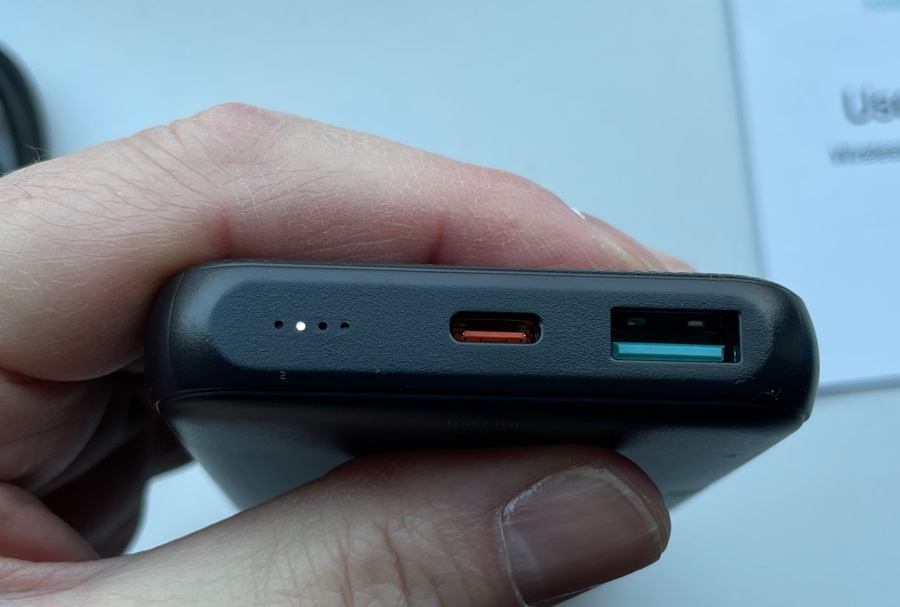 In terms of output the Type C port can deliver the same 18W over Power Delivery/QC 3.0, up to 12V, depending on the receiving device. Most legacy Type C phones will take power at 5V/3A, i.e. 15W, of course. Plus there's a USB-A port with the same power and voltage ranges, though do note that if you plug cables into both ports then the 18W gets split as needed, i.e. 5V at just under 2A each.
However, the Qi wireless charging circuits are separate and these offer an additional 10W power output, i.e. the Choetech power bank can actually put out 28W in total. Which isn't bad for something that fits in any pocket!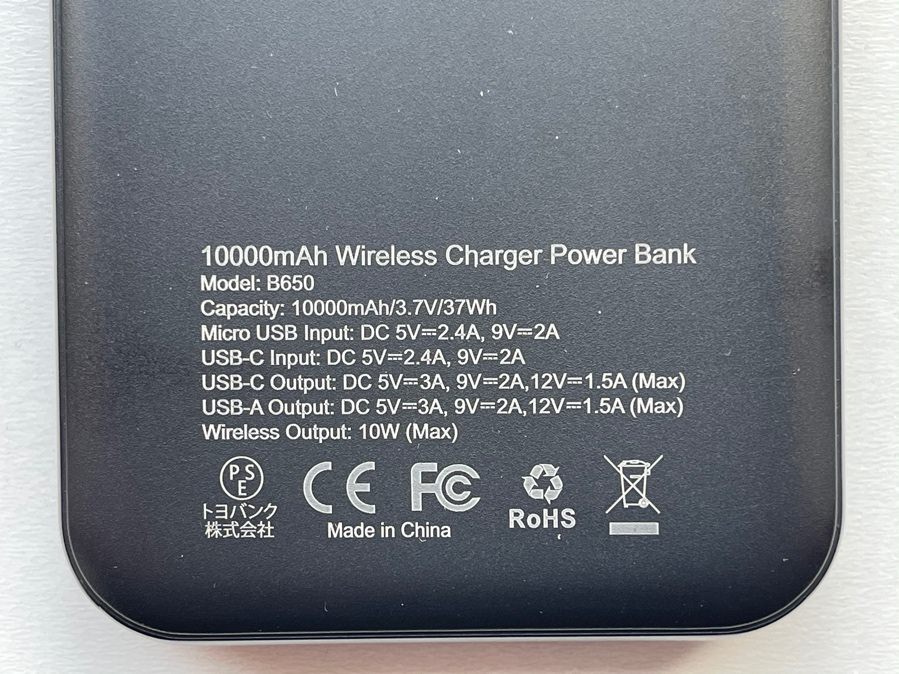 It all works as advertised, I tested it with a number of smartphones. The Qi wireless function is activated by a press on the power/check button and 10W seems about right, though note that some phones charge at 5W or 7.5W, depending on model.
In addition to Type C, charging the power bank up can also be done through microUSB, with a recessed jack on one edge (see the photo below), (again) up to 18W if your mains brick is up to the task. You can plug in both Type C and microUSB at the same time, but I don't believe the power bank will charge any faster(!)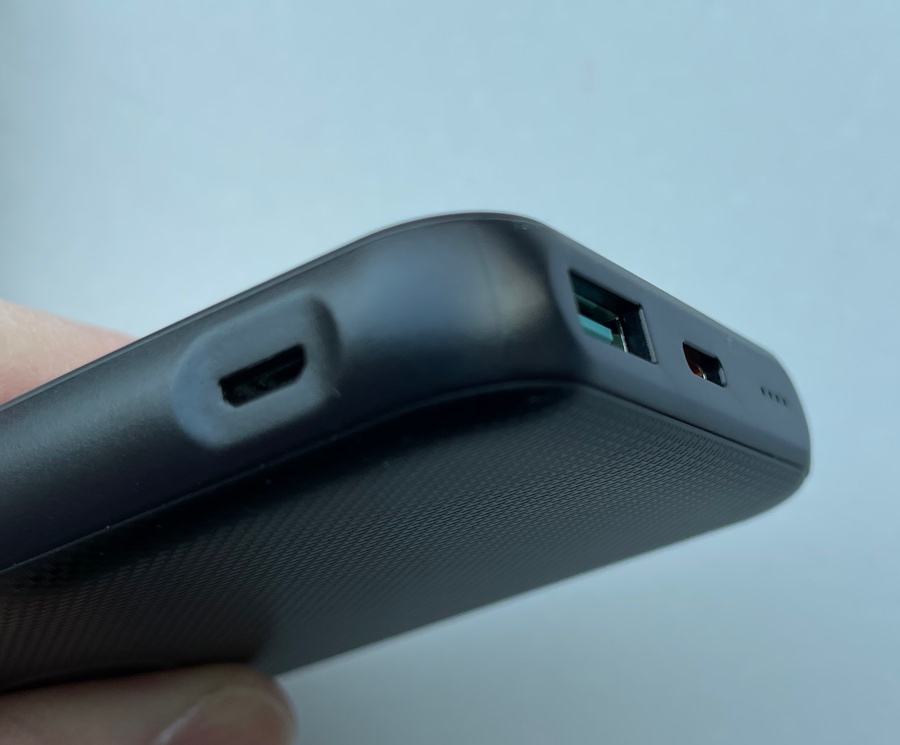 And so we come to the proof. Here we have a Lumia 950 XL, a Samsung Galaxy S9+ and a Huawei P40 Pro (running Microsoft Launcher), connected by Type C, USB-A and then on top of the power bank to charge wirelessly, respectively.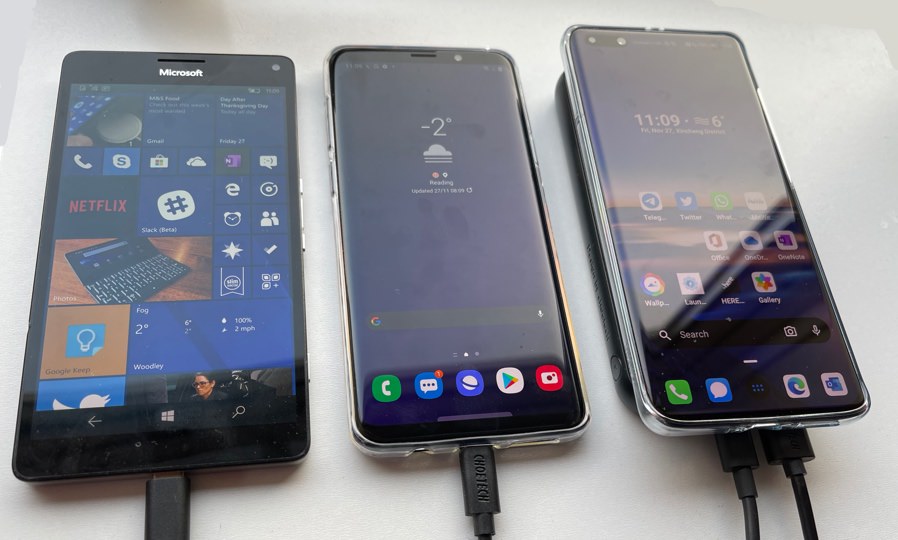 In short, this does what it says on the tin, as it were. At under £20 this is something of a bargain - and I hereby move that all power banks from now on should have Qi wireless built into their top surface - it's a game changer!
Reviewed by Steve Litchfield at