Review:
Marshall Major IV Bluetooth
Score:
94%
I think this is the highest score I/we've ever given a product on the All About sites - simply because this is both mightily impressive and just about a perfect product. I honestly can't think many ways in which the Marshall Major IV Bluetooth headphones could be made better. It does everything it claims and then goes a few steps further, to delight and entertain. Since it arrived at the start of the week it has quickly become my favourite 'thing' (after my smartphones!)
Buy Link | Download / Information Link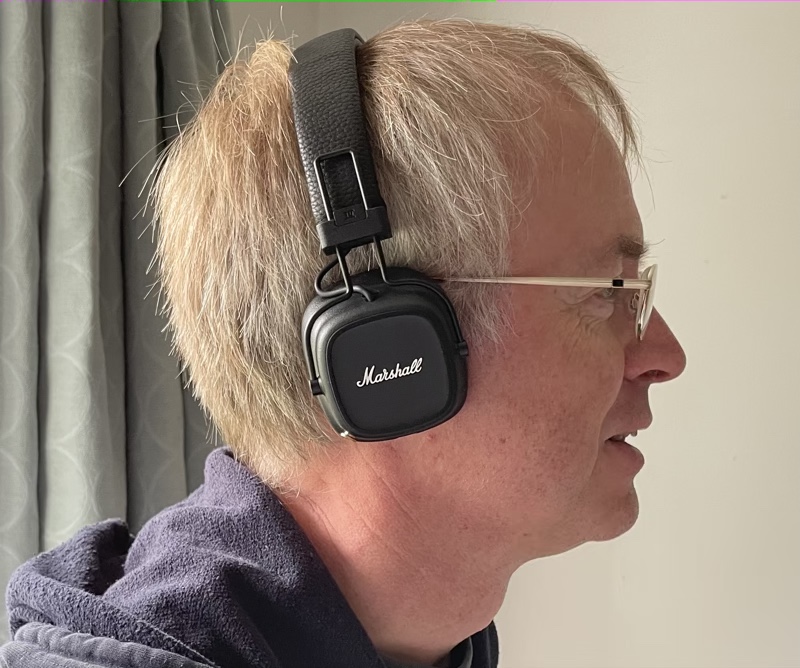 I should emphasise that this wasn't a review freebie - I paid with my own money after experience with the II and III variants over the last five years. Marshall (actually Zound Industries [product page], which has been making Marshall's headphones for almost a decade now) puts out a new, improved variant every couple of years, but the IV is by far the biggest jump yet.
Obviously music quality, fit and finish, and so on, are very important and I'll come to them, but in this case there are some breakthrough hardware and specification points to note.
Battery life
It's hard to know where to start with these, but let's try battery life on a charge. Apple £150-£250 Airpods last 'up to' 5 hours. Apple's £500 Airpods Max (similar form factor to the Marshall) last up to an impressive 20 hours. Most other third party solutions are less than both. The Marshall Major IV Bluetooth last up to 80 hours on a charge. That's eight-zero. It's more than double that of the previous Major III generation and effectively means that even if you're a heavy user, you won't have to charge them more than once a week, and most casual use (up to a couple of hours a day) will mean only having to recharge these once a month.
Although I haven't owned these for a month yet, Marshall's claims seem to be borne out, judging from user reviews elsewhere. I'll report back if I find any different once the monster battery in the IV finally gives way.
Qi charging
Yes, yes, having said that you don't have to charge these very often, it's reassuring to see a smartphone staple make its way to headphones. As far as I know, these are the only headphones in the world that can charge wirelessly. Handy when it does come to charge time in not having to dig out a cable, I guess. More intriguingly, you can just put the IV on your pad when you think of it and then the headphones are always topped up and always with another 80 hours of listening in them. Meaning that you may never have to plug in a charging cable!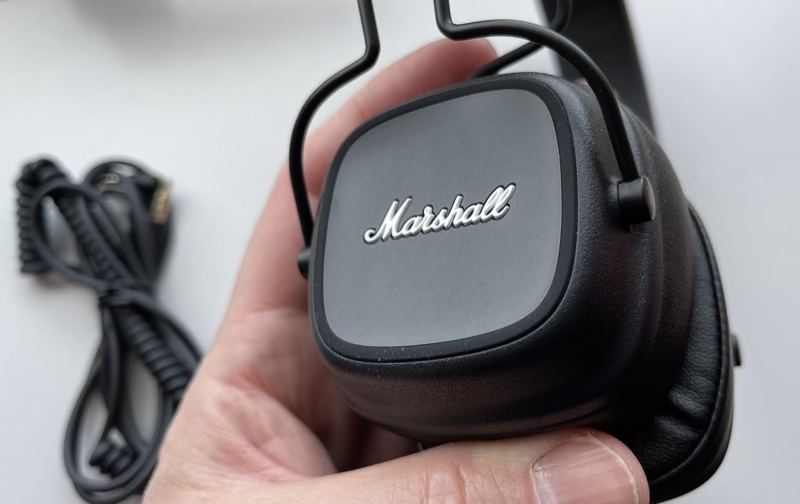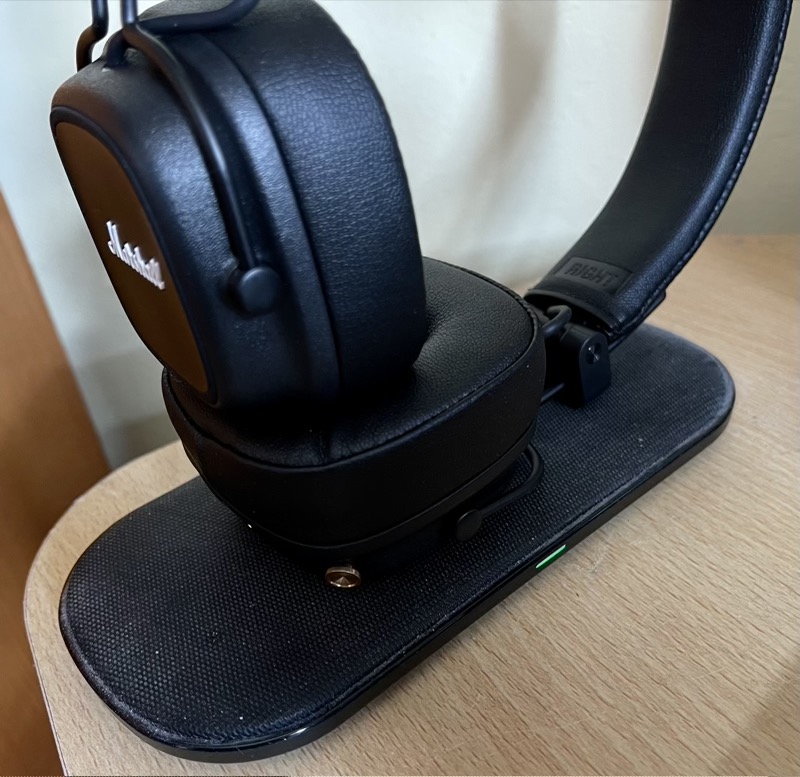 Type C charging
And... last resort... if you DO ever have to plug the Marshall Major IV Bluetooth headphones in to charge, they're Type C and not fiddly old microUSB, like the vast majority of other Bluetooth gadgets. There's no indication of charging specs, but in practice I'd estimate that they
3.5mm audio OUT
These also have audio OUT (as well as 'in')! So you'll be Bluetoothing to the headphones are enjoying something, then plug in your partner's wired headphones to the IV's 3.5mm socket and the port switches to outputting the decoded Bluetooth music to the extra pair of headphones, so that you can listen together. It's another supremely rare feature in the headphone world and I don't believe ever in a product at this price point? (Feel free to suggest others that do this in the comments.)
(In practice, of course, my wife wouldn't be seen dead listening to my prog rock and electronica, but I'm sure there are couples and friend pairings for whom a shared listen would be possible!)
Hardware
As with the others in the series, the Marshall Major IV design includes a hinge for the earcup rails, meaning that the headphones can fold fairly small. Sadly there wasn't a carrying case in the retail box (so maybe that's partly where the missing % in the score went!), but they're still very easy to pop in hand luggage for a trip. Weight is 165g, by the way, lighter than I'd expected given the battery capabilities.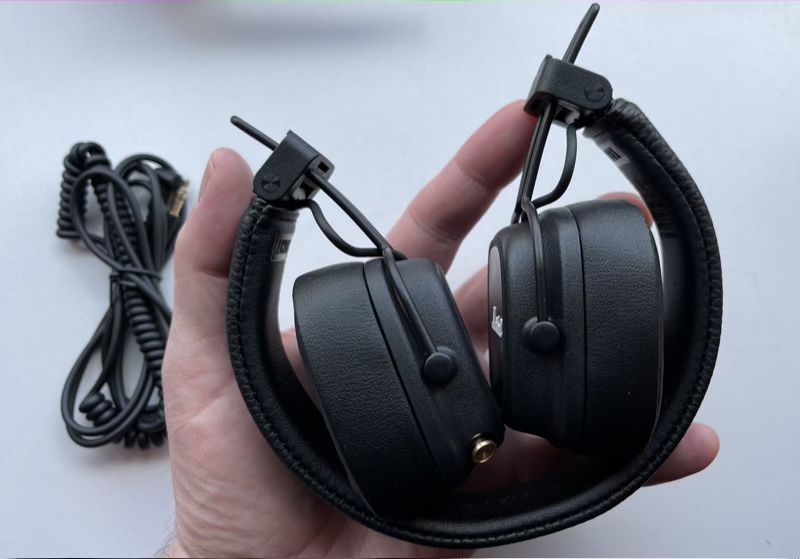 The earcups themselves are really tough black ABS plastic, with memory-foam-like acoustic isolation pads, covered in leather. The similar pads on my four year old Marshall Major II set are still 'like new', so these should be equally as long-lasting. The headband is also covered in leather, with Marshall's trademark 'amplifier' texture across the top and smooth leather on the inside, with just the 'Marshall' logo.
Multi-function control
On the right earcup is the only control, a Marshall amplifier-style serrated gold cylinder. Long press this in to start the Bluetooth functions, with a 'kerrang' sound effect of a Les Paul plugging into an amplifier and playing a short riff. No, really. Long press it again to get another, less intense riff, to power the headphones off. (Obviously, if you're using the IV in wired mode, i.e. plugged directly into a phone, then there's no need for the active circuitry, so the control does nothing. Many wired headsets have media telephony control pods, it's a shame some way to shoehorn this into the supplied 3.5mm to 3.5mm cable wasn't implemented.)
When listening wirelessly though, it's a chunky and positive control - tilt forwards for more volume, back for less, and to left and right to change tracks (or skip ads in a podcast):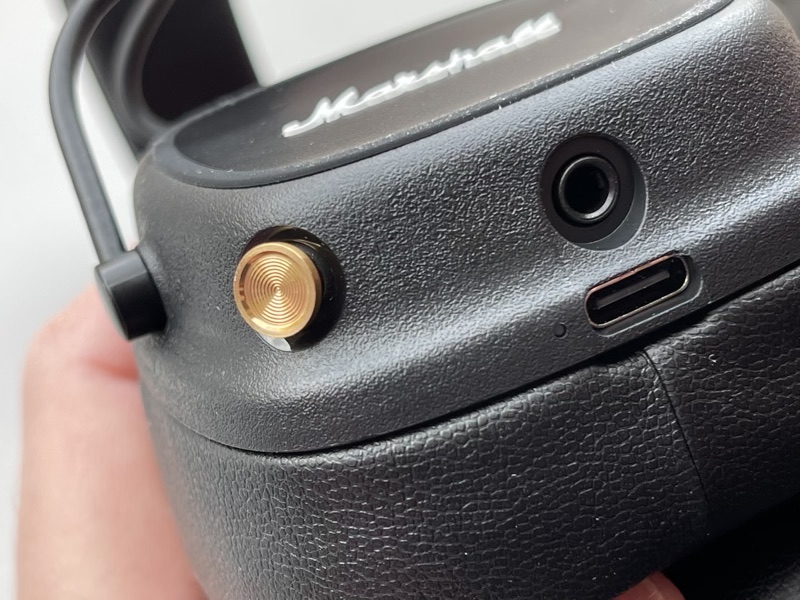 If a call comes in (as it did several times this week while I was out walking), one press answers and there's a microphone on the front of the right earcup - the calls went well and the other parties could hear me fine, so the system seems to work.
Audio quality
No matter how many bells and whistles and design niceties headphones have, the listening experience needs to be top of the line at this price (£120 on Amazon UK). Which brings me to why I've loved this series since the II - the comfort of the pads and the high quality of the audio from the two 4cm drivers is exceptional. Marshall is known as a 'rock' brand and indeed there's extra attention to bass response - so kick drums have a real, physical thud, and bass guitar parts sound powerful and silky smooth. Yet, unlike cheap 'bass' headsets, the Marshall Major IV Bluetooth headphones aren't boosting bass frequencies, they're simply rendering the frequencies that are in the music but which you possibly haven't heard before in such quality.
Mids are clean and clear, and high frequencies are crisp without ever seeming piercing. Most of all, there's masses of 'oomph' (99dB SPL), thanks to a top quality built in DAC and a powerful amplifier driving the earcup speakers. In most cases I only needed 50% volume on the A2DP Bluetooth stack from my test phones to enjoy my music - there's loads of overhead available. (For wired use, impedance is classed at 32 Ohms, by the way, which is more or less a standard in 2021, ensuring that any phones or dongles can drive the headphones.)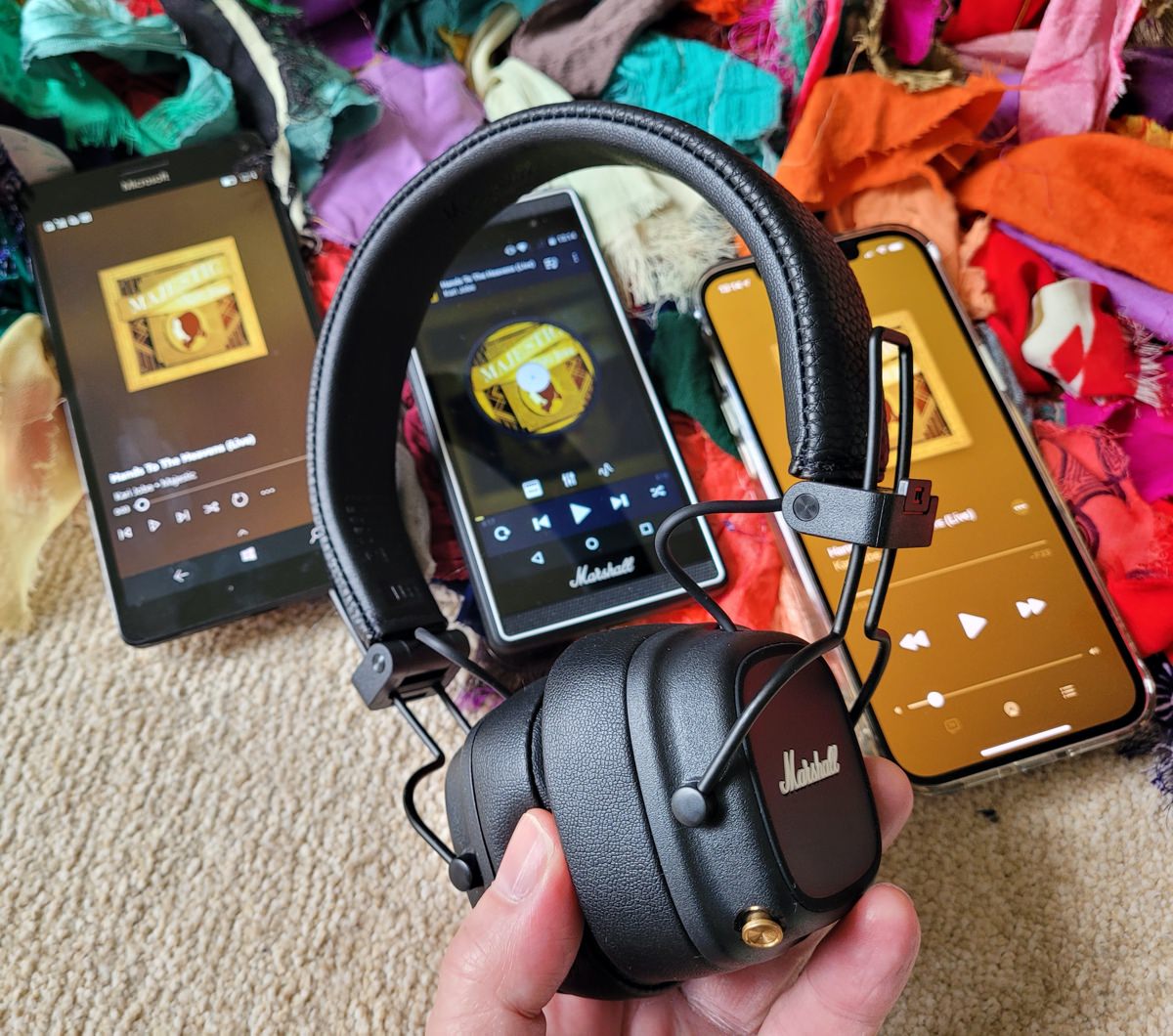 I do realise, based on this praise and my high score above, that you may think at this point that I'm exagerating. But rest assured, I bought the II and the III with my own money, now ditto the Marshall Major IV and the experience just gets better and better.
________
The 2021 zeitgeist seems to be 'TWS', True Wireless Stereo buds that are tiny and sit in the ear canals. But I'd much, much rather have proper headphones with decent size speakers, ten times the battery life, and nothing to lose. I can recommend the Marshall Major IV Bluetooth headphones wholeheartedly - but what about you? Preferences? Experiences with on-ear or over-ear headphones with music coming from your smartphone?
Reviewed by Steve Litchfield at