Review:
UGREEN 100W GaN Fast Charger
New features are still broken on the All About sites - but Reviews seem fine, so here goes. Sent over for me to test is the UGREEN 100W GaN Fast Charger, designed to charge just about any mobile tech you may have - and then some. It's not cheap, at £80(!) - but it might be a genuine space and complexity saver in your office or kitbag.
One of the chief attractions of GaN (Gallium Nitride) technology is that the transistors can work at higher voltages and temperature than traditional silicon chips - meaning that power adapters (as here) can be smaller and lighter for a given power rating. You can gauge the diminituve size (perfect for travel bags?) from the shot in my hand below: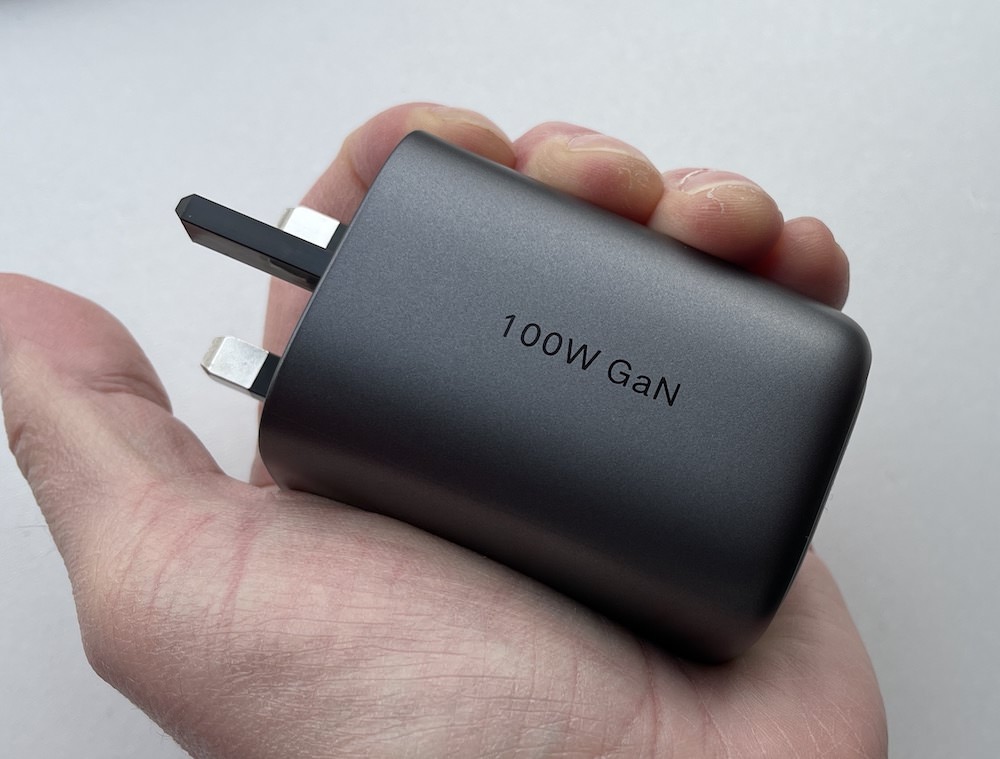 It's all built-in here, no flying leads, but that's OK, especially for a travel adapter. I'll come to the almost unbelievable specifications in a moment, but for now here are output ports: three USB Type C and one USB A, which is about right for a typical work load of devices in 2022: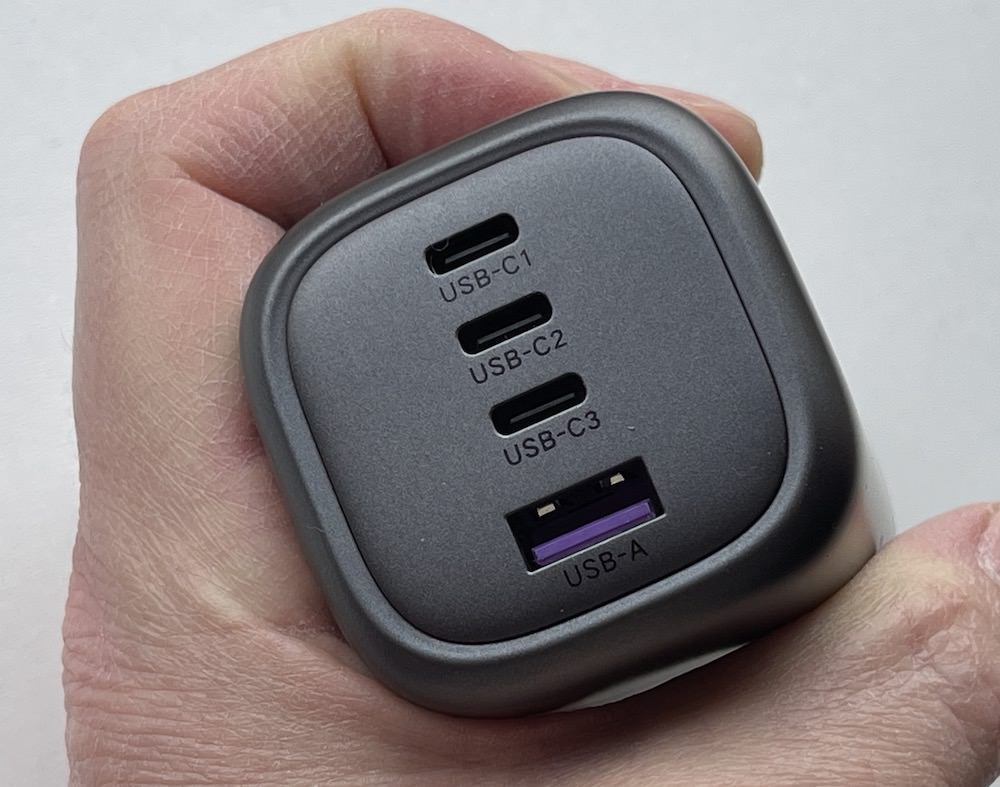 (I should note that the blade in the USB-A port is a little low in the aperture - it works just fine, but you may have to 'wiggle' some USB A jacks. This perhaps the only design caveat, but I thought it worth disclaiming.)
Now onto what this UGREEN adapter can do. It's designed to handle the most demanding laptop (e.g. Macbook) Power Delivery output, all the while also charging a bevy of smartphones and accessories: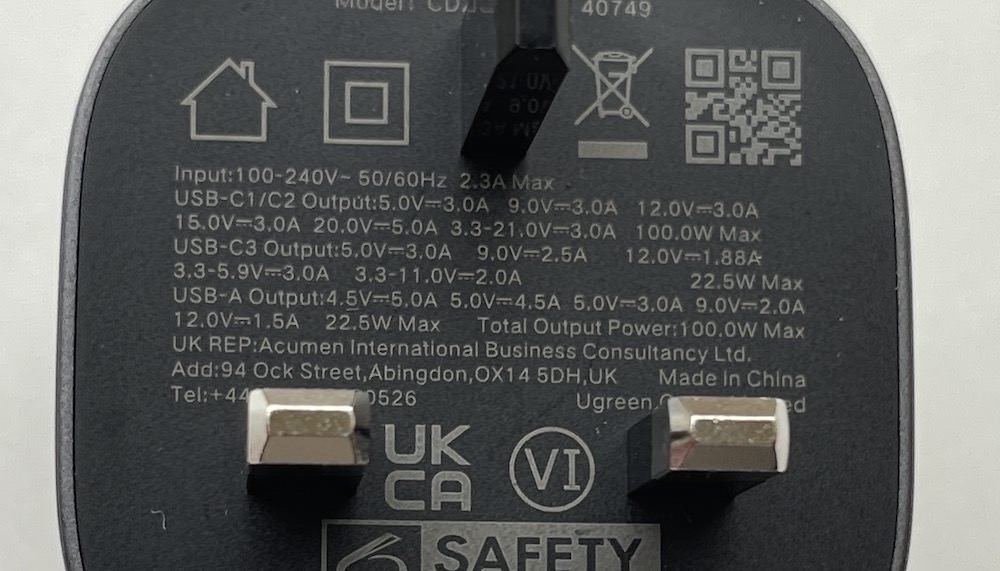 To save your eyes from squinting and deciphering the photo above, here's what you need to know:
All the Type C ports support PD (Power Delivery) 2.0 and 3.0, plus Quick Charge 2, 3, and 4 standards, plus PPS, AFC, and SCP, none of which I'd heard of, but good to know. The USB A port supports most of this too.
The top two Type C ports are the workhorses, each capable of supplying a full 100W if the only port in use.
As you might expect, once you start plugging in multiple devices then the available power goes down a little. The UGREEN documentation does include a handy chart, so I'll reproduce it here: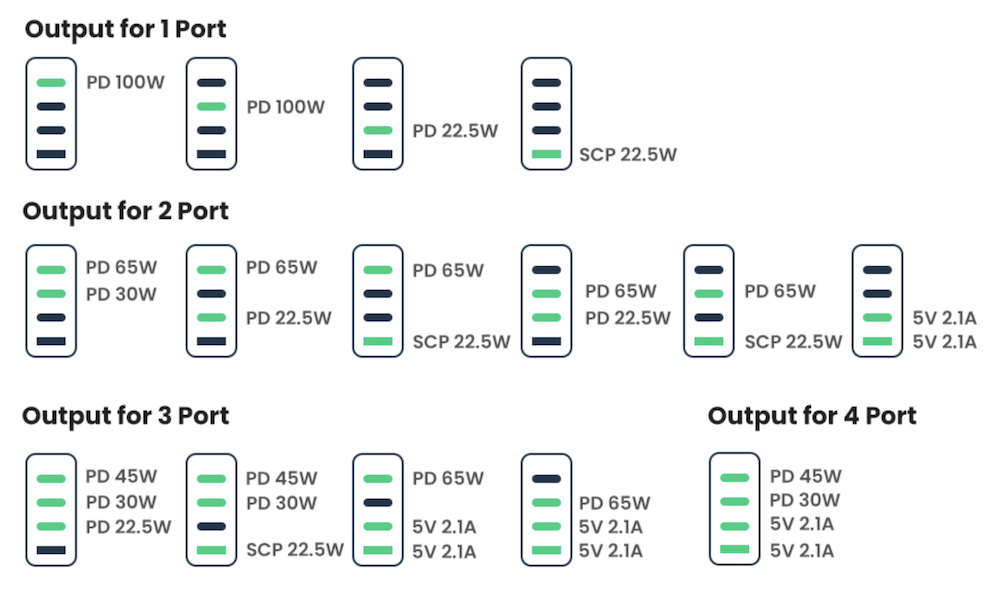 All of which is splendid and I've been drawing current from two or more ports for the last few days with no issues.
Most major manufacturers of phones have now stopped shipping mains chargers with their phones, to save bulk and cost and (in theory) to save planet. Now, in the short term, there's no saving because people will have to go out and buy something like this UGREEN option at extra cost ad shipping, etc. But in the long run, you only need to have a few adapters of this quality and capability in your home or office, and whatever comes your way in terms of laptops, phones, or tablets, you'll have power waiting to be tapped off with a suitable cable.
The UGREEN 100W GaN is made from plastic, but it's very solid in the hand and feels utterly premium. Obviously, versions for other markets will have their own country's mains pin configuration. At £80 on Amazon UK, this is also premium-priced, but then you're getting the very latest charger technology in a tiny cube that can go everywhere you need to and will always deliver the goods.
I'm fortunate, as a journalist, in having several GaN multi-port adapters (sent in for review) and will probably not have to buy another charger for a decade, but for you, the geek or enthusiast, this is about as good as it gets in your briefcase, man bag, or pocket!
Reviewed by Steve Litchfield at