Review:
RENAISSER Raphael 530 Stylus
Score:
80%
Features may be on hold, but I can still post reviews. Now, now... If you resent paying £120 for a Microsoft Slim Pen 2, and then either another £30 for a charger for it, or another £60 for the Surface Duo 2 Slim Pen Cover, there's another way. Go third party and save a fortune, plus you get standard USB Type C charging into the bargain. This Renaisser 'Digital pen for compatible Windows 10 devices' is perfectly good enough for most stylus activity on the Duo 2 or indeed any other Surface Pro or Go tablet...
It's always a little bit of a lottery buying a stylus - you never quite know what will work and what won't. In this case we have a fully 'active' stylus tested on everything that Microsoft makes: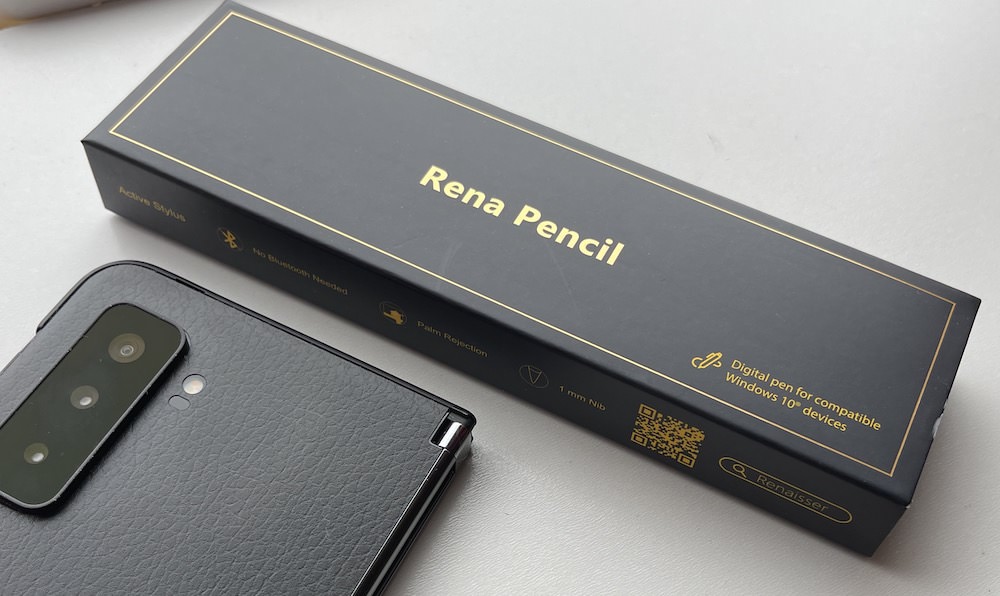 The tips are of Microsoft quality and you get three spares in the box (should you have an accident), making the £40 purchase price seem more than reasonable: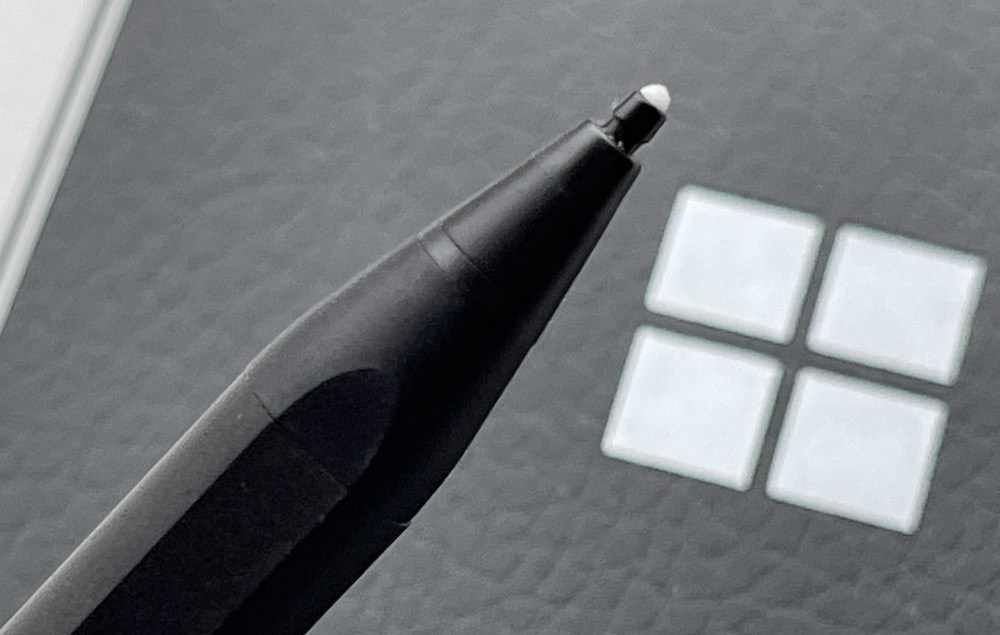 In use, the experience is identical to that on the official Microsoft accessories. The slight friction on the glass surface, the pressure sensitivity whe drawing, the weighting in the hand, are all top notch: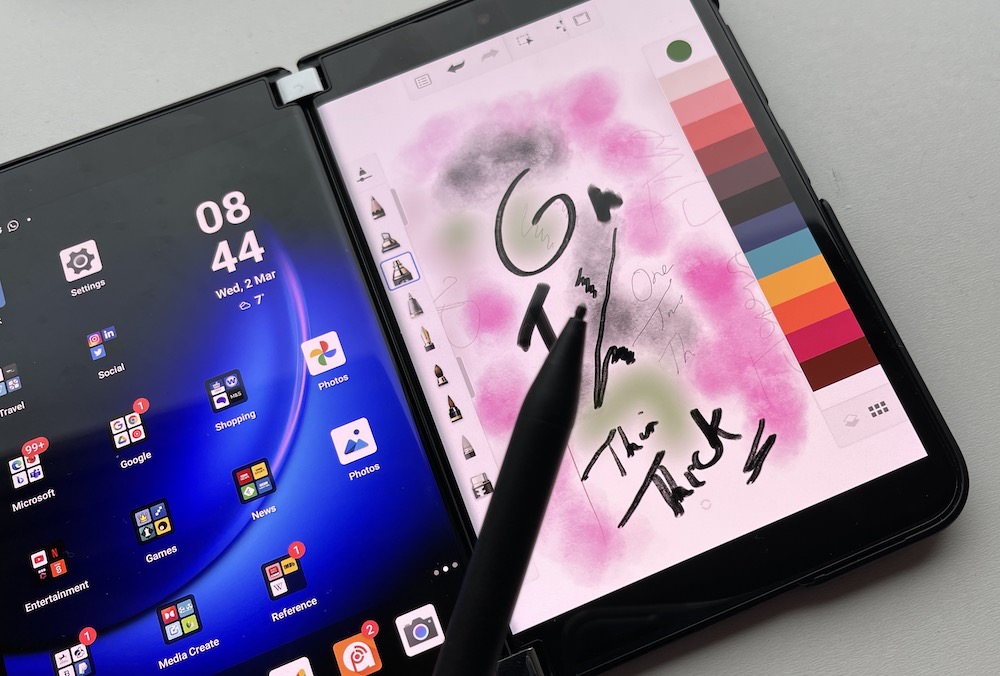 Of course, how much you get from a stylus is heavily dependent on how much you use it. If you think you'll be using a stylus many times a day then the official Microsoft Slim Pen 2, along with charging case, is an expensive but worthwhile solution. But if, like me, you only need a stylus once a day or even once in a while, then save your pennies with this Renaisser design.
There's also the decision on how to case your Surface Duo 2 - in that with my bumpers and skins in place, the official Slim Pen 2 case wouldn't slide on properly. So it's one or the other. Bumpers/skins/thid party stylus. Or Slim Pen Case/Slim Pen 2. You can't mix and match easily!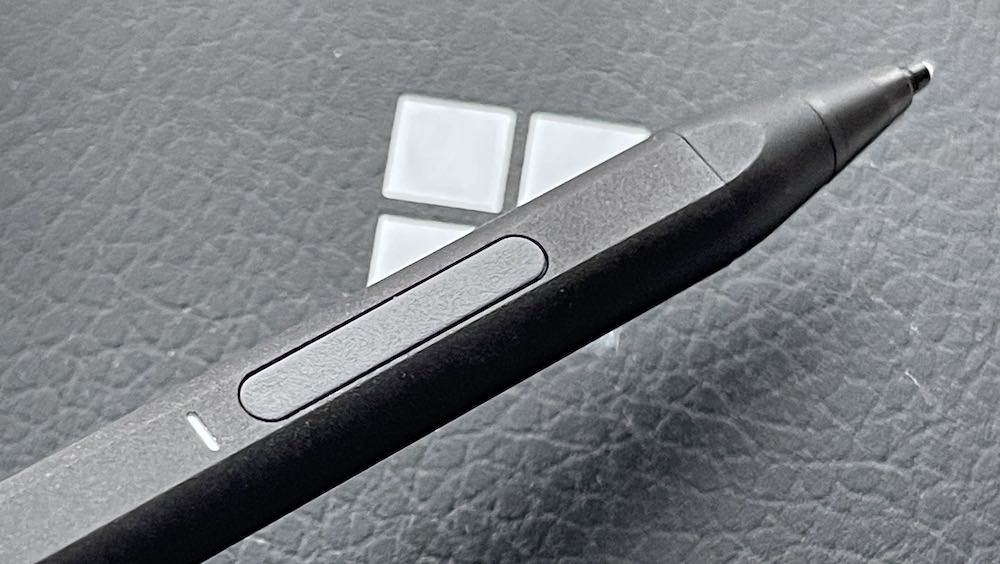 This Renaisser pen has a single pivoting double-button, to activate the err... 'active' features, and then after 10 minutes of non-use the stylus powers down to save battery. There's no Bluetooth, so you don't get any 'press the button to launch so and so' style combinations, which is something of a caveat if you were looking to do more.
But you do get 'select' and 'erase'/right-click functions via the two ends of the button, with what they do depending on which application you're in, obviously, i.e. how the app responds to each input.
You also get an inductive end 'eraser', just as on the Surface Pens: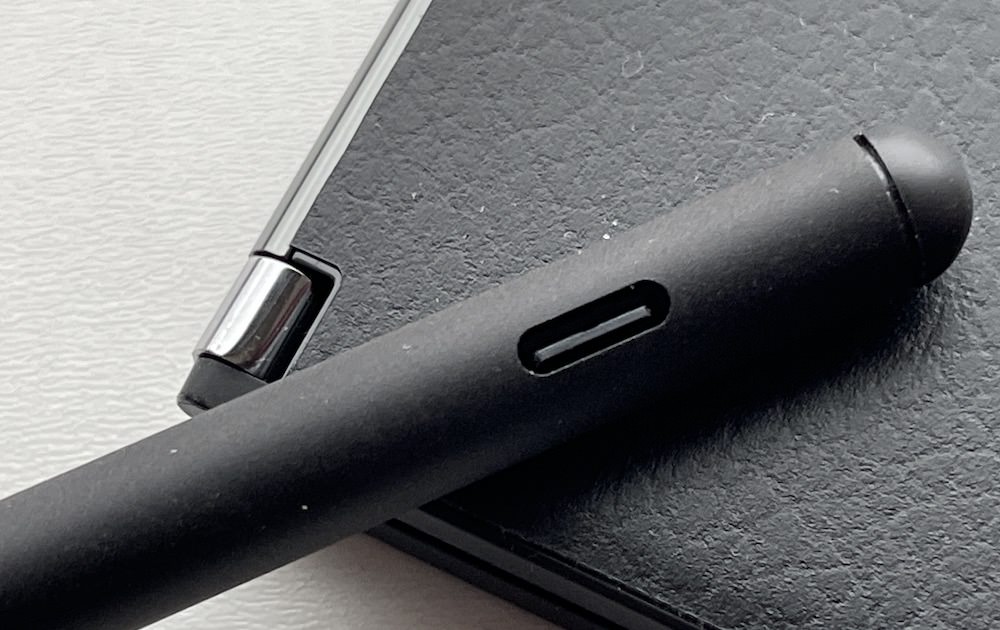 The eraser is all driven by the software inside your device, of course, so the erasing depends on which mode you're in and in which application. So it works as well as the official Surface Pens.
Plus that Type C charging port. Yes, it's open to the air, yes, you might think it unsightly, but trust me, it's wonderful to have an ultra-standard way of charging this thing without having to ferret around in drawers to find your Slim Pen 2 charger once a month.
After getting my Surface Duo 2, I was disappointed that the original Surface Pen (shipped with my Surface Go four years ago) showed extreme lagginess on the phone screen. I guess technology has moved on, but no worries, since this Renaisser stylus has zero lag and works perfectly, while not breaking the bank, super value at £40.
Two things worth noting:
There are magnets in this Renaisser stylus, but not strong enough to reliably keep it on the Surface Duo 2. So most of the time it'll be in a pocket or in your brief case.
Yes, the stylus works perfectly with all other 'active' Surface touchscreens, I tested it with sketching apps on my Surface Go, for example. So it's a useful low cost bit of kit to keep around, I contend.
Reviewed by Steve Litchfield at