Review:
Baseus Adaman 65W Digital Power Bank
Score:
90%
It's that time of the year, perhaps. Roughly once each annum I declare myself to have discovered the 'perfect' power bank. And the thing is that I always have justification for the new rating because the technology keeps moving on - here we have a metal bodied, high current, multi-output power bank, with no less than three digital display modes.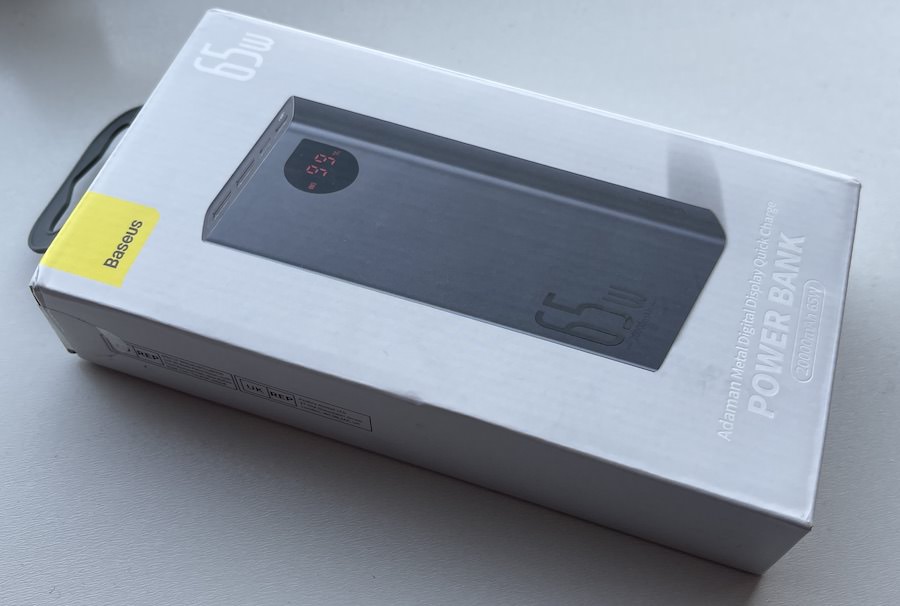 It's true that I have a collection of power banks - some review, some bought - stretching back a complete decade. But the technology moves on inexorably, as do my expectations. Back in 2012, simply having twin output ports was enough of a star feature, or perhaps rounded corners(!) Ten years on, I/we want:
'pro' level build and durability (the Adaman here is aluminium with plastic end caps)
at least two outputs and preferably three (as here, see the port specs below)
an input that supports fast charging, for faster refilling of the power bank
output power levels that can cope with the thirstiest smartphones and ideally a laptop (e.g. Macbook or Surface), so Quick Charge 3 and Power Delivery 3.0
a proper digital readout of what's happening, both in and out (in this case charge level, voltage being output, and current drawn)
And this Baseus Adaman power bank, which I found on Amazon, fits my 2022 bill across the board: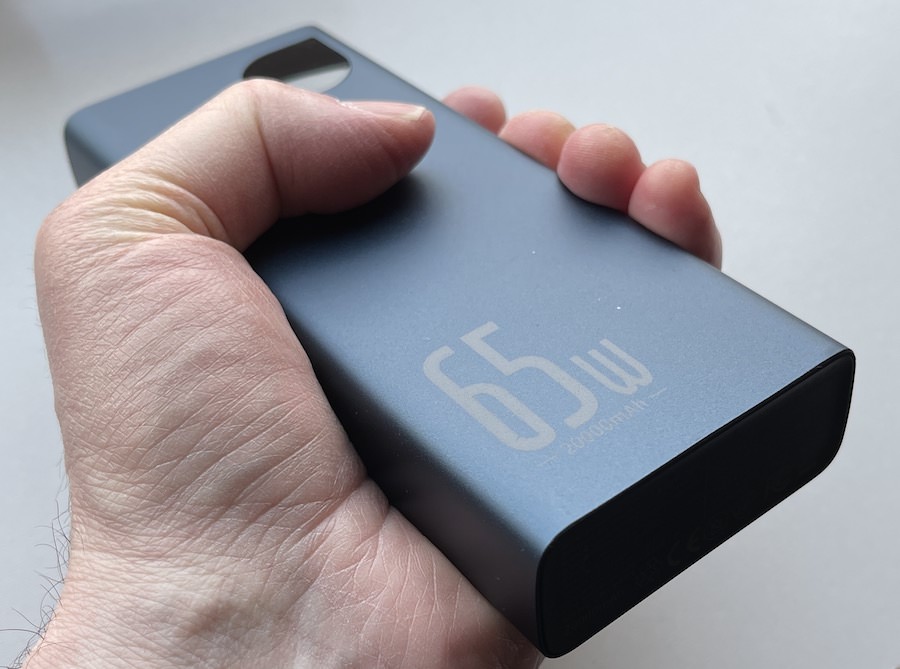 It's nicely weighted and sized too - it'll fit in a coat pocket with ease. The '65W' legend is prominent, as perhaps it should, since this proclaims to the world that it's not just for charging phones, but laptops too.
Let's start with that display though, since it's the first of its kind - the power button on the left of the unit toggles between charge state (0 to 100%), voltage in or out, and current in or out. This is cleverer than you might think, when you have more than one thing plugged in. Pressing the button to cycle through the stats actually shows voltage and current for the first port in use, then goes to the next one, etc, before eventually getting back to charge state.
This is groundbreaking for a consumer power bank - when you are specifically charging from a source or recharging a phone or laptop, it's very handy (at least, for a geek like me!) to be able to see the exact voltage and current involved: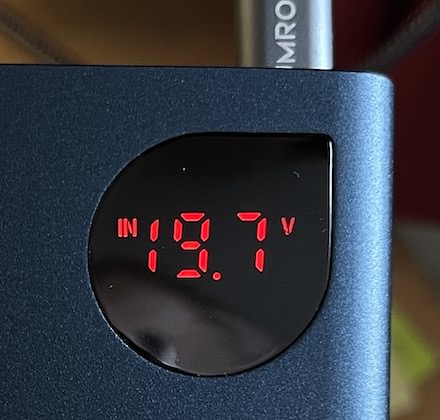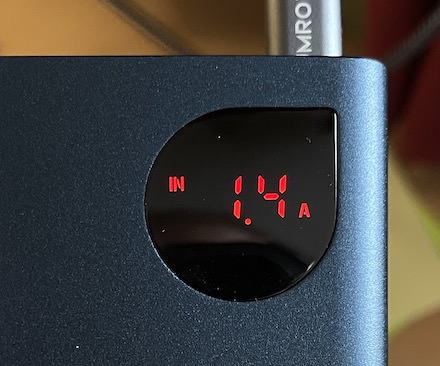 Lovely stuff. But we need to get onto what the Baseus Adaman can deliver. We have the main Type C port (for input and output), microUSB for input (not that useful in 2022, but hey...), and two labelled USB-A ports: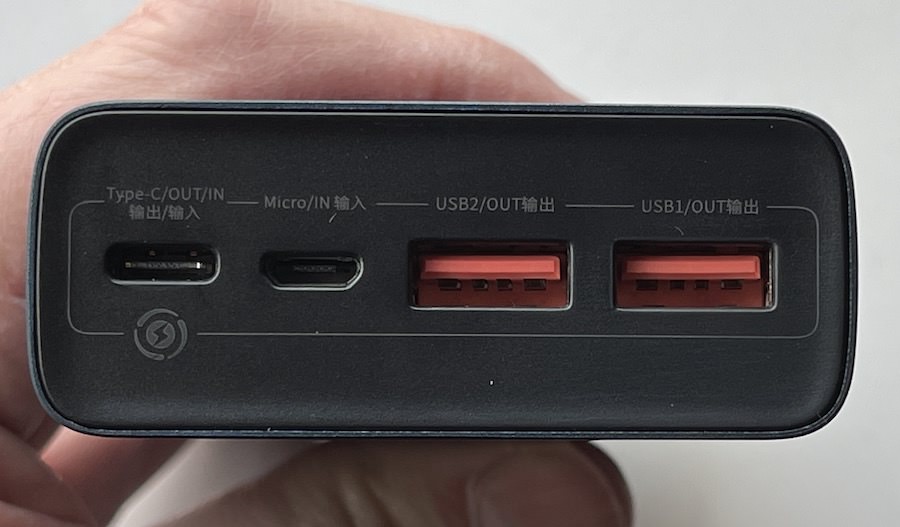 As usual for power banks, examine their end face and the specs are listed, albeit in tiny writing (in English, but also in Chinese characters for this unit), so I'll save your eyes and break it down in plain English:
USB Type C: goes up to 65W Power Delivery 3.0 output and with all standard voltage/current combinations supported. For Type C charging of the power bank, 60W is supported, at which rate it can be refilled in around an hour, all other things being equal.
microUSB: for input only, at up to 18W.
USB-A ports 1 and 2: go up to 30W individually, using a variety of standard and Quick Charge 4.0 voltage combinations, or 18W each when both are in use, for example.
(Obviously, if you're using more than one output at a time, the power is shared, so for example Type C plus USB-A ends up as 45W and 15W respectively.)
We seem to have ended up, in 2022, with both phones/tablets/laptops and accessories being intelligent enough to negotiate the best power protocols to use without needing us humans to worry. This does usually mean a second or so delay while the electronics sort all this out, but it's good to see everything now being automatic. (The only remaining thing to note is that for a device which can both input and output via Type C, it's always best to connect up to the power bank first and then the phone (etc.) - otherwise you can get the latter charging the former!)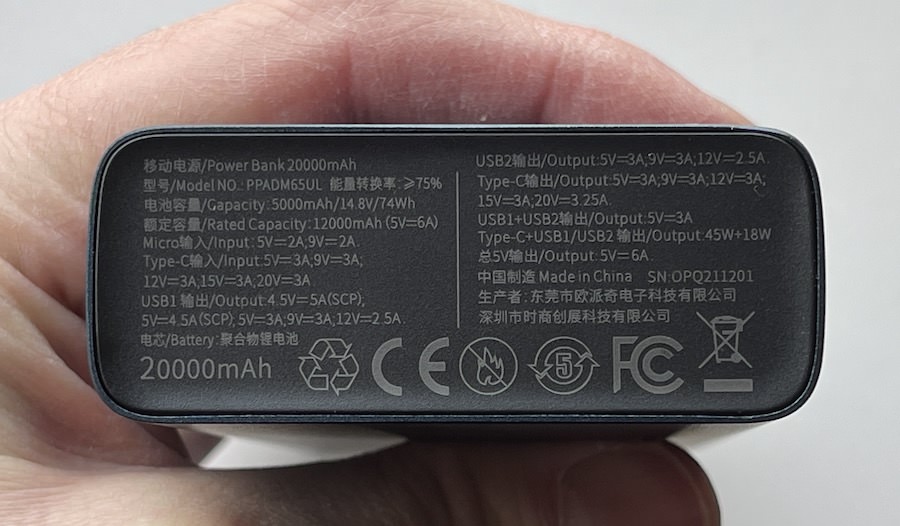 I bought this at under £43, which I think was a bargain. It's currently tracking at just under £50, but as usual with Amazon, prices go up and down seemingly at random. So pick your moment, though even at £50 I think it's a very solid buy.
Update - 5 April 2022: While I still think this is an excellent product, note that my personal unit developed a fault, with no display, and had to be returned. Hopefully just a one off, but worth noting at least.
Reviewed by Steve Litchfield at