Review:
Baseus 65W PD 'Car Charger'
Score:
87%
No, the second appearance of Baseus in these pages has nothing to do with sponsored products or freebies - I bought each with my own money and am renovating my entire home tech power system - more in a feature if Rafe can get (new) Features working again on the server. Here we have full 65W Power Delivery output from a car 12V socket - subject to power caps within your vehicle, of course!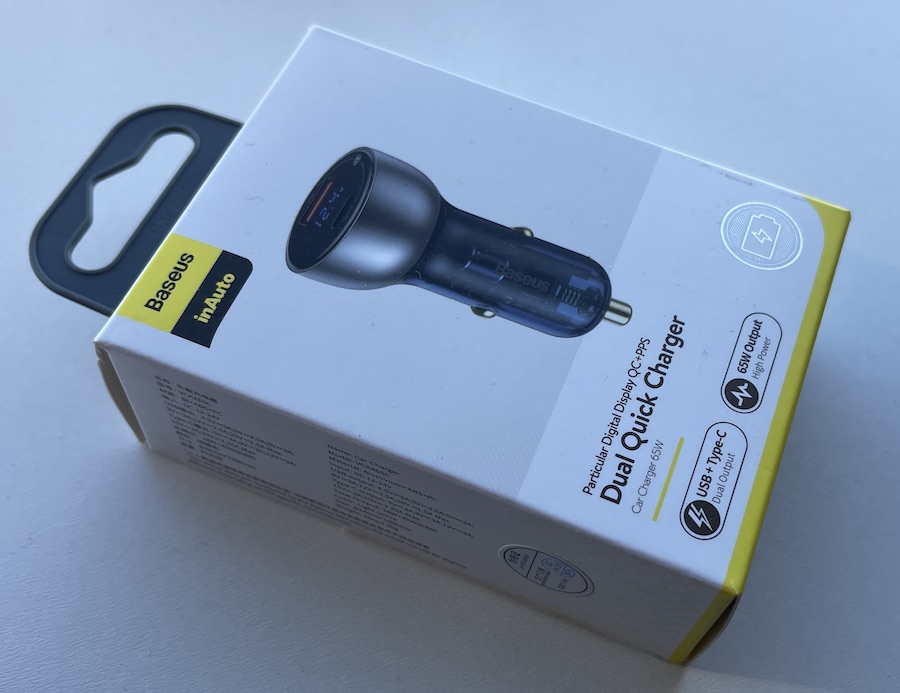 This Dual Quick Charger is currently £20 on Amazon UK, though I paid £24. Why so (relatively) much for a 12V to USB converter? Because this is just about the Rolls Royce of such accessories. Yes, you can get chargers with three USB-A ports (including Quick Charge 3.0) for half the price, but here you get the best of all worlds, since you get industry-leading Power Delivery too, i.e. the PD standard used by many laptops and high end smartphones now:
Two ports then, separated by an obvious gap (which I'll come to in a moment!) and very high specification:
USB-A, up to 30W and compatible with Quick Charge 3.0 devices and (up to 25W) Huawei SCP fast charging
USB Type C, up to 65W using Power Delivery 3.0 protocols
The use of 'up to' is, as is usual these days, because actual charging voltages and current are (quite literally) negotiated at connection time between the charging source and the thing being charged. Essentially the two 'talk' to each other and work out how much power to supply and at what voltages. So (for example) hook up an old Lumia and 15W will be supplied. Hook up a more modern Samsung and you'll get 25W. Hook up a Mac laptop and you'll get the full 65W, just as if the laptop was plugged into the mains.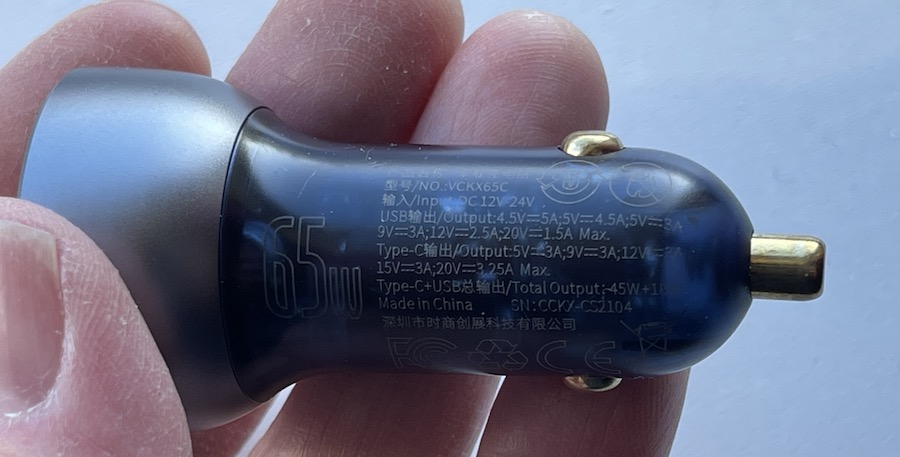 There is, of course, one caveat to this, in that actual power available is dependent on what your car's 12V socket can supply. Most modern cars are OK up to around 100W but you'd have to check your car's manual.
In my case, although I did test this in my car, I also tested it with (and the reason I bought this in the first place) my Jackery 500 power station. This is a super portable power source, but its DC output is, by its USB ports, limited to just 12W each. Which, in an emergency situation, isn't much use if you have something hungry to power or charge. But the Jackery outputs up to 120W via its 'car' socket, which is where this Baseus charger comes in - converting 12V at up to 10A to Quick Charge 3.0 and Power Delivery 3.0 as needed.
Now for the 'one more thing' feature that I teased earlier. This includes an intelligent digital display that cycles through input voltage (13.4V below, not under load), and then output voltages and currents for each port: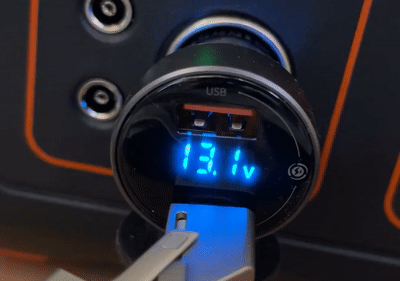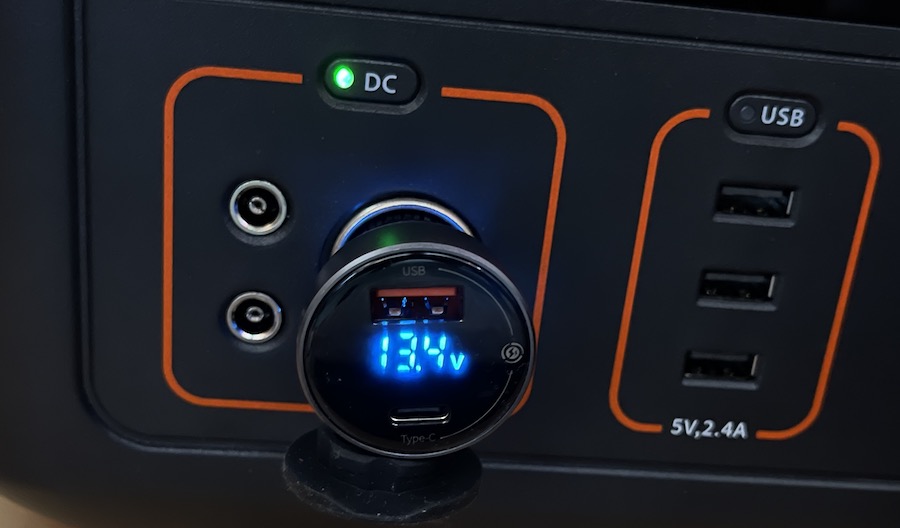 Which is just so cool. And, quite possibly, informative if you're trying to troubleshoot why something isn't charging or is charging slower than expected in an emergency.
In short, I'd recommend this as the state of the art in 2022 in car 12V socket adapters. It'll certainly be an upgrade to whatever's plugged into your 12V socket right now.
PS. Watch out for more on my thoughts on emergency mobile charging in a proper new Feature if the 'All About' server ever gets fixed in this regard.
Reviewed by Steve Litchfield at