Review:
Jackery 500 Power Station
Score:
91%
Following my look at a folding 120W solar panel and a 12V 65W adapter, it's time for the pièce de résistance - a way of 'caching' charge and dispensing it as needed. Traditionally in the mobile world we'd be looking at a high capacity power bank, and in effect this is the case - except that here we're talking 137,000 mAh (at phone voltages), compare that to the 10,000 mAh of the familiar pocket bank. This is a serious, serious bit of kit and includes a 500W inverter.
I picked the Jackery after much research - it turns out that there are quite a few similar products out there but in terms of ruggedness and clarity of use, nothing beats the original, the Jackery range. They go up to 2000Wh capacity (and with commensurate outputs - 2kW output - bulk, and price(!)) but I felt that this 500Wh unit is the sweet spot in terms of portability, capacity, and match for the solar panel already reviewed.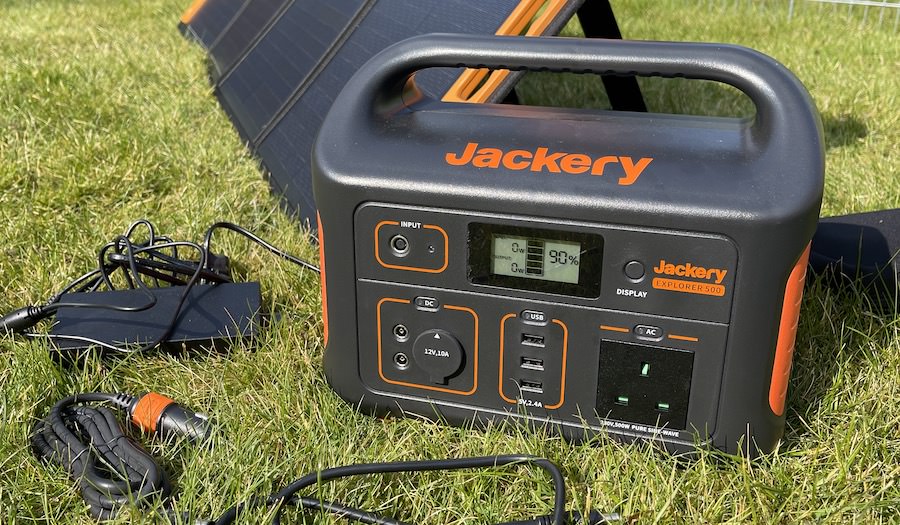 The unit is made from really tough plastic with a carrying handle - more than a gimmick, this proves so useful when repositioning or storing the unit. There are no sharp edges to gouge out one's legs, and all the inputs and outputs are beautifully clear: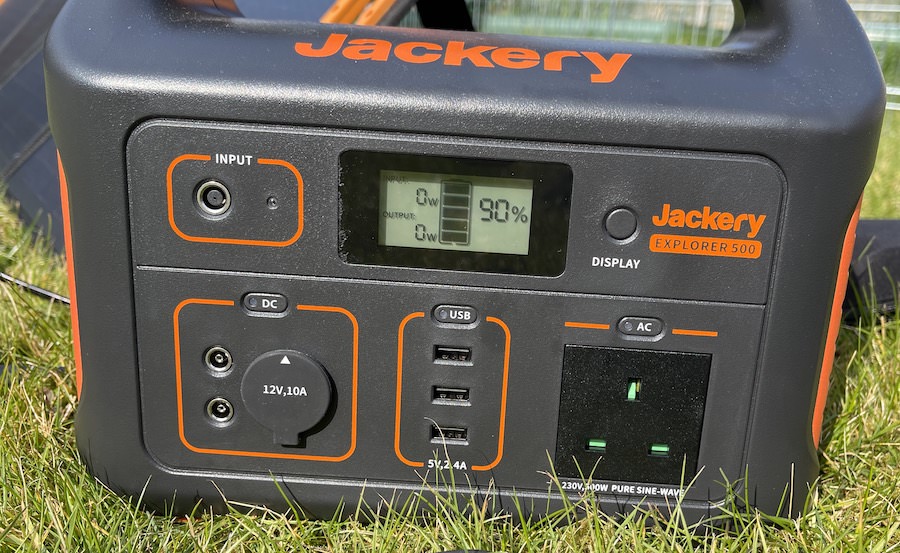 Input:
12V up to 30V, up to 100W (cables are supplied for mains and car 12V sockets, plus my solar panel had the right 'tip' for direct solar power injection)
Outputs:
Twin DC 12V/7A (the small coaxial ports, though I've no idea what you'd use these for - you'd have to have exactly the right DC cable for your travel appliance etc.)
12V/10A standard car charger socket - in a camping use case, this might also be handy for 'travel' appliances, though I always use it with the Baseus adapter, as you'll see below, in the final photo, giving me Quick Charge 3 and Power Delivery 3.0 capabilities (via USB-A and Type C respectively)
Three standard USB-A outputs, 12W each
240V AC/mains, up to 500W (but with 1kW 'surge'), via a standard socket (note that the country variants of this each have their own correct mains configuration)
Each set of outputs has its own on/off button, along with a green confirmation light, ensuring that you only enable the circuitry for the specific use case in hand.
Here's the Jackery 500 with its input wired to my Firefly 120, being refilled by the sun at (checks central display) 71W. Which isn't bad for the UK in March!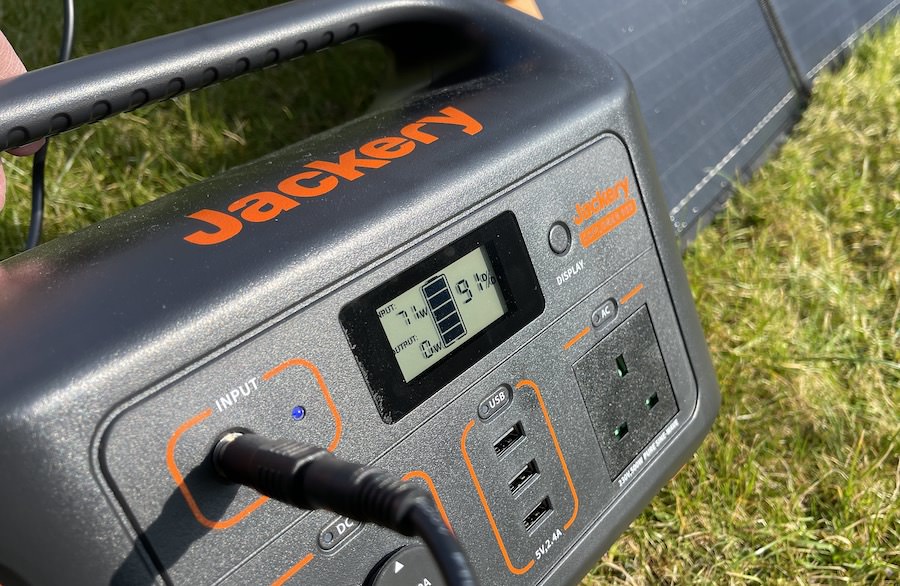 The display is very handy, showing input and output (aggregated) in real time. I've seen some people complain that the backlight goes off after a minute, but it's a transflective display and can be viewed in natural light very easily - and you wouldn't want a backlight on all the time to add drain on the main battery!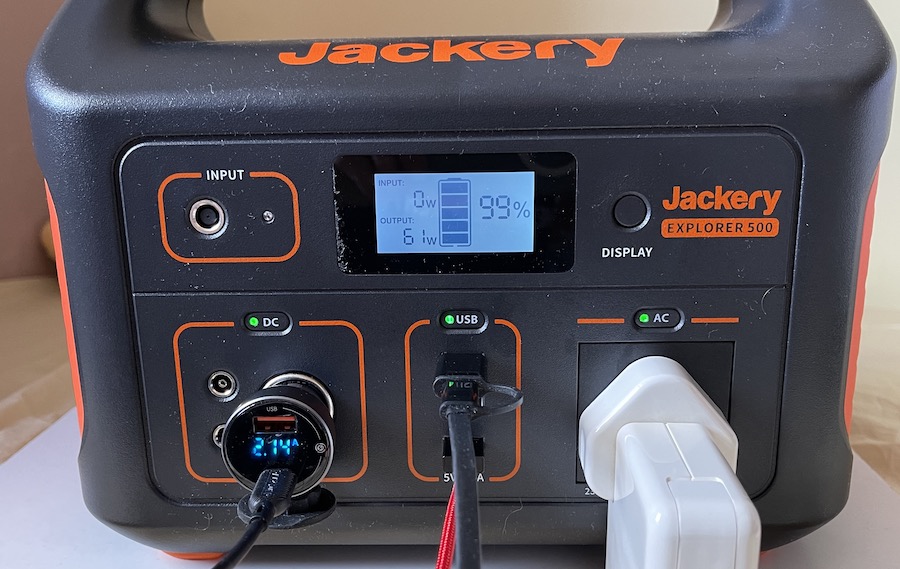 So what's the use case? First of all, note that the ratings are maximums and don't include the use of other ports - however you swing it, the maximum power output of the Jackery 500 is just that, 500W. So if you plug in something really (relatively) hungry into the mains port - say, a mains gang with a fridge/freezer (peaking at 100W with the compressor going), lights (say 100W total), and a laptop charger (say 70W max), then you 'only' have 230W left for sharing out among the other ports.
Fortunately, 230W in a typical mobile tech charging scenario is plenty. I've run through a dozen 'emergency' scenarios here and as long as I/we don't plug in something involving a heating element (so no kettles, toasters, hob, oven, immersion heaters, washing machines, tumble dryers) then I/we will be absolutely fine in terms of not maxing the Jackery 500 out.
Of course, there's also the time factor. The 500W maximum for an hour will see the internal battery discharged completely. So, realistically, the limiting mathematics will have to take into account whether you need the Jackery 500 to run 24 hours a day, at which point the average power output needs to be around only 25W. Happily, add solar into the mix (in daylight hours if you're lucky with the weather) in terms of charging the Jackery (at, say, 70W) at the same time as it spits out power, and you can pull 'up to' 100W fairly sustainably.
In short, it's all a bit complicated and depends hugely on how long your house power is out for, or how long you need this to provide power for when mobile, and how much solar (or vehicle) input you may or may not have coming in. For me, all this is an enthusiast project and doing the maths (and keeping an eye on the charge store remaining) is half the fun!
Jackery make this 'power station' for camping and off-grid use generally, where 500W is ample - so me experimenting with press-ganging it into occasional household emergency use is a little off the wall. Hopefully I'll get in some holiday time around the UK in 2022, at which point this can add to my existing car and camping set-ups.
In terms of value for money, this is certainly a very polished product, but it's also expensive - but I have to note that the price can vary a lot. I bought at £480 direct from Jackery with one of their front page promo codes, but otherwise their full price is usually matched at Amazon UK, and the latter has 'lightning deals', I got offered less than £470 after a few weeks in one of my wish-lists. Look for roughly 10% off RRP either way and you've got a good deal, I think.
PS. I'll round up all of this in a summary piece after a few more weeks of real world use.
Reviewed by Steve Litchfield at