Nico writes:
We all have to thank Steve for his periodic updates on which services and apps are still working on Windows 10 Mobile (see April 2022 Status report here). Thanks to his contribution, I decided to explore how this translates in terms of daily user experience, by testing, for two days, a WP10 Lumia in 2022, exactly two years after the OS final update was released.
In 2021, HiTechKing, a Youtube user, gave a very useful description about using a Windows Phone. In his video, he came to the conclusion "Windows Phone, you have a special place in my heart but it's time to move on."
I believe that WP10 is one of the best OS I have ever used on a mobile device, and like many users, I hope that one day such an OS will make a comeback. But for now, I was happy to give it a try on my Lumia 640 XL with WP10 branch 1703, using it as my daily driver. I will focus here on the positive side, highlighting the working apps and which ones I liked best, in terms of user experience.
In my view, WP10 has still the following strong points:
1) WINDOWS STORE: In comparison to WP8.1, WP10 gives you access to your Microsoft account, which means that you can access the Windows Store and download apps. Thankfully, the store is still fully functional.
2) IN-BUILT LIVE TILES. WP10 is unique for its user interface: live tiles are timeless and many in-built apps have live tiles, as follows:
Phone

Messaging

Outlook Calendar

Outlook Mail

Groove Music

Photos (recent or favourite photos can be displayed on the live tile)

MSN Weather

MSN Money

MSN News

Note Tiles

Microsoft Edge browser = you can pin web pages as live tiles too.

Microsoft To-do

Skype

Alarms and Clocks

Office suite (Word, Excel, Powerpoint, OneNote)

Data usage sensor = to enable this live tile, go to Menu, Network & wireless, long press "Data usage" and select "Pin to Start".

Mobile & SIM sensor = to enable this live tile, do same as above.
Among the other in-built system apps, yet with no live tile, it's worthy to note "Films & TV", which also allows you to buy movies from the Store and see a trailer preview of them. Unfortunately, it has no live tile (unlike in WP8.1). You have also "File Explorer" and "Storage" (again, with no live tile, unlike in WP8.1).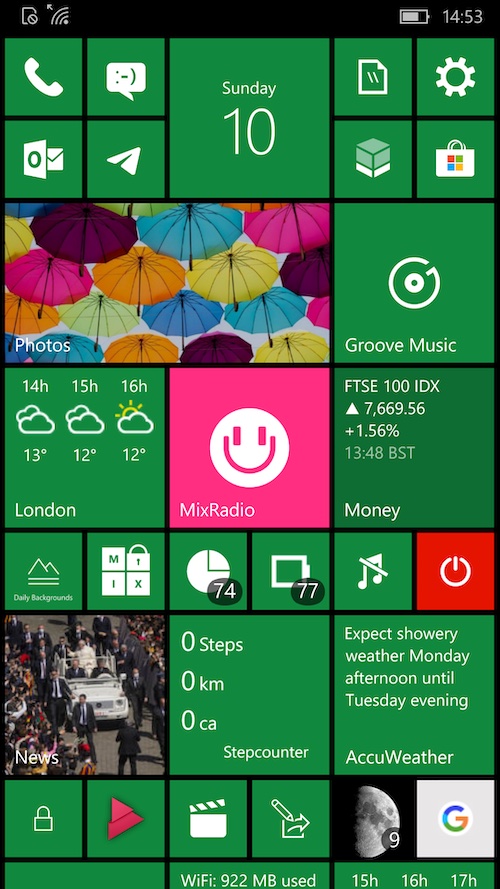 3) THIRD-PARTY APPS with LIVE TILES. Do you want more apps ? Feel free to download them from the Store. As I like plenty of live tiles in the Home screen, I usually install and enjoy the following set of apps, because they (still) show updated live tile contents, as my personal selection:
AccuWeather
Airwaves = FM radio app
Battery bar Graph = displays a number with battery percentage, but can also show a wealth of data on live tile, lockscreen and on Glance. See Steve's review.
Weather 14 days
FreeSpace = displays a number with the percentage of C:\ free space
Photo Tile = pin your photos on the homescreen as a live tile, playing up to 9 photos in one single tile.
MyTube! = Youtube app with live tiles of your favourite channels (it can download videos as well: see Steve's article.
Stepcounter Live = best step counter with an updated live tile
Unigram Mobile = Telegram messenger app
Tucan Reader =pdf and e-book reader, it shows the e-book covers you read as live tile. Same goes for Lighreader app, see Steve's review.
4) MORE APPS: In addition to all this, I have also installed these apps. They have no live tile but they work all right and are fully functional:
AAWP Universal = a must-have, dear readers, even though content is winding down.
Daily Backgrounds = show the daily Bing Wallpaper and download it
DrawNotes = write with a colour pencil and save your artwork
Hyperlapse Mobile = to convert .mp4 in short (silent) videos
LightSocial Pro = third party Facebook client, see Steve's review.
Lockmix = useful tool to personalize your lockscreen and save daily Bing Wallpapers (I use it for reading my daily horoscope)
Lumia Creative Studio = photo editor, adds more tools than the in-built Photos app
Lunar Phases
Photo Shader = image editor, see Steve's review.
Quick Shutdown = a button to shutdown the phone
Quick Settings = creates homescreen buttons for several functions (stop music, wifi, bluetooth, etc.)
Spectrum Analyzer = a decibel meter
Touch Lock = a button to switch off the screen (you can do the same by double tapping the software Navigation Bar, at the bottom of the Home screen).
Tripadvisor
5) GLANCE SCREEN (Always-on display): it is still working, and you can display up to 5 apps' quick status, according to the personalization settings under the "Lock Screen" menu. As my favourite 5, I choose to show the status of Phone, Battery Bar Graph app, Unigram app, Messages, and Clock & Alarms. Plus, you can choose an app to show detailed status. My choice is the Microsoft Weather app, because it can display in the lock screen (and same in Glance screen) up to three lines of weather content.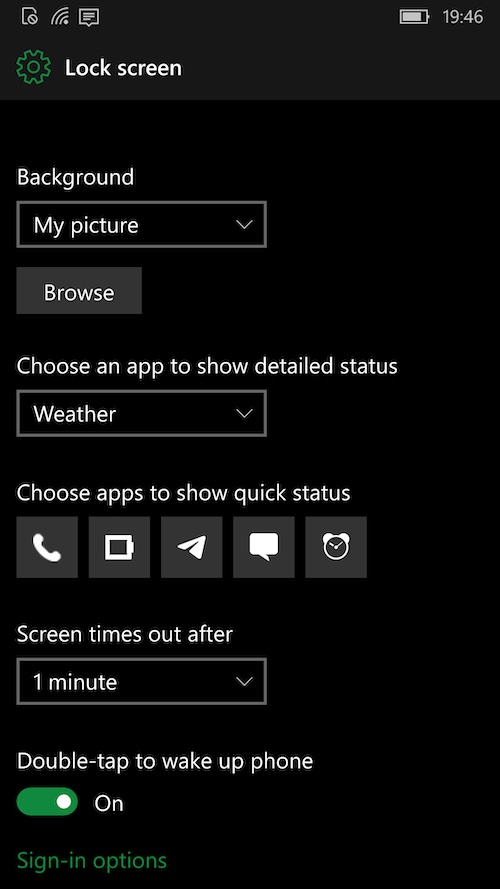 6) MAPS: the in-built app still works fine, although it has no live tile.
7) FUTURE-PROOF. You can install the W10M Group app, designed by the Windows 10 Mobile (Lumia) Telegram group. See also Steve's article on the group
The app, also called W.U.T. (Windows Universal Tool), is a kind of repository and allows you to install many different apps. You can see a presentation of the project in this Youtube video.
In summary...
As you can see, all built-in Microsoft apps are still working, with updated live tiles, and you can install more apps via the Microsoft Store, or - if you are geeky enough - sideload apps using the in-built WP10 function (go to Menu, Update and Security, For Developers, and then select "Developer Mode" to install any signed app and use advanced development features).
Thus, a Lumia with WP10 is still working 'well' in 2022, provided that you use the phone just to make phone calls, chat with Telegram, send messages, browse some web pages and stay updated with live tiles (mainly news and weather services). If your needs are limited along these lines, you can still be happy with what you've got, and help keep W10 Mobile alive!