The headline figures for Nokia are unattractive, but a significant component of it is a write down in value as a result of restructuring costs. This can be seen more clearly in Nokia's non-IFRS figures, which show a small overall profit. Nokia's Non-IFRS operating profit was €78 million, with Devices and Services non-IFRS loss at €263 million, and margins at -7.4%.
Non-IFRS results exclude special items for all periods and can be seen as a measure of underlying performance. The return to non-IFRS profit suggest that the impact of the effort to cut operating expenditure has been successful, which is likely to be read by shareholders and analysts as a sign of good business management. In Q3 2012, the non-IFRS results exclude €654 million of charges, the majority of which relates to restructuring charges in the Devices and Services division (€454 million). Similar charges are likely in Q4 2012 as a result of cost cutting and job losses announced in the summer.
Nokia's overall results were ahead of market expectations (expected sales of €6.9 billion and EPS of €0.11, versus €7.2 billion and €0.07 (respectively) in actuality). Smartphone device volumes were disappointing, show the scale of the challenge facing Nokia, and will attract significant negative media attention, but are not entirely unexpected given the forthcoming launch of new products and an ongoing transition. They should be set against the improved financial position and an improving outlook.
Nokia ended Q3 with a net cash position of €3.6 billion, ahead of market expectations of €3.4 billion, after operating activities of -€429 million. This improvement over the first half of the year provides further evidence of Nokia's improved financial health.
While the overall results continue to show substantial losses, the worst of the transition period, in financial terms, appears to now be over. This, and the better than expected results, is reflected in a 9% rise in Nokia's share price today. Much now depends on the successful roll out of Windows Phone 8 devices and the hoped for growth in smartphone volumes.
Stephen Elop said:
"As we expected, Q3 was a difficult quarter in our Devices & Services business; however, we are pleased that we shifted Nokia Group to operating profitability on a non-IFRS basis. In Q3, we continued to manage through a tough transitional quarter for our smart devices business as we shared the exciting innovation ahead with our new line of Lumia products.

In our mobile phones business, the positive consumer response to our new Asha full touch smartphones translated into strong sales. And in Q3, our mobile phones business delivered a solid quarter with sequential sales growth and improved contribution margin.

In Location & Commerce, we made progress establishing our platform offering with customers like Amazon. This is in line with our plan to expand our location offering to more customers.

And, Nokia Siemens Networks had a remarkable quarter in which we achieved record profitability on a non-IFRS basis and the Nokia Siemens Networks cash balance increased for the fourth quarter in a row.

While we continue to focus on transitioning Nokia, we are determined to carefully manage our financial resources, improve our competitiveness, return our Devices & Services business to positive operating cash flow as quickly as possible, and ultimately provide more value to our shareholders."
Device volumes (sales)
Of the smart devices volume of 6.3 million, 2.9 million were Nokia Lumia devices and approximately 3.4 million were Symbian devices. The Lumia devices sales were below an average analyst estimate of 3.7 million units. The average selling price was €155 (up 18% from €131 in Q3 2011 and up 3% from €151 in Q2 2012), reflecting an increased proportion of higher cost Symbian devices (principally, the Nokia 808 PureView).
Nokia has now sold a total of 10 million Lumia devices. The average selling price of Lumia devices was €160 in Q2, compared to €186 in Q2 2012, reflecting an increased proportion of Lumia 610 sales and price cutting strategies.
Devices & Services margins were negatively effected due to a recognition of a €120 million cost related to excess component inventory and future purchase commitments, an indication of the difficulty Nokia is having in predicting device sales volumes. Margins were also negatively impacted by higher fixed costs per unit, an inevitable consequence of the lower overall device volume.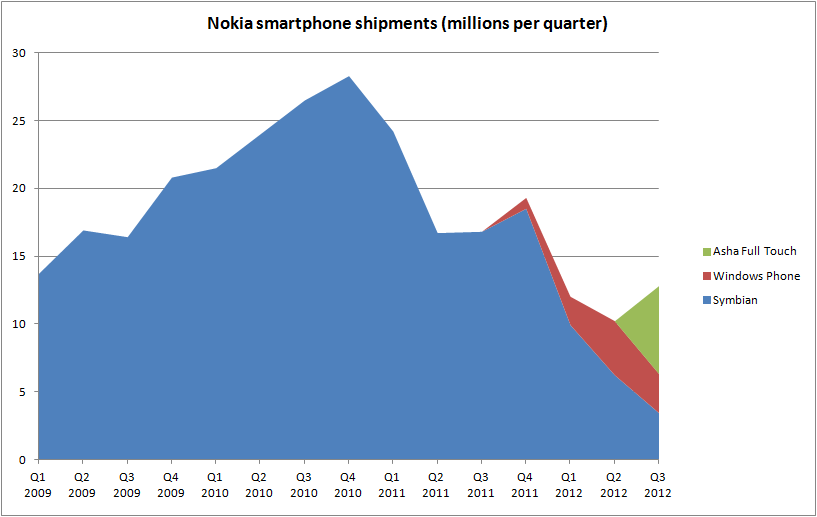 In Q3, Mobile Phone volumes were 76.6 million, down 15% from 89.8 million in Q3 2011, and up 4% from 73.5 million in Q2 2012. Of these sales, 6.5 million were Asha full touch smartphones, indicating a successful roll out of the new product line. It is the positive performance of Nokia's Mobile Phone division that was primairly responsible for the better than expected overall results, though Nokia Siemens Networks was also an important factor. Feature phones continue to be a bright spot for Nokia, bucking the overall industry trend, and providing credible competiton against the lowest end Android devices.
The full touch Asha products are directly replacing some of Nokia's earlier lower cost Symbian devices (e.g. Nokia 5222) and, in some assessments, will be counted as smartphones. In this case, Nokia smartphone volumes would be 12.8 million. At the All About sites we do not regard the Asha devices as smartphones, but they do offer a "smart" experience, and should be acknowledged in any assessment of smartphone sales data, especially as they directly compete against smartphones running Android and Blackberry OS.
Nokia's Location & Commerce division reported sales of €265 million, down from €282 million in Q3 2011 and €283 million in Q2 2012. The decrease was mainly due to lower sales of personal navigation devices across the industry and lower map update sales.
Nokia Siemens Networks reported sales of €3.501 billion, up from €3.413 billion in Q3 2011 and up from €3.343 billion in Q2 2012. Operating profit was €182 million, up from a loss of €114 million in Q3 2011, and up from a loss of €227 million in Q2 2012.


Outlook
Looking forward, Nokia expects its non-IFRS Devices and Services operating margin in Q4 to be -6% (with a +/- range of 4%), a significant improvement over this quarter, suggesting Nokia is very bullish about the prospect for its new Lumia devices.
Q4 2012 will see the launch of new Windows Phone 8 devices, but it will still be a very tough period for Nokia, as sales of new devices will only begin in the middle of the quarter and will be limited in scope. Symbian and Windows Phone 7.5 devices will remain the major contributor to overall device sales. As a result, the sales level of the Lumia 610 and low cost Symbian phones are likely to be the major varying factor in Q3 2012.
Nokia expects Q4 "to be a challenging quarter in Smart Devices, with a lower-than-normal benefit from seasonality in volumes, primarily due to product transitions and our ramp up plan for our new devices.".
The priority for Nokia is to return the Devices & Services division to profit as quickly as possible. This is unlikely to happen in 2012, but the situation may improve in Q4 2012 and H1 2013 with the exact results largely dependent on the sales volume of Windows Phone 8 devices, assuming Nokia can continue to defend its position in the mobile phone (feature phone) business.

See also
Earlier results: Q2 2012, Q1 2012, Q4 2011, Q3 2011, Q2 2011, Q1 2011, Q4 2010, Q3 2010, Q2 2010, Q1 2010, Q4 2009, Q3 2009, Q2 2009, Q1 2009, Q4 2008, Q3 2008, and Q2 2008