The Application
The main view of the application presents groups of tiles for each section of the website. Each tile represents a story on our website and creates a visually engaging experience by switching between title and thumbnail, just as you can find on any Windows Phone live tile.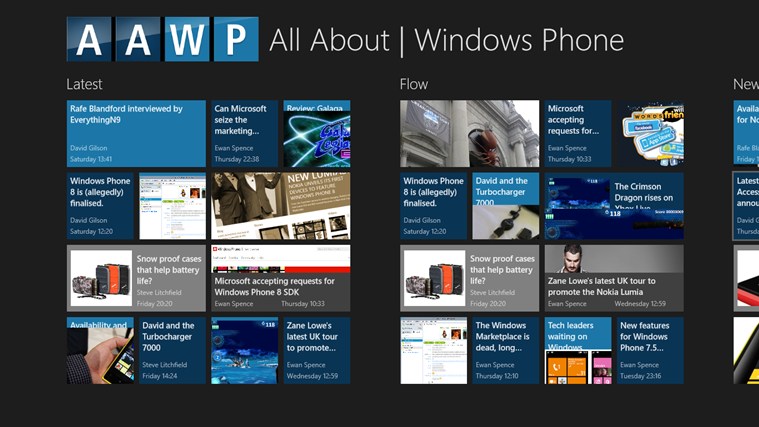 To speed up finding the freshest content, the first group of tiles is the 'Latest' group which showcases the very latest All About Windows Phone. Tapping on any of the section headings takes you through to a dedicated category view.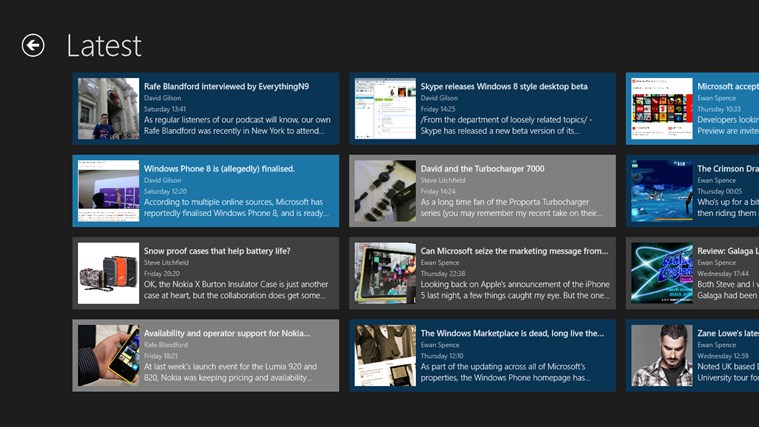 Articles scroll sideways, as standard in Windows 8 apps, giving you a natural page turning experience when using a touchscreen. Just as with the Windows Phone application, images are presented as a gallery that you can easily browse, and just tap for a larger image. You'll notice stories aren't just drab text on a plain background – we've spiced things up with a background image from the story.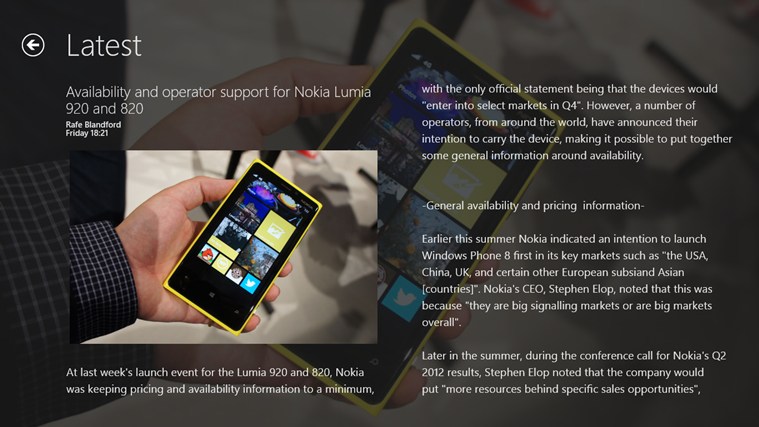 If you want to reach out to us after reading an article – no problem. Comments are shown in-line after the article, and tapping the speech bubble icon expands a comment form where you can post your opinions.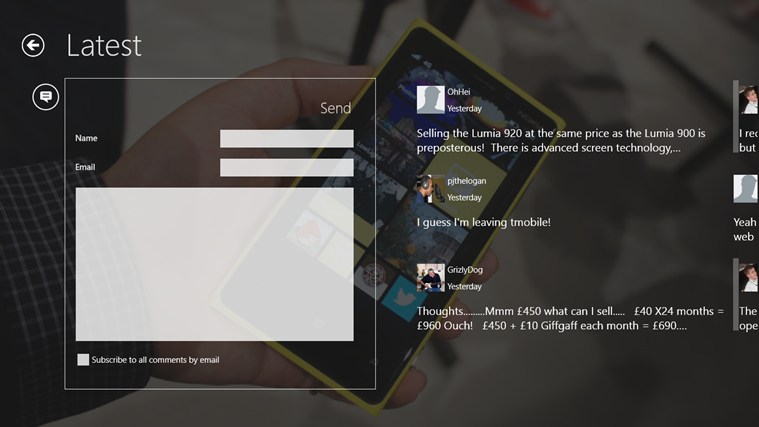 As with our Windows Phone application, you'll find all hyperlinks listed at the end of each story, and we've provided you with icons that easily identify the type of links. Links marked with the AAWP logo will link to another story within the Windows 8 application, while posts with a phone icon will link to the Windows Phone Marketplace in your default browser. Similarly, links with an Internet Explorer icon will launch into your default Modern UI browser (e.g. Internet Explorer or Chrome).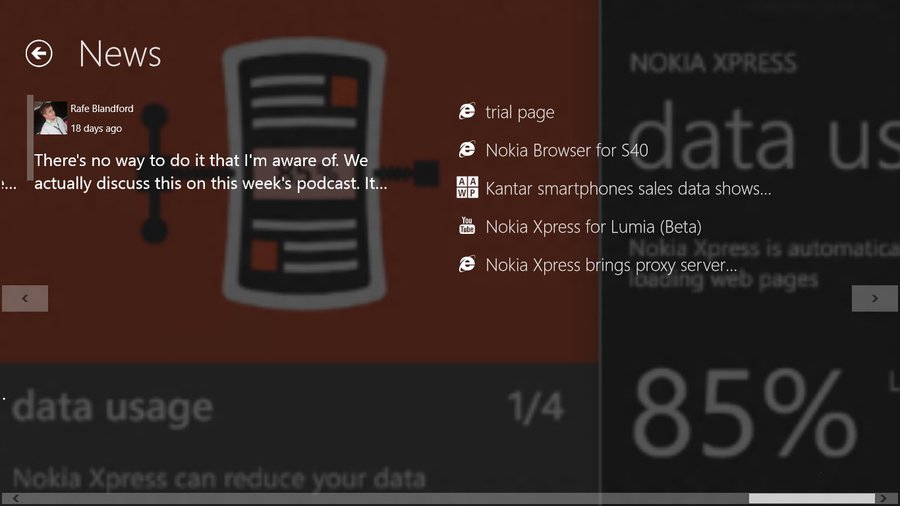 Last but not least, the Media section lists all of our All About Windows Phone Insight episodes. Once you've tapped on an episode, look for the downward icon in the top-right corner. This icon brings down the media player controls where you can stream the podcast. Playback will stop if you switch to another story, but you can leave it playing in the background while you use other applications on your device.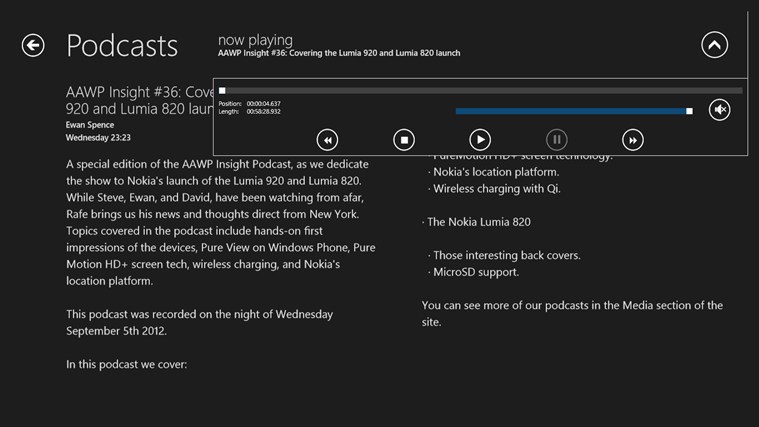 Our application is free and available in the Windows Store now, via this link.
Why make a Windows 8 app?
With the advent of Windows 8 and Windows Phone 8, we want to provide a seamless experience and deliver content to you in whichever way you prefer. Our website already employs responsive design which means it automatically reformats itself for whatever screen resolution it is being viewed on. Similarly, we are happy to now address smartphone, tablet and desktop users who prefer to use dedicated apps.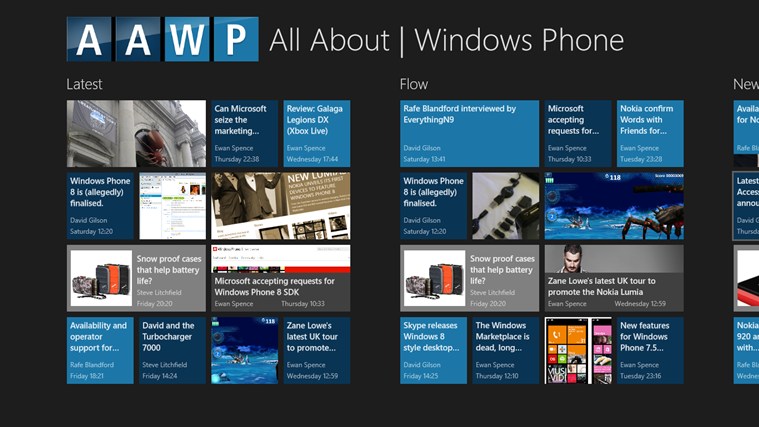 Credits
All About Windows Phone would like to give a huge thank you to Geoff Webber-Cross, a .Net, Windows 8, Silverlight and WP7 developer. He has worked tirelessly to create our Windows Phone and Windows 8 applications, and has done a great job. If you're interested in his work, make sure you follow his blog and Twitter account.