The very first devices running Windows 7.8 will be factory fresh devices from the existing line up of devices. These will starting shipping shortly. However, it may take a while for these to get into consumers hands, due to both shipping lead times, and the need to clear existing stock.
In addition, it is likely that a number of manufacturers will announce brand new models running Windows Phone 7.8. Microsoft says that Windows Phone 7.8 devices will typically be sold at a lower price point than Windows Phone 8 devices and are very important for "broadening the reach of Windows Phone across the globe".

The key new feature in Windows Phone 7.8 is the updated Start screen with support for re-sizable tiles (three sizes). Microsoft clearly see this as a critical feature saying that "the new Start screen is one of the easiest ways to make the phone reflect your style, your passions, and your personality".
In addition, the number of accent colours are doubled to twenty, the lock screen adds support for automatically using the Bing picture of the day as the background, and there's also lock screen support for a PIN/password challenge to prevent accidental device wipes on phones connected to Exchange accounts.
As noted in this Windows Phone Developer Blog post developers will need to check for the presence of Windows Phone 7.8 and use "reflection to access Windows Phone 8 APIs that showcase the new Tile functionality". This will allow apps running on Windows Phone 7.8 to support the new Live Tile size (small and double wide).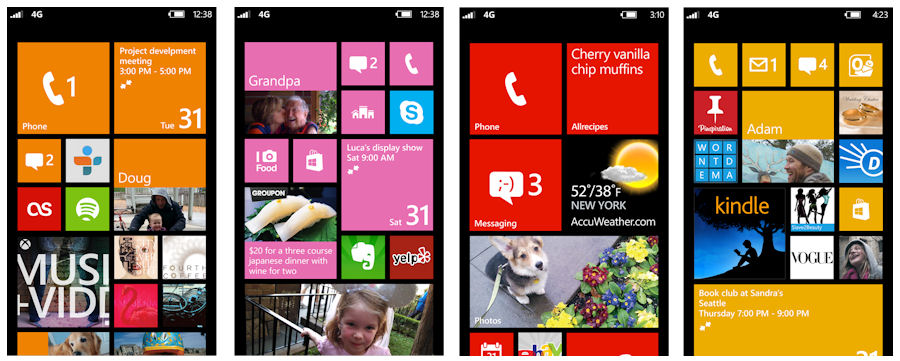 In his post Myerson also mentions a number of new games for Windows Phone 7.8 including Angry Birds Space, Angry Birds Star Wars, and the already arrived Words with Friends and Draw Something.
Windows Phone 7.8 will also expand the number of markets in which customers can buy apps and use the Xbox service. Myerson notes that this element is still in testing, but says that "we've already managed to increase our global service coverage by over 30%, to 95 countries—a number that should continue to rise".
Here's what Terry Myerson had to say about availability for existing devices:
We know you're eager to get the Windows Phone 7.8 update, and we want you to know that we're working closely with our hardware and carrier partners to get it tested, approved, and rolled out to as many devices as possible in early 2013. As we work to quickly get this in the hands of our loyal users, we're also striving to deliver a high-quality release and ensure a smooth transition for our widely expanded services.
Originally Microsoft said that Windows Phone 7.8 would arrive after Windows Phone 8, but it was expected to arrive before the end of the year. Technically this is still true, but most people will see the 2013 arrival of the update for existing devices as a delay. This will frustrate some of Windows Phone most loyal users, and is likely to be compounded by the inevitable delays resulting from the need for operator testing and certification. Not unsurprisingly testing of updates for existing devices is typically a lower priority for operators than testing for new devices.