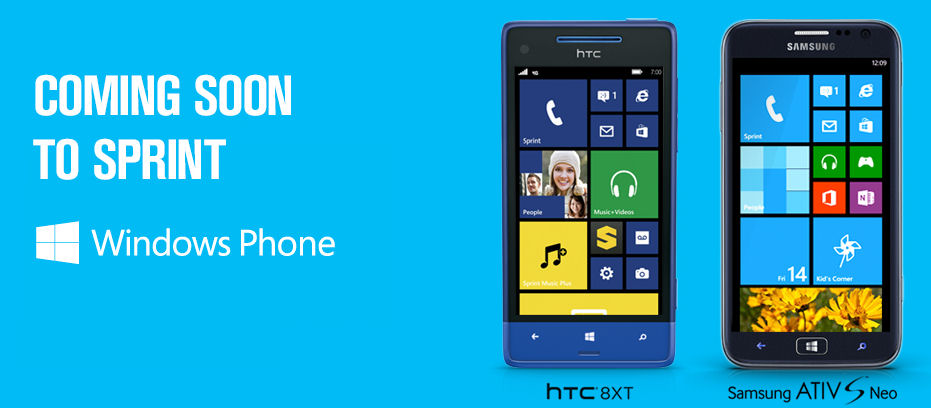 Fared Adib, senior vice president-Product Development, Sprint, said:

"We know our customers are anxious to get their hands on these Windows Phone 8 smartphones, HTC 8XT and ATIV S Neo. Without a doubt, they will rival any smartphone on the market today. Our customers will appreciate being able to use them all day, every day without worrying about overages or data caps."

Terry Myerson, corporate vice president, Microsoft Windows Phone Division, said:

"We are excited to be bringing the most personal smartphone experience to Sprint customers this summer. With compelling hardware from HTC and Samsung, coupled with unlimited 4G LTE from Sprint, these Windows Phones will offer the complete package."

Both devices will ship with a number of Sprint specific apps including a Windows Phone version of the operators Sprint Music+ service.

HTC 8XT
The HTC 8XT is an all new design, but is clearly inspired by both the HTC 8X and HTC 8S. It has the same 8 megapixel camera and a similar internal specification as the HTC 8X, but has the lower resolution screen (WVGA) and colour-dip design of the HTC 8S.
Features of the HTC 8XT include a 4.3 inch display, 8 megapixel camera, Snapdragon 400 processor with 1.4GHz dual-core processors, 1 GB of RAM, 8GB of internal memory, microSD card slot, and 1,800 mAH battery.
However, the most notable specification point is the inclusion, for the first time on Windows Phone, of HTC's BoomSound technology. The same dual front-facing stereo speakers have been widely praised on the Android powered HTC One. The HTC 8XT also retains the support for Beats Audio and dual built in microphones from earlier HTC Windows Phone devices.
Mike Woodward, president North America, HTC Corporation, said:

"Inspired by the design that won the prestigious 'red dot award: product design 2013,' the new HTC 8XT brings a truly crafted smartphone with brilliant color, soft-to-the-touch texture and tapered design to be comfortable in the hand. A pleasure to hold and a pleasure to hear, the front-facing stereo speakers are a first for a Windows Phone and deliver sounds that demand to be heard."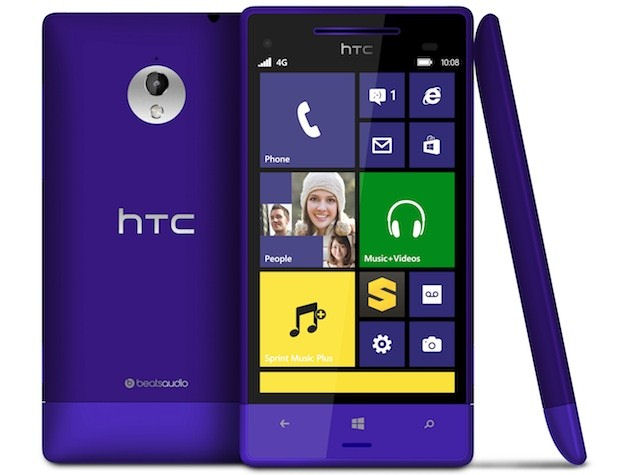 The HTC 8XT, which will go on sale later this summer, will be available for $99.99 with a two year contract commitment, after a $50 mail-in rebate.

Samsung ATIV S Neo
The Samsung ATIV S Neo is a variant of the Samsung ATIV S. Early preview shots of the handset suggest a near identical design, but with some minor materials and colour variations from the ATIV S global variant. The specifications suggest some minor internal changes, and the cellular radio will be changed to support Sprint's bands and technology. The device includes international voice and data capabilities, suggesting WCDMA and potentially GSM radios will be included in addition to the LTE and CDMA radios.
Kevin Packingham, Samsung Mobile chief product officer, said:

"Samsung is committed to offering smartphones across a variety of platforms and the rich Windows Phone 8 experience on the ATIV S Neo is a testament to this effort. The ATIV S Neo makes it easy to stay in-the-know while connecting with friends, family and colleagues, through new sharing features and powerful productivity applications."

Key features of the Samsung ATI S Neo include a 4.8 inch display (HD - 720 x 1280 resolution), 8 megapixel camera, 1.4GHz dual-core processors, 1 GB of RAM, microSD card slot, and 2,800 mAH battery.
The device will ship with a number of Samsung exclusive apps, including the recently released ATIV Beam, a camera app with a Beauty mode (smoother looking skin in headshots), Manga Camera (turn friends and family into cartoons), and Samsung's standard Photo Editor app.
The Samsung ATI S Neo, which will go on sale later this summer, will be available for $149.99 with a two year contract commitment, after a $50 mail-in rebate.