As with the Nokia 808 PureView, the 41 megapixel sensor is used to take oversampled 'pure' shots at 5 megapixels. Plus it enables a lossless 3x zoom (at 5MP resolution). In addition, a 'dual capture' system means that even when taking such 'social' shots, a full resolution version is always available behind the scenes, letting you recompose or re-zoom the shot after the event. Hence the 'zoom reinvented' tag-line. However, the addition of Optical Image Stabilisation (OIS) adds yet another another dimension, allowing the camera to be more forgiving of camera shake (most notably when zoomed in) and enabling the capture of smoother, steadicam-like, video. The OIS here, with such a large lens, couldn't be implemented in the same way as on the smaller-lensed Lumia 920/925, so a new OIS mechanism using a cage of ball bearings had to be created, though still with the same active gyro control.
And throughout, the oversampling technique results in images with very low levels of digital noise, and unparalleled levels of detail and colour accuracy. The sensor itself is slightly smaller than that in the Nokia 808 PureView (it's 1/1.5"), meaning that the overall camera height could be reduced too. Here's an infographic of the actual and effective pixel/super-pixel sizes (thanks):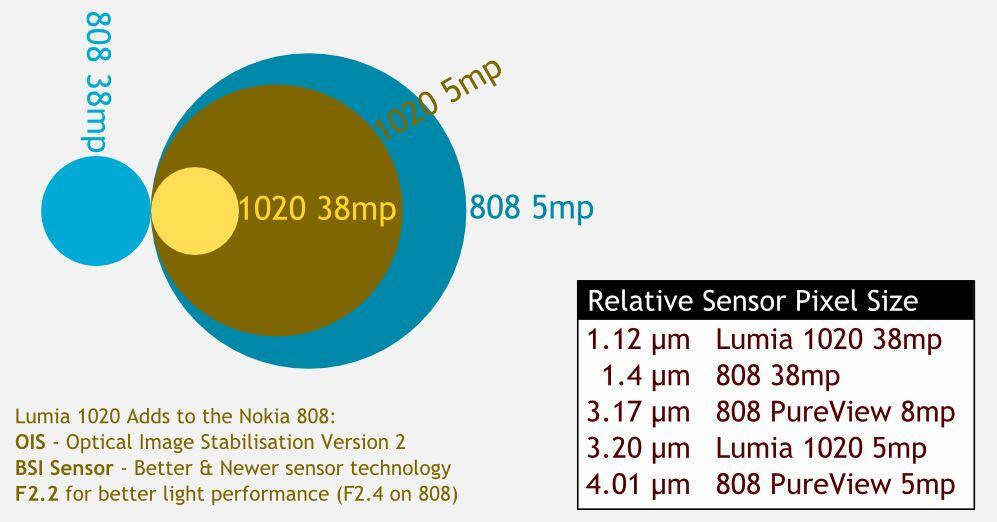 Nokia has produced a white paper with all the gory camera details, if you're interested.
The new Nokia Camera Pro app allows for much greater control over camera settings than Windows Phone's built in Camera app, part of the UI is shown below. As with the Nokia Lumia 925's Smart Camera app, Nokia Pro Camera can be set as the default camera app, launched when you press the Lumia 1020's camera capture button.

The PureView Story continues
The Lumia 1020 is best understood in the context of Nokia's overall PureView camera story. Over the last 18 months Nokia has used the PureView branding as a way of highlighting its imaging innovation, and the Lumia 1020 can be best described as a culmination of the story so far. In a nutshell:
Mobile World Congress 2012: Nokia launches the Nokia 808 PureView, running Symbian Belle Feature Pack 1, with 41 MP sensor and oversampling technology to give 'purer' images and lossless zoom.

2012: The 808 sells surprisingly well, given a complete lack of marketing and retail presence, plus it wins many awards and camera shootouts.

Autumn, 2012: Nokia launches the Lumia 920, with 'PureView phase 2', a.k.a. OIS (Optical Image Stabilisation) but with a standard 1/3" sensor.

2012/2013: The Lumia 920 sells well, and many people praise its low light performance but there are sme questions over daylight quality, when compared to the 808 and other modern competition.

July 11th, 2013: Nokia launches the Lumia 1020, with both PureView 'phases' integrated and improved, i.e. the benefits of the large sensor and oversampling, plus the benefits of OIS, all in one flagship camera phone, with all technical elements improved from their previous outings.
The Lumia 1020 also includes all the improvements in Windows Phone 8 hardware and software brought in for the Lumia 925, in terms of UI improvements and under the hood enhancements. Plus the full Xenon flash comes across for the camera from the Symbian world and the 808, here with a 'flat' capacitor which allows the phone to be slightly slimmer (than the 808), and there are the same HAAC microphones, recording in stereo (as on the 808) and Nokia Rich Recording system in place.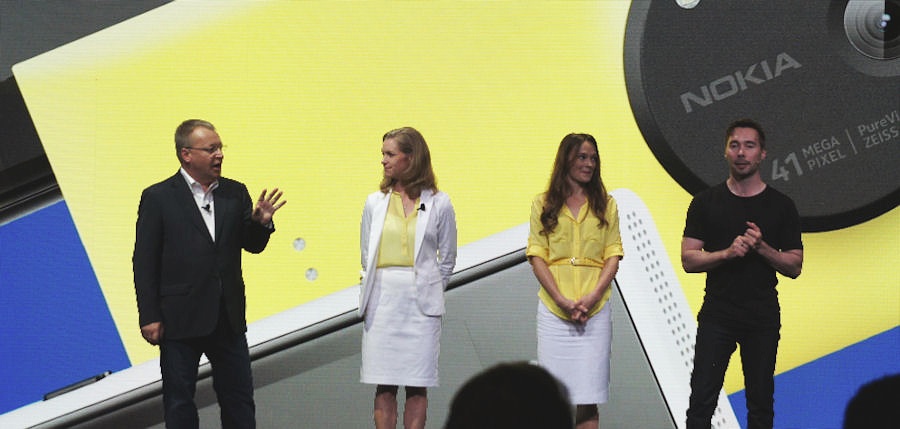 Accessories
Two major accessories were announced at the same time:
Nokia Wireless Charging Cover CC-3066
This is similar to the add-on cover for the 925, and lets users charge the Lumia 1020 wirelessly using any convenient Qi-compatible charging pad.
Nokia Camera Grip PD-95G
This is a sculpted cover which adds a DSLR-like right hand grip/bulge, with the internal space used to house an top-up battery, to extend the life of the 1020's built-in capacity. There's a high quality replacement shutter button too, plus a standard tripod mount in the base, emphasising the Lumia 1020's high end imaging ambitions.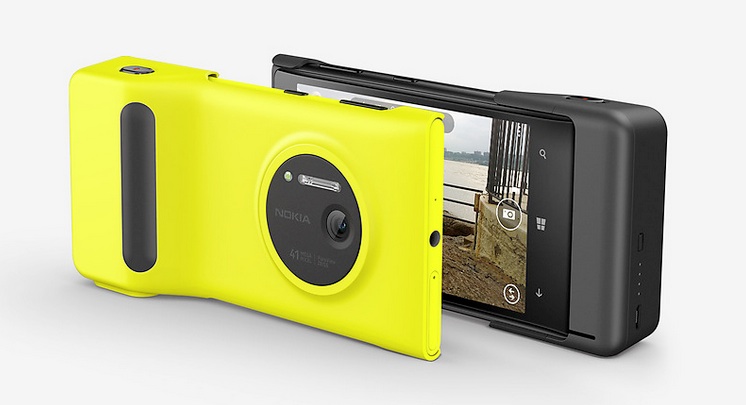 Key hardware features

130.4 x 71.4 x

10.4 mm, 158g in weight; monoblock touch form factor

Materials include polycarbonate unibody and scratch resistant Gorilla glass

LTE, WCDMA and GSM cellular connectivity

Processor: Dual-core 1.5GHz (Qualcomm Snapdragon S4), RAM: 2GB

4.5" AMOLED touchscreen;

WXGA (1280 x 768)

resolution; PureMotion HD+ ClearBlack display, with

High Brightness Mode, Sunlight readability enhancements, and Super Sensitive touch




PureView 41 MP Back Side Illuminated sensor with

Optical Image Stabilization

(OIS), with

Xenon Flash


Latest generation high-performance BSI sensor
Sensor size 1/1.5", 41MP, pixel size 1.1 micron, true 16:9/4:3 aspect ratio. Total sensor is 7712x5360=41.3MP. 16:9 mode is 7712x4352=33.6MP and 4:3 mode is 7136x5360=38.2MP.
35mm equivalent focal length: 25mm for 16:9, 27mm for 4:3
F-number: f/2.2
Mechanical shutter
Optical image stabilisation (new type of barrel shift actuator which enables moving a heavy and complex full lens assembly)
System of 6 lenses (5 plastic molded high performance plastic, one high precision glass element)
Nokia image processing and pixel oversampling technology
Nokia-developed 3A algorithms (auto-exposure, auto-focus, auto-white-balance) to increase image quality
New white balance technology
New generation powerful xenon flash with flat capacitor technology which enables more power in a more compact package.
Video LED light

Front facing 1.2 megapixel secondary camera

GPS, accelerometer, gyroscope, proximity and ambient light sensors

3.5mm audio out (AHJ + WP controls); Dolby Headphone support; two HAAC (high quality) microphones;

2000mAh integrated battery, optional wireless charging cover available

WiFi: WLAN IEEE 802.11 a/b/g/n (2.4Ghz + 5GHz); Bluetooth 4.0; NFC; microUSB (USB 2.0) for PC connectivity and charging

32GB mass memory, and 7GB of SkyDrive cloud storage.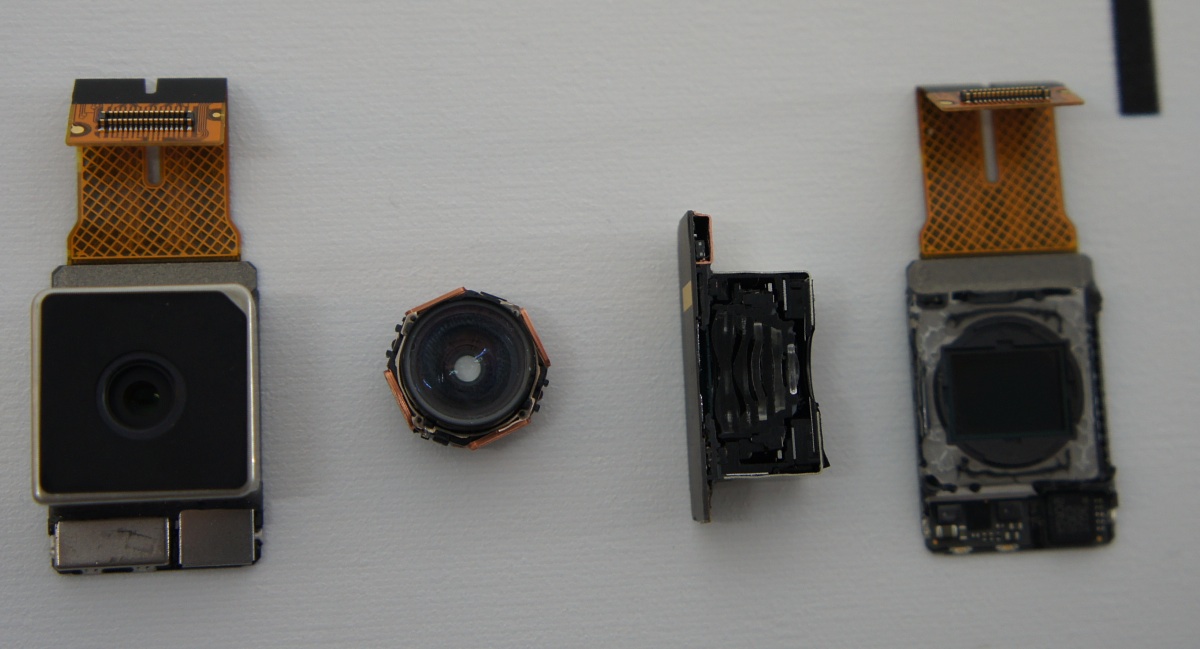 Key software features
Runs Windows Phone 8 (Windows Phone 8 with GDR2 and Nokia Lumia Amber updates)

Nokia apps pre-installed include: HERE Maps, HERE Drive+, Nokia City Lens, Nokia Music (select markets), Nokia Smart Camera, Nokia Pro Camera, Cinemagraph

Additional Nokia apps available from Marketplace: HERE Transit, Nokia Reading, and more...
Here's the full data sheet.
Availability
The Nokia Lumia 1020 will be available in yellow, white and black. It will ship first to the USA on AT&T, with sales expected to start on July 26th at $299.99 with a contract.
It will arrive in China and Western Europe in Q3, 2013 (i.e. the current quarter, ending on Sept 30th), both SIM-free and on contract. Nokia plans to ship an exclusive 64GB variant of the device with Telefonica in selected European and Latin American markets. Other markets will be announced shortly.
Press highlights
From the launch press release:
Nokia Pro Camera takes over as the default camera app on the Lumia 1020. This puts all the camera power in your hands, providing swipe-able dials and access to settings once preserved just for the experts. You can see exactly what changing settings like exposure level, white balance, shutter speed and film ISO do to a shot before you take it. Great for people who already know what they're doing and those keen to learn more, it encourages experimentation and learning with every picture, thanks to built-in tutorials.

Dual capture. Once you press the camera button, Nokia Pro Camera simultaneously takes a full resolution photo for endless reframing opportunities, and also presents you with a 5 megapixel image, which is easy to share on social networks like Facebook or on your Windows Phone 8 SkyDrive.

Snap away and edit later. Reframe and re-zoom to produce different images, different stories from one single shot. This could be as simple as straightening the horizon on a sunset, or breaking up a whole group photo into individual portraits. The large version is always fully accessible, but the 5 megapixel version is there for lightning fast sharing. This feature is entirely unique to the Lumia 1020 and a revolution on its own.

Optical image stabilisation. The second generation of our already leading OIS simply means better photography and video in low light conditions. With the large optics and sensor, Nokia's engineers went on an epic journey of innovation, which resulted in them adding ball bearings into the camera module. Yes the Lumia 1020 has ball bearings inside it: and we think that's pretty epic. With the whole camera module sprung to meet any hand movement and one of the widest apertures on a camera phone, OIS means there's no need to fear camera shake or muddy results, even at night.

Next-gen xenon Flash. Freeze a ball in mid-air or take action shots in the dark. The xenon flash has the power to illuminate shots for the 1/16,000 of a second it takes to capture a shot with the Lumia 1020 at the minimum shutter speed.
Video
The competition
The Nokia Lumia 1020 arrives at a very interesting point in the development of convergence, and camera phones in particular. Standard 'thin' 1/3" sensored devices like the Apple iPhone 5 and Samsung Galaxy S4 have advanced sensor technology and image processing to an impressive degree, but they're ultimately limited, despite their appeal in the mainstream. While the Samsung Galaxy S4 Zoom approaches the problem from the other end, with a full standalone camera (10x optical zoom, OIS, Xenon) grafted into the body of a mid-range Android 4.2 smartphone.
We'll be conducting full shootouts, across a wide range of scenarios, with each of these smartphones in due course, plus we'll throw the Nokia 808 into the mix as well, as the Lumia 1020's 'predecessor'. Watch this space!