In the UK and France, Windows Phone significantly increased its sales market share over the same period last year (4.5% to 12% and 5.6% to 10.8% respectively). Together with strong results from Germany (8.8%) and Italy (9.5%), these figures saw Windows Phone's overall smartphone sales share increase in the five leading European markets from 5.1%, in the same period last year, to 9.2% this year.
Windows Phone is now very close to the 10% barrier a psychological important milestone. Although it is arbitrary point, we've heard a number of companies express the opinion that a smartphone platform is "not worth addressing until it reaches 10%". However, that 10% level is general a reference to the active install base. This is not the same as Kantar Worldpanel numbers (sales in the last three months). Based on a 24 month smartphone ownership cycle the Kantar Worldpanel data suggests Windows Phone's active install base share in the UK is around 5%, compared to 55% for Android, 28% for iOS, 10% for BlackBerry and 1.5% for Symbian.
While the new in Europe is good for Windows Phone sales in the US were relatively poor, falling to at 3.0% market share, compared to a high of 5.6% in March of this year. Sales are only slightly ahead of the same period last year. The Lumia 928, which went on sale in the early summer, does not appear to have had a substantial impact on the numbers, which suggest the Lumia 1020 may also struggle to have an impact. Some improvement may come from wider availability for the Lumia 520 and 925, but it looks increasingly likely that much will depend on the next set of devices that will be announced shortly and which will go on sale for the holiday season.
Sales in China were also weak dropping to 2.1% sales share from 4.7% the previous year, suggesting Windows Phone is failing to find traction in the Chinese market in the face of intense competition from Android based devices, with little prospect for improvement in the short term.
The figures also illustrate the decline of BlackBerry, which has now been reduced to 2.4% sales share in the EU5 and 1.8% sales share in the US. This means for every BlackBerry devices sold in the EU5, four Windows Phone devices are sold, an almost exact reversal of the position 24 months ago.
Kantar Worldpanel reports its data as a percentage market share of sales in the preceding 12 weeks (i.e. a three month moving average). The data is drawn from a continuous survey methodology, where consumers are interviewed and consumer behaviour recorded.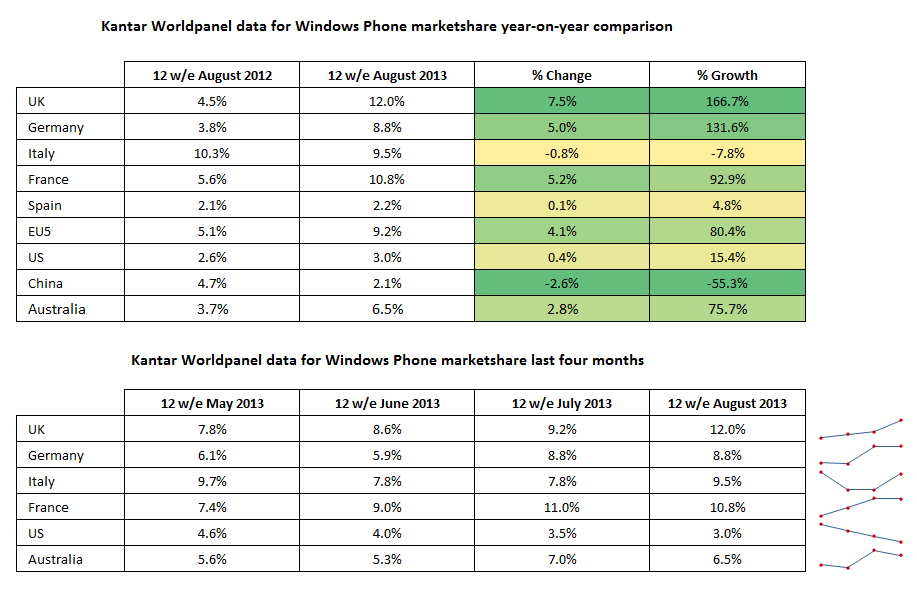 Other notable trends and data points in this month's Kantar report include a small increase of Windows Phone sales in Italy, mainly driven by sales of the Lumia 520 and 620. The figure for Italy are down year-on-year, a reflection of the popularity of the cheaper Windows Phone 7.x devices in Italy (Lumia 610).
Lower cost devices inevitably have a bigger impact on market share than high end devices because they sell in greater volumes. However, there remains a question mark over Windows Phone's sales performance at the higher end of the market. It is difficult to draw any meaningful conclusions without a break down of sales by device, but some data suggests that the high end devices are selling better in markets where low end devices are also selling well (e.g. Lumia 520 and 925 in the UK). This would reinforce the idea that Windows Phone's biggest barrier to sales remains awareness and consideration.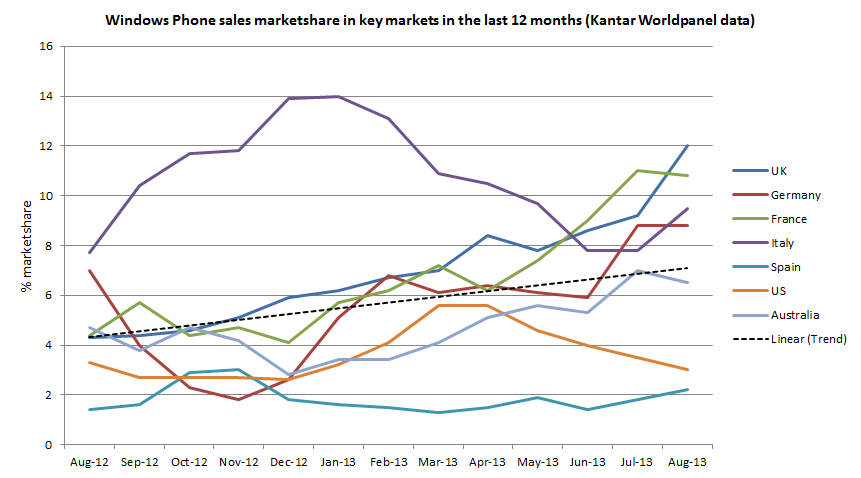 In its press release, Kantar says that Windows Phone is at its highest ever market share level, something that has been driven by the sale of low cost devices, with sales to the 16-24 and 35-49 years old age groups identified as a particular area of strength:
The latest smartphone sales data from Kantar Worldpanel ComTech, for the three months to August 2013, shows Windows Phone has posted its highest ever sales share of 9.2% across the five major European markets and is now within one percentage point of iOS in Germany.

Windows Phone has hit double digit sales share figures in France and Great Britain with 10.8% and 12% respectively – the first time it has recorded double digits in two major markets.


Windows Phone's latest wave of growth is being driven by Nokia's expansion into the low and mid range market with the Lumia 520 and 620 handsets. These models are hitting the sweet spot with 16 to 24 year-olds and 35 to 49 year-olds, two key groups that look for a balance of price and functionality in their smartphone.

The comment about the 16-24 years old age group chimes with some of the anecdotal evidence we've seen of Windows Phone devices becoming popular with teenagers. In some instances Windows Phone is displacing BlackBerry as the cheap smartphone of choice.
Windows Phone is enjoying success, but there is a great deal of regional variation, and the platform remains in the shadow of both Android and iOS in the context of the overall market. What's interesting about the regional variation is that it is not just a simple division between developed / developing markets (as is often the case for Android / iOS), but there are variation within those designations.
For example, Windows Phone has four time greater market share in the UK than it does in the US. This is partly the result of operator business model and relative strength. Europe has a great number of pre-paid (PAYG) smartphone owners than the US, something which benefits Windows Phone. However, there also seems to be a generally greater appetite for Windows Phone in Europe than in the US, perhaps a result of Nokia's historical strength in its home region (i.e. brand awareness and loyalty).
The is perhaps best illustrated in the charts below, showing Kantar Worldpanel data, from the last 23 months, for both the UK and the USA (i.e. two developed markets).