In the UK, Italy, and France, Windows Phone significantly increased its sales market share over the same period last year (4.6% to 11.9%, 11.7% to 16.1% and 5.1% to 12.5% respectively). While market share was not as high in Germany (6.3%) or Spain (4.3%), the overall average for the five countries was 10.2%.
The 10% share of sales is an important milestone for Windows Phone and is an early herald for a substantial increase in the platform's active install base share next year. Assuming a 24 month smartphone ownership cycle, Kantar's data suggests Windows Phone's active install base share in the UK is currently around 5%, but assuming a 12 month smartphone ownership cycle this figure is 8.4%. The active install base figure is important because it is frequently used as the basis of investment decision on what smartphone platforms to target (i.e. a company may choose to create an app for a platform only when its installed base passes a certain point).
Kantar Worldpanel reports its data as a percentage market share of sales in the preceding 12 weeks (i.e. a three month moving average). The data is drawn from a continuous survey methodology, where consumers are interviewed and consumer behaviour recorded. This means it is generally more up to date that the quarterly figures released by other market research companies.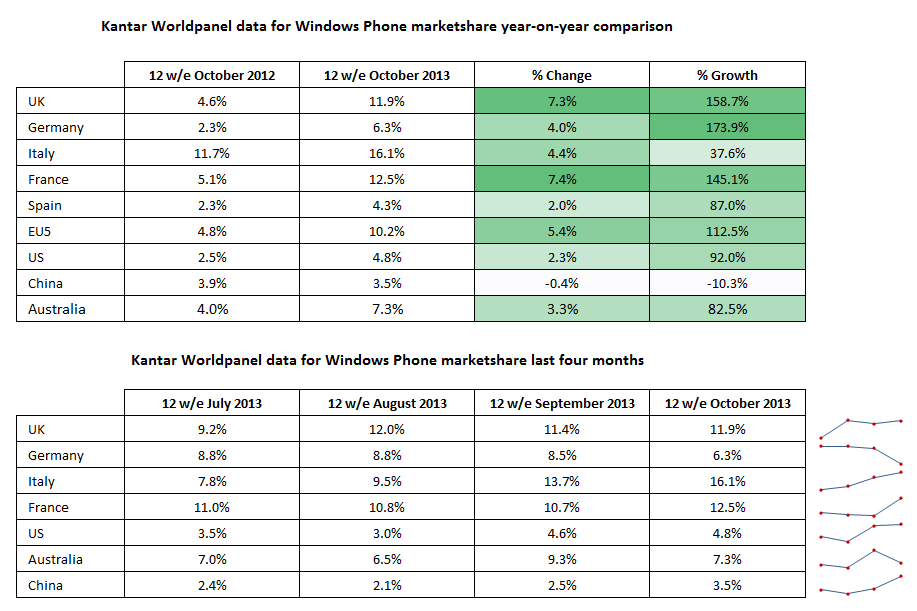 Italy remains Windows Phone's most successful European market with 16.1% share of smartphone sales. Repeating last month's pattern, Microsoft's mobile platform market share in Italy is greater than of Apple's iOS (10.1%). Windows Phone is also close to iOS in France (12.5% versus 15.9%) and Spain (4.3% versus 4%). However, it should be noted that iOS devices are predominantly found at the higher end of the market, whereas the majority of Windows Phone devices come from the lower end of the market, and thus might be considered to not be directly comparable (e.g. is a high end device worth "more" to an ecosystem than a low end device).
Windows Phone device sales in China have increased in the last three months, but market share is down from the same period last year (3.9% versus 3.5%). It is clear that Microsoft will have to take action soon if it wishes the maintain a Windows Phone foothold in the world's biggest single country mobile phone market.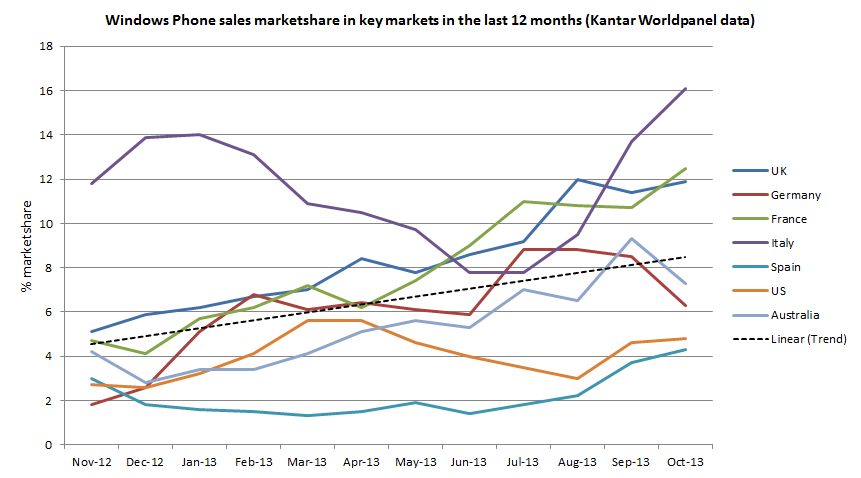 In its press release, Kantar says that Windows Phone growth remains reliant on low-end handsets and that China continues to be a challenge.
Momentum for Windows Phone is continuing, although its growth remains reliant on low-end handsets. In Britain, almost three quarters of Nokia Lumia sales in the latest period were low-end devices such as the Lumia 520 and 620 – a pattern that is similar across other EU markets.

China remains a key challenge for Nokia, with its market share languishing at 3.5%. Local Chinese brands are becoming increasingly dominant in the world's largest smartphone market, selling high specification Android devices at low prices. If Microsoft partnered with a major local brand it could help drive Windows Phone momentum but, with the Nokia takeover imminent, this does not look likely to happen anytime soon.
In the overall market context, Windows Phone has a relatively small market share compared to Android. For example, for every Windows Phone device sold in the EU5, seven Android devices are sold. A direct comparison with iOS puts Windows Phone in a better light and we suspect the story of Windows Phone challenging for second place in the European smartphone market will become an important theme in 2014.
The overall context is best illustrated in the charts below, showing Kantar Worldpanel data, from the last two years, for both the UK, Italy, and the USA. Android is dominant, but Windows Phone, for the most recent sets of data, now shows up as more than a slim slice of the market share column.