Key specifications include a 2.2 GHz quad-core processor (Snapdragon 800) with 2GB RAM, a 20 MP PureView branded camera with Carl Zeiss optics and dual LED flash, built in support for Qi wireless charging, 2420 mAh integrated battery, and 4G LTE based cellular connectivity. The Lumia Icon will be the second device running the third generation of Nokia's high-end Windows Phone hardware family.
Here's how Verizon describe the handset:
The Nokia Lumia Icon, see and hear what you've been missing. Get the ultimate smartphone video experience with gorgeous HD video and awesome stereo sound. A 20–megapixel camera and single–finger zoom make it easy to get close to the action. Experience great performance with this Windows Phone 8 smartphone.
The handset, which runs Windows Phone Update 3 with Lumia Black software, is available in white and black variants and ships with a data cable, USB wall charger, quck reference guide, warranty guide, and global support brochure.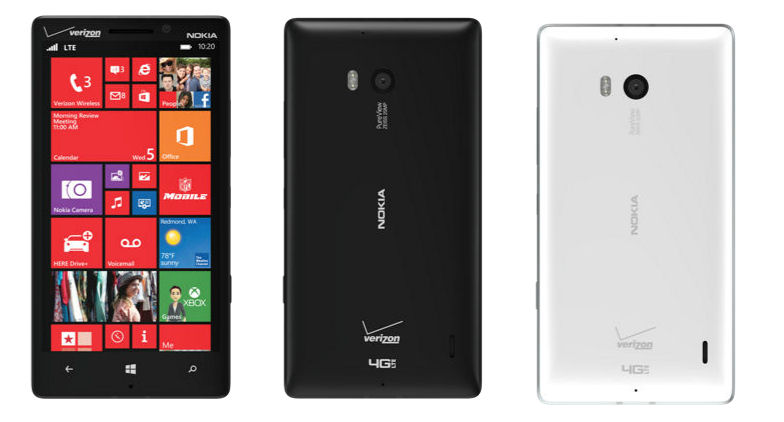 In terms of styling the Lumia Icon appears to repeat the squared with rounded corners design of the Lumia 928, but, thanks to the increase in screen size, the front profile size of the device will be a little larger than its sister device. The camera is same module as that found in the Lumia 1520, with optical image stabilisation, support for lossless zoom (2x in photos, 3x in video) and high quality "Rich Recording" audio capture.
With a five inch screen the Lumia Icon, like the Lumia 1520, uses the expanded Start screen layout with three standard size Live Tiles displayed across the width of the screen. Other optimisations for the larger screen include changes to the Office, Email and media apps.
The page on the Verizon website currently has placeholder pricing of $777, which will likely be changed to a price point of $199 on a two year contract once the phone formally goes on sale.
As expected Verizon highlights the imaging ("ultimate video experience" and "capture life in 20 megapixels") and display (view content in "direct sunlight", "180 degree viewing angle") capabilities of the device, but, somewhat unusually for a US operator, Nokia's own Mix Radio music streaming service is prominently highlighted.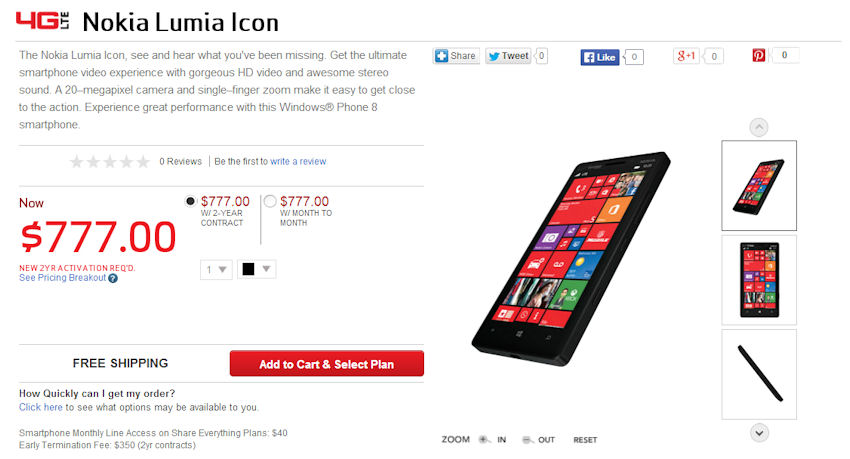 With no matching press release or announcement from either Verizon or Nokia, the posting on the Verizon website can be assumed to be accidental, although it would suggest a formal announcement of the device is not too far away.
While the Lumia Icon is exclusive to Verizon it is very likely that a non-exclusive 5-inch screen Lumia device will be announced in the near feature as a follow up to the Lumia 92x device family. Mobile World Congress, which takes place in Barcelona at the end of February, would be the logical venue for such an announcement.