The Lumia 430 will ship with Windows Phone 8.1, but will be upgradeable to Windows 10, once the latest version of Microsoft's OS is released. The Lumia 430 Dual SIM will begin rolling out in select markets in the Middle East and Africa, Asia-Pacific, Russia, Kazakhstan, and Belarus starting in April 2015, and in India toward the end of April 2015. It will be available in two colour variants: Orange and Black.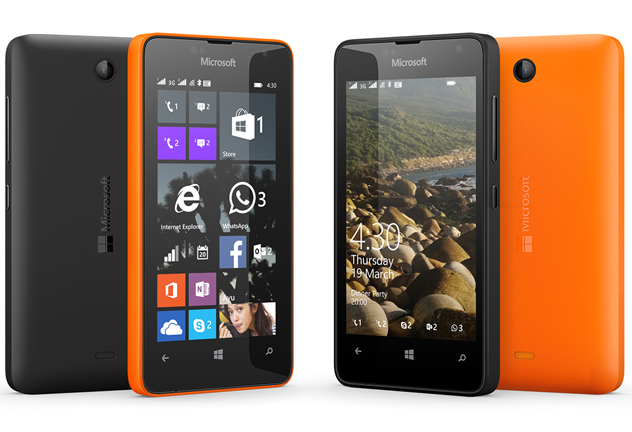 The pricing is clearly the most important point about the Lumia 430, with the potential to take Windows Phone to new customers. It is notable that Microsoft, in contrast with some earlier entry level models, has maintained a reasonable core memory (1GB RAM, 8GB internal memory) and experience (rear and front facing camera) specification, which should allow customers to benefit from almost all the core Windows Phone experiences (apps and services). Inevitably at this price there are some component, performance, and materials compromises, but the device represents outstanding value for money, with a clearer price definition from the recently announced mid tier Lumia 640 than its entry level predecessors.
From the Microsoft press release:
"People around the world have responded enthusiastically to our affordable Lumia range. We continue to invest in this segment to ensure that as many people as possible can enjoy signature Microsoft experiences, regardless of budget," said Jo Harlow, corporate vice president for Phones at Microsoft. "The Lumia 430 Dual SIM continues our commitment to combining the right hardware, software, services and apps with the right price to give people a smartphone they can afford and be proud to use."
The key differences between the Lumia 430 and earlier announced Lumia 435 are:
Slightly lower capacity battery (1500 versus 1560

mAh

)
Smaller volume (slimmer) and lower weight (120.5 x 63.19 x 10.63 mm, 127.9g versus 118 x 65 x 12mm, 134g)
Different back camera module (f/2.2 versus f/2.8)
Lumia 430 only available in a Dual SIM variant
Different market availability (Lumia 430 in Asia Pacific,

Inida

, Middle East, Africa, Russia, Kazakhstan, Ukraine and Belarus)
Slightly lower price (around a $10 / €10 difference in announcement price)
Here's a summary comparison table of the current low end Lumia devices"
Devices:
Lumia 430
Lumia 435
Lumia 530
Lumia 535
Announced
March 2015
January 2015
July 2014
November 2014