There's been no timescale announced for the phone SKU of Windows 10 as yet, but it can't be more than a couple of months behind, otherwise the raft of 'one platform, one store' marketing that's been accompanying the Windows 10 ramp-up won't make sense to the consumer. Anyway, build 10149 is available right now, if you've joined the programme and are happy to take on the usual risks.

Here's the summarised changelog:
This sounds like a cliché, but this build really is 'faster'! What's happening is that optimisations are being made all the time and that debug code is being taken out, so this shouldn't be a surprise. Do note, however, that I'm trying all this (mainly) on a Snapdragon 800-powered Lumia 1520 - I'll do separate tests on a more humble phone in due course!
The Store issues that had been plaguing everyone are mainly now a thing of the past - apps shouldn't be 'stuck' - this is a very good thing as a lot of the core applications (e.g. Outlook, Music, OneDrive) are separate from the core OS these days and all updated independently, via the Store.
Project Spartan is now the Edge browser and the URL bar is where it was in Windows Phone 8.1, i.e. at the bottom of the screen, where it's more easily accessible one-handed. In addition, there's the option to explicitly toggle on 'Mobile' or 'Desktop' views, should that function be needed.
Action Center is now expandable (to four lines of tiles deep, with an extra down-swipe) and includes new toggles, including a 'Flashlight' and a 'Mobile' data toggle (handy when roaming into a country where data is expensive).
Multiple file types, including PDF documents are now recognised and handled by the OS.
Automatic camera roll upload to OneDrive is now possible - check your settings in the OneDrive application. Well, that's the theory - in my tests so far, having turned this on in OneDrive's Settings, it doesn't actually work yet, but perhaps there's a switch needed on Microsoft's servers that hasn't been thrown yet?
There are now print controls in the Office preview applications (in the hamburger menus) - a case where mobile is inheriting 'serious' functionality from its desktop counterpart. Though the actual setting up of printers in Settings doesn't seem to be in place yet, so don't expect too much.
Podcasts now works again!
As do 'Quiet hours' in Cortana! Plus Cortana's live tile now shows expected weather and news headlines (etc.)
Photos has been improved with much faster operation and animated GIF support (not available on devices with 512MB RAM).
Outlook Mail's attachment bugs have been fixed.
Cosmetic fixes and tweaks throughout, including visual transitions as applications are launched (the app list fades downwards and away before the application content appears).
It's worth noting that any Windows Insider can update to this new build, unlike the shenanigans we all had to go through in order to get Build 10136. Just head into 'Settings/Update & Security/Phone update' and you should see the new build ready for you. If you don't, check that your Windows Insider application is still present and set up to 'Fast ring'.
Although I didn't see it for 10136 either, Microsoft does highlight:
The post-upgrade migration status screen is still missing after upgrading to this build which normally shows you the progress of the post-upgrade migration. After upgrading, the Lock screen will appear frozen without the date and time for up to 10 minutes. Please be patient and let it sit – eventually the date and time will appear and it will allow you to unlock your phone. If you get impatient and restart or mess with locking/unlocking your phone, you'll wind up in a funky state – so just relax and let it do its thing.
Also from the Microsoft blog post announcing the update:
Here are some known issues:

There is an issue where the Install button doesn't respond after Build 10149 is downloaded. Make sure the battery is charged >40% and press it again.
Some people may encounter an 80091007 error trying to upgrade to this build from Build 10136. If you hit this error, sit tight – we're working on a fix. Or if you want the new build right away, you can use the Windows Phone Recovery Tool to go back to Windows Phone 8.1 and then upgrade to Build 10149.
The Insider Hub is removed in this build. Don't worry, it will be back in future Insider Preview builds.
Sometimes the PIN keypad won't be shown after swiping up to unlock. The workaround is to swipe down to get to Action Center and try to open a notification or Settings to invoke the PIN keypad to unlock your phone.
There is a very rare situation where you are unable to unlock your phone after entering your PIN and it keeps letting you type even though you entered your pin correctly. If you hit this – leave the phone alone 1-2 hours before trying to unlock again. This is caused by a TPM issue that could get worse and require you to reflash if you get into this state and power off the phone.
If a Gmail account is set up on the phone, the Messaging app may have issues and both incoming and outgoing messages may not work. If this issue is hit, simply reboot your phone to get it working again. We are aware that the Messaging app may behave badly in this state.
There is a known issue where apps or games are installed as trial versions even though you have previously purchased them. In-app purchases on Windows 10 Mobile are not functional yet as we migrate the function to the new Windows Store.
In certain cases, the colors in some apps may appear off. For example – the titlebar in the Outlook Mail app is orange.
There might be some cases where notifications in Action Center appear blank.
Gabe Aul at Microsoft finishes with:
We've been using this build internally for a few days and have really loved it. It is faster, more stable, and more polished overall and has been lots of fun for us to see come together. For me personally, I've been thrilled to see a bunch of changes get completed that you've been asking for. It reminds me why I'm so excited about the Windows Insider program and being able to hear your input to help us shape the product.
As someone who has put in suggestions of my own, I'm thrilled with how all this is panning out too. There's a real sense of community in helping shape Windows 10 Mobile. Hopefully you're excited by the process too. And now, for the first time, I'd venture to suggest that you might like to swap your main SIM into a device with this build and give it a go, 24 hours a day. It's demonstrably still a 'beta', but it's a useable beta.
I'd still highlight that battery life may still be something to be aware of. During this phase of the development of any OS, minimising power drain isn't always the highest priority (major bugs and feature insertions are still top of the heap). So don't expect the battery life of your device to match that under Windows Phone 8.1 yet. Take an emergency charger with you if you head out, etc. - just in case!
Would I still advocate a 'reset your phone' and 'set up as new phone' after installing the new build? Yes, definitely. It's worth the hassle of time and reinstalling applications - you'll end up with something more streamlined and free of anything hanging around from 10136. People who have updated in place have seen some glitches already, so I'm playing safe - especially because I want to write about what's in 10149, not ghosts hanging around from previous builds!
Note also that, after updating, allow an extra hour or so (yes, really) for all the applications in the 'Store (beta)' to download and update. These include any that are tied to your device/variant in Microsoft's provisioning database, so a Nokia Lumia will pick up some legacy 'Nokia' utilities, for example. In my case, heading into the Store (beta), there were over 40 applications downloading (or queued to download) and installing. This took ages to process (mainly due to the speed of/load on Microsoft's Store server, it seems, so time for another cup of tea. Or beer. Or something stronger!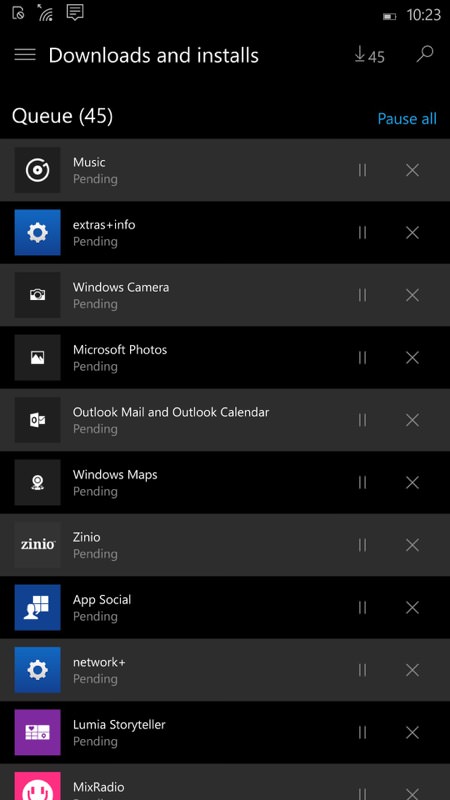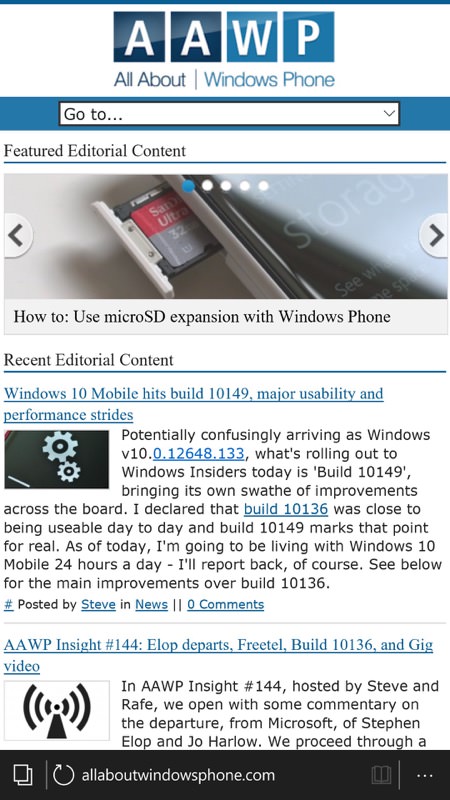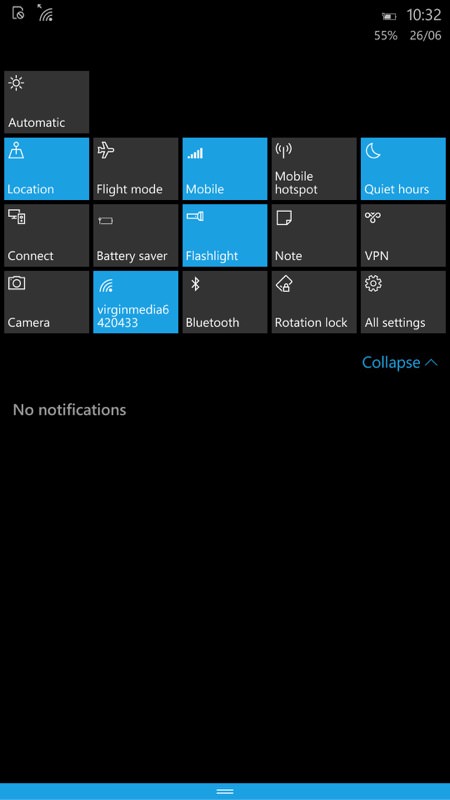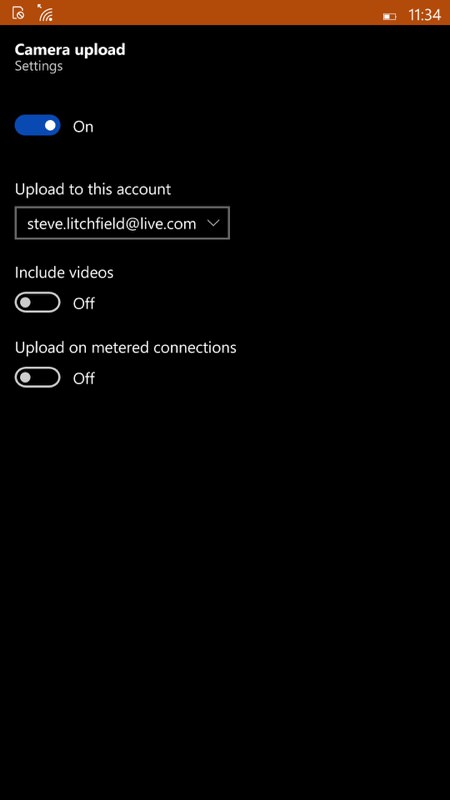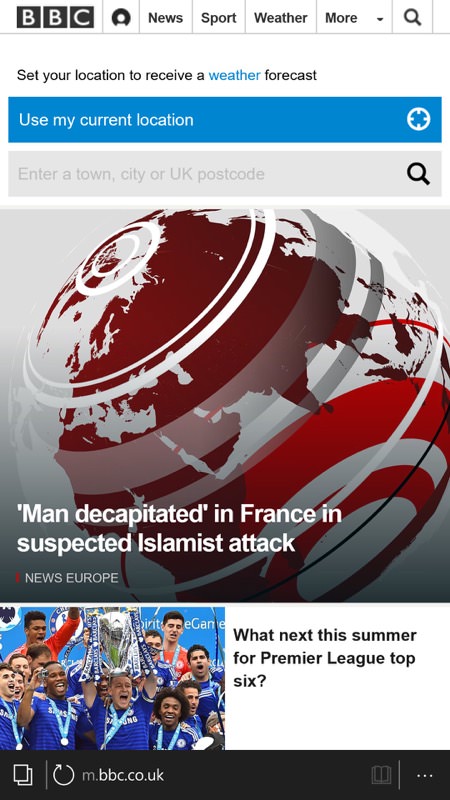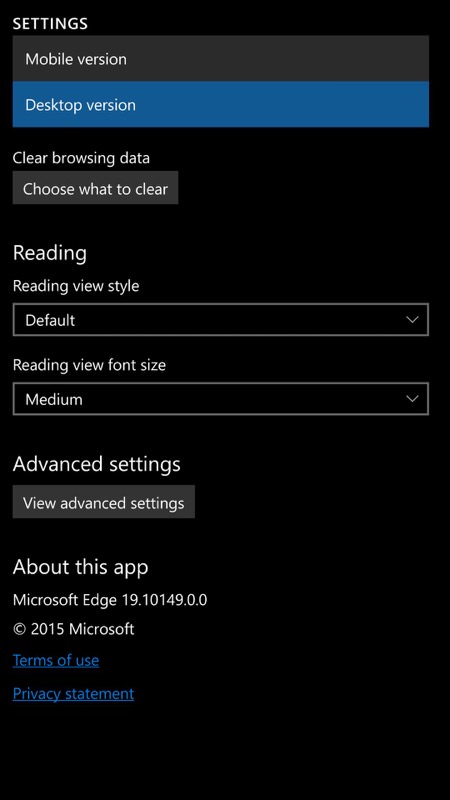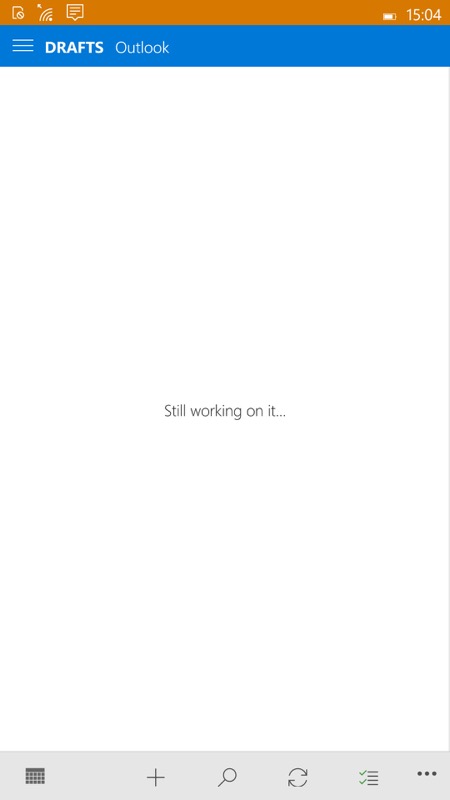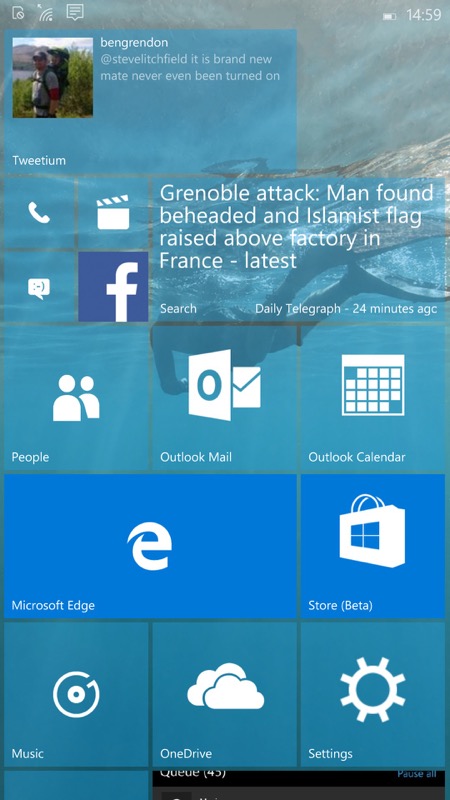 Other issues I've come up against today: this build doesn't seem to want to help Microsoft Health sync with the Microsoft Band - I've tried several times and can't make headway. Also, Music only builds its indexes of your music when in the foreground, i.e. you have to sit with the phone doing nothing else for tens of minutes while it indexes potentially thousands of tracks of music on your SD card - surely this should be a background task??
PS. Note that if there's a catastrophic problem with the new preview, it's possible to get back to the previous Windows Phone 8.1 Update 1 using the (aforementioned) Microsoft recovery tool here.