If that all sounds a little over the top for a simple Insiders OS provisioning change then I apologise - but I do think that this move marks a line in the sand.
Up until today, we had production Windows 10 Mobile (so all the native W10M phones plus all the elibible upgraded Windows Phone 8.1 devices), currently at build 14393.448, i.e. a version of the Anniversary Update (Redstone), along with Insiders on the 'Release Preview' and 'Slow' rings on the same branch, plus 'bleeding edge' enthusiasts trying out a whole new branch of the OS (Creators Update) on the 'Fast ring'. And quite a gulf between the two. With last night's release of Windows 10 Mobile build 14965 for the 'Slow' ring, the landscape just changed.
If you think about it, this change to the 'Slow' ring restores it to the positioning that was originally intended. This is all very natural in the release cycles, the 'Fast' ring will leap ahead for a few weeks and then the 'Slow' ring will join it on the 'next lap', as it were.
Just to be clear, we're now back at the original definitions for the Windows 10 Mobile Insider rings:
Production: as it sounds, phones that aren't on any Insider test rings
Release Preview: OS builds that are intended for releasing to production handsets but which need a few weeks of real world testing before Microsoft pulls the switch
Slow: stable and relatively bug-free builds of the next major branch of Windows 10 Mobile
Fast: possible unstable and buggy or unfinished builds of the next major branch that Microsoft would like to see real world users hammer for a couple of weeks and give feedback
So we saw Redstone itself pass though these various rings and stages and now 'Redstone 2', i.e. the Creators Update, is doing the same.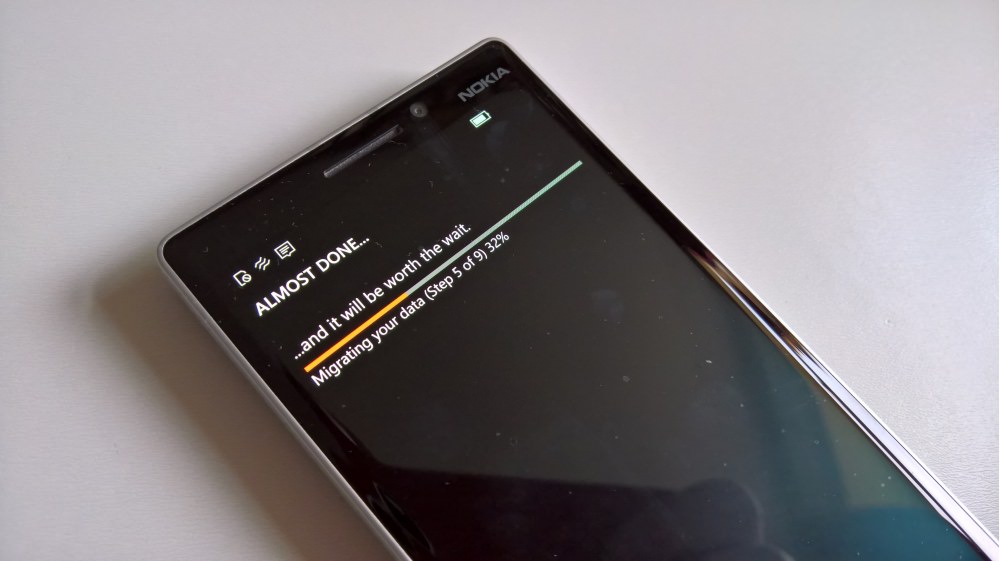 There's plenty that's new in the Creators Update, though an awful lot of it is under the hood. For example:
there's the support for the new Unified Update Platform, which should speed up and smooth out future over-the-air updates.
there are (mostly) fixed media controls, something that I'd railed at several times.
there are dramatic performance improvements and optimisations at the kernel and app-management level, which is why the RS2-running Lumia 950 XL was able to out-perform the theoretically much faster HP Elite X3 in one of my recent review parts.
many Continuum improvements, in terms of speed, preservation of state, and even multi-windowing and Start menu customisation (not available yet)
there are improvements to Wi-fi and reporting on Wi-fi vs cellular usage
And quite a bit more, I'm working on a feature breaking down everything that's new (or expected) for the end of the year.
With last night's Slow ring update then, we have a new 'recommended' state for everyone reading this to be 'on'. This is quite a big deal. Up until yesterday, you had the choice of an older, slower branch of the OS (Redstone) or a newer, faster branch but which was only available in super-early and often-broken form on the 'Fast' ring. Now you can have the best of both worlds, in effect, putting your smartphones on Redstone 2/Creators Update but with relatively minimal risk to stability - you should be able to use the 'Slow' ring releases day to day.
__________
Anyone with an existing phone that's officially deemed Windows 10 Mobile compatible by Microsoft can get hold of this new Creators Update 'Slow' ring build. The full list of phones includes Lumia 430, 435, 532, 535, 540, 635 (1GB RAM version), 640, 640 XL, 730/735, 830, 930, 1520, Icon, BLU Win HD w510u, BLU Win HD LTE x150q, and the MCJ Madosma Q501. Plus, of course, all the devices which have shipped with Windows 10 Mobile in the last year, of which the Lumia 550, 650, 950, 950 XL, Acer Jade Primo and HP Elite X3 are the highest profile.
In each case:

Upgrade to Windows 10 Mobile (if appropriate) using the Upgrade Advisor.
After at least one update cycle you should then be on the Anniversary Update (a.k.a. Redstone). Head into Settings/Update & Security/Windows Insider Programme
Join the Insiders programme and choose the 'Slow' level in the pick list.
Within a few hours your phone should be seeing the build mentioned above and you'll be running a pretty stable version of next year's mobile OS today.