From the Windows blog comes:
The Creators Update will begin to roll out on April 11th. Like with the Anniversary Update we delivered last August, this update for Windows will proceed in phases. Based on our experience and feedback from our customers, we believe a phased approach provides the highest quality update experience to the broadest set of customers. The first phase will target newer devices, especially those we tested together with our OEM hardware partners. We will then expand the Creators Update release to additional devices based on the feedback we receive during the initial phase. We'll iterate this process over a period of several months until all compatible devices running Windows 10 worldwide are offered the Creators Update.

Windows Phone will follow the same phased approach, with rollout scheduled to begin April 25. Note that update availability may vary by manufacturer, model, country or region, mobile operator or service provider, specific installed software, hardware limitations and other factors such as feedback from customers.
We've been used to these 'phased' approaches for a while in the IT world. Shove an update out to everyone at once and any last minute unforeseen bugs will bite everyone and cause far more misery than if the update went out to a few tightly controlled classes of user. In this case, note the word 'scheduled' above, implying that even this date isn't set in stone.
Then there's 'The first phase will target newer devices', so we can expect the Lumia 650 and 950/XL to be first in the queue, along with the HP Elite x3. A Windows 10 Mobile production update typically takes multiple months to fully roll out, with the various device IDs and model numbers/variants making it trivial to manage exactly which phones in which countries get offered the update and then monitor feedback via support forums.
After the more recent smartphones mentioned above, there's the mass of officially upgraded phones (e.g. Lumia 640 right up to 930 and 1520), which won't get offered the Creators Update (a.k.a. Redstone 2) until well until May 2017 and, in the case of lower end phones, into June too.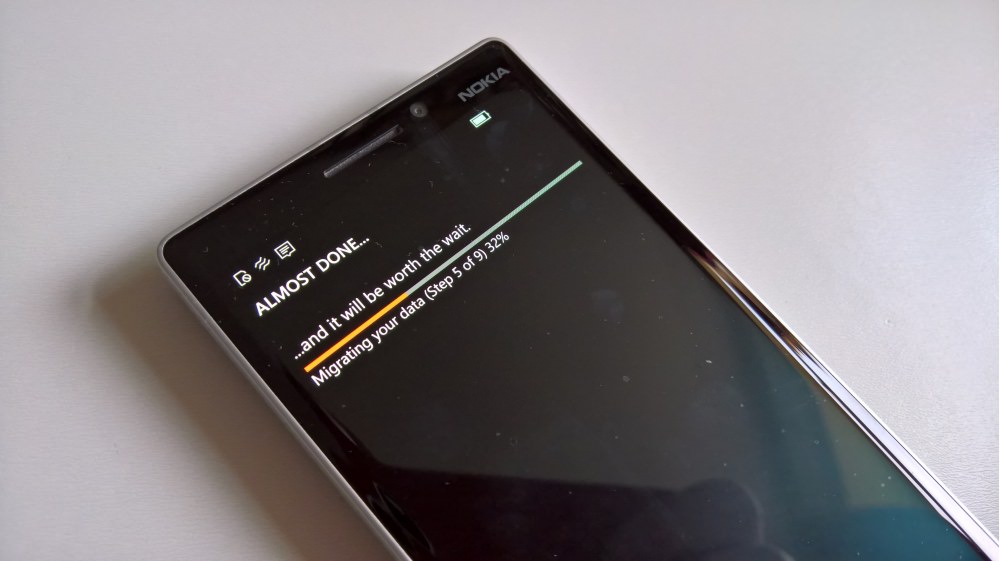 All of which is rather irrelevant, since there's a far faster way to get the update - use the 'Release Preview' Insiders ring. The Creators Update (build 15063.2 at the time of writing) hit PC users on this ring last night, and Windows 10 Mobile's equivalent is expected to hit this evening, UK time. [I'll update this story as and when this happens.] So no waiting for a month or two.
The OS and update package you'll get via the 'Release Preview' ring is identical to what production users will get, don't worry. And should a last minute fix be included then you'll also get that too, as an additional Release Preview update ('.3', anyone?)
Joe Bloggs, general user, out there in the world, oblivious to AAWP and the Insiders rings, using a Lumia 650 or 950 (say) and generally unaware and not impatient, will get an update offered in due course and will hopefully take it. There are some big security and under the hood improvements, see my summary of what's new going from Redstone to Redstone 2 (Anniversary Update to Creators Update).
The takeaway from all this is that we're now at the pivot point, the fruition of Redstone 2, and the 'right' place for most people's primary smartphones is to be on the 'Release Preview' ring. It's stable (though not bug free) and is production class without having to hang around for weeks while Microsoft fiddles with its servers(!)
The 'Fast' Insiders ring will spiral off, soon enough, to 'Redstone 3' land, with much bigger bugs and instabilities, and the 'Slow' ring is pretty pointless at this stage in the OS update cycle.
PS. If your phone has been through multiple updates, builds and rings then you might like to refresh it after you're definitely and safely on 15063.2 - it'll work a whole lot smoother and will be more stable, I promise. (The backup-reset-restore procedure works on all computers and phones, of course, but hopefully my linked tutorial will make sure you don't forget a vital step!)
PPS. A 'FAQ" here will be "My phone is already on the Slow or Fast ring and I already have build 15063.2 - what do I do next?" The answer is just to change rings in 'Settings/Update &Security'. You don't need an extra update. Though I guess you might like to get started on that 'refresh', linked above? When the 'Release Preview' build rises above what you currently have (say in May or June) then you'll get offered that update, don't worry.
____________________________
PPPS. Anyone with an existing phone that's officially deemed Windows 10 Mobile compatible by Microsoft can get hold of this new Creators Update via the 'Release Preview' ring. The full list of phones includes Lumia 430, 435, 532, 535, 540, 635 (1GB RAM version), 640, 640 XL, 730/735, 830, 930, 1520, Icon, BLU Win HD w510u, BLU Win HD LTE x150q, and the MCJ Madosma Q501. Plus, of course, all the devices which have shipped with Windows 10 Mobile in the last year, of which the Lumia 550, 650, 950, 950 XL, Acer Jade Primo and HP Elite X3 are the highest profile.
In each case:

Upgrade to Windows 10 Mobile (if appropriate) using the Upgrade Advisor.
After at least one update cycle you should then be on the Anniversary Update (a.k.a. Redstone). Head into Settings/Update & Security/Windows Insider Programme
Join the Insiders programme and choose the 'Release Preview' level in the pick list.
Within a few hours your phone should be seeing the build mentioned above and will be on the Creators Update.