This is a UWP app, as the name suggests, and is for any phone upgraded to (or running natively) Windows 10 Mobile. Since the last time we featured 'our' app, back in January, we have news from Joe for today's update:
"This is the apps 1st Birthday release, so felt it was worthy of a version bump (to 1.5)… the 'AAWP Universal Anniversary Update'!!
We now have comment/like counts, courtesy of the Disqus API! Ryan at Disqus was a huge help providing the necessary UWP based API wrappers … and there should be more planned in this regard in the future.
I have also added donation IAPs! I have purposefully not advertised it as a 'remove ads' thing, but more of a donation or gift a 'thank you'… but I do still remove the ads on the first donation. The reason why I've done this is because of the way I'm removing the ads… it's not fool proof and I can't guarantee that ads will remain removed – at least not without a future app update. So I just wanted to try and make that clear. A donation is 99p (GBP), but users can donate as many times as they like. They only need to donate the once to have the ads removed and this should carry over to all installs on other devices.
The full version 1.5.0 change log:
Added Disqus comment counts and likes - huge thanks to Ryan at Disqus for his help with this!
Added 'Open in Disqus' option in articles – this opens the discussion in the Disqus app (if installed).
Added 'pull to refresh' to article list pages.
Added 'back to top' button to article list pages.
Added 'donations', so for those that want to you can now donate, tip or gift a 'thank you' by doing so from the Help & About > Donate page.
Added support for a new 'aawp://' protocol. So any links that use this will open directly in the app, for example: aawp://allaboutwindowsphone.com/flow/item/22240_Stats_from_AAWP_Universal_app_.php
Updated article menu to be 'minimal' to maximise the reading area. This is the new default, but you can change this back in settings.
Loads more little updates, tweaks and fixes throughout.
Here's the new version 1.5 of AAWP Universal in action: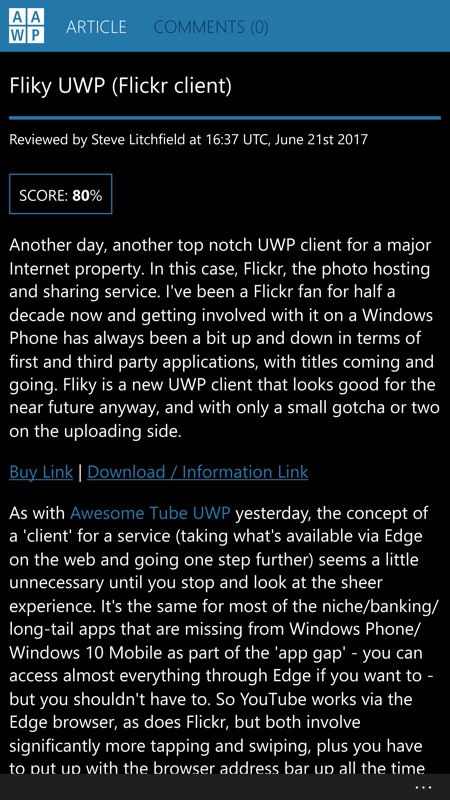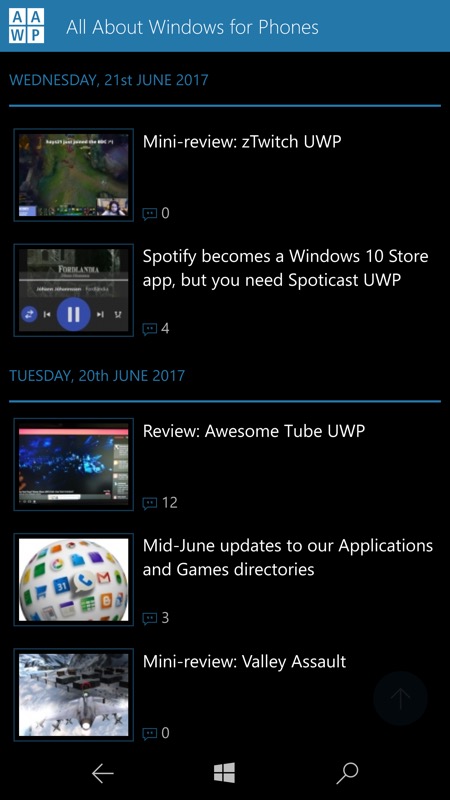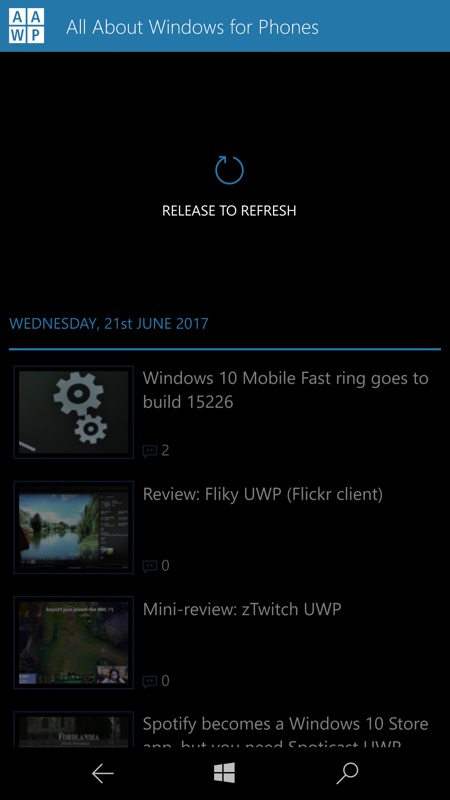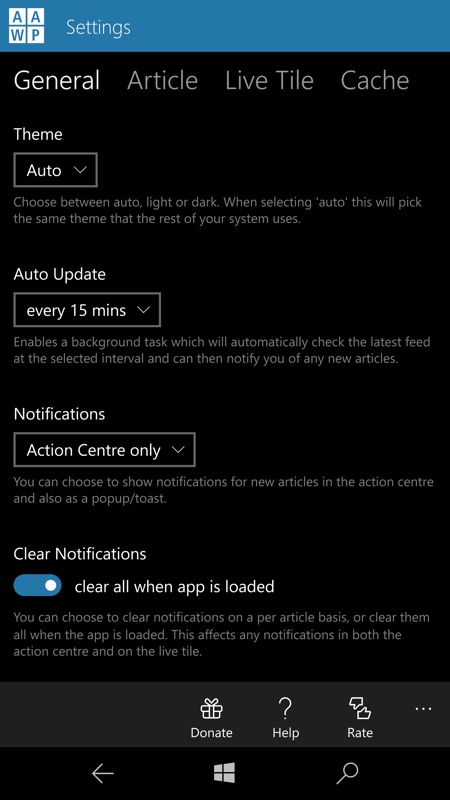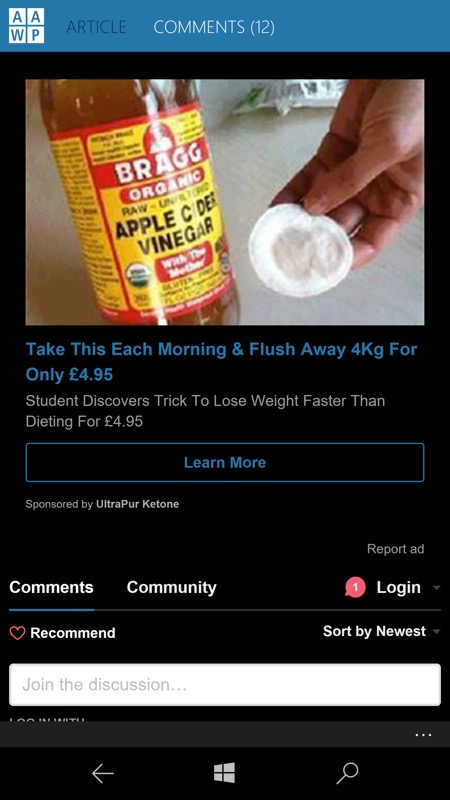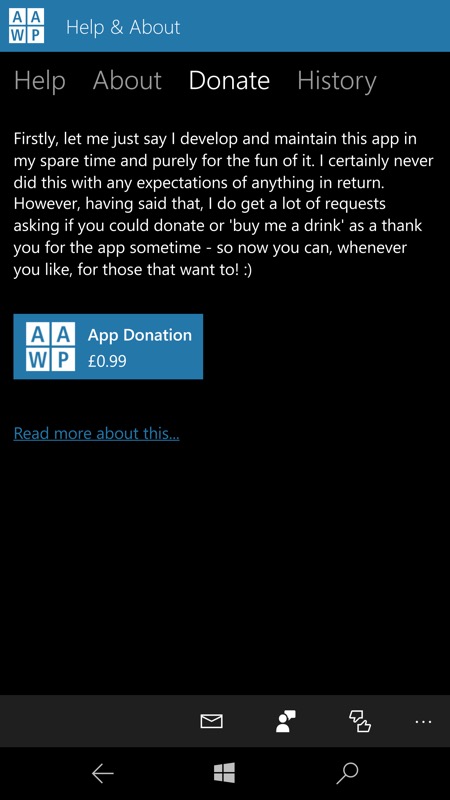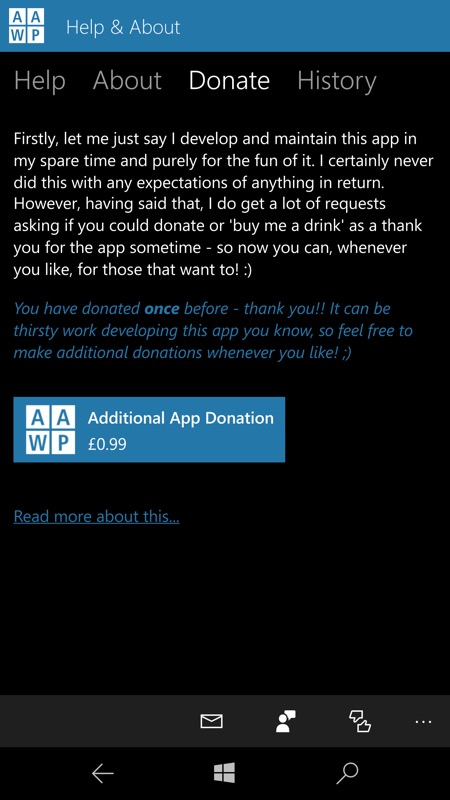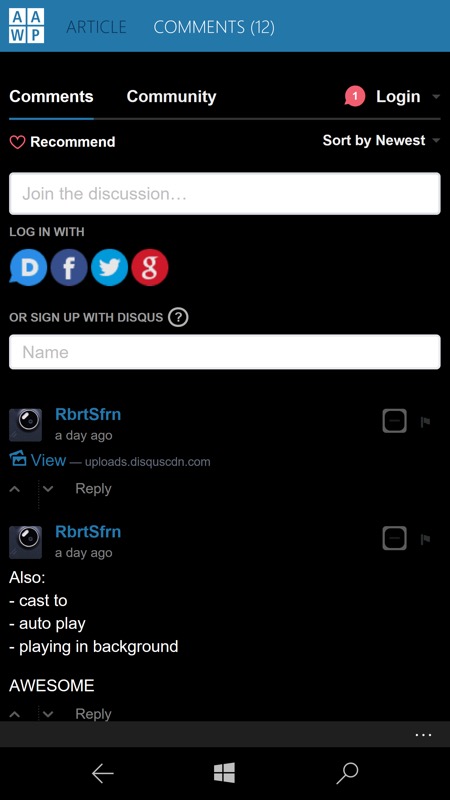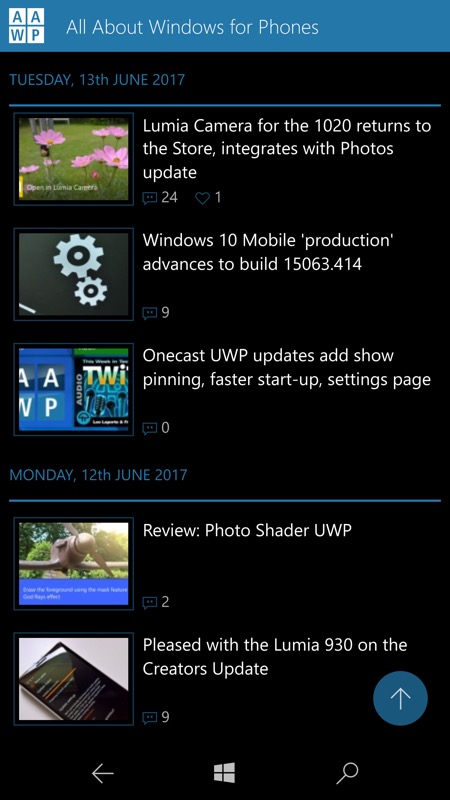 With respect to that aawp:// thing:
"I have also added a 'aawp://' protocol… this allows links such as: aawp://allaboutwindowsphone.com/flow/item/22240_Stats_from_AAWP_Universal_app_.php to open in the app. You can test this with the app installed on the desktop, if you paste that link into Run, it should prompt you to open in the AAWP app. This way other apps/sites could trigger the app like this – for example Ryan said he'll add this to the Disqus app, so AAWP links should open the app (if installed). This isn't quite as integrated as 'Apps for Websites', but it's a good workaround! :)
You can grab or update 'AAWP Universal' from the Store here, it's a free download. Why not add your own rating of 'AAWP Universal' (in the Store) and leave a text review? It all helps discoverability!
Comments welcome for Joe, he'll read and take it all in, we promise!
PS. By the way, aside from Rafe being in the podcasts, virtually all the content for AAWP is now being written by me, as you've probably gathered. I/we'd love to have some more guest articles in 2017, so do please get in touch if there's a topic, device or application that you feel strongly about. You can reach me at slitchfield@gmail.com .