First of all we have a huge new 340MB firmware update available to Duo owners (mainly in the USA right now, but this will be the version that ships in units worldwide from now on). The changelog is (slightly summarised by me):
Android Security Update for April 2021.
Improved device and UI stability.
Improved device performance when opening and closing apps, accessing recent apps, or swiping up to see the app drawer.

Added the ability to disable the 'fold back to answer' feature.



Many, many bug fixes.
The joke on forums is that after any phone update it will 'seem faster', but in this case the Surface Duo apparently really does work faster, in accordance with the changelog above.
As usual with any Android-based device, owners can check for updates in Settings.
Secondly, incoming are some notable changes to the Surface Duo's launcher. From a beta forum:
Home screen settings and app alignment on Surface Duo have been improved
Apps will now remain in the same order after restarting Launcher
These will hit within a week or two, in the on-device Play Store. All of this will help the day to day user experience massively, I'm sure.
Thirdly, I was interested in hearing in a podcast (probably WC's, but I can't remember exactly) about the reasons why the Surface Duo is so relatively crippled from a smartphone point of view: no NFC, weedy camera and speaker, no Qi charging.
It's because of the Windows origins of what was then project 'Andromeda' (covered in depth at the time and since) - the idea is that because the device was going to be a Windows 10-based dual screen 'productivity device'/PDA (running a development of Windows 10 Mobile/Windows on ARM), with smartphone functions not even guaranteed, let alone central, no priority was given to consumer smartphone functions. One can only imagine if such a Windows 'productivity' device would have worked in 2021 - as it is we only have an Android version that unfortunately gets compared to other Android handsets and comes off worse.
Fourthly, with a few thousand Surface Duos sold in the USA, I was interested to see a few 'long term' video reviews of the device, i.e. from people who have genuinely lived with the Duo through thick and thin for months. Embedded here are two that are worth watching, firstly from Brad Samms, a well known Microsoft enthusiast, and secondly (and slightly longer) from YouTuber 'scaryifliteral', who bought the device on day 1 and has therefore clocked up an impressive 'six month review'!
It's fair to say that both users (note, not reviewers, they've actually lived with the Duo) have complaints - but also plenty of praise for the dual screen, interface characteristics, and genuine productivity aids. Anyway, both videos above are worth a watch, giving an impression of a flawed device with better than expected hardware and (usually) constantly improving software.
Fifthly, with the Surface Duo hitting new markets around the world (not least the UK), I spotted AAWP friends Noreve posting that they've been officially selected by Microsoft France for showcasing in the Microsoft online catalogue of products. Although this covers hybrids as well, I did notice some tasty shots of the Noreve 'leather cover' solution for the Surface Duo in both red and blue: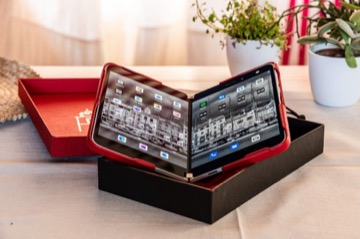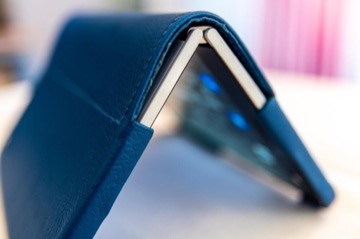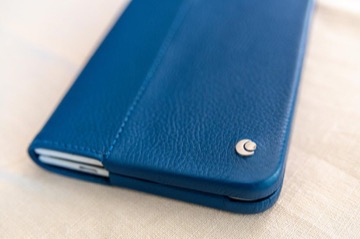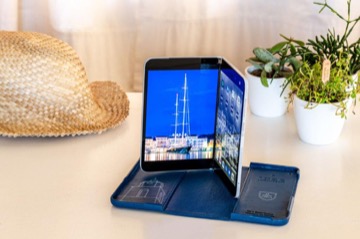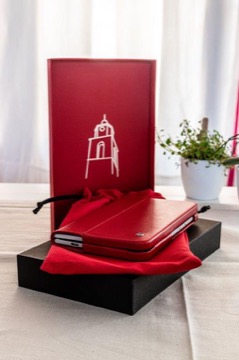 Notably, such an all-encompassing (and rather handsome) leather case for the Duo does mean that you can't use it in 'single screen, folded right back' mode, but then this is argably the weakest of the Surface Duo's modes - Noreve have rightly focussed in on dual screen productivity for their Surface Duo case, plus absolute protection. It's a few cuts above the official Microsoft semi-disposable stuck-on plastic bumpers, at any rate. And note that you can't close the Duo fully with either solution - the device just wasn't made with cases in mind, it seems. Laws of physics and all that.
Loving the leather, anyway. But there's no pointing in asking for a review case until I also have a review Surface Duo. Right, I'm off to email Microsoft UK... again!