Review:
StormGlass
Score:
75%
And the fascination with Weather applications continues. It's now the turn of StormGlass, a free app from Ananthonline that focusses on giving you all the information in a Live Tile, rather than in a screen-based view. It's an approach ideally suited to the Metro UI, which technically works well. But weather tiles are also about emotion and personal connection. Has StormGlass got what it takes?
Version Reviewed: 1.3.0.0
Buy Link | Download / Information Link
Running StormGlass, you get a list of 'tiles' with useful names like Home, Work and (an example) New York. Each of these can be pinned as a separate tile to your start screen by tapping the pinboard icon to the right of the tile name. Tapping the name itself brings up the settings for that tile, where you can rename it, decide if it's going to report the temperature in Fahrenheit or Celsius, and if it will have 'quick refresh' set.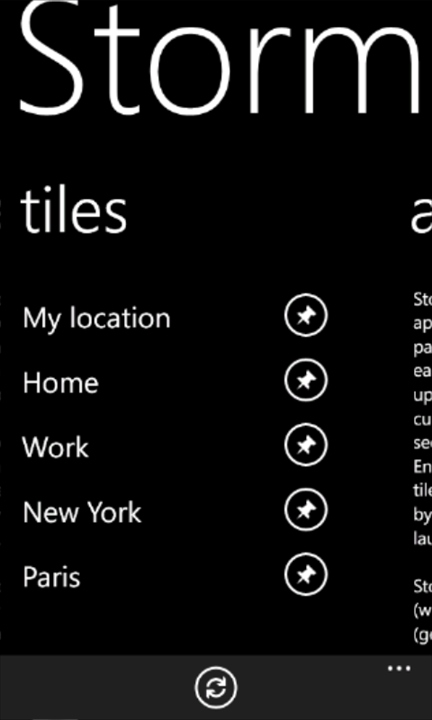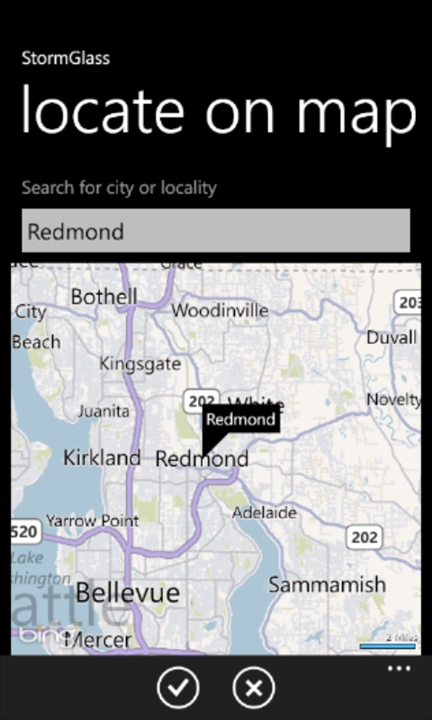 I like this last option - the normal action on tapping a tile will be to open StormGlass, but if 'quick refresh' is on, you'll be returned to the start screen automatically, but with the latest weather on display - no need to wait for the tile to tick over and refresh in the background (which only happens once or twice an hour).
It's not my favourite option though - that belongs in the next settings screen, where you can set your location. Sure you can type in a name, and have your tile report that, but for the traveller, setting a tile to use geo-location will give you the weather wherever you are, without any extra input in the settings screen. That's a win right there.
It's important to stress that, unless you pin a live tile, you can't get the weather for any of your locations - there is no overview screen that lets you look at the five potential tiles and what they would be reporting. I don't like to clutter my live tiles, so adding a London tile just so I can see what my friends might be experiencing is overkill. I hope a list screen of current weather around my listed locations is being considered for any update.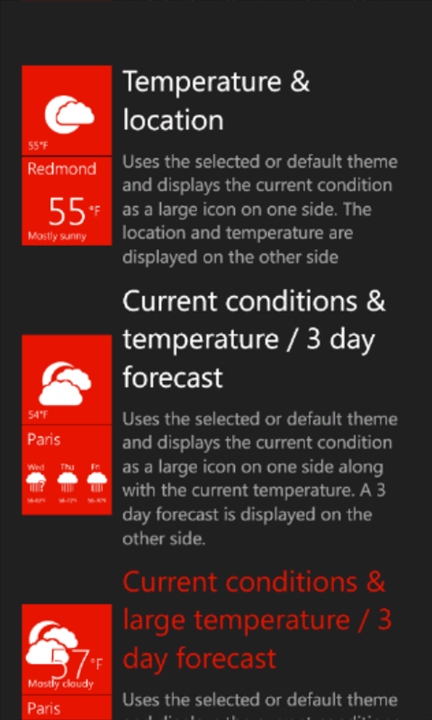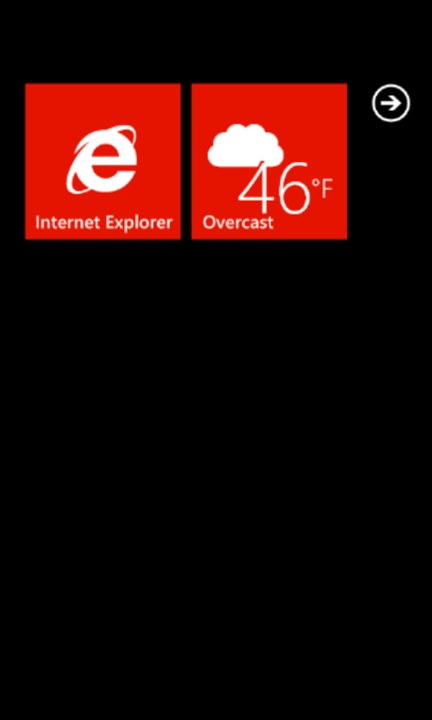 There are also some gaps in StormGlass's graphical palette, which result in no graphic showing up on the live tile. The missing one that I most noticed was for "drizzle" and, living in Scotland, there's rather a lot of that. In a competitive app environment, that's enough for me to mark it down, but we're talking about a tiny wrinkle that could easily be fixed in a later build.
There's a lot to like about StormGlass, and I can see why Chris Martin recommended that I take a look at it in my review of Smart Weather. I still can't decide on this or Smart Weather, and I think the lack of an overview screen is harming StormGlass. I've gone back and forward over the last week trying to decide which I like better - even though it's clear I do want some form of weather-based live tile on my Windows Phone.

Overall, I think it just shades Smart Weather, but not by very much. Ultimately it's not for me to tell you what to choose. Choice is good in the Marketplace, and it helps drive innovation. For that reason I love StormGlass, and urge you all to have a look at it, before deciding yourself if it's the one you want.
Reviewed by Ewan Spence at