Review:
Nokia Play 360 Wireless Speaker
Score:
86%
Having just reviewed the top end Jawbone Jambox Bluetooth stereo speaker, I was expecting the slightly cheaper Nokia Play 360 to sound less impressive. And I was wrong - the Play 360's output is, literally, awesome, for such a small box. The only fly in the ointment is that, for stereo, you have to buy two, taking the combination to £200 and beyond. Ah well, it's only money....!
Buy Link | Download / Information Link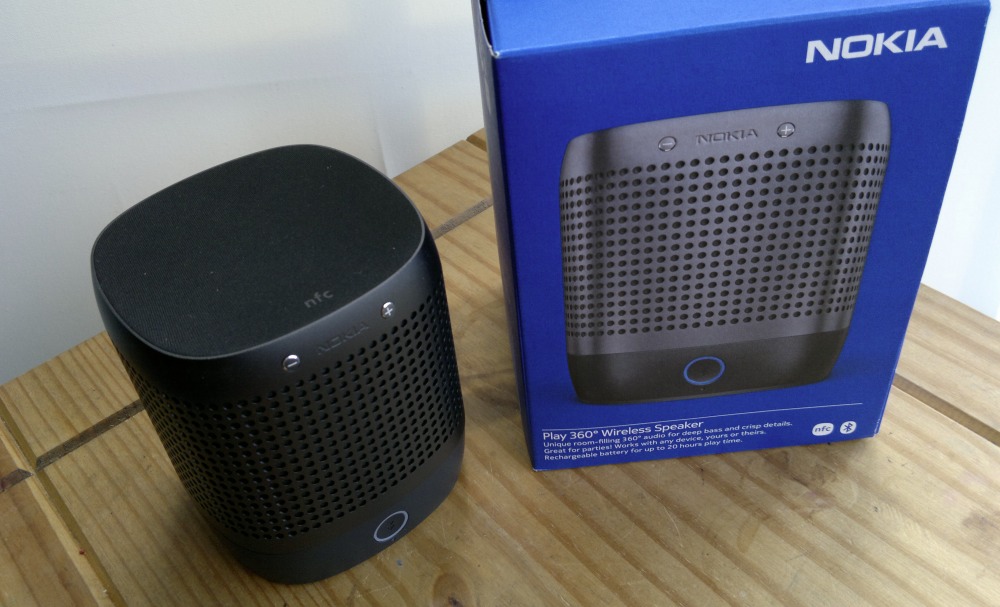 Sent over for review were two 'Play 360 Wireless Speakers', one in black and one in blue. Each is a 110mm cube weighing around half a kilogram. Yes, you read that right - buy two of these, to enable the full stereo effect, and you're lugging around a full kilo.
More likely, you'd have a pair of these in the office, in the corners of the room, for example, ready for use when needed. Except you've then got to manage their charging, or at least powering - and leaving any rechargeable device on power, permanently, is a sure fire way to kill the battery in the long term.
So plenty to think about then, but at least raw audio quality isn't compromised. I was testing the Play 360s with both my Nokia C7 (using NFC for ease of Bluetooth pairing) and my Nokia Lumia 800 (using standard Bluetooth pairing dialogs), and in each case I was impressed by the bass and treble coming out of the speakers. The reflex ports at the bottom of each speaker were pumping out plenty of air, in time with the bass and the rendering of cymbals and hi-hats at the top end was crystal clear.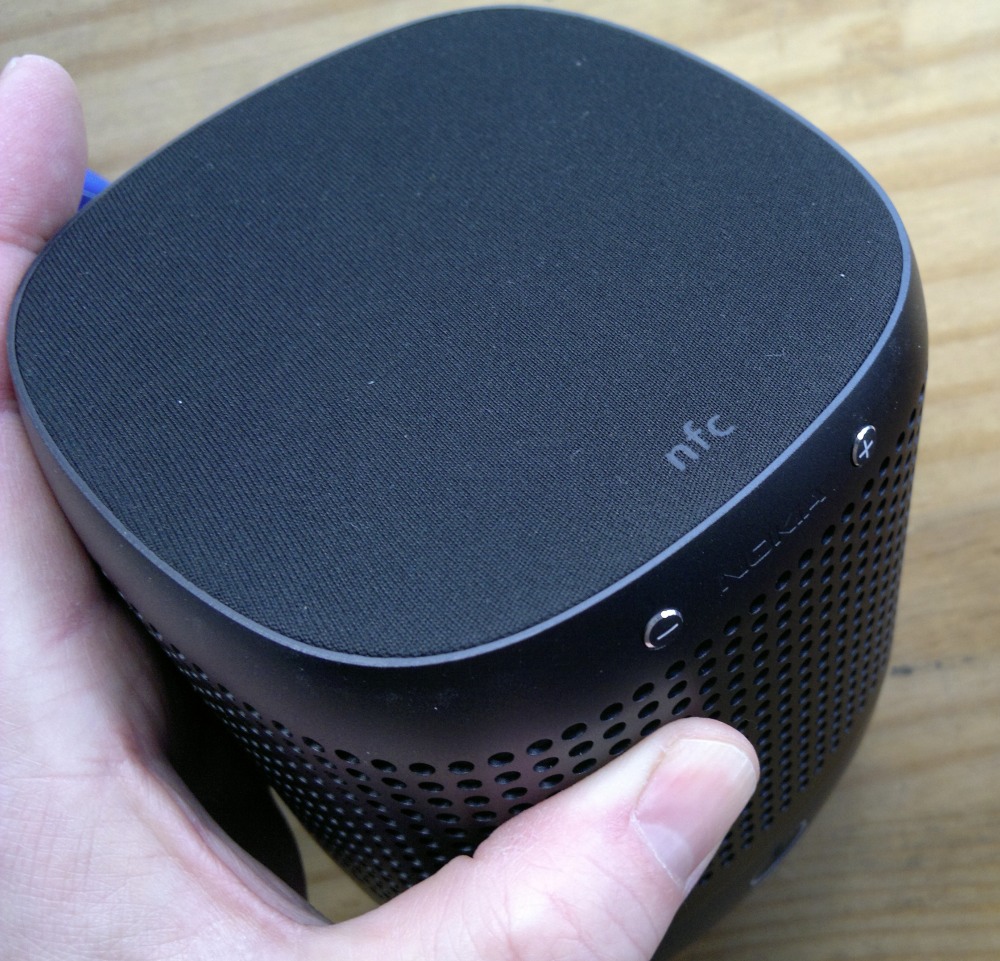 The actual speaker cone seems to be mounted facing upwards, i.e. through the materialled top surface - don't be fooled by the cosmetic aluminium grille all round the Play 360, it's solid! On the accessory's bottom surface is a diagram reminding a new user how to pair a generic Bluetooth phone - in case the instruction leaflet's been lost.
Volume control can be done using the + and - buttons at the top-front of each speaker and also using the hardware volume buttons on each phone (Nokia C7 and Lumia 800, running Symbian and Windows Phone respectively). Turning the volume down on each phone does limit the top volume of the speakers - I got best results with the volume up more or less full on the phones and then using either handset or speaker to fine tune from there.
It's not surprising that there were no Bluetooth audio protocol issues given that all this is Nokia hardware, but it's still gratifying to see everything working as designed. Throughout the test songs, I also didn't detect any typical A2DP glitches, the EDR (Enhanced Data Rate) technology seems to really be working in this all-Nokia setup.
One of the big selling points of the Play 360 is its built in NFC support. Using the C7, which has the corresponding NFC transponders and OS support, tapping the top of one of the speakers pops up a 'Connect to...' prompt. Tap 'Yes' and you're done, with no need to press and hold the speaker's bottom Bluetooth button for 5 seconds, no need to delve into Bluetooth settings pages on the phone and hang around while the speaker is scanned for and found, no need to authorise the pairing, and so on. Even better, once paired, you can tap to disconnect (and silence) the speaker and then tap again to reconnect. All very easy and definitely the way of the future, i.e. NFC-facilitated Bluetooth pairing.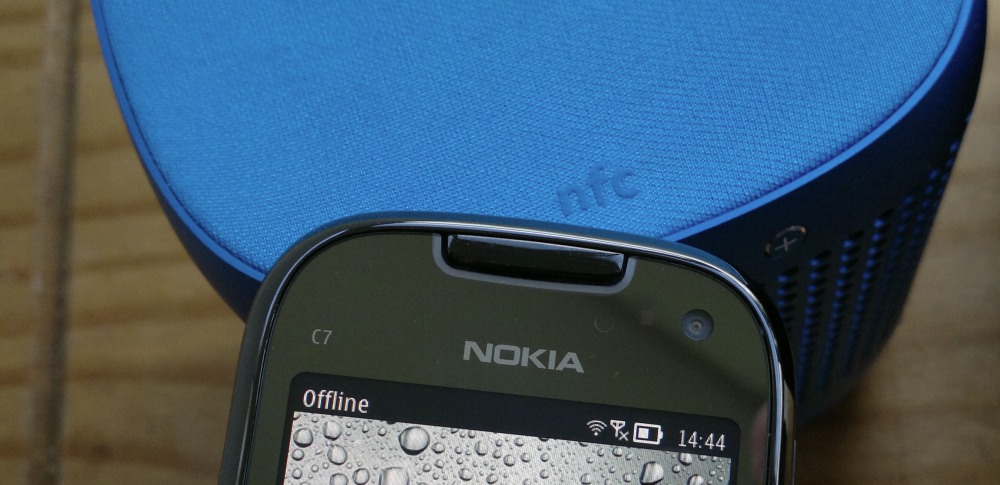 Another facet of the Play 360 speaker system is using Bluetooth between two units to reproduce stereo sound. This is, technically, quite challenging (one 'master' speaker has to split and retransmit one channel's audio while keeping perfect sync), but it all works very well. You press and hold both power buttons for 5 seconds, the two units 'talk' to each other, and then each speaker identifies itself audibly ("Left channel", "Right channel"). You then pair your smartphone with the "Left" one and you leave the wizardry to the Play 360 electronics and internal software.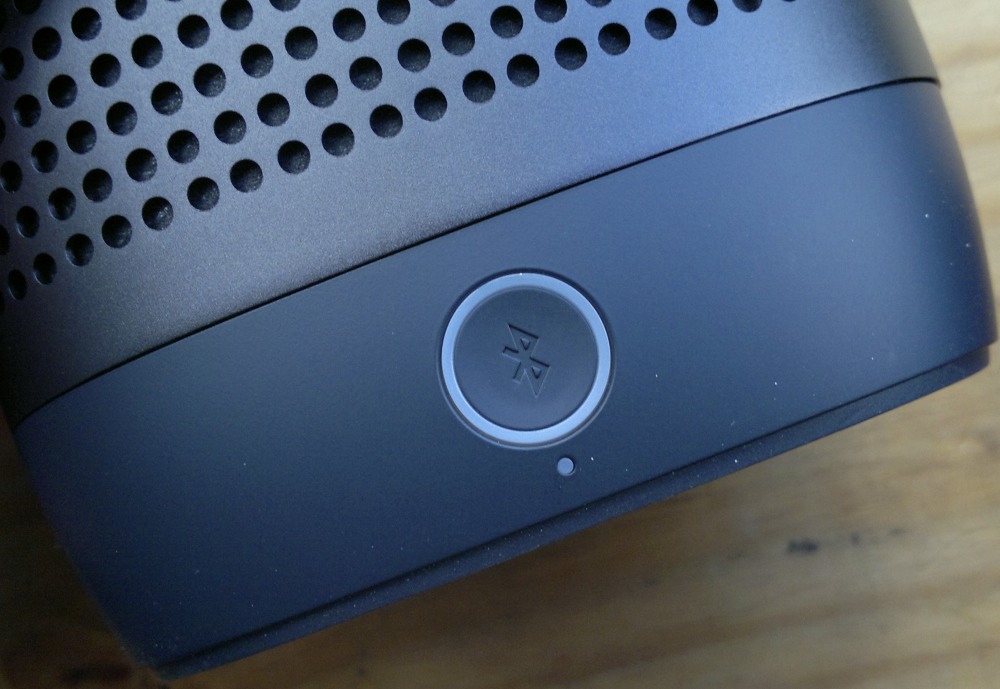 There's also a 3.5mm audio jack, for feeding in audio from a source which isn't Bluetooth-enabled (for example, an iPod), and presumably the stereo would be passed across between speakers wirelessly, as before, though I didn't try this.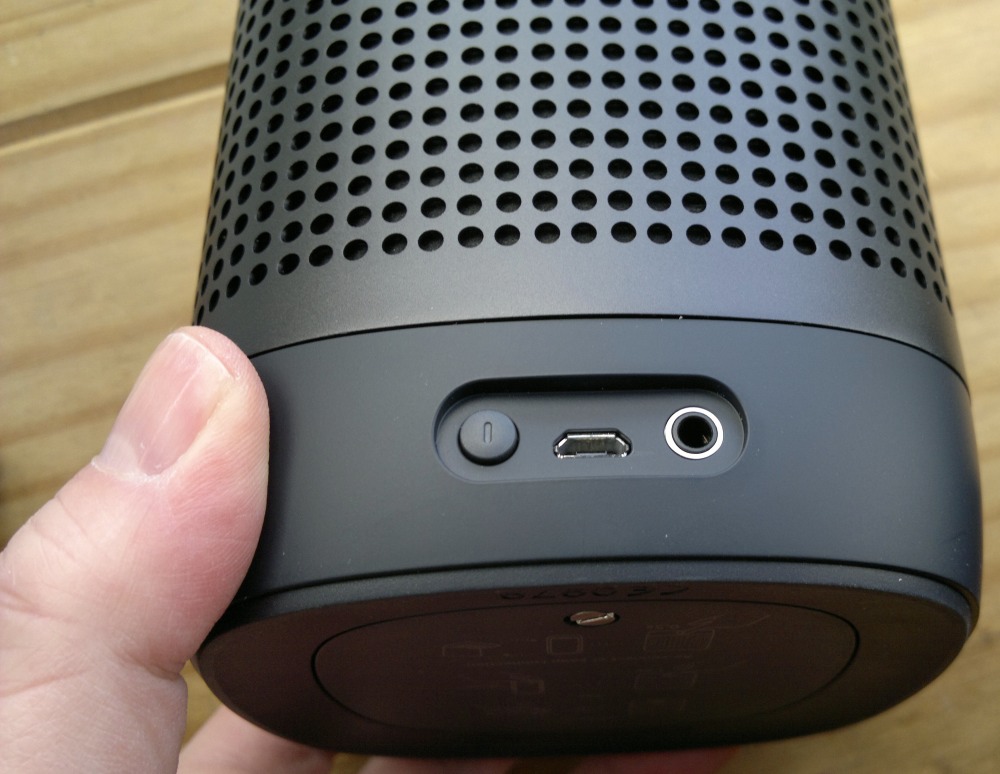 As I said earlier, the only real issue is the expense of having to buy (and charge and store) two Play 360s - I suspect that, for mobile music, just taking the one is going to be easier all round, wanting volume more than anything else (e.g. in a hotel room), with perhaps a second one back at base for when you want the luxury of full stereo.
According to Nokia's specifications page for the Play 360, playback time is over 20 hours, which is very impressive, though of course that will depend to some extent on how hard you drive the speakers (and the type of music being played!). Total power output for each Play 360 is just over 2W, so in the same ball park as the Jawbone. Room-filling but not party-worthy!
The power arrangements are even more impressive when you realise that this is all on a replaceable (standard) 1020mAh phone battery (accessed by undoing one screw on the Play 360's bottom), as shown here. In other words, after a year, when the battery's a bit shot, you can simply buy a new one and pop it in. Or, indeed, carry a spare or two, for extended music listening on the move. Anyway, a great option and very eco-friendly in these days when other phones and accessories come sealed up and have to be junked (or expensively serviced) a year or two down the line, when the battery's dying.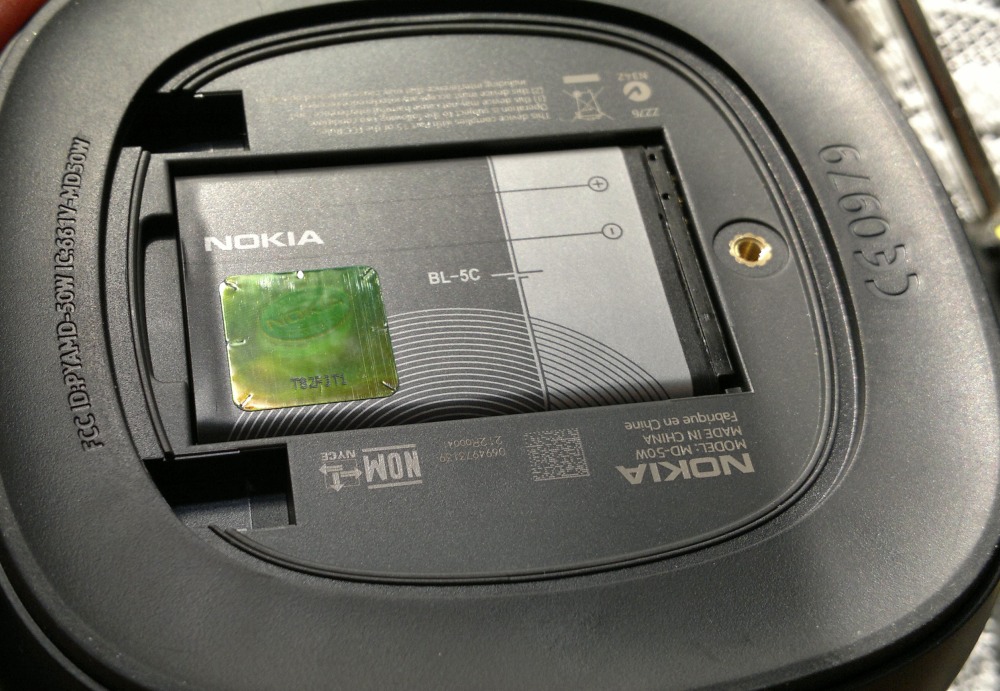 Aside from expense and weight, there's little to complain about with the Nokia Play 360. But then those are two pretty big caveats. Spending £200+ on a pair of 500g (each) 'portable' speakers isn't exactly carefree, budget-aware behaviour. But at least, should you get past the caveats, you now know that you're buying quality, both in design and performance.
Steve Litchfield, All About Symbian and All About Windows Phone, 20 March 2012
Reviewed by Steve Litchfield at