Review:
Lumia 800 Part 5 - Web Services and Bing Search
Score:
74%
In this part of our in-depth Nokia Lumia 800 review, we take a break from the device and look at the online services offered by Microsoft to all Windows Phone devices. Many people probably don't realise that when they log into WindowsPhone.com not only can they reinstall applications from a list of everything they've ever tried, but they can even find or remotely wipe a lost device. The marketing focus on live tiles tends to miss out the mundane but consummately useful features behind Windows Phone 7.
Version Reviewed: 7.10.8107.79 (12070)
Application Management
Installing from the Marketplace
The majority use case for adding applications to a Windows Phone is via the native Marketplace client. However, if you're working at your computer, and your phone is across the room or charging, it isn't always convenient to fetch it or to remember to install an application later on.
Instead, the Windows Phone Marketplace offers the ability to install applications remotely. Once you've found an application on the Marketplace website, and clicked the red "Get application" link (plus a couple more click-through pages) Microsoft sends a download link to your device via SMS – don't worry you'll never see these messages though. This is therefore limited to devices with a SIM card – which usually isn't a problem unless you're a phone collector or a reviewer! However, your phone will also have to be online to then download the application too. Because your device isn't always online, the install service will sometimes say it has failed; however, I've found that the Lumia 800 (and any other device) will install the application once it (eventually) makes contact with the Microsoft mothership.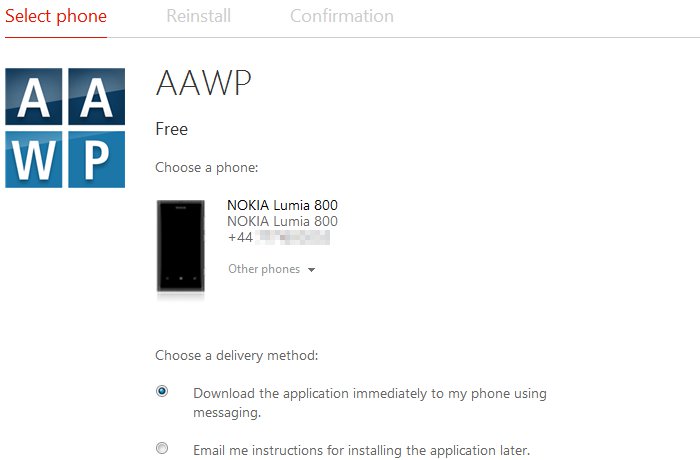 Installing apps via WindowsPhone.com

Reinstalling via My Phone
If you click the 'My Phone' link on WindowsPhone.com, and then the 'Account' link, you'll find a summary about you and your phone, and links to edit your payment details. Most importantly, though, is a list of everything you've ever installed – spread across several pages as you could easily have hundreds of applications. Once you click the 'reinstall' link, you'll be sent through the same process as above for remote installation applications.
The very fact that this service exists at all is to be applauded – it's a step in the right direction, albeit limited, to make restoring and setting up a device a little less painful.
The service is missing an option to expunge applications from your history, and there's no way to select multiple applications for en masse reinstallation either. There is a third party solution to help with the latter problem; 'Reinstaller' makes the process somewhat easier by giving you a tick-box list of all your past applications. However, you will still be dropped into the Marketplace client for each individual application that you selected.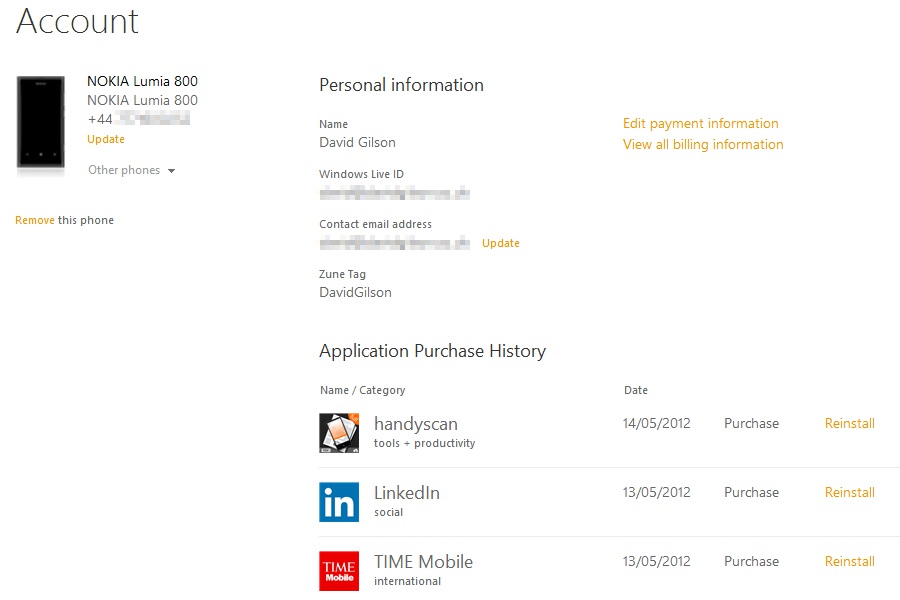 Reinstalling your apps via WindowsPhone.com

Ewan also covered this application,
Ever had to switch phones, or do a hard reset? One of the headaches might be grabbing all your older apps from the Windows Marketplace, one at a time, with lots of confirmation dialogs. If that's the case, then step forward Reinstaller, a handy little tool from WPfied which will help automate the recovery.

It's not a perfect solution, settings, files, or saved states are not preserved, and you will need to use the same Windows Live account as you had on the older phone, but it certainly reduces the workload and frustration.

Running the app gives you a checklist of all the applications that you have downloaded from the Windows Marketplace, including those you have downloaded and deleted from your phones. Run down the list, ticking and unticking the apps and games you want, and away you go.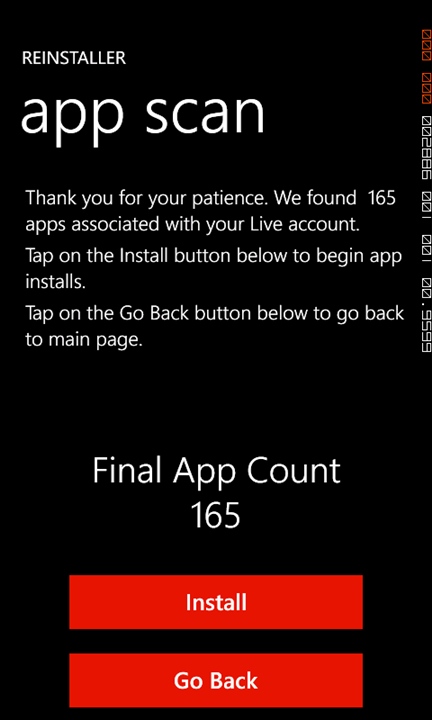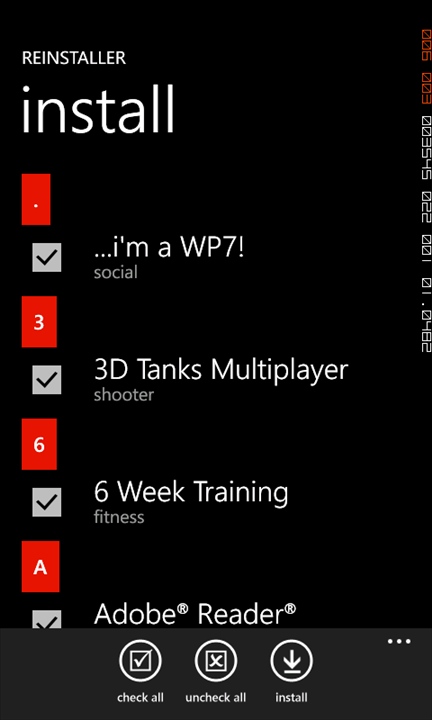 Reinstaller from WPfied

Find My Phone
The 'Find my phone' service is perhaps the biggest unsung value added feature to the Lumia 800 and other Windows Phone 7 devices. In short, it provides a service to remotely locate, lock and wipe your device. This mirrors the same functionality that was introduced to the iPhone, while Symbian and Android have similar solutions implemented by third parties for a price.
Locate my phone
It may set your mind at rest to know that Microsoft isn't constantly tracking your position, so the map will only show the location of your device the last time you used the service (if at all). The refresh link will make the service send a location request through to your handset, and then display the received location on a Bing map. You can, however, set the phone to cache and upload its position every four hours to improve the chances of recovery.
The 'Find my phone' service can use either push notifications or SMS to contact your device. Push notifications are faster, and may save you the cost of receiving SMSs but will drain your battery faster. Also, if your phone does not have an active data connection it will not be able to return its position to WindowsPhone.com for you; e.g. if it's out of WiFi range and you had previously turned off mobile data. When the service cannot locate your phone, it offers to keep trying and send an email notification when it receives a location. Note that if you've disabled push notifications (via your phone settings); there is a limit of 15 texts in a three day period.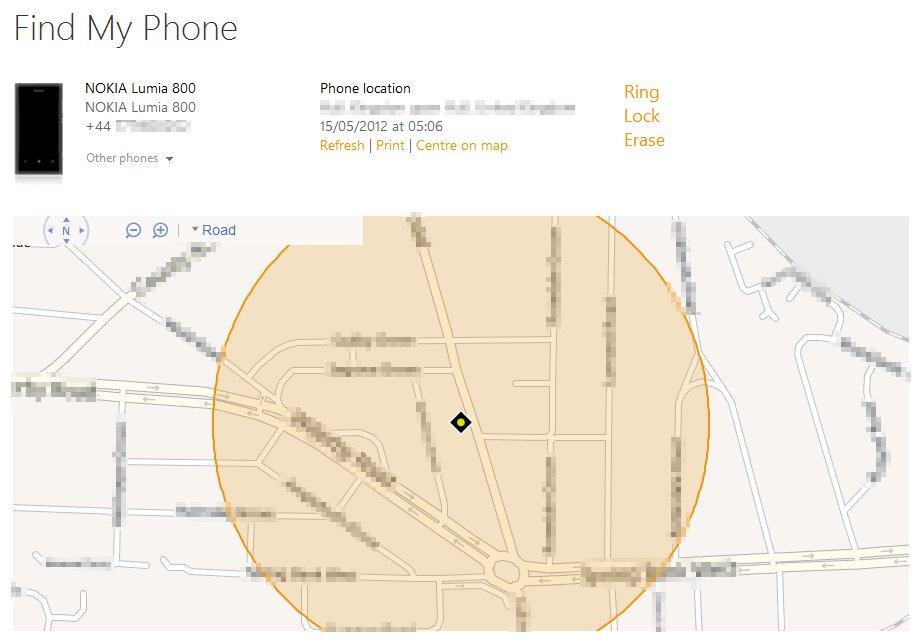 Locating a lost WP7 phone

Ring my phone
If you've lost your phone, having it make a noise – regardless of your volume and silence settings – can be very useful. Whether you've lost it around your house, or you've become separated from the device while out and about – having your phone call out for attention is a good way to make someone find it and pick it up, which doesn't guarantee a return, but let's hope there's more good people than bad people out there. It uses a unique ringtone, and vibrates, without lighting up the screen; and the only way to stop it is to press one of the hardware buttons. Note that this does not initiate a voice call; it is only making your phone emit an alert.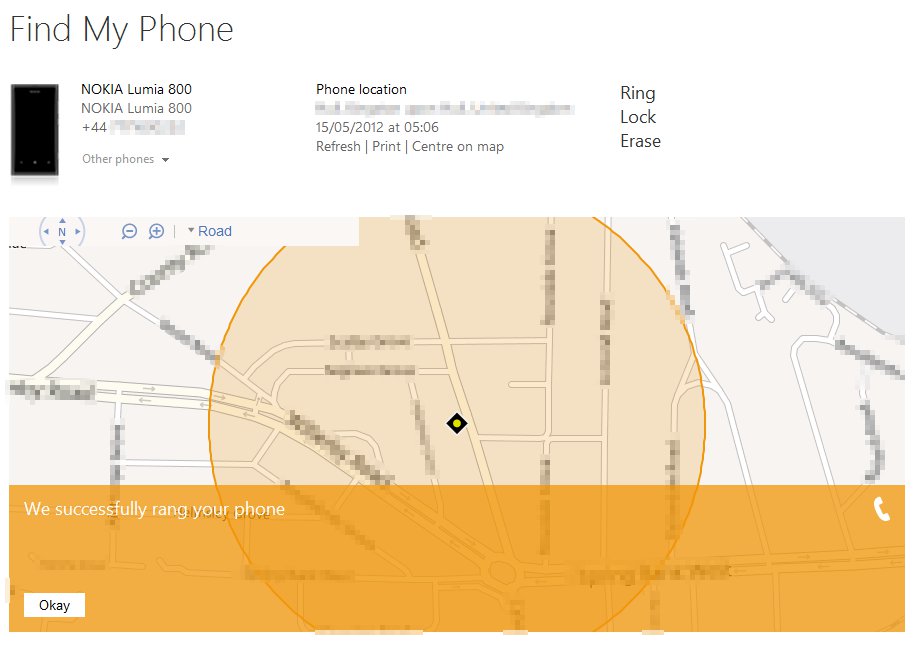 Remotely making your WP7 phone ring

Lock my phone
If you've lost your phone and want to prevent anyone from delving into your personal data, you can remotely lock the device. Here, a custom lock screen is put in place (complete with a sad face). As part of the locking operation, you can enter a message to be shown on the lock screen. This could be anything – I'd recommend instructions on how to return the phone to you. If you don't supply a message, a default message with your Live ID email address is added; which is a smart move, as it provides some form of link back to yourself for any good Samaritans out there who would try to return your property to you.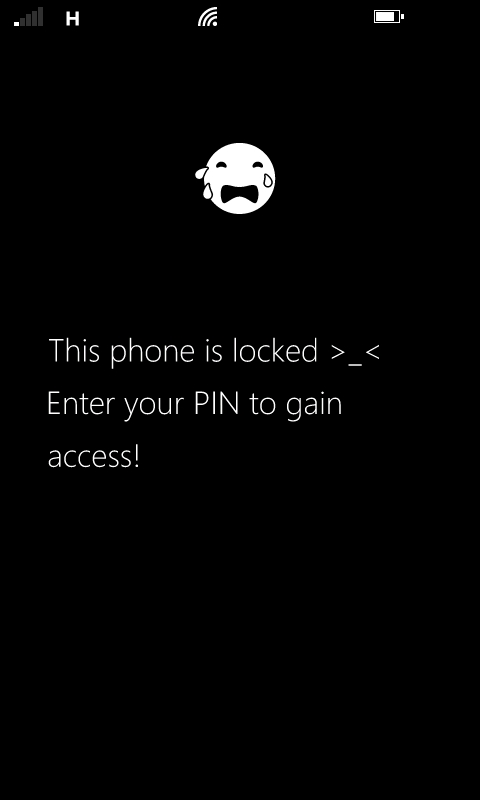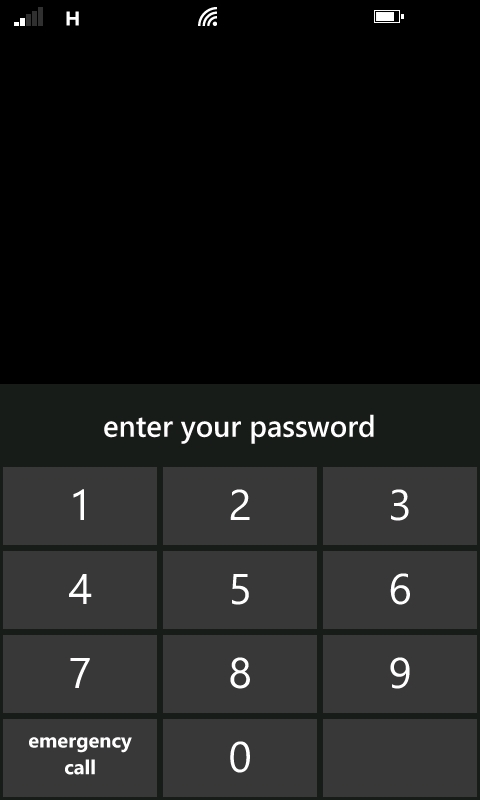 Remote lock notification

To make the lock screen more effective, you have to supply a 4 digit PIN, so only authorised persons can unlock the device, and you can opt to have the phone ring as you lock it, in the hope of getting it discovered and returned to you. You don't have to worry about forgetting the PIN either, as Microsoft will email it to your Live ID address too. Some might argue that you should always have a PIN enabled on your lock screen. However, I would wager that most people opt for convenience rather than security, so it's great that the option to add a PIN after the event of a loss is available. Yes, it might be too late in terms of someone viewing your personal data, but it's better than nothing.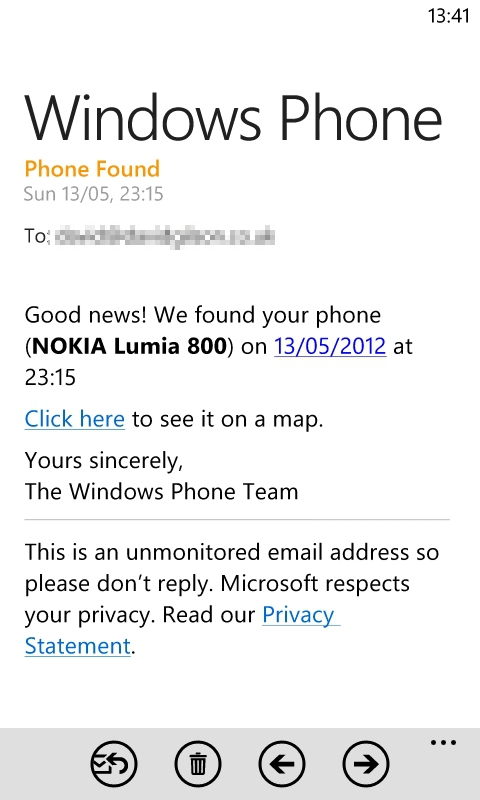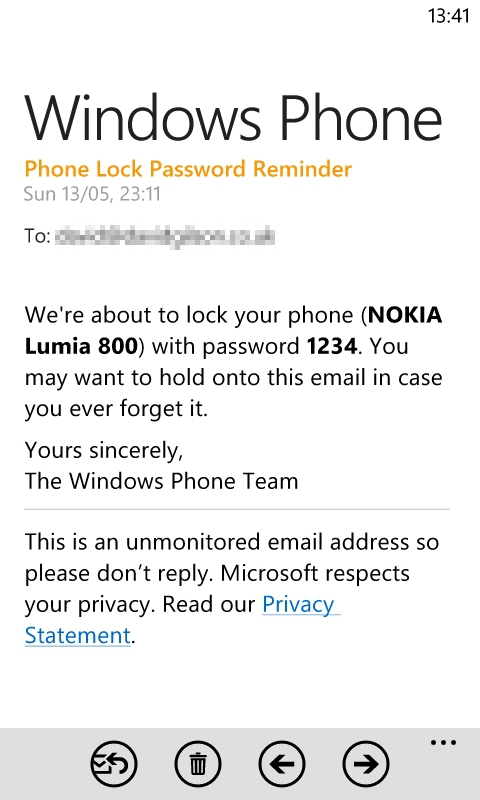 Find My Phone email notifications on Windows Phone

Be aware that if your phone does not have a data connection, remote locking will not be able to work.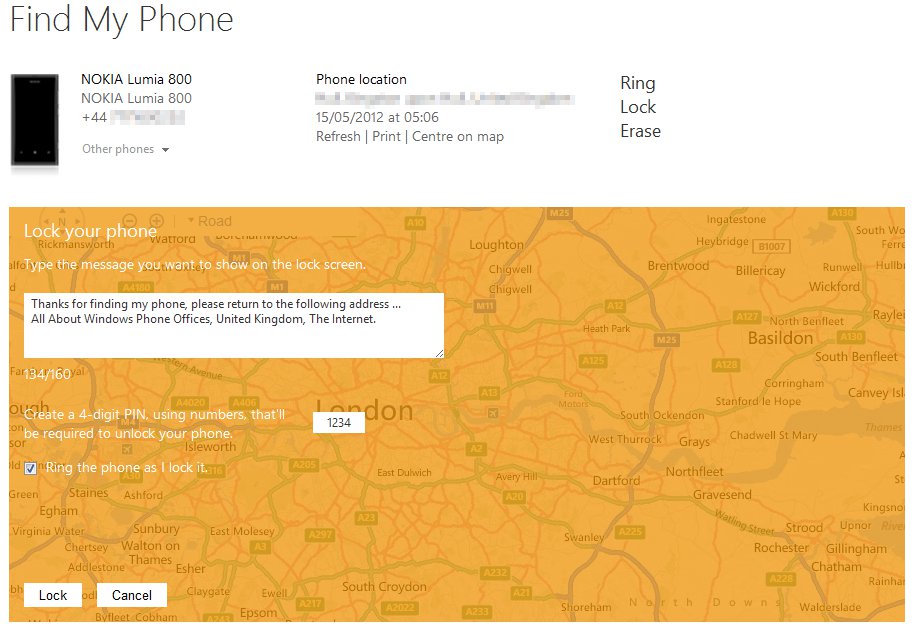 Remotely locking your WP7 phone

Erase my phone
Finally, as a last resort, you can send a command to wipe all data from your phone. Again, this depends on your phone being reachable, and if you do this there'll be no more location tracking, as it will have lost its association with your Live account. This final act is something that should be done to protect your data, rather than trying to recover your property, as it is effectively giving up on recovering the device.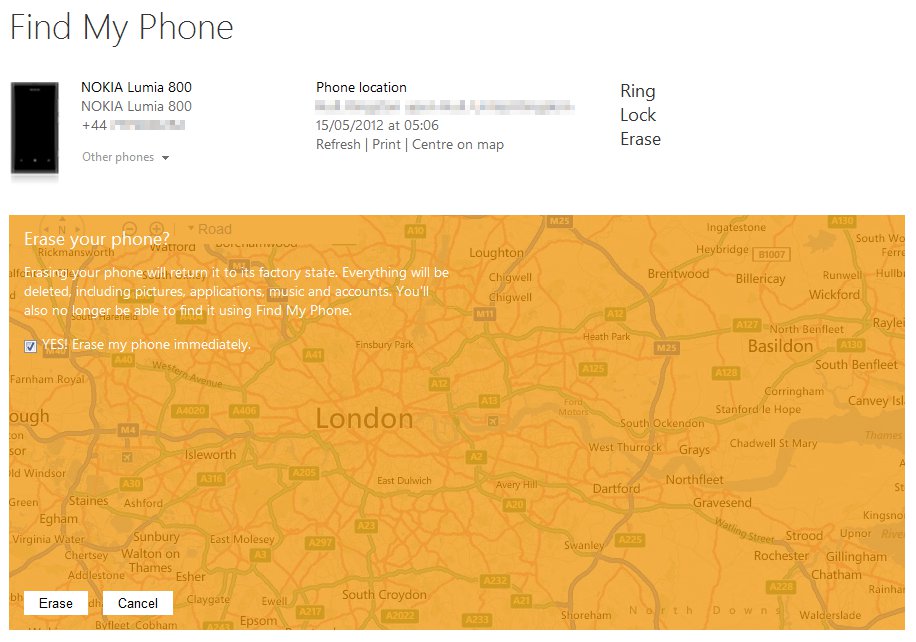 Remote erasing your WP7 device

Bing Search
The Bing Search magnifying glass button on all Windows Phone 7 devices links you not just to Microsoft's web search, but to a range of services that allow you to find information about your local area; and the products and content around you.
The initial screen of Search mimics the Bing website with a search box and a photo of the day. Some users might see this changing photo as a bit of fluff, however, a changing background keeps things visually interesting, and there's no other use for all the empty space, so nothing is lost – since the images load quickly.
Web Search
Search queries can be entered via the text box at the top of the screen, or by tapping the microphone icon on the toolbar for speech recognition. The latter works fairly well, just as with the Messaging application.
It isn't possible to change search provider, which might be seen as a bad thing since there is a degree of subjective preference between people for Google or Bing. However, in 80% or more of queries, Bing and Google results are very similar. As Rafe said while writing about the Google Search application:
In results terms most recent studies seem to agree that there's not a lot to choose between Google and Bing. A quick survey reveals that all the All About team default to Bing on their Windows Phone devices, despite using Google as their desktop search engine of choice. The main reason cited was ease of use. However, there are always going to be times when an alternative set of search result will be needed - so the Google Search app is a recommended download for all Windows Phone devices.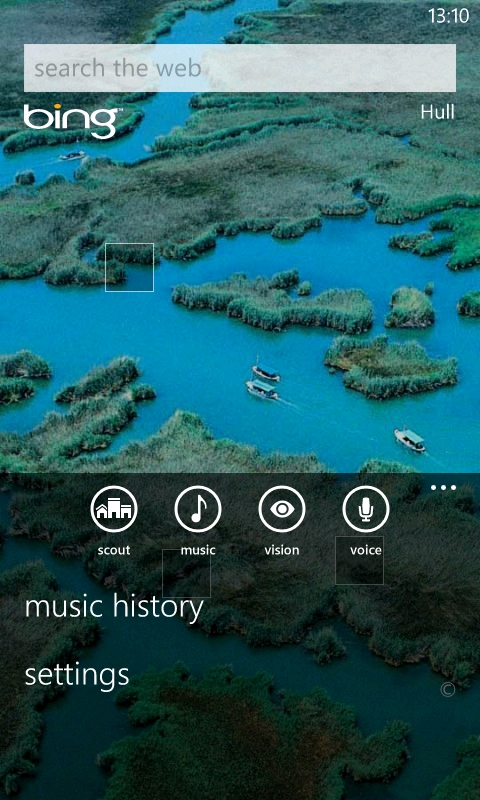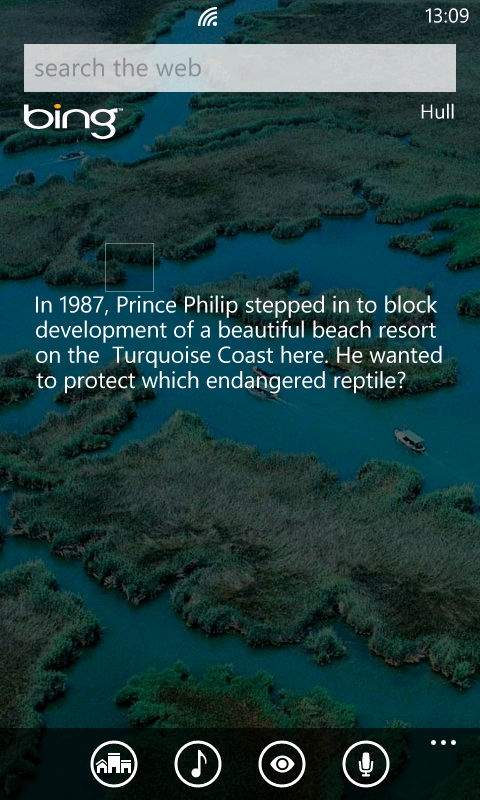 Bing Search on WP7

Local Scout
Local Scout provides information about establishments in your immediate area. The main panorama has four sections: Eat + drink, See + do, Shop, and Highlights. Viewing each of these lists creates a set of points of interest (POI) on a map at the top of the screen that can be expanded. This competes with the 'Places' function of Nokia Maps, as supplied on the Lumia 800. It's difficult to objectively say which of the two have the best set of POIs. Anecdotally, for the area around my home, I found that Local Scout was better for places to eat, but Nokia Maps was much better for shops. The caveat of your mileage may vary has to apply here.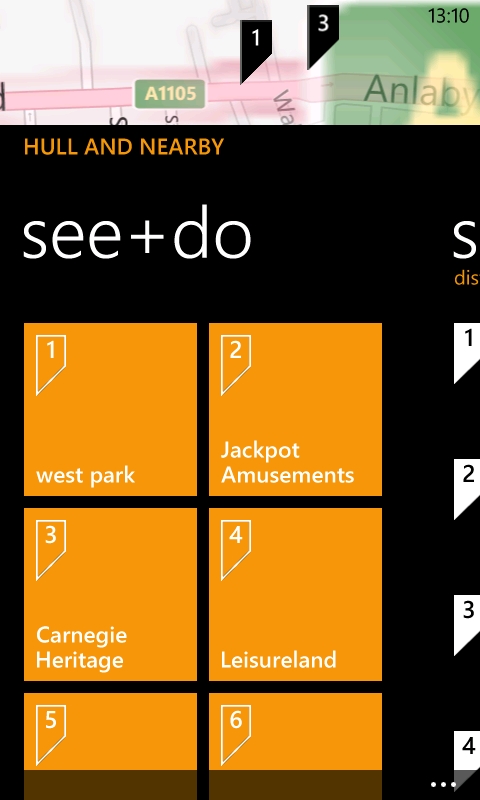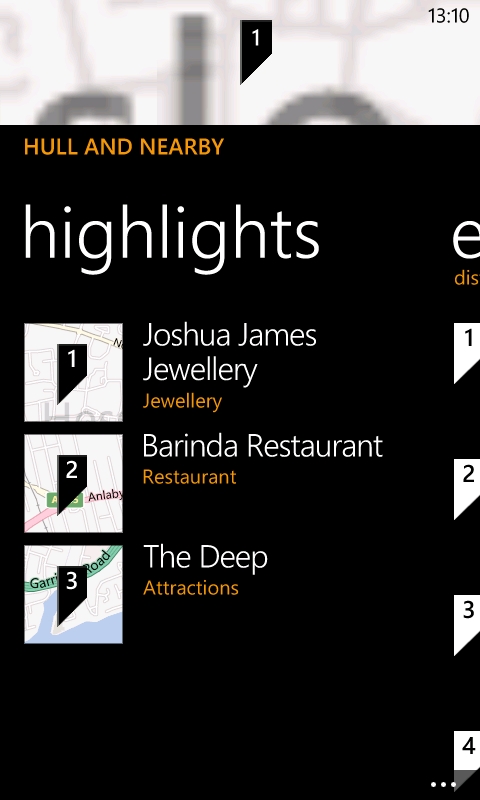 Sections of Local Scout
Each location has its own panorama including an 'About' page which gives its address, road directions from your current location, and a link to call the establishment. You can also pin a location to your start screen, send its address via SMS or email, and add it as a favourite, which will be listed in the Highlights page.
The next part of the panorama is a reviews section allowing you to see an average rating out of five, and user reviews. There's no option to add a review, and it's not clearly stated where the reviews are coming from.
There is also an 'Applications' page in the location panorama, listing both applications already installed, and suggested applications. The idea is that tapping on an installed application will intelligently deep link into that application for the location you're currently viewing. I had mixed results with this; for example, locations are correctly deep linked into Nokia Maps; however, the official Flickr application should, but doesn't, search for photos of the location.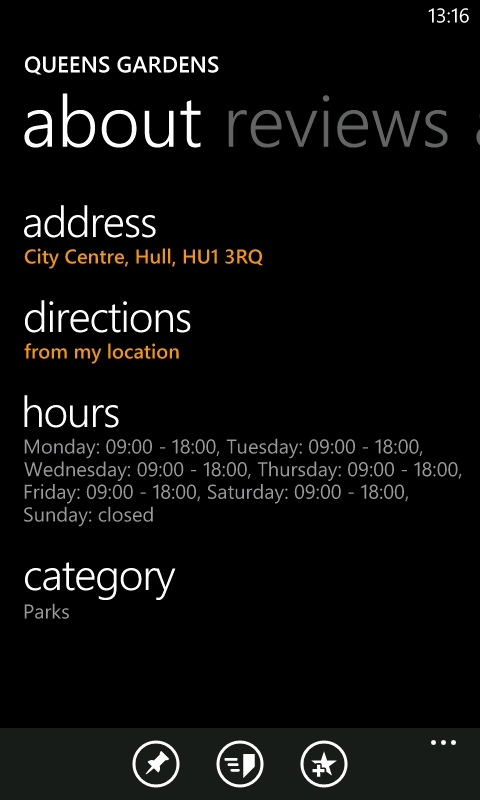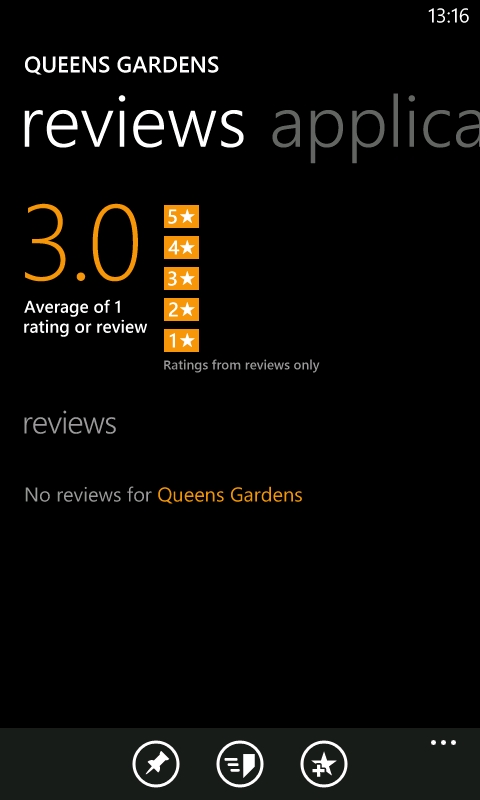 Place information on Local Scout

Music Identification
Tapping the music icon in the Search screen launches the music recognition system where a short sample of music by your device is streamed to Microsoft which then identifies the track. This is in direct competition to services like Shazam, and works just as well. Identified tracks are saved in a 'Music History' list and are all deep linked to the Marketplace client. Given the level of integration, it makes any third party version completely redundant.
Use of the music identification system is really as simple as that. However, the brief coverage here belies its value. The immediacy of accessing it via the search button truly fits an application which, more often than not, needs to be used in a 'quick draw' scenario. Then going on to integrate with the built-in Marketplace client perfectly rounds things off (and is how it should be).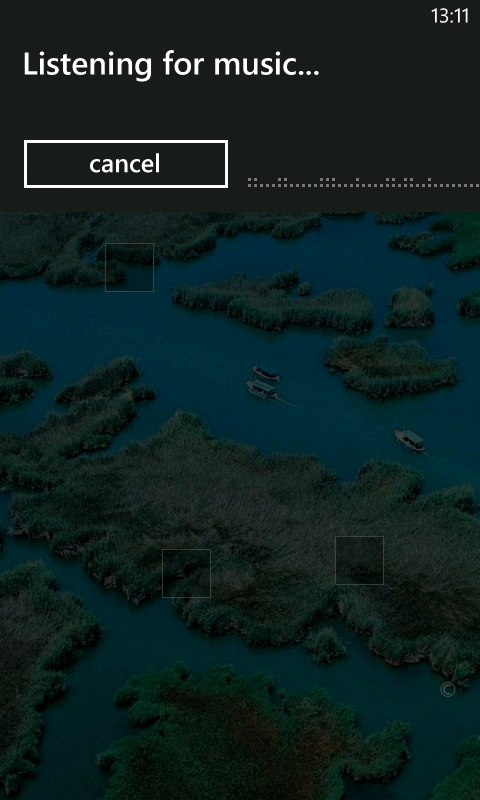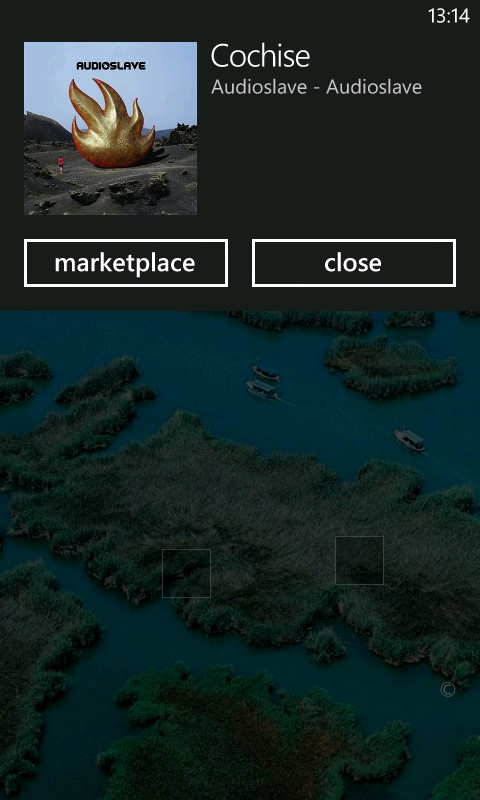 Bing Music Search

Bing Vision
Tapping the eye icon in the Search screen takes you to Windows Phone 7's optical scanning system, which can handle text, barcodes, QR Codes, Microsoft tags, and even cover art. Regardless of how well each of these scanning methods works, it's a value-add to have these functions built into the operating system. Of course, this wouldn't be so if their accuracy was too low. While the success rate of the various scanning methods could be better, it's just high enough to make it worth trying to use the built-in services before a third party alternative.
Text recognition
Text recognition works surprisingly well, but is nowhere near as good as, the OCR software supplied with most contemporary flatbed scanners. Once text is scanned, each recognised word is highlighted with a white box. You can tap any of these and the text is put into an edit box at the top of the screen. When you're done, you can copy everything to the clipboard. Recognition only seems to work with actual words – for example, when attempting to scan a Special Delivery receipt to get the tracking code, Bing Vision will pick up everything BUT the alpha-numeric code.
An additional trick with text recognition is the ability to translate foreign languages. By holding your camera up at some foreign text, and tapping the translate button, the Lumia 800 will consult with Microsoft services, and overlay a translation over the image of the text.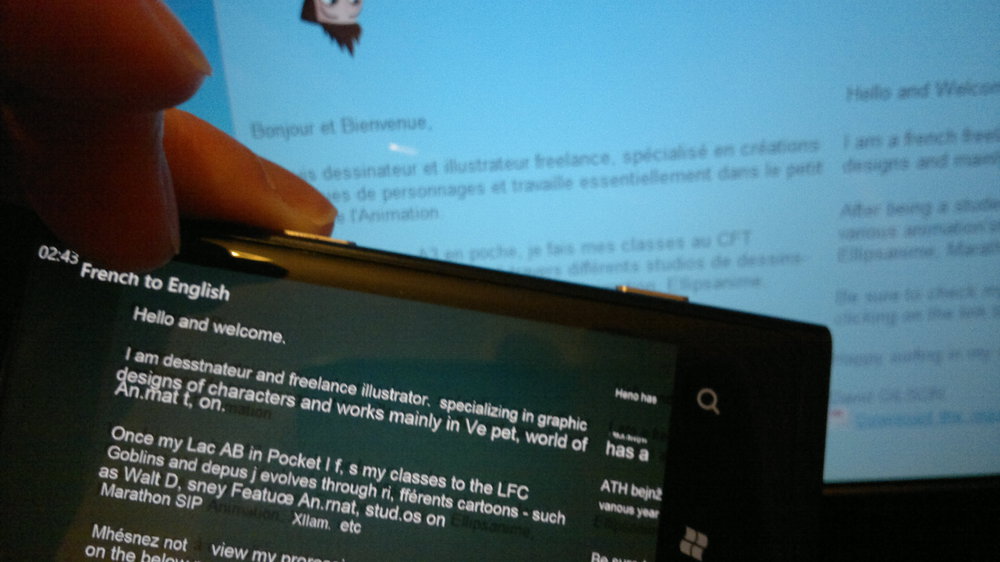 Product scan
Bing product search is powered (in UK at least) by the Ciao price comparison site. The service is primarily aimed at books, CDs, and DVDs, where users can scan the barcode or cover art. As match results are listed on-screen, superimposed over the live image, you can tap through and launch Internet Explorer on the corresponding Ciao page.
With barcode scanning, I found that Product Search wasn't just limited to the above categories, various domestic products were listed too – one assumes it will find anything listed on Ciao.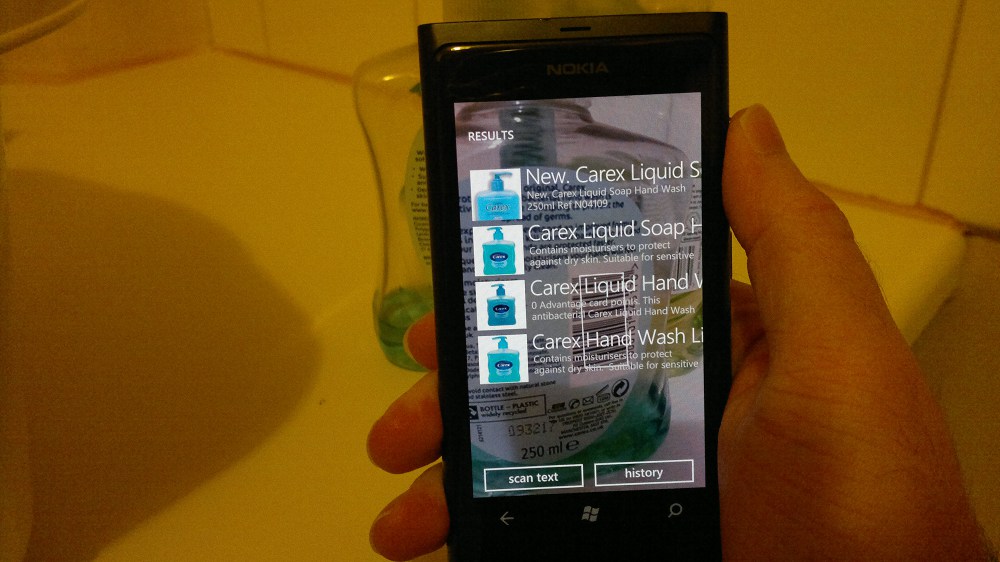 Product barcode scanning with Bing Vision

Cover art recognition is, as you might expect, more hit and miss. The more mainstream and current the title is, the more chance it has of being recognised. For example, in my impromptu tests, a poster for the Avengers movie was recognised, but various covers of William Gibson's Nueromancer were not.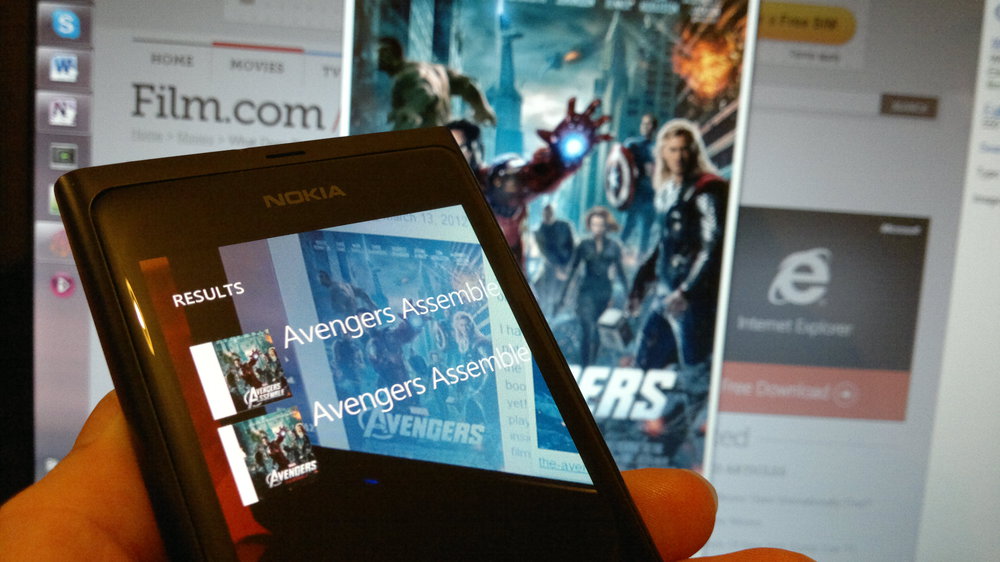 QR Codes and Smart Tags
QR codes and Microsoft Smart Tags are generally used as a way of optically passing a URL to your device. There's little to go wrong with these, and recognition is fast and works at fairly oblique angles too. If anything, I found that QR code recognition was faster than Microsoft's own Smart Tags. You can find plenty of QR codes to install apps onto your Windows Phone device in our AAWP application directory.
---
That concludes part five of our in-depth Lumia 800 review. In the next, and final, part we'll be looking closely at the Picture and 'Music and Video' hubs, Nokia's exclusive application collection, and drawing our conclusions on the Lumia 800.
Reviewed by David Gilson at