Review:
Triangula
Score:
75%
Would you believe it? Triangula is another quirky and insanely playable gaming title from Beautiful Mind Games. I'm not sure what they're doing to find some of these gaming concepts (the defence calls Pairanoia and Permutile as witnesses), but they've managed it once more with this two player competitive game that echoes childhood games but with a brilliiant twist.
Version Reviewed: 1.23.0.0
Buy Link | Download / Information Link
Triangula is based on the children's game 'Squares', where you build up a grid of dots, and you take turns drawing a line between two dots, scoring points if you complete a 1x1 box. Triangula looks exactly the same when you start a game with the grid of dots. The catch here is that you aren't looking to make squares... but triangles.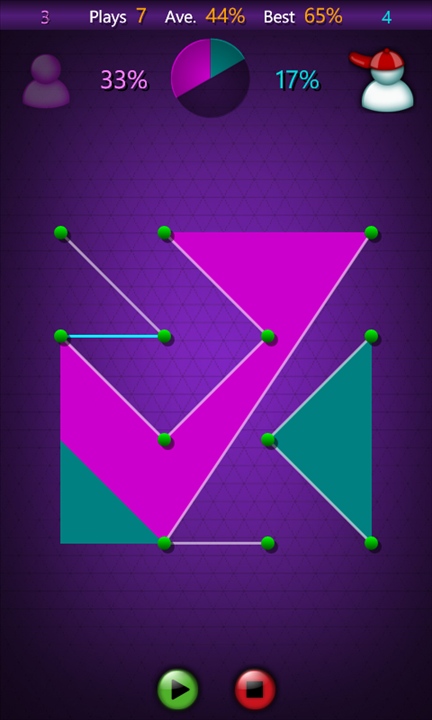 Unlike 'Squares', you are not restricted to making the smallest size of triangle. As long as you've created a triangle with a move that does not have any sides crossing through a dot, you'll claim the area inside the triangle and the percentage value will be added to your score. Whoever captures the most area at the end of the game is declared the winner.
Another twist? You don't have to stick to connecting dots that are directly next to each other. You can join any two dots, as long as the line does not pass through another dot (if you want to do that sort of line, you'll need to do it over two turns).
Drawing the lines is a simple matter in the UI, just touch the two dots you wish to connect. Any triangles will automatically be filled in with a delightful little swooshing noise, and the percentage of area covered will be added to your score. And if you make a triangle you get to draw another line, which with smart strategy will result in another completed triangle, and then hopefully another, and another.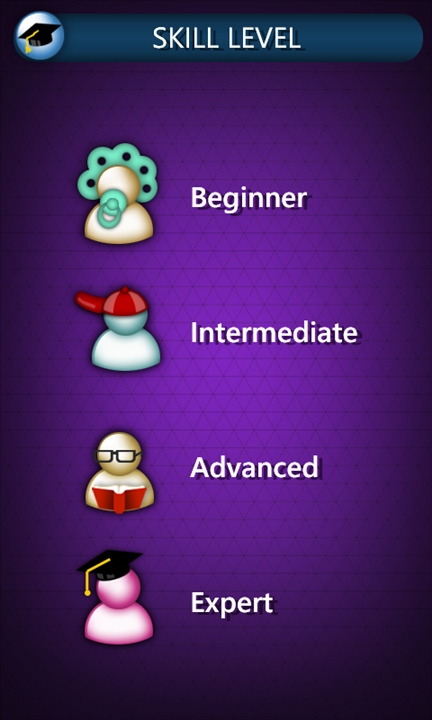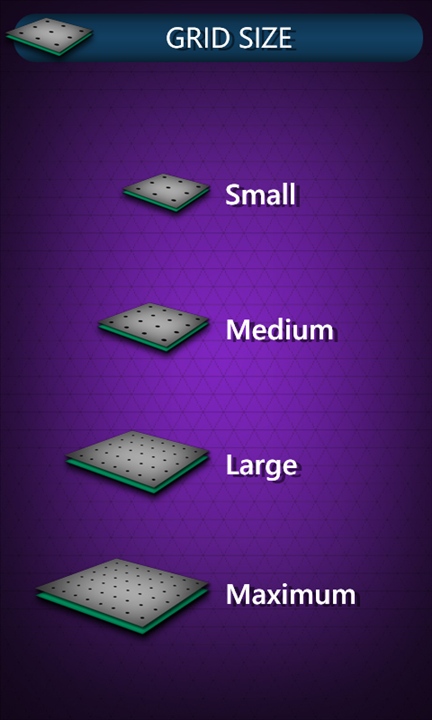 Where Beautiful Mind Games does well though is not just in having a really great starting point for a game idea. Make no mistake about it, playing 'Squares' with 'Triangles' is a brilliant twist on the basic concept, but the developers know how to marry it to a really good user interface on Windows Phone.
First up, you get the option to play against either an AI player (with four different skill levels ranging from Beginner to Expert) or a human opponent next to you by passing your phone between the two players. No matter who you challenge, you have the choice of grids from 3x3 right up to a 7x5 grid, to play on.
I love that you have multiple options to play around with when starting a game, all of which have a direct effect on how long the game will last and what challenge it will offer you. Not only is this flexible, but it's also clear what effect the choices have on the game. It does keep the user interface simple, but also ensures that you will be able to keep the challenge of the game high for a long time.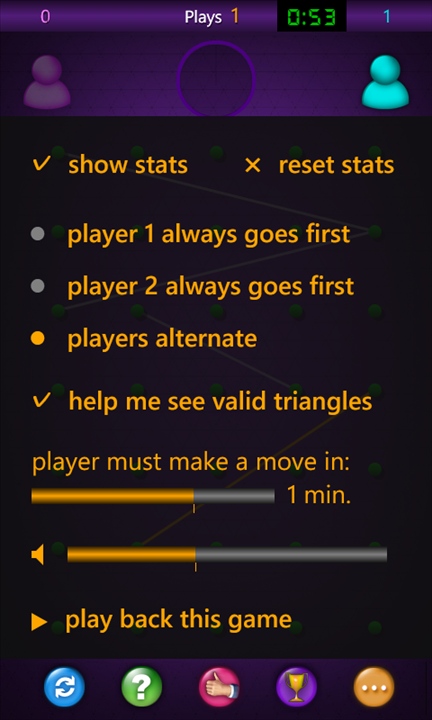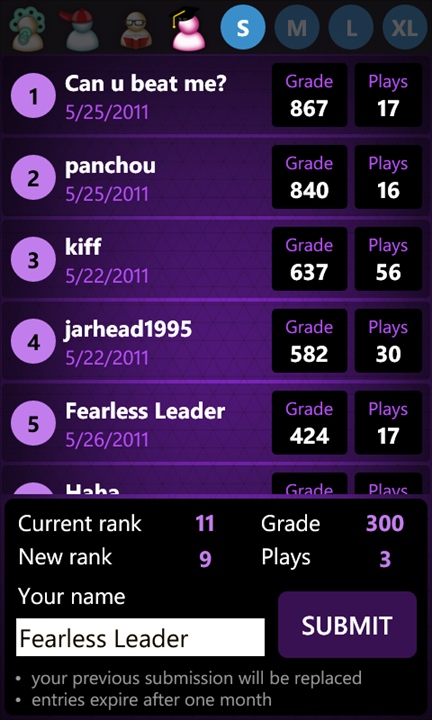 There might not be an option to play over the internet, but you can submit your grade to a global leader board. Rather than the result of one single round of Triangula, your grade is calculated as a rolling ranking of every game you play against the AI on your smartphone. This is a smart way to have a global challenge while keeping the overhead and complexity of coding at a minimum.
I get the feeling Triangula was on a very tight timescale while being developed. While Triangula keeps the clear UI and has touches I've come to expect from Beautiful Mind Games, it is very slightly lacking when compared to some of their other titles. The 'Squares but actually Triangles' game doesn't have as much longevity as some of the other concepts. It's still a fascinating little diversion, and while it feels a bit like a b-side next to Pairanoia, there's a lot here to enjoy. Definitely worth a look, especially as there is a fully functional ad-supported version that you can try out with no immediate cost to yourself.
Reviewed by Ewan Spence at