Review:
Samsung Omnia M (part 2 - software)
Following on from Steve's look at the hardware last week, this second part of All About Windows Phone's review of the Samsung Omnia M looks at the software on the handset, and specifically at Samsung's additions to the Windows Phone 7 apps that are pre-installed on the handset.
Buy Link | Download / Information Link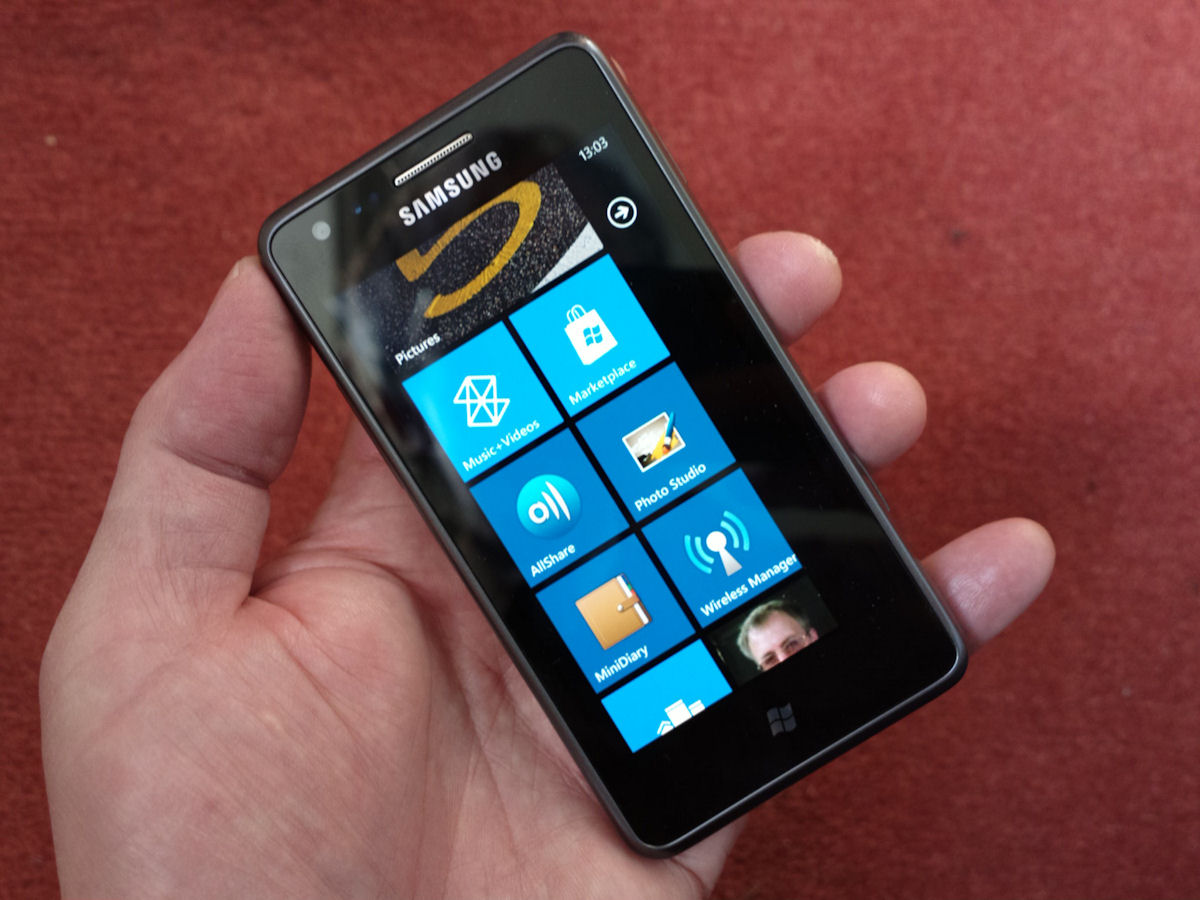 I do want to take a quick moment to talk about the Omnia M itself. It really is a nice looking piece of kit. The retail box follows the established minimalism on show from most manufacturers, where the phone is presented in a top tray as you open it for the first time. It's all very stylish and I really fell in love with the design of the Omnia.
Of course, it follows the design language that goes across the Samsung range of smartphones, but I agree with Steve here. The quality in the device certainly is at the upper end of my expectations. That's going to be something that helps the device sell in the stores, assuming customers get their hands on actual handsets and not dummy retail units.
As we've discussed in part one, the Omnia M is not gong to be picked up by those looking for a cutting edge Windows Phone handset. The lower memory and storage capacities of this handset take care of that, and while there are issues if you start to use this Windows Phone as a full blown smartphone, I suspect that the majority of buyers will be coming to this handset from a feature phone. That means they'll be placing less of an emphasis on third party applications or loading up buckets of media into the limited storage. Given that user profile, this places a lot more emphasis on the out of the box applications. Alongside Microsoft's regular applications, Samsung have added their own collection of apps to the Omnia M. It's not as wide-ranging as Nokia's suite, but it's stronger than that bundled on the HTC Windows Phone 7 set.
Let's start with the Daily Briefing application, which is also labelled Now at some points in the user interface. It's the first wide live tile on the start screen, so it's going to be explored by users rather quickly. Giving you an overview of weather, news, top tweets, your favourite stocks, and currency exchanges, it's a nice little novelty to start with, but after a few days it feels incredibly limited in its world view. I found myself looking for more depth in the news, more accurate tweets, and ways to personalise the experience... and none of those areas were present.
It's also a touch clunky to set up. Each screen needs some sort of detail added, be it your location for the weather application, or the decisions around the news topics to put on display. It would be nice for some sort of wizard to take new users through this process. It's easy for me, having used countless Windows Phone apps, but it is quite intricate.
It would also be nice to have more UK options. I find it amazing that the 'Tweets' tab does not have the United Kingdom as a country, given the phone is on sale here. America, France, Germany, Italy, Spain, Korea and Japan are there, but not Blighty. Whoops.
This is a great idea for an application, but it falls short of the mark in terms of personalisation and customisation. I wouldn't see this being an application I'm going to miss on my personal Windows Phone.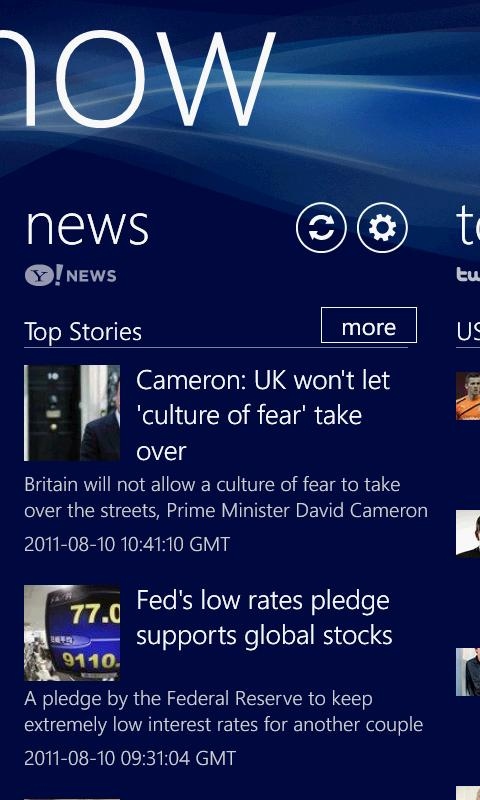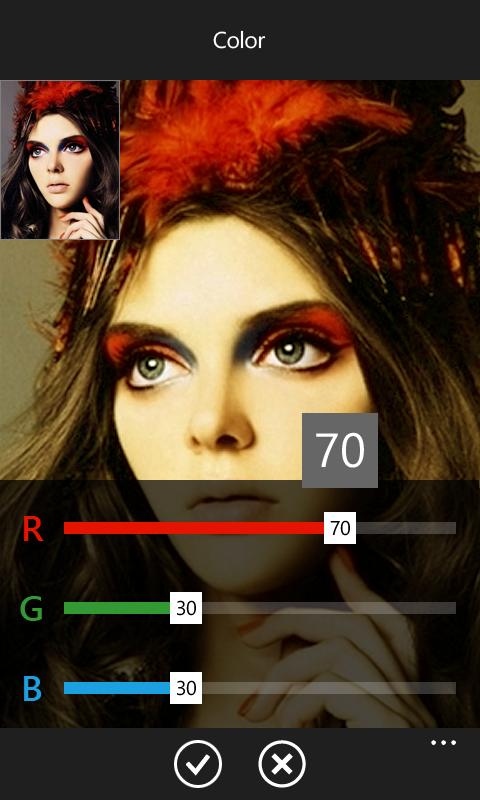 Neither am I going to miss Photostudio, but it has a lot more value to those new to Windows Phone. It's a basic photo editing application, allowing you to tweak the colours, brightness, and contrast of images taken on the device, including pictures snapped by the camera. You've got options to rotate the images and crop the important parts.
It's the sharing of the images that worries me, especially the Facebook section. I'm not sure why Samsung's app needs to know all my details, access all my friends lists, and be able to access that data even when I'm not logged in to Facebook, but it feels like a grab for far too much data. All I want to do is upload an image, not feel like I am giving away my social graph.
Photostudio is probably the most useful out of the box app from Samsung, and the one that will be used the most. It's practical and easy to use, with a clear benefit to the user. Unlike FunShot. This application allows you to make fun montages of pictures, and again share them on your social networks.
What it doesn't let you do is use images already taken and saved to the Omnia M, or to take any images without adding in funky kaleidoscope or twisty effects. As a tech demo, this is a good piece of code. As something that I would use for a second time, it fails. It is just far too restrictive in the options available.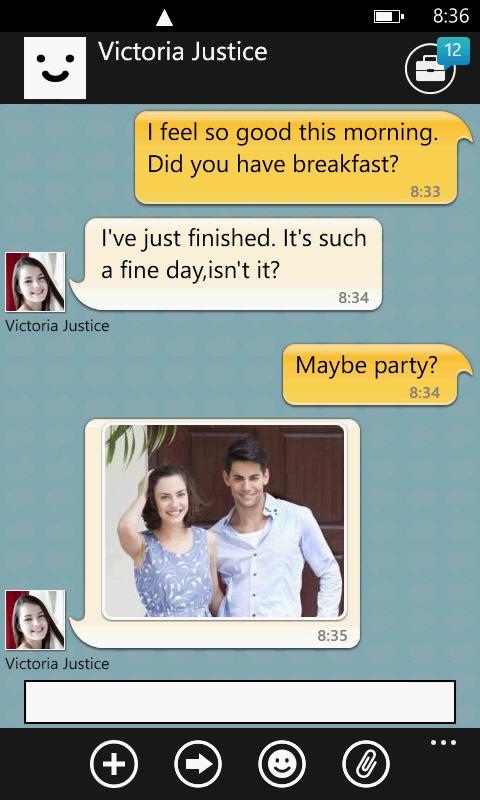 ChatON is a closed messaging service. Much like the BlackBerry Messenger service (BBM), it allows users of Samsung devices to talk to each other. The Windows Phone client is push enabled, so you won't miss any messages as long as you are in data coverage. It's also cross-platform, talking to ChatON users with Android, iOS, and BlackBerry smartphones as well as Windows Phone.
In use it feels very much like the SMS client, with messages aligned to either side - the difference here is that multimedia files, such as images and short videos, can be attached, you can animate your messages, and you can send messages to more than one person.
To be honest, ChatON would need a lot more time to really review it in depth. Yes it replaces more open systems such as SMS and Email, but it has a convenience and attraction that many people will like. It's probably the most competent bit of code in Samsung's app suite on the Omnia M.
I suspect that AllShare is shipping on the Omnia M because it's part of Samsung's default app load out, not because there is a pressing need to stream audio from a handset with 2.8GB of usable storage out of the box. Perhaps there's an argument that streaming captured video from the handset to a large screen is a useful tool, but that sidesteps the fact that the Omnia M only records video in VGA.
Where it can be useful is to stream from other DNLA enabled devices on a home network. Much like the early addition of GPS into a smartphone, I don't think DNLA has made enough of an impact for this to be a 'must have' feature, but as the phone is available on a two year contract that may change as the twenty fourth month gets closer. This is a rather basic client, it works, but there are very few bells and whistles beyond the ability for Samsung to say 'the handset supports DNLA.'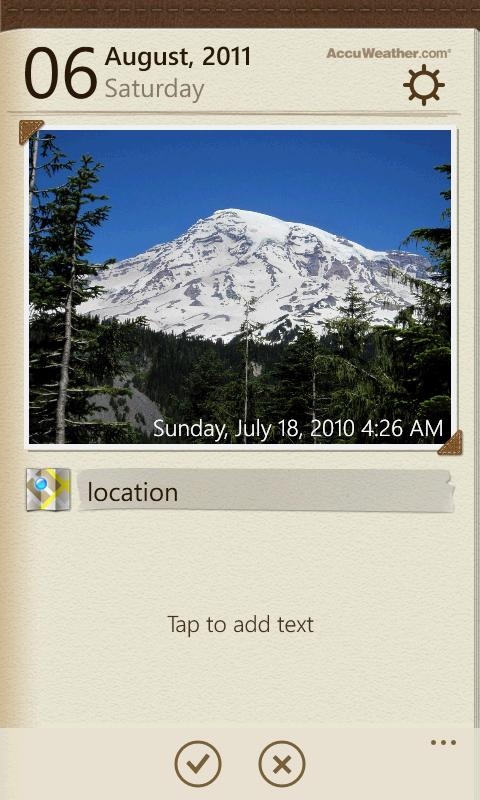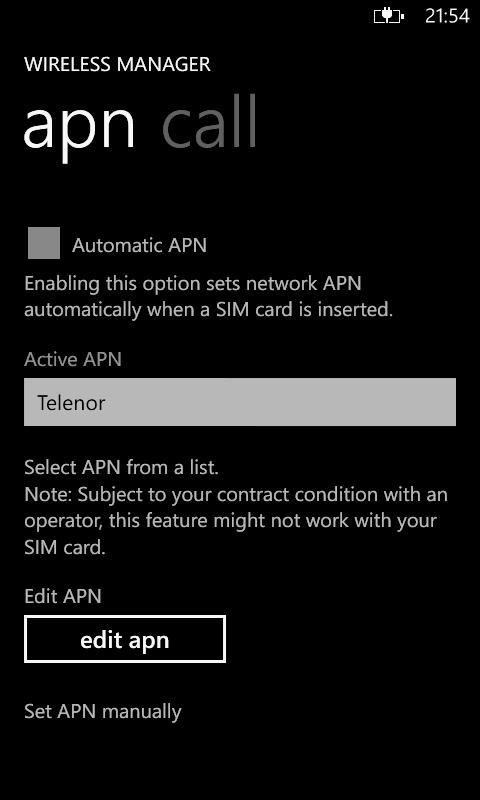 MiniDiary is a souped up notebook. You can take notes in here on whatever you feel the need to, attaching pictures, drawings, or voice notes to the entry. These are done from the menu or by tapping on the relevant areas of the screen. If you are using location, this is added automatically. These notes are then sorted in date order, and you can skip through them that way or with the search function that is built into the app.
Again, it's a nice idea but it's missing anything that would make it incredibly useful on a day to day basis. The idea of replicating the look and feel of a diary on the screen is a poor use of screen real estate. A smartphone is not a book, and I'm not a fan of skeuomorphic designs. It's also an application that misses many obvious issues. Exporting is limited to sharing a single post through the regular Windows Phone sharing system, it's very slow to navigate around and switch back to, and the live tile is little more than a launcher for the app. There's no live tile to quickly add an entry, for example.
I also can't see a way to back up any data in the application. Any hard reset of your smartphone, damage requiring a replacement, or simply moving to another handset, and all your work is gone. For an app that could easily build into a treasure trove of personal information, a loss of data is too much of a risk for me to personally take.
I do want to give credit to Samsung for the Wireless Manager application. It's a simple app, that lets you check and set up your call waiting and forwarding status, and your APN details for cellular data. I'm not sure how the former is covered under wireless, but these are functions that I appreciated. Do they need an app in a prominent live tile position? Maybe not, but for someone like me who swaps SIM card out frequently it's a boon. For the Omnia M target market, perhaps less so on the APN, but the call forwarding setup is painless and will be of benefit. I suspect it'll be taken off the majority of start screens in short order!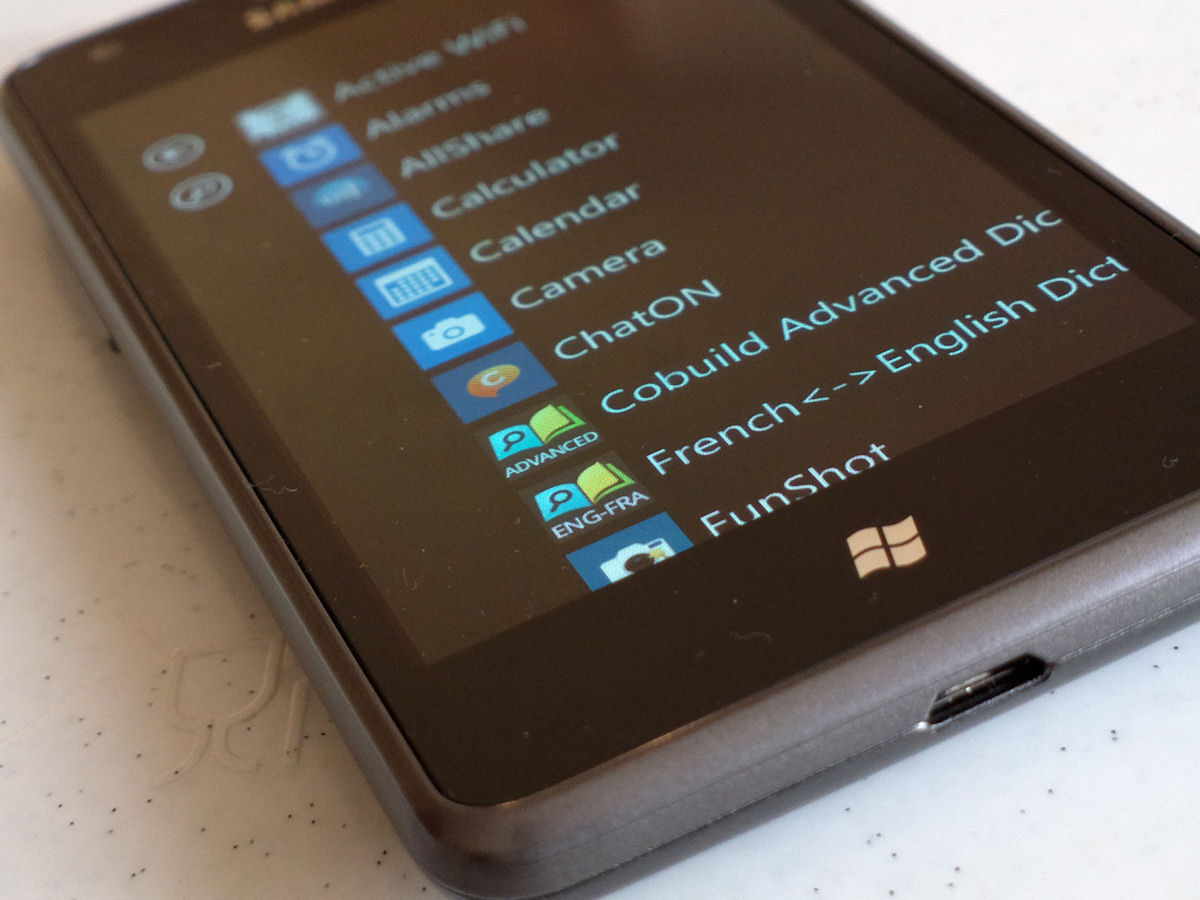 The Samsung bundled applications are a mixed bag. Some of them seem thrown together just so the number of pre-installed apps can reach an arbitrary limit. I can't see anyone using FunShot in real life and MiniDiary needs a lot more work to make it user friendly and fault tolerant of potential data loss on a mobile device. But ChatON shows a lot of promise, and PhotoStudio delivers a useful feature with very little fuss.
I can't help feeling that Samsung has been a bit slap-dash in coding these apps for Windows Phone. While it's a subtle thing, the theme colours on my Omnia M were not reflected in the Samsung App icons - the were consistently a touch darker, like a hyperactive child trying to get the teacher's attention. The icon and initial impression is an important part of the experience, and if Samsung won't get this right, why should I have confidence in the rest of the applications, or even the phone itself?
Most of the bundled Samsung applications feel like technology demos, or are just not suitable for the target audience of the Omnia M. But there is one area where built in apps on Windows Phone have an advantage over other platforms.
You can uninstall them.
Given the paltry storage available on the Omnia M, there's a practical need and a visceral delight in removing the 'cute' apps and freeing up the space for something genuinely useful. If you feel the need to re-install any of the apps, you'll find them in the 'Samsung Zone' of the Windows Store on the Omnia (currently appearing as the Marketplace).
The Omnia M is a contrast. It's a very well put together handset, with a lovely screen, and a comfortable fit in my hand. Even with my legendary lack of camera skills, the colour and reproduction from the camera felt more accurate than the Lumia 800 that I am used to. I especially liked the tiny protruding bump on the loudspeaker to give it some clear air when the phone is placed on a table top, and yes, this also helps protect the camera glass from contact too.
But, as Steve found out, the limitations of the Omnia M, with limited memory and storage, really hold back the capabilities of this smartphone. Some of it is added back with these extra applications, and you could argue that social media interaction is there in the People Hub, although there are obvious limitations.
Xbox Games can stutter along with the 1GHz CPU driving them. One of my personal favourites, Orbital, is no longer a smooth mess of lasers and orbs, but a jerky affair where you move your targeting and wait to see the effect, rather than have it on show immediately.
As an upgrade from a feature phone, the Omnia M provides more capability but never feels threatening. If someone picked this up looking for a decently priced smartphone, with ideas of apps, media, and lots of funky social media tools, it's going to disappoint in the medium to long term.
As long as you go in with your eyes open, the Omnia M is a nice phone, but it has a very narrow window of appeal. If you're in there, then this is a stylish and robust choice. But for the majority of the smartphone world, you'll likely look elsewhere.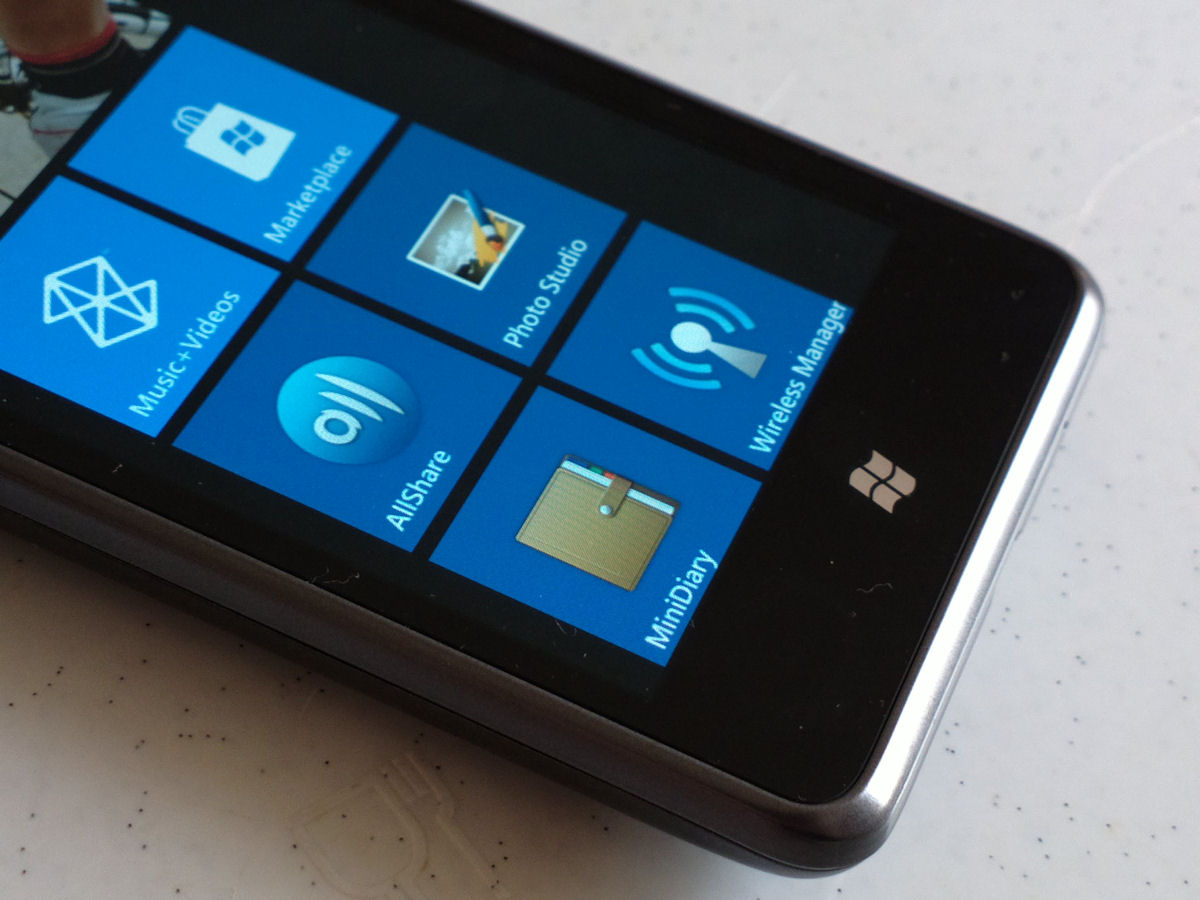 Disclosure: This review handset was loaned by Phones 4u. Phones 4u stocks a number of Windows Phone devices and other smartphones, including the Samsung Omnia M, in both its retail and online stores.
Reviewed by Ewan Spence at