Review:
ROCK JAW Arcana v2 and the search for audio quality at an affordable price
Score:
86%
You'll remember that I recently went on a quest to find a source of the in-ear, stereo 4-pole headphones that ship with the best Lumia handsets? I came up trumps, with the replacements costing only around £6, but the quest itself made me aware of how generally unsatisfied I was with the audio quality at this end of the headset market. Hence this review, taking the next rung up the quality ladder with the new ROCK JAW Arcana v2 - with good results.
Buy Link | Download / Information Link
Of course, there's a huge, over-arching, limiting factor when it comes to music on smartphones and other portable players - most pop and rock music gets 'ripped'/downloaded at quite low bitrates, with everything optimised for undemanding music, undemanding ears, noisy environments and small file sizes. Listen to music at 128kbps in MP3 or even AAC encodings with really good headphones and you will hear the defects and approximations caused by the low bitrate encoding.
Making testing headphones and headset accessories somewhat harder, since the tester has to seek out music that's of suitably high quality in the first place. I used tracks encoded at over 200kbps and also music videos with very high quality audio tracks - most videos have great audio, simply because the file sizes are already large, so it makes no sense to cut down audio quality just to shave off a few extra Megabytes.
I should also say that there has always been something of a continuum in headphone/headset quality according to price, from ultra cheap (and worthless) £5 bargain bin accessories to £15 units that reproduce most music acceptably, through to hardware in the £50 to £100 range that's as good as it gets. In the latter camp were the original Nokia Purity WH-920s I reviewed back in 2012, which served me superbly until one of the internal wires broke las Autumn.
Yet writing off the WH-920 was annoying because they're expensive. They remain around the £70 mark to this day, and given the mechanical wear and tear on a smartphone headset each day, it's kind of expensive to buy a new pair every 18 months. Surely, I thought, there has to be a middle ground, paying enough to get good quality but not so much that if they got lost or broken you'd hesitate to replace them?
Turns out that there is, and the ROCK JAW Arcana v2 here at just under £30 fits the bill with stunning audio quality (especially at the high end), stylish design, premium materials and - importantly, in the light of what I've just recounted - a three year warranty, so if an internal wire does break in normal usage, they'll get replaced. Which all sounds idyllic - cue the review!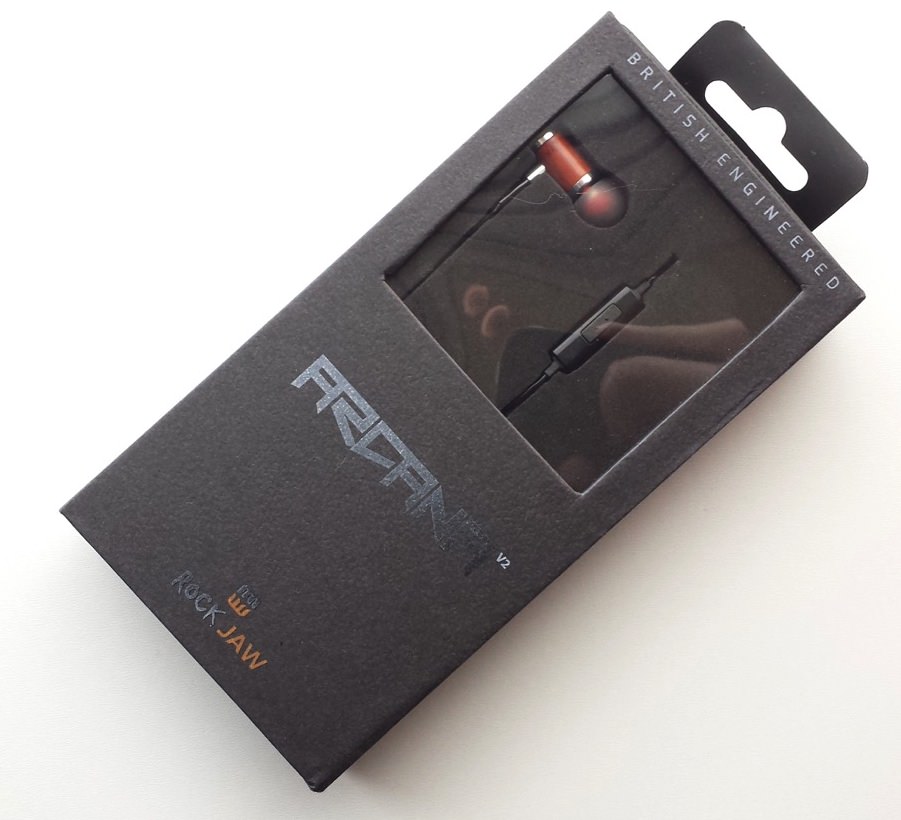 Presentation is ultra-premium, with high density foam supports, very thick textured cardboard inners and outers, three spare sets of ear bugs (of varying sizes) and the Arcana v2 headset itself, with somewhat unique glossy 'twisted' wires, claimed to be 'tangle resistant'. Plus a handy velvet carrying pouch: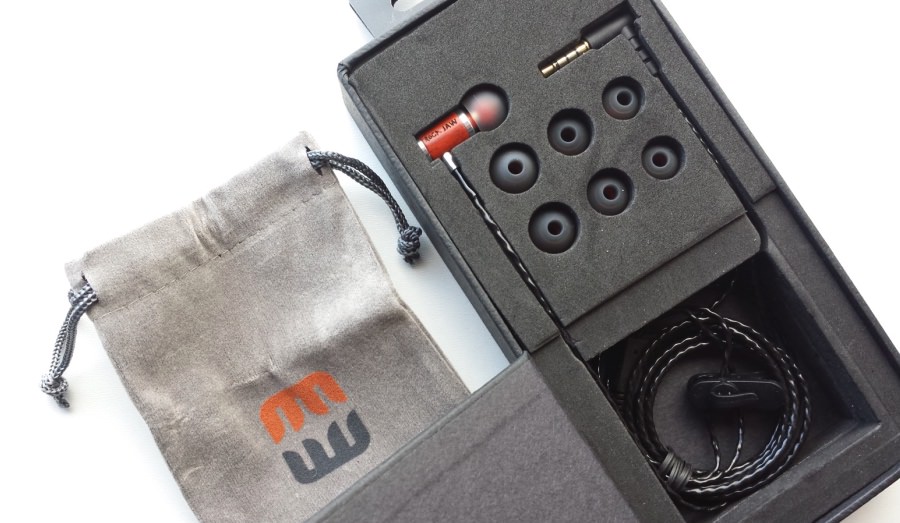 This is all starting to sound like seriously good value for £30, especially if the audio quality matches the rest of the package.
The ear-buds themselves are unusually long, to encompass professional speaker drivers, with the main barrel being engraved wood and the rest being (I think) aluminium. The default sleeves were a perfect fit for my ears - and I mean perfect - proving, perhaps, that my head is 100% average in size, no matter what others might have said in the past(!)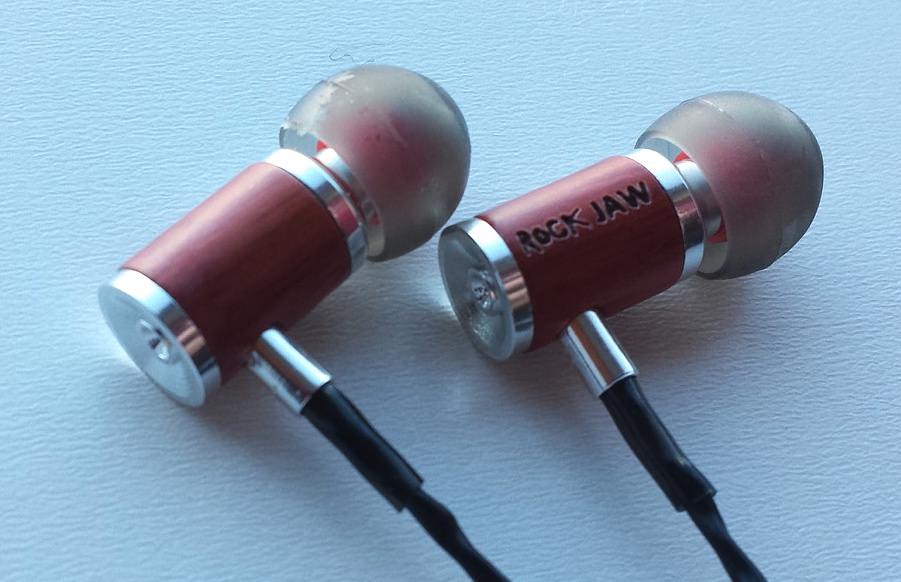 But onto testing - I ran through around 30 music sources, music and video, comparing the Arcana v2 with my existing Nokia WH-208 in-ear buds (again, as supplied with the top end Lumias or available separately):
Overall volume was slightly higher in the ears
Bass was noticeably fuller and more rounded
High frequencies were dramatically better
The ROCK JAW buds stayed in my ears even while fast walking - whereas the WH-208s slipped out of place quite often
The call-answer/play/pause control was much easier to press, having a larger and grippier button area
Incremental improvements all round, arguably, but the high end was where I was astonished. I'd become use to the slightly 'dull' sound of the Nokia headset (since the aforementioned passing of my Monster-made 'Purity', etc.) and all of a sudden I was back in business with crystal clear cymbals and shimmering vocals. The ROCK JAW folk say on their site: 'Due to the ARCANA V2 driver design you will be able to rediscover your music and discover detail you had never heard before'. At least compared to the headsets you get with smartphones, i.e. in the box, this is undoubtedly true, I was hearing percussion and subtleties that simply weren't there with the Nokia WH-208 in-ears.
And, just to put this in context, the comparison WH-208s are some of the better manufacturer-supplied ear-buds, bested only by a few of Samsung's and Sony's top end in-box offerings. Compared to the vast majority of phone-boxed headphones, the Arcana v2 will be an utter revelation - and this is ROCK JAW's target market.
Along with the headset, there was an instruction leaflet, with sensible advice on not cranking up the volume too high for too long, in order to protect your ears - this advice should be given out with every pair of headphones: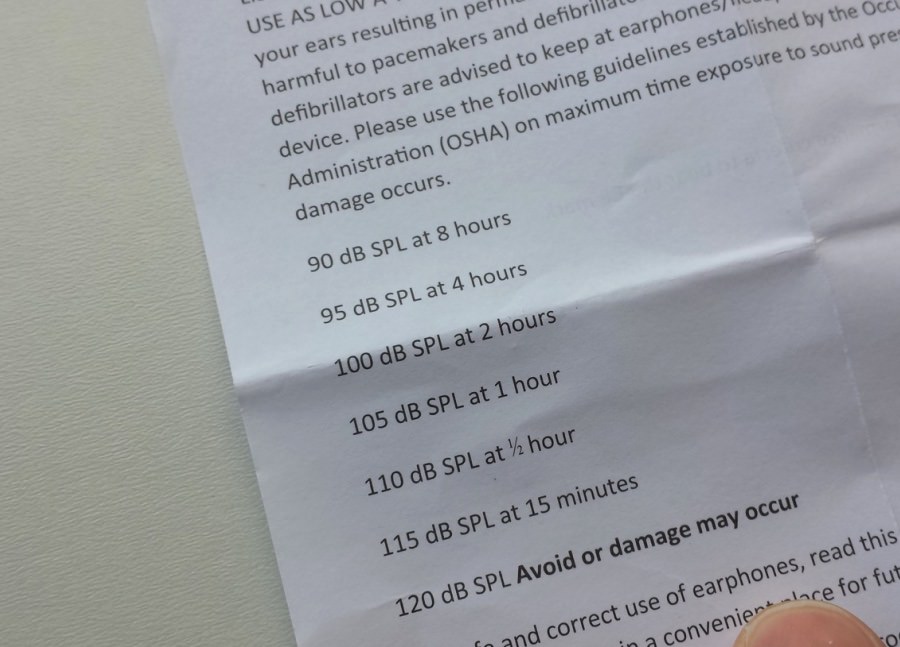 Compatibility on the ROCK JAW web site claims "iOS and Android", but the Arcana v2 worked perfectly with Windows Phone, so I'd hope that the company adds this platform to the list as soon as possible. I was able to pick up and hang up calls with the textured button on the inline pod, plus pause and play my music and podcasts.
In addition to the pod, there's a handy spring clip to retain the wire and clip the assembly to a lapel, something which I used to have years ago on my Nokia Symbian OMTP-compatible headsets and which I'd missed. With lapel support, the weight of the wires don't keep dragging down on the ears and ruining the audio seal.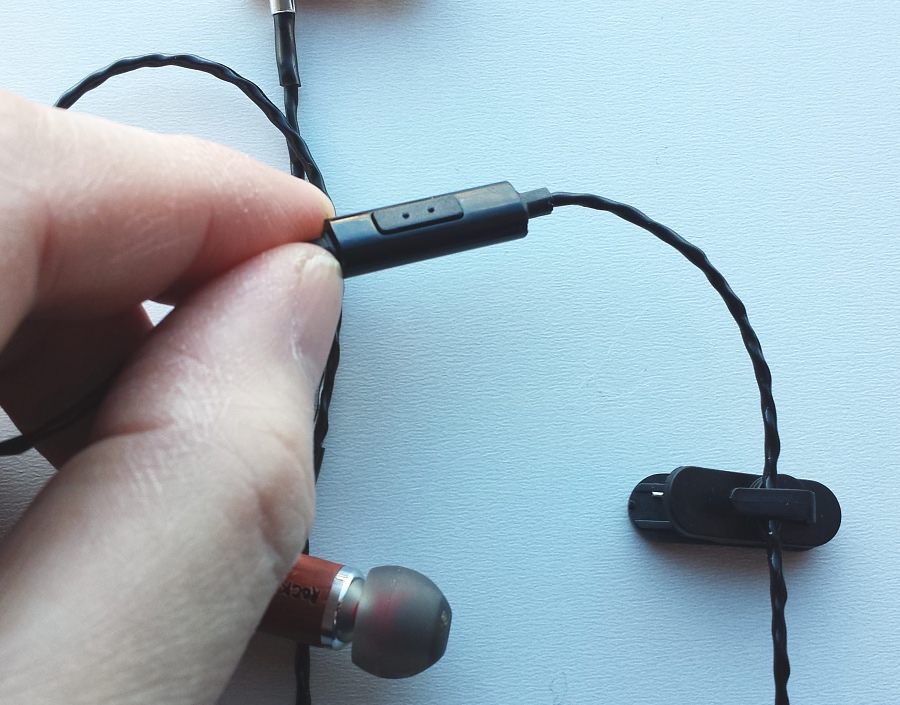 It's hard to fault the Arcana v2 design, presentation, functions or performance. Certainly my old Nokia (Monster) Purity headset was louder, but the audio quality was similar and the Arcana comes in at well under half the price.
At £30 in the UK, all-in, including delivery, warranty, money-back guarantee (etc.), I don't think this can be beaten if you too have got a bit fed up with some of the less than glittering performance from the in-box headset with many Lumias. And if your handset didn't come with anything (as is the modern trend, certainly at the lower end) then something like the Arcana v2 is a no-brainer.
Here's the full product and purchase page over on the ROCK JAW web site.
Reviewed by Steve Litchfield at