Review:
Flickr Central
Score:
75%
So there I was, responding to a reader request to do a round-up of Flickr apps for Windows Phone. And then it dawned on me that a) there are really only two (thus making it not so much a round-up as a comparison!) and b) we'd never covered Flickr Central on AAWP before. So, in advance of an upcoming head to head comparison, let's start with a full review of this free application. The summary? It works well on the whole, trailing the better known Flickr Booth only by virtue of a few quirks and a little lack of 2015 development.
Buy Link | Download / Information Link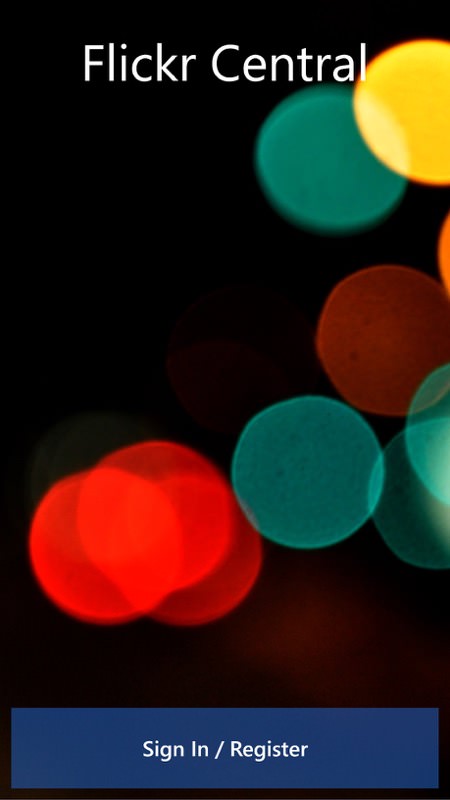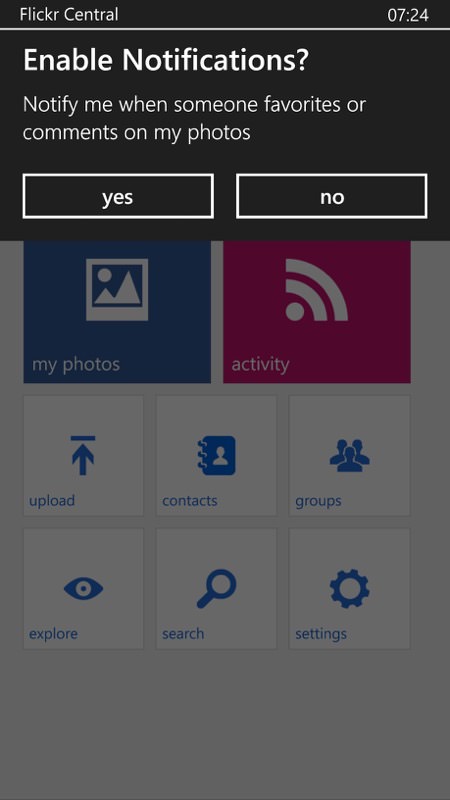 Flickr Central started life as a humble viewer for Flickr photos, but as the API for the latter opened up and as the developer gained both confidence and users, Flickr Central acquired its current name and purpose and, to all intents and purposes is an intuitive client for the photo-sharing service. I had no issues diving in and just following my nose, uploading photos to my photostream, editing details, joining groups and adding photos to them.
That said, there are a few loose ends, some of which are illustrated here. For example, the background of the 'toast' invitation above, right shows a UI which doesn't actually exist in Flickr Central anymore. As far as I can tell, this is the only time this set of controls is visible - below, left is the linear, simple 'dashboard' and why not? It works well and is self explanatory. The thumbnail sizes shown here is the default, but this can be adjusted in Settings if you'd rather see more or less for each.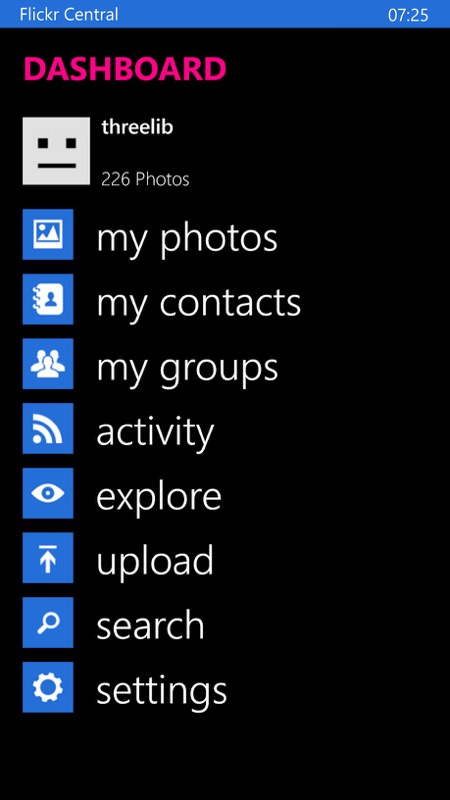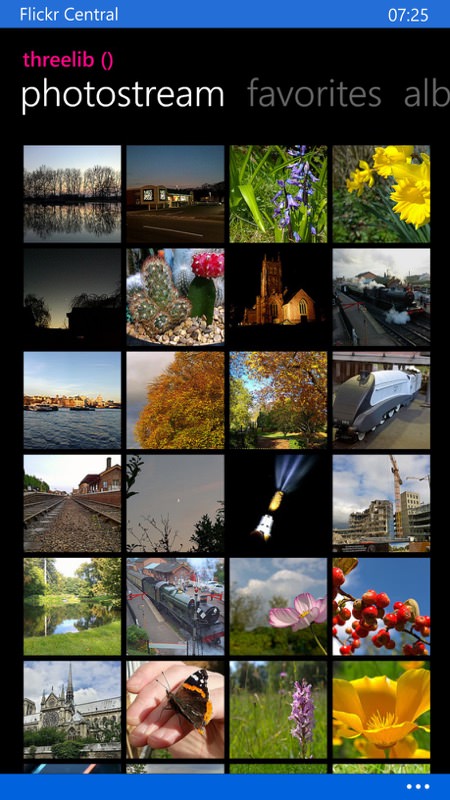 Flickr Central does a particularly good job of letting you know via a simple trio of icons whether you have comments or favourites applied to a photo, with the former shown inline beneath the photo itself, i.e. in a timeline. The middle icon below shows how many groups or albums this photo is currently placed in. The UI presented in this review is all done with the 'Midnight' theme, in line with the test device having an AMOLED screen, i.e. a black theme saves power, but two other choices are available if preferred, e.g. for LCD screens.
Browsing through online groups is fast and pleasant, either digging into photos and their details or using the supplied panorama view to look at any associated ongoing conversations going on in the group.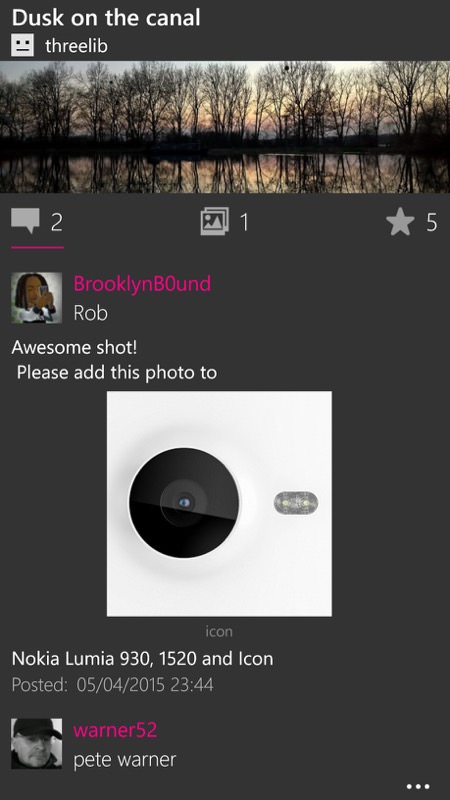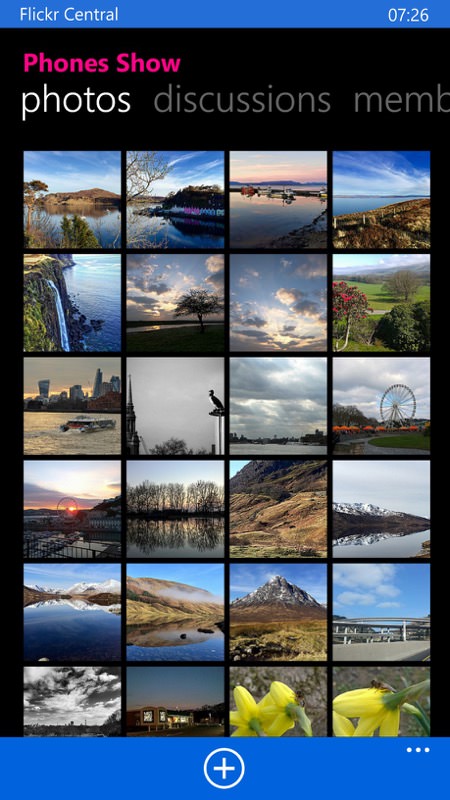 Presentation of photos and their EXIF data (in an 'advanced' pane) was particularly impressive, plus there's full multi-touch pan and zoom, as you'd expect. I vaguely remember an official Flickr client back in the days of Windows Phone 7, but the absence of something official from Yahoo! (Flickr's owners) in 2015 really isn't an issue as long as their API remains open and as long as there are clients as slick as this.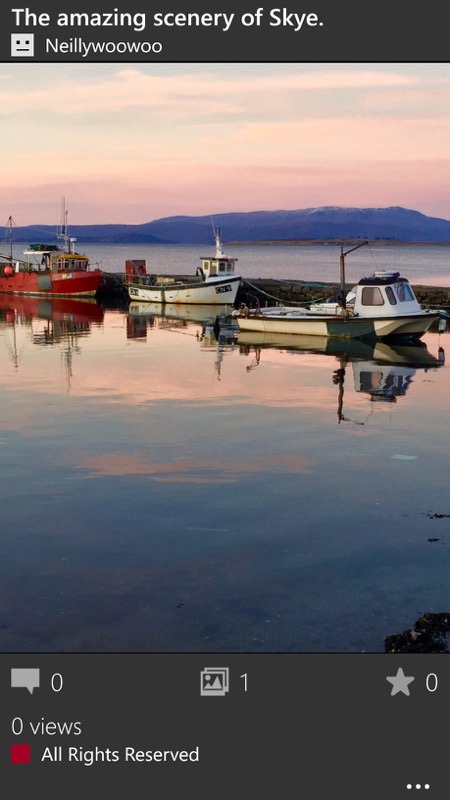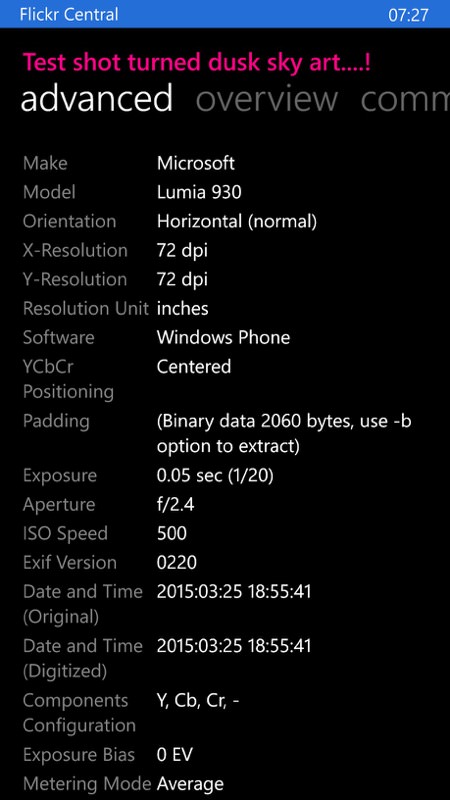 Adding photos of my own to my Flickr photostream proved easy, together with title and description. There's an option to auto-upload everything captured, using the same background agent that handles toasts and notifications, but I'm selective and I only want the very best of my captures on display for the world to see. Not to mention all the personal shots with people in and I'd rather not have to manage (or at least worry about) access on the service.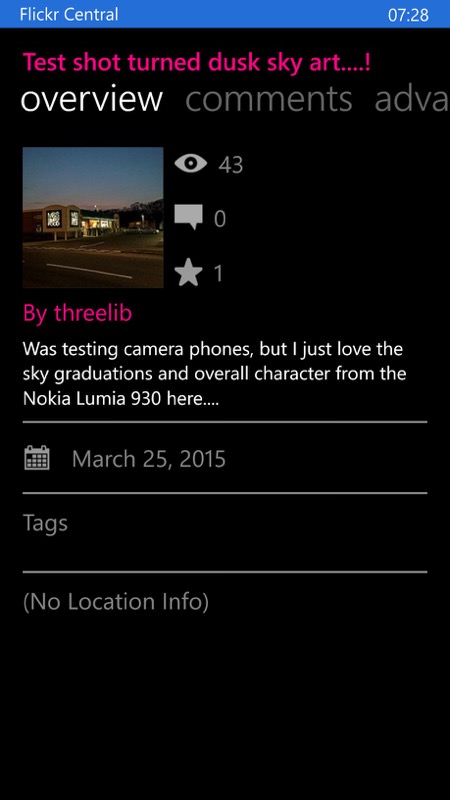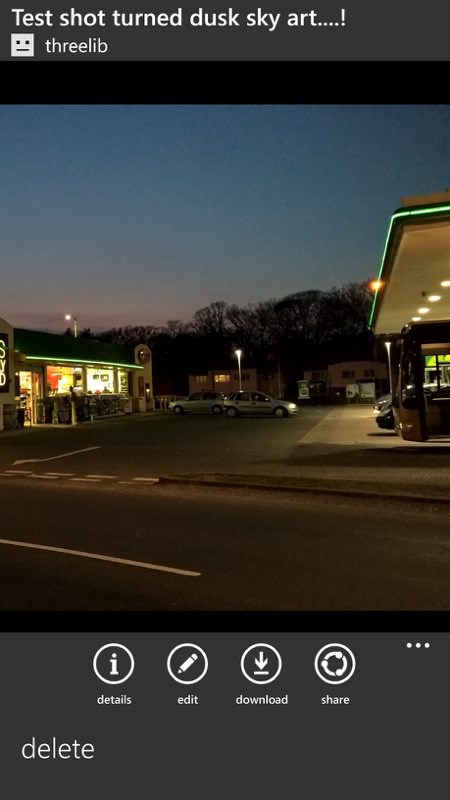 There's full support for Flickr albums, a very useful way of organising sets of photos for passing onto relatives, as you can see from at least two of the album titles shown below. The 'Explore' module seems to give you a browser into some of the most popular images on Flickr, presumably meant to inspire you, or just give you pretty stuff to browse through and enjoy.
There's also a terrific search function, looking at either your own or public photos and at image titles, descriptions or even group names. Looking for a photo of a rowing boat? Thousands are available from Flickr's public pool immediately, and generally of higher quality than those merely trawled from web pages via Bing. Just watch out for re-use issues and copyright if you're trying to use the result in any commercial way!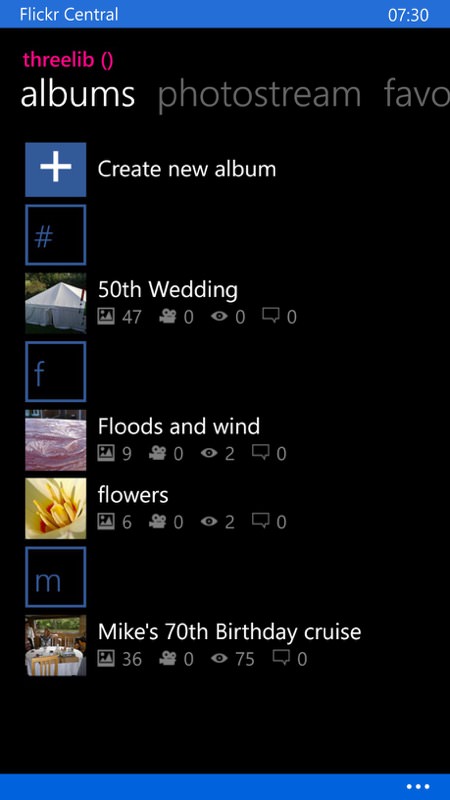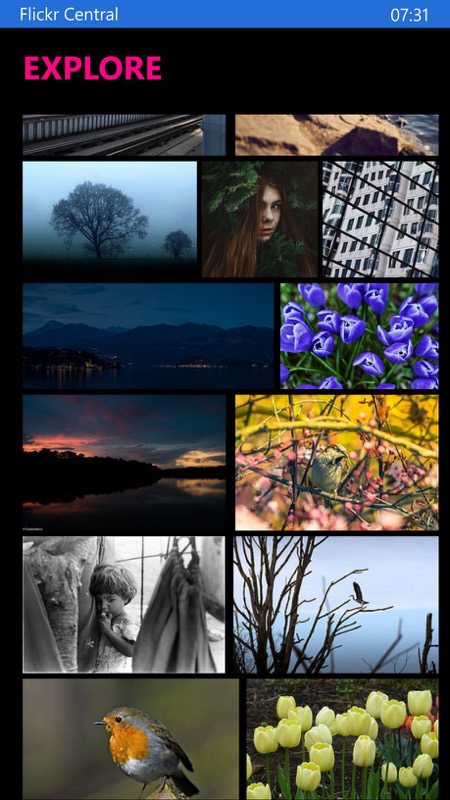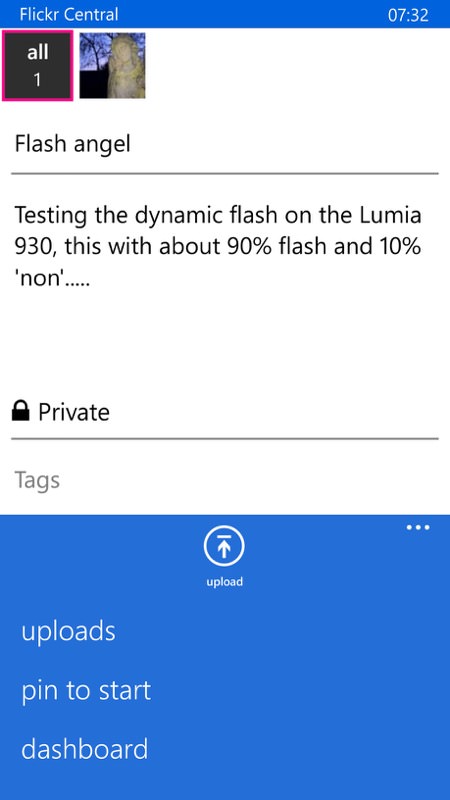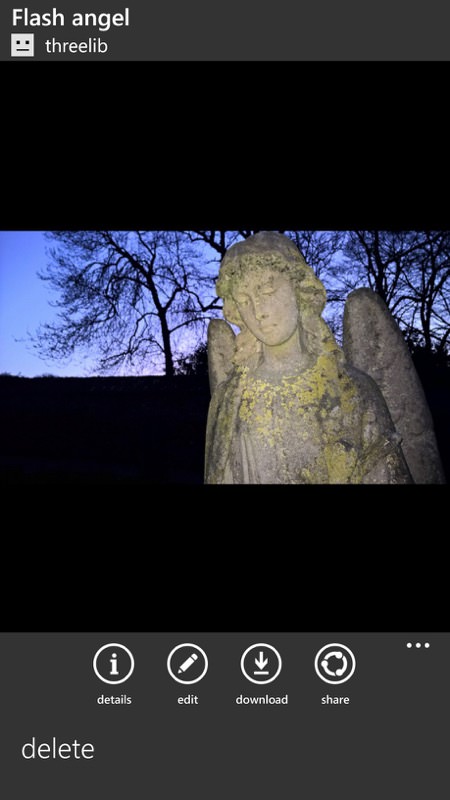 Intriguingly, the 'Share' tool leads to an interstitial pop-up menu, attempting to simplify the usual Windows Phone share list by categorising most of the usual suspects under 'Social Networks'. It's a nice idea, at least if you often use the Messaging, Email and URL mechanisms and don't want to be overwhelmed by the usual long list of options. There's room for more development here, I feel.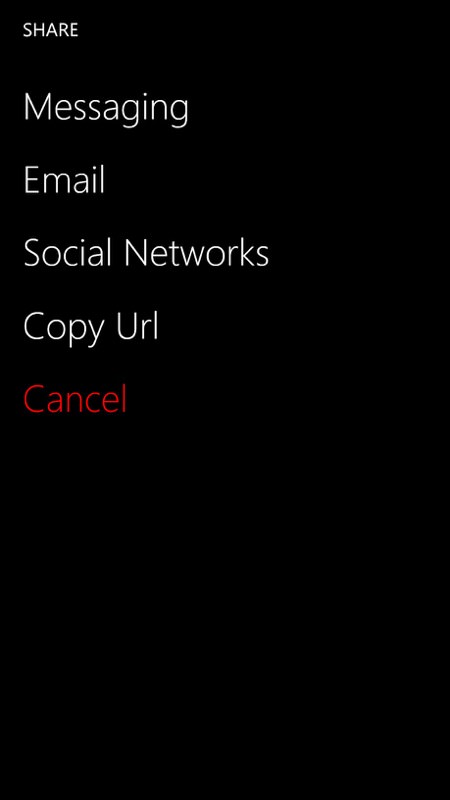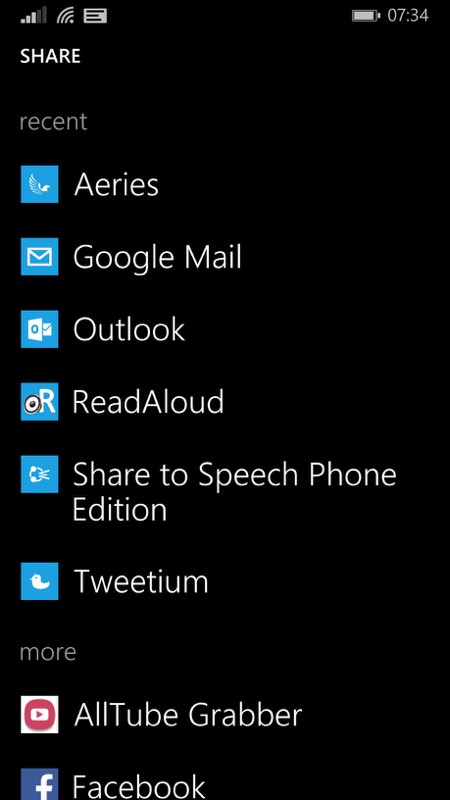 It's at this point that I have to mention some quirkiness in Flickr Central - trying to share a photo with a Flickr group directly proves impossible, unless I'm missing something. Instead, you have to go into the group's browser and then add photos from there. And even then, photos that you've already added are shown for adding again, meaning that you have to keep a mental note, or risk duplicating the addition. At least multiple uploads seem to be handled solidly, as shown below, right.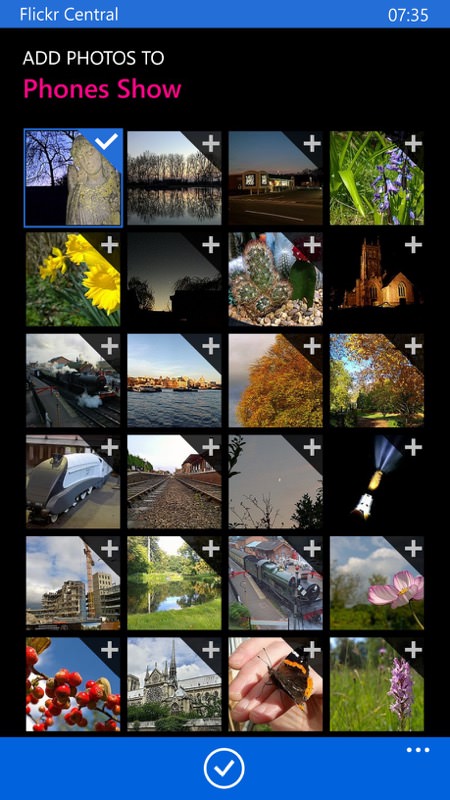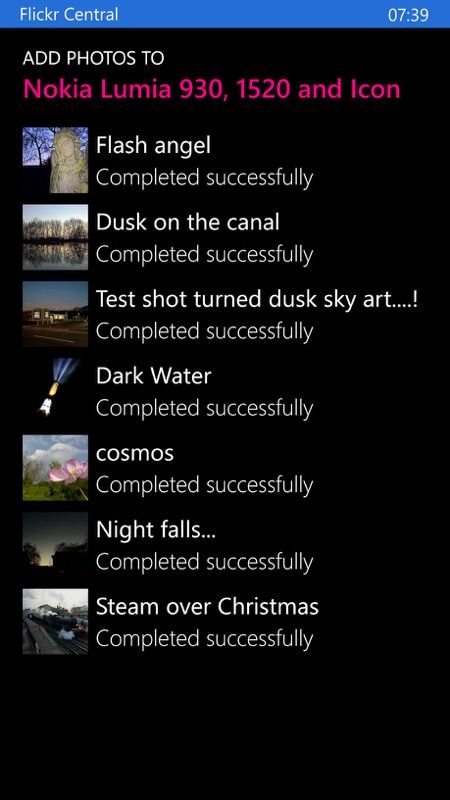 Flickr Central is clearly fully featured, but the occasional blind alley in the workflow, together with occasional lag and unexplained pauses (for example, try backing out of the app and then tapping to go back into it again!!) do reinforce the impression that the application is in need of a little attention from the developer for 2015. Hopefully it'll get it.
PS. Live tile features are another feature of Flickr Central, but these didn't work reliably for me and deserve fuller attention, I'm going to cover these in an upcoming direct head to head with Flickr Booth. Watch this space!
Reviewed by Steve Litchfield at