Review:
SBK15 - Superbike 2015
Score:
90%
Being, traditionally, more of a fan of four wheel racing then two, I'd only given SBK15 (as in 'SuperBike 2015') a passing glance in the past. Turns out it's a terrific simulation and a great game that if anything, will inspire more people to watch and support the real thing. In fact, it's only by racing, wheel to wheel, right on the edge of a major accident all the time, that you start to appreciate the skill possessed by and the risks taken by the riders in the sport. SBK15 is a meaty game and can take a while to load - but trust me, it's worth the wait. And it works on all Windows Phones, regardless of RAM. Hit!
Buy Link | Download / Information Link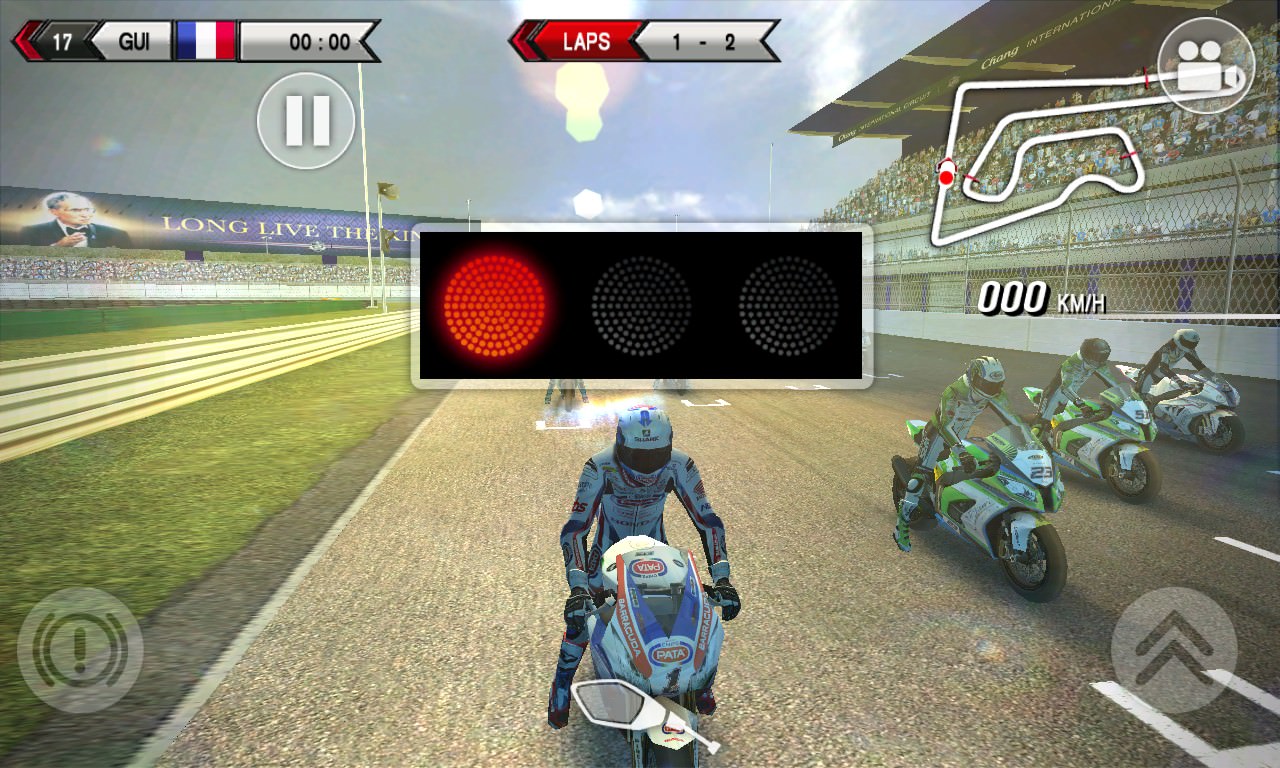 With the wind whipping past your helmet, you approach a group of other riders as you all brake for a 90 degree bend, heading slightly uphill. The sun is in front of you, glinting off the track and inside your helmet as you lean over, judge the apex perfectly and apply the throttle early enough that you scream past the others, exiting the corner in the lead, the tarmac streaming by just a metre below.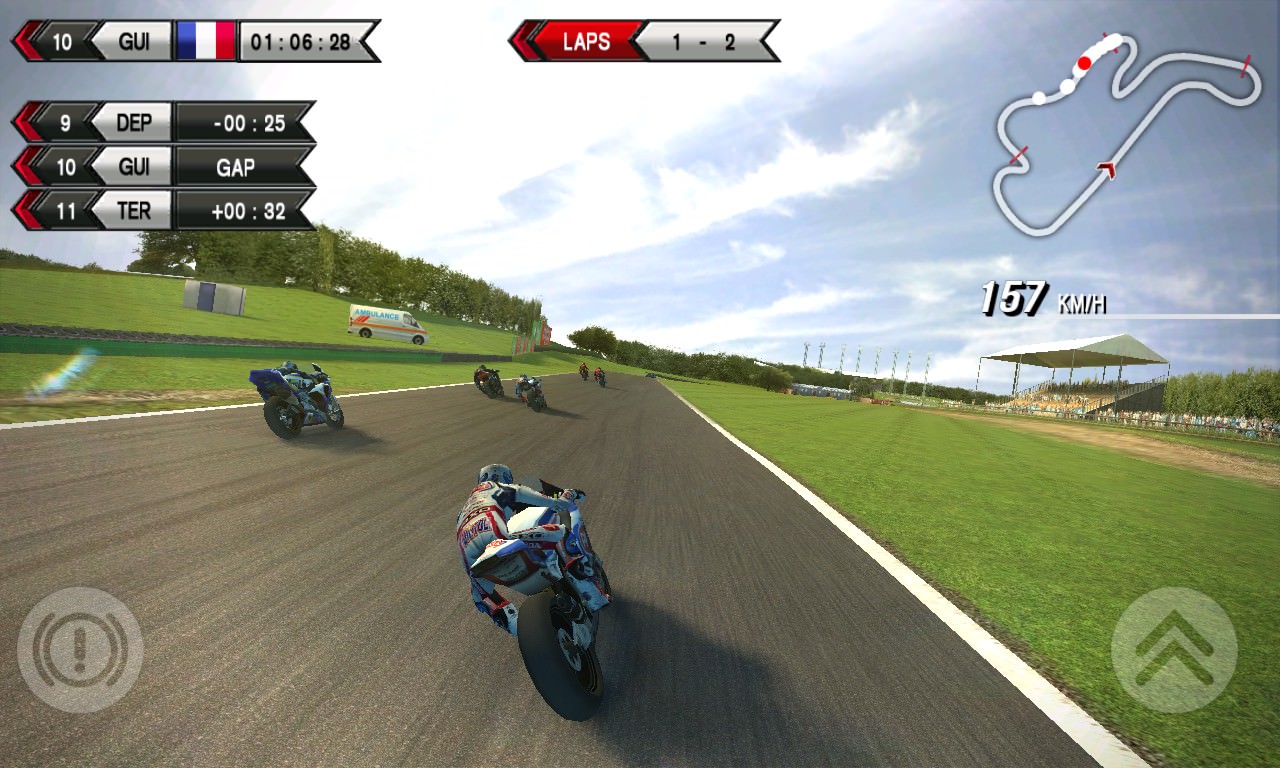 Rinse and repeat and have an awful lot of fun.
As, I say, you don't have to be a superbike fan in order to really enjoy SBK15. Plus there's an extra factor that makes this a 'must' - it's not dumbed down at all, it's not a glorified acrade game - get the line wrong through a pack of riders at 200kph and you will crash horribly. Take a corner too fast and you will slide wide and have to make your way slowly back on track. It's really not easy and even a casual glance up at the track overview schematic up top for a second can be enough to put you off your rhythm and timing and mean that you slide off and lose several places. Jaw clenched, you're then up against it as you fight to catch up the rest of the pack.
With a full championship mode (a season's worth of races, each with qualifying and two stage race, completing the lot means something like 15 solid hours of gameplay - and then there's next season, and so on), 'quick race' and various challenges, including racing 'ghosts' of your friends in the SBK15 system, there's an awful lot here, and it's slick and solid throughout.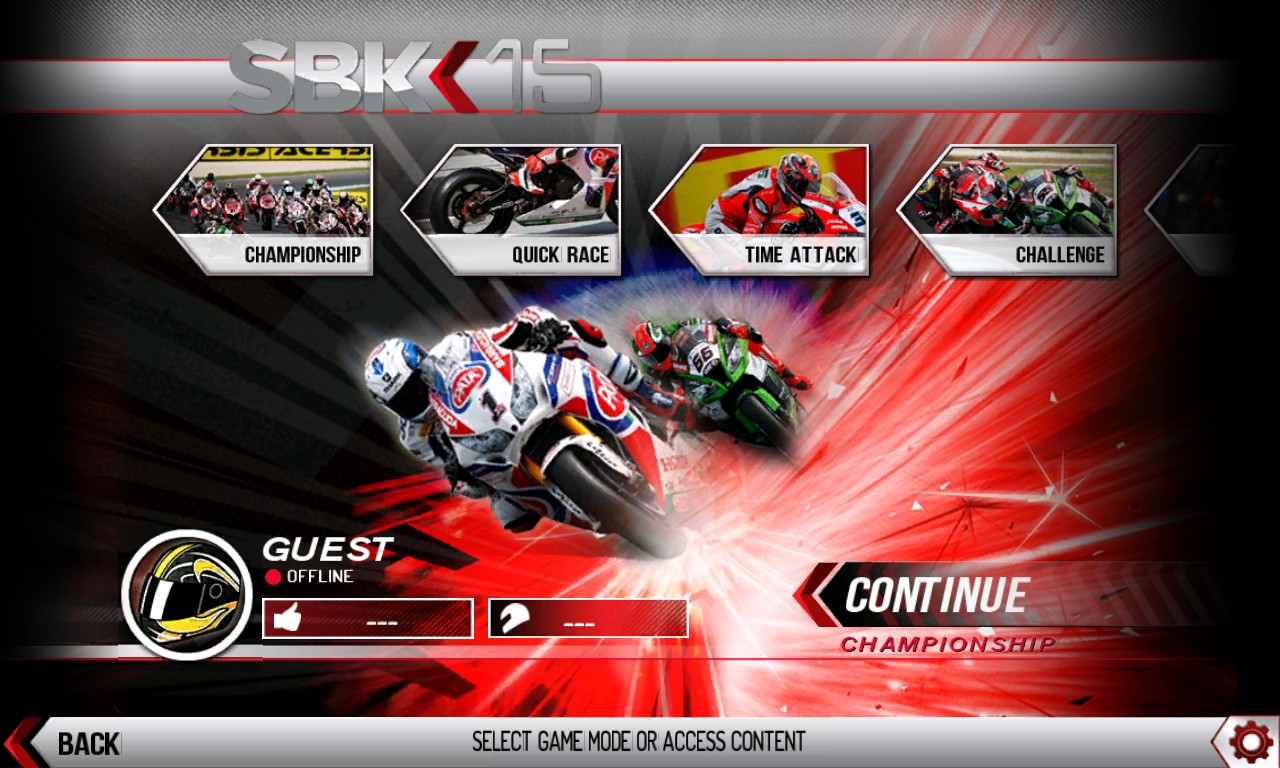 There's a surprising maturity here, thanks to previous versions on other platforms, meaning that you can configure SBK15 to work as you wish - there's a wide choice of 'HUD'/controls, with various combinations of accelerometer and -on-screen controls, in various positions - and even the ability to adjust the overall sensitivity, so that the bike 'feels' right in your hands.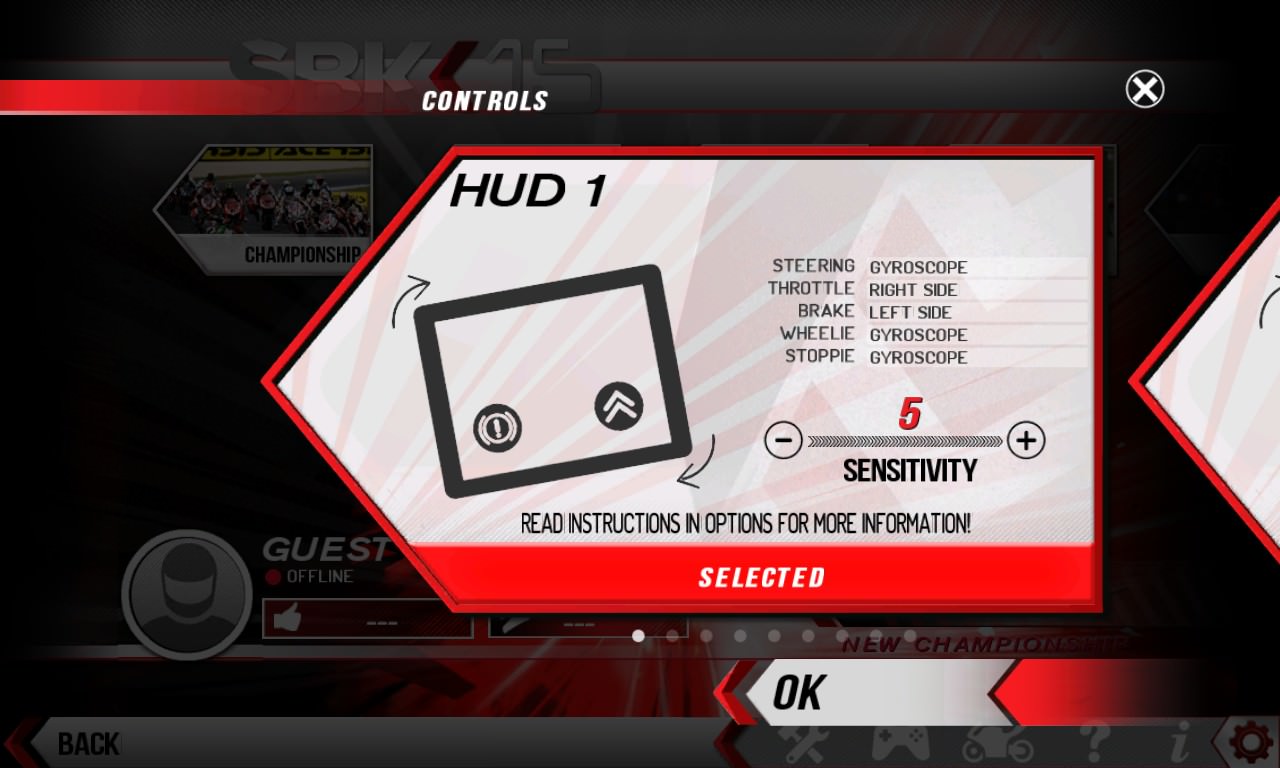 The superbike format should be familiar to most people, with qualifying, 'Superpole' and then two race stints, from which your overall position for each event is determined. To cater for absolute beginners (and, for bikes, that includes me!), there's an 'Easy' setting, ensuring that you'll still be close to the front even with no experience. From which point you can try the whole thing again (or adjust as you go), on 'Medium' or 'Hard' as needed.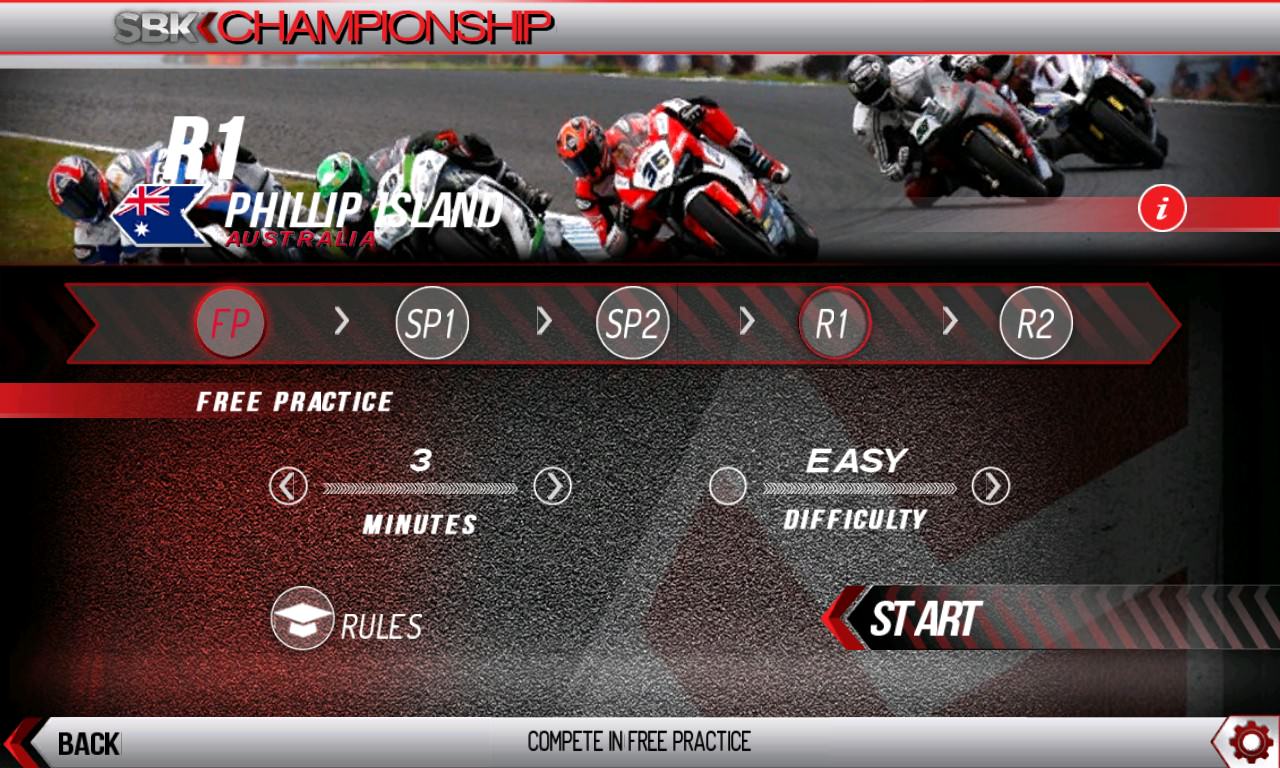 But really, SBK15 isn't even about points, grid positions and championships (satisfying though these might be) - it's about the thrill of racing, about pitting your wits against each course, against AI and ghosted human opponents, and against your own hand/eye coordination. Get all of these right and it's almost as good as being out on the track for real. And a heck of a lot safer!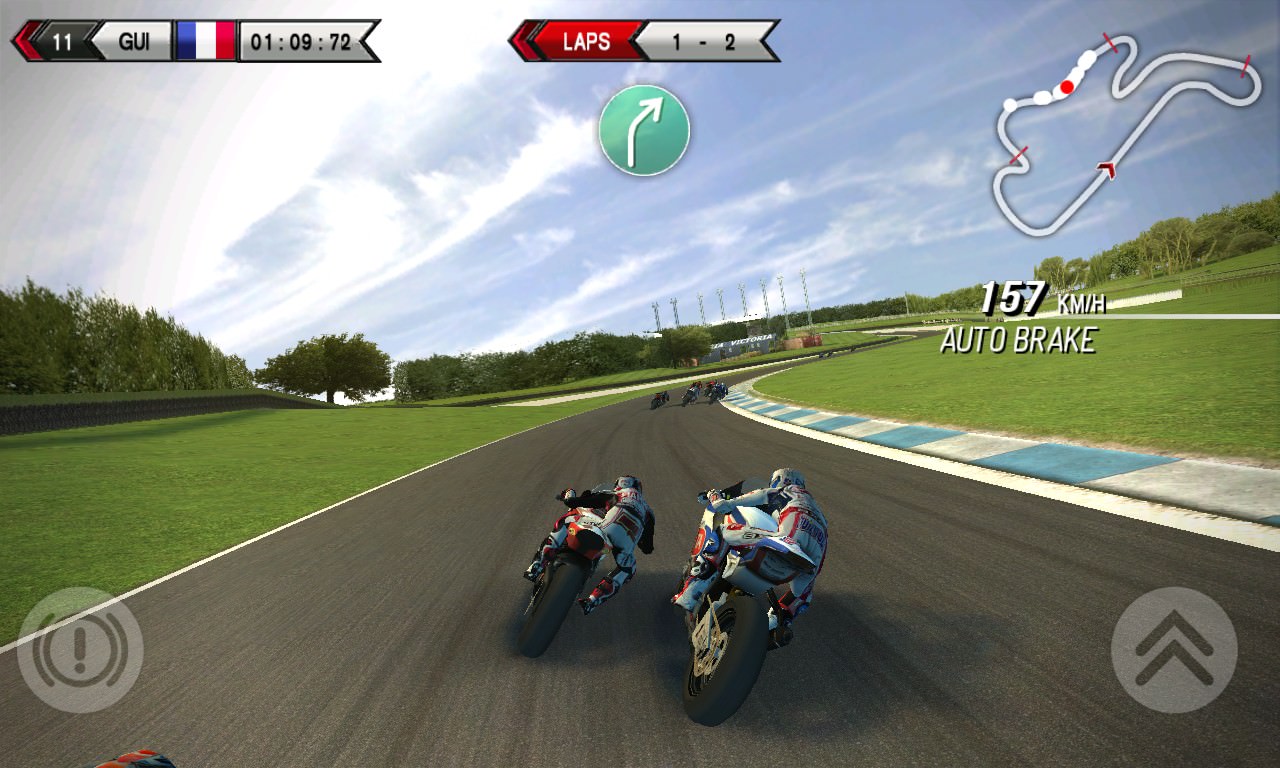 There are two main dangers in the real sport, as I see it - screaming around a bend at an extreme angle might cause the bike to slip away beneath you and you'll go sliding off - in the game, you do indeed miss the corner if you get the timing and speeds and angles wrong, but thankfully you don't actually come off the bike. Think of it as 'auto-balance'!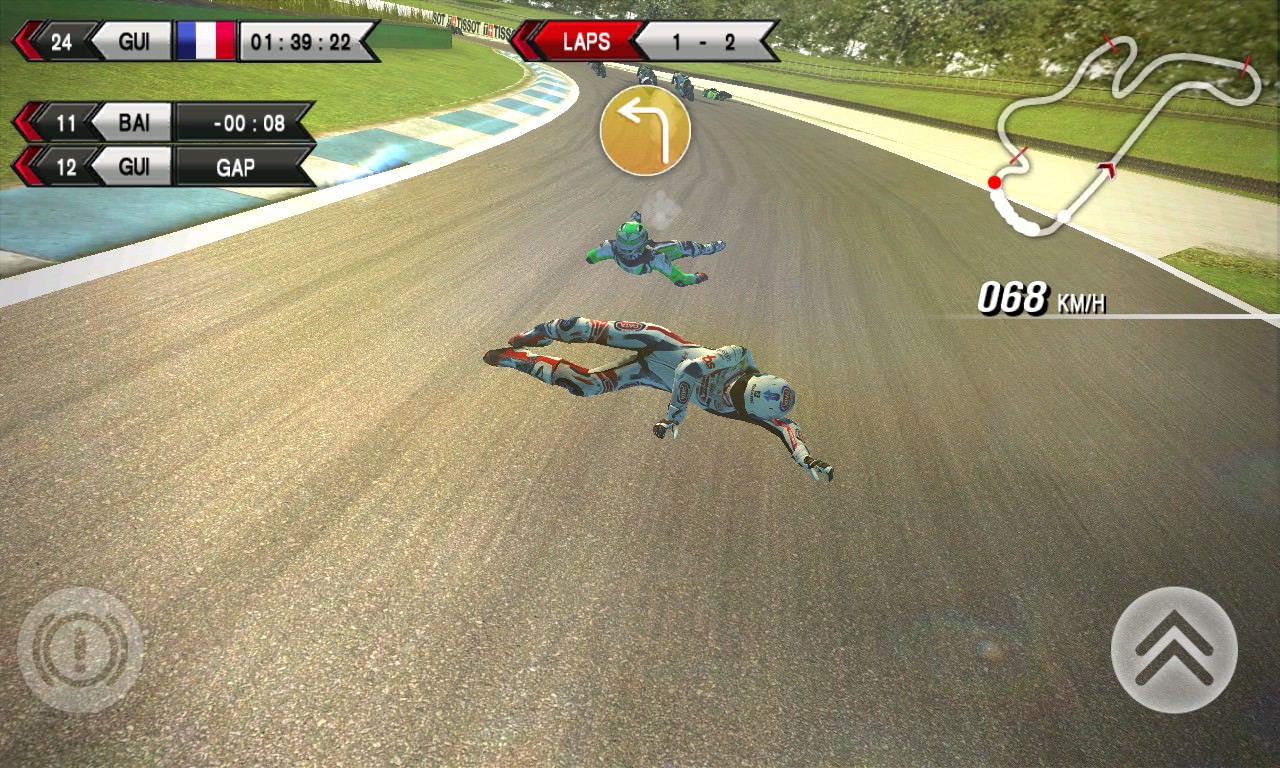 The second danger in the real world is of colliding with other riders, and this is indeed modelled in SBK15. At low speeds, it's just a gentle nudge and you both stay seated on your steeds. At higher speeds, both bikes and riders are left sprawled across the scenery in a spectacular accident. Happily, you're put back on within a few seconds and there's always the chance of catching the pack and making up a few places before the end of the race, whereas in on a real track you'd be in hospital for the next three months! But the time penalty involved in having accidents is enough of an incentive to try to steer clear of obvious collisions and to ride (and overtake) cannily.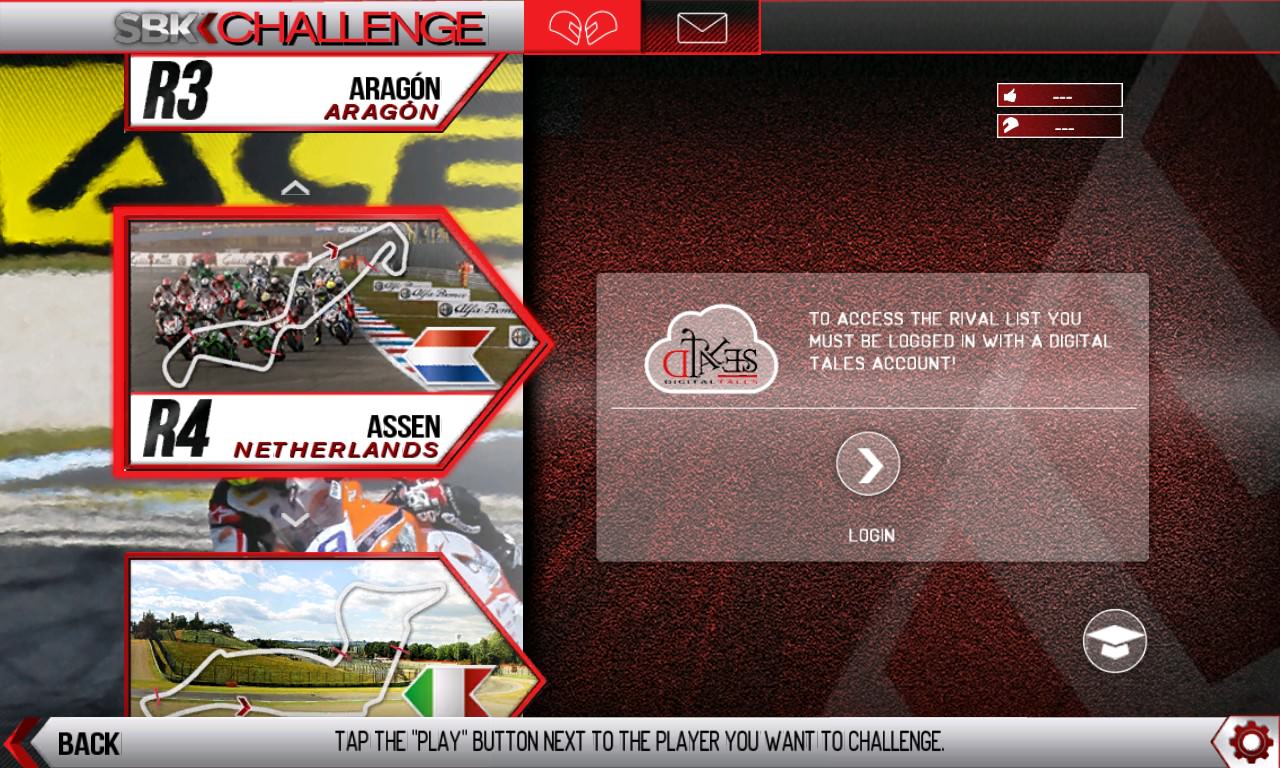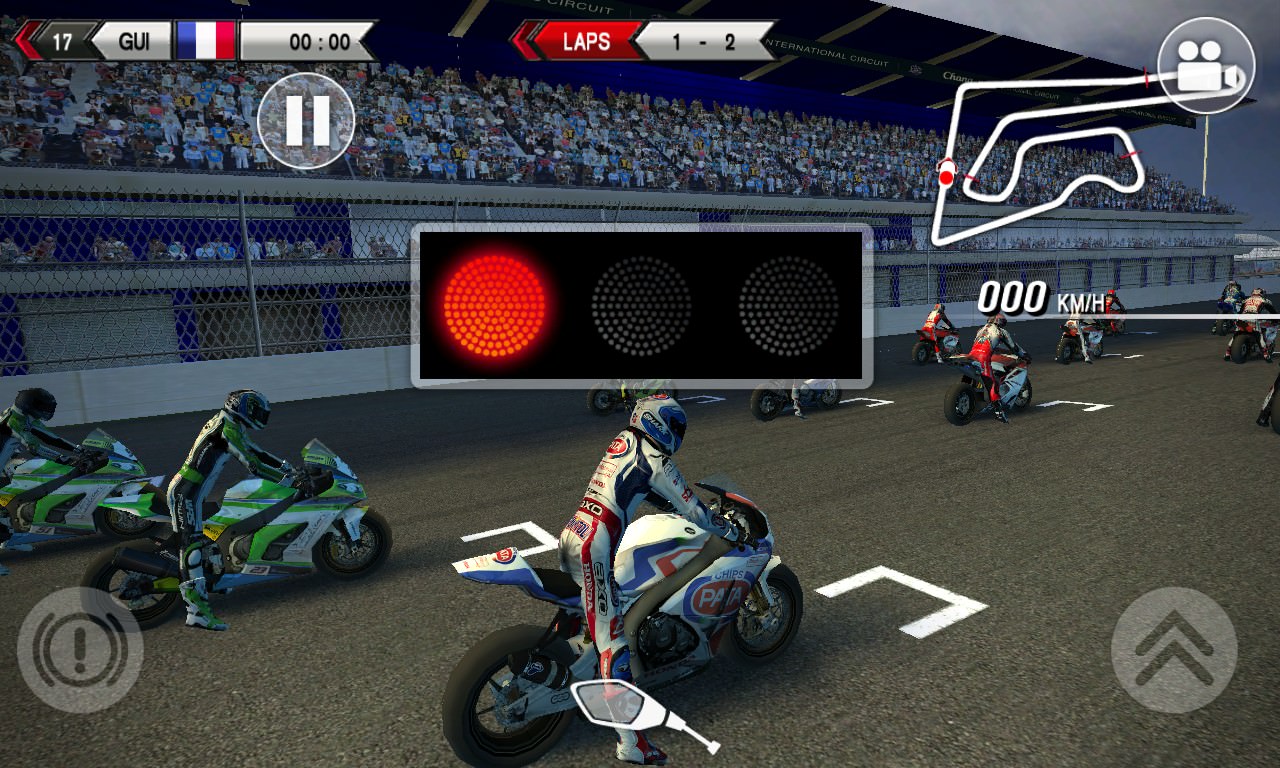 I'm not quite sure where SBK15, or indeed the entire sport, has been all my life, but consider me a convert. I loved reviewing this game - the thrills and, yes, the spills. And at only a couple of quid the game isn't a massive outlay for something which will give you tens of hours of pleasure (or more).
While not being quite as comprehensive as something like Real Racing 3 for Android, SBK15 scores by concentrating on the fun part - the racing - and there are no in-app purchases to worry about or manage, making this also a great title to hand to an older kid, for example, confident that he won't start 'buying stuff' (you just know that kids spot and memorise your PIN code if seen often enough!)
A terrific game, I tested and enjoyed it on the Lumia 530 as well as on my 1020, so it seems to run fine on just about anything. SBK15 earns a rare 90% score on AAWP and comes highly recommended.
Reviewed by Steve Litchfield at