Review:
Microsoft DT-904 Wireless Charger
Score:
83%
Qi chargers are pretty common these days, but Microsoft has upped the stakes with this, the DT-904, throwing in NFC and software tricks when used with a Windows Phone or Windows 10 Mobile device, alerting you of notifications for just about any applications you choose with a pleasant ring of white LEDs. After a few teething troubles with the Bluetooth pairing, this was almost the perfect Qi charging plate, not least because its charging coils extend over a larger area than on most competing products, so you don't have to be too fussy when positioning your phone.
Buy Link | Download / Information Link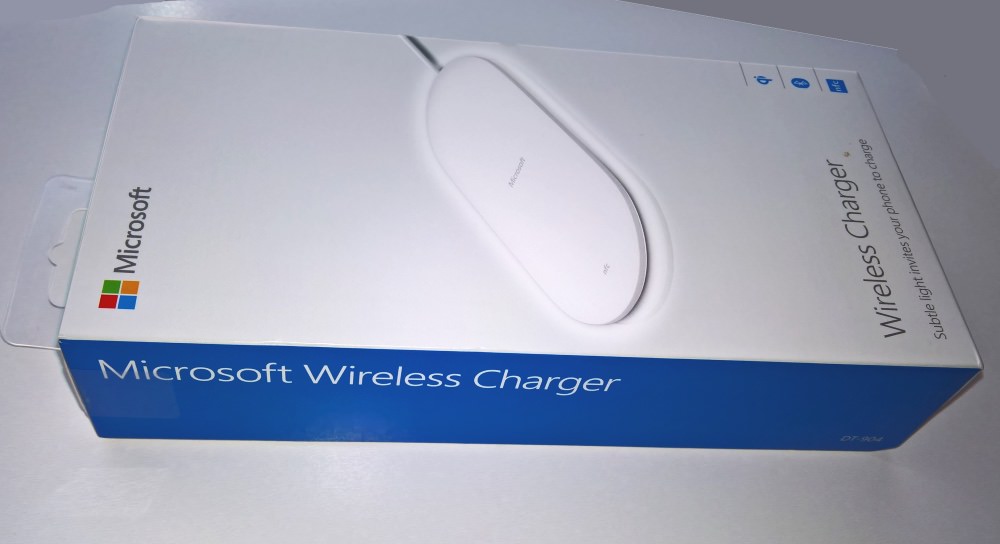 The size of the box gives a clue as to the charger's size - it measures just over 6" from end to end, with a rounded form that's pleasant to look at and to hold.
The top of the DT-904, here shown protected by a transparent plastic slip from the factory, is an off-white polycarbonate - note the NFC hotspot near one end - this and the Microsoft logo are printed on the charger itself.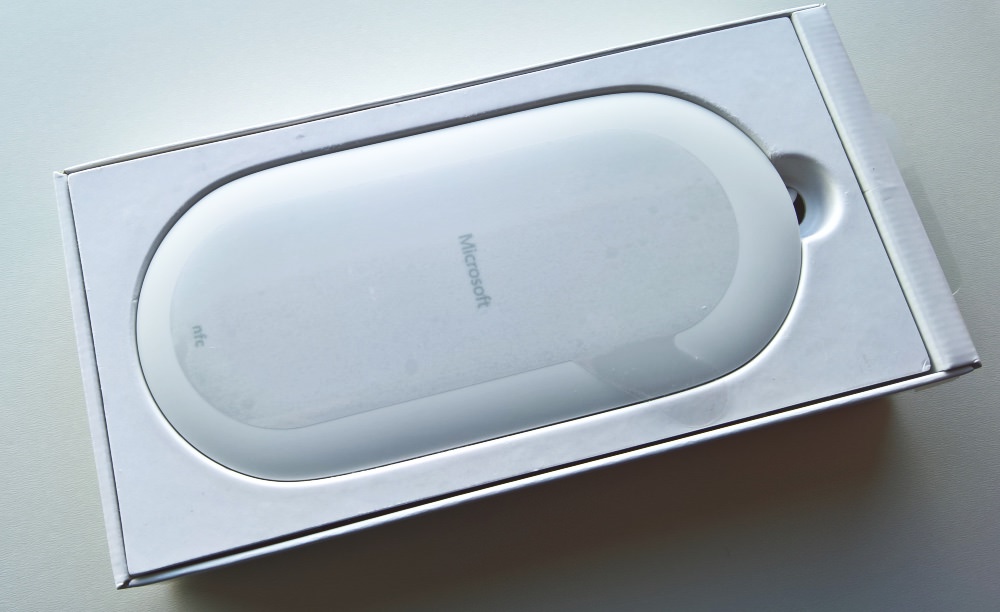 Turn the DT-904 over and the surprises start - the base is aluminium and premium, surrounded by a ring of rubber (to make sure the accessory doesn't slide around on the desk) and then an overlapping ring of plastic, in this case translucent and with several dozen small white LEDs embedded behind, of which more shortly...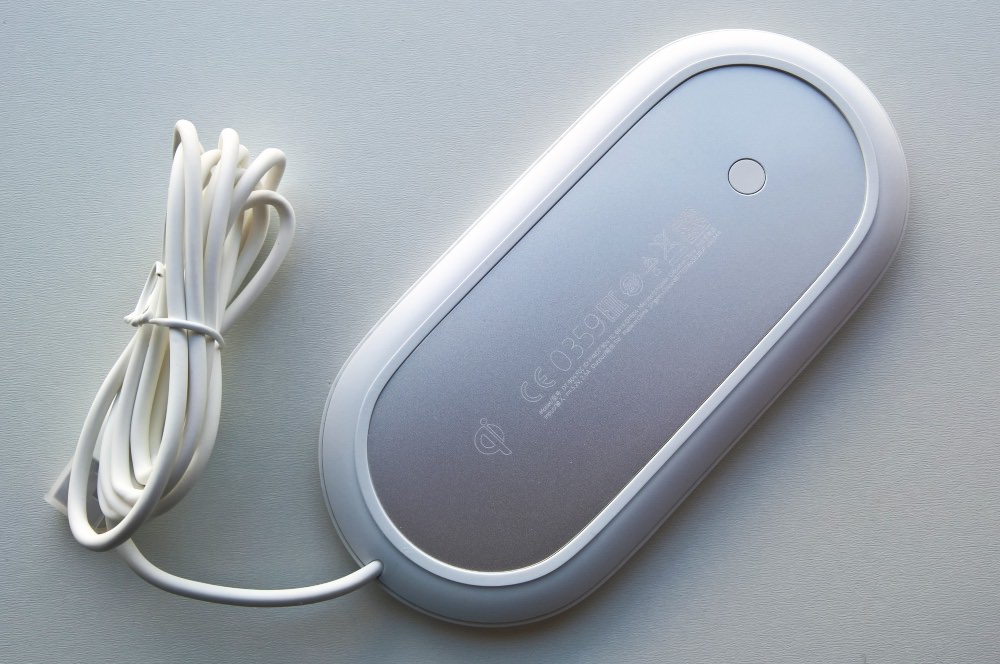 There's a (chunky) flying lead off to a USB-A connector and that's it - there's no mains adapter. It's assumed that you'll have your own high current (1.5A is needed, ideally) USB sources. In my case from a 5-port mains charger but you've probably got your own set-up too. Mind you, for the best part of £50, I'd have hoped that Microsoft would throw in a mains charger of their own and I can only think the omission is due to wanting to ship this accessory, as-is, across all regions, languages and mains formats.
The DT-904 certainly looks the part on the desk, 10/10 for design, and I guess we had to endure the Microsoft logo - at least it's slightly muted...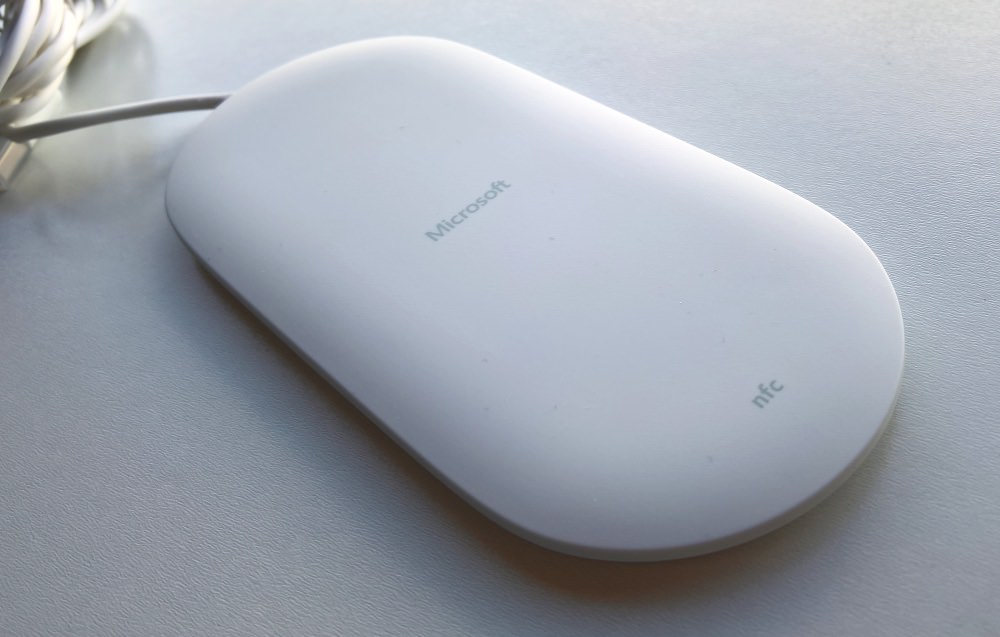 The LEDs are what take the DT-904 to the next level though, making it potentially worth the asking price. We've seen light-up QI chargers before, but this one uses the lights intelligently. Though the LEDs are bright, they're on the underside, so the net effect is of a soft glow: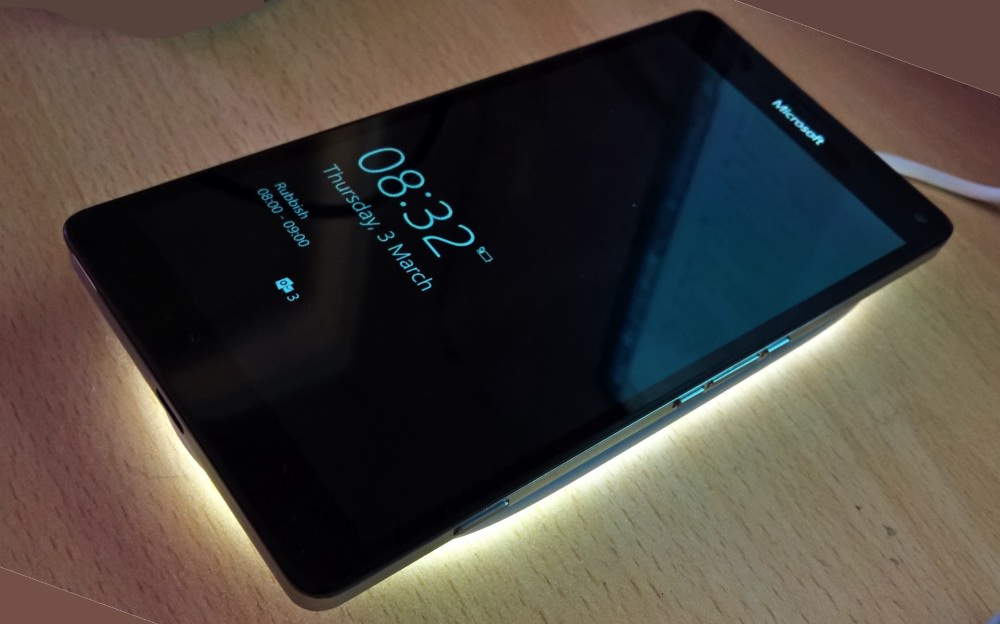 The LEDs obviously kick in while charging is taking place - and then extinguish when charging is complete - but Microsoft has coded some tricks into its mobile OS to take the accessory further.
Step one is to press a Lumia to the NFC spot and pair it up over Bluetooth. In theory it should be a couple of screen taps, though for some reason it just wouldn't work on my Lumia 950: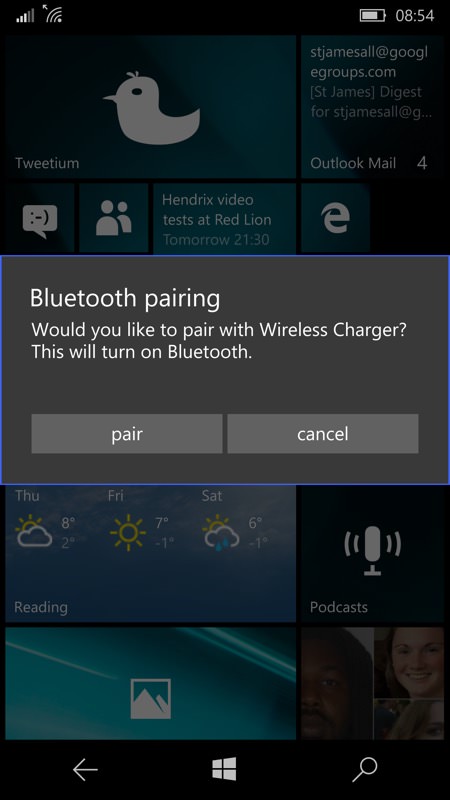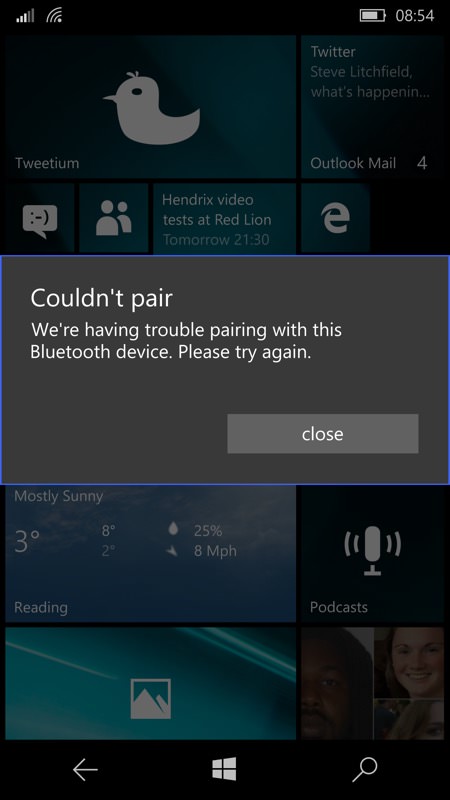 Not to be put off though, I tried again with the Lumia 950 XL and it worked first time - I was connected and paired within five seconds, with Windows 10's Gadgets utility confirming the pairing: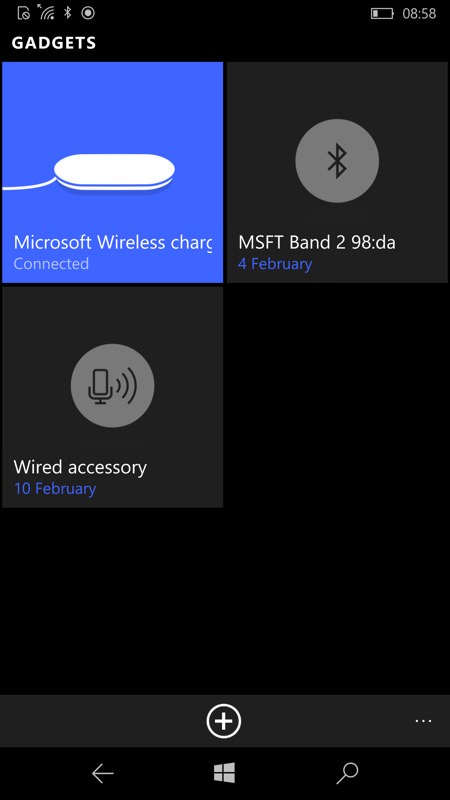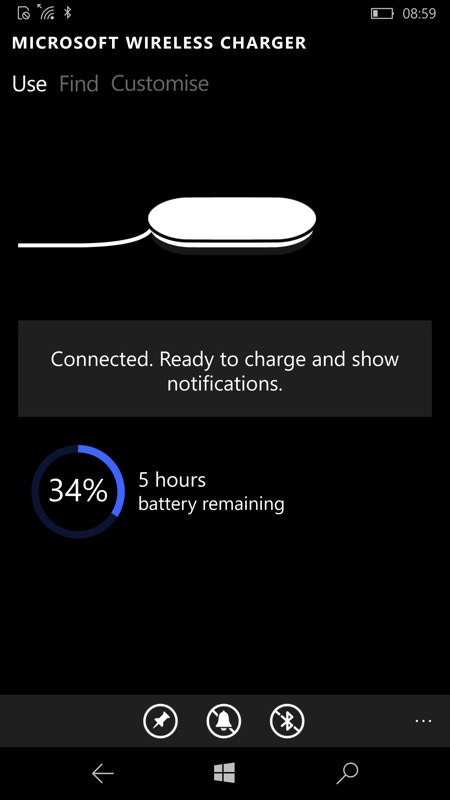 Note, by the way, that Gadgets also exists these days on Windows Phone 8.1, at least for anything running the 'Denim' firmware onwards. The advantage of the Bluetooth pairing is that all sorts of interesting information can be passed between the phone and accessory, with the LEDs the main conduit for notifications to the user.
The screenshots below tell you most of what you need to know - should your phone get into the 'Battery saver' zone, Gadgets will tell the DT-904 to start blinking - a nice visual clue on your desk to pop your phone on the charger. Though not a lot of use when your phone's out of power while out and about, of course! Still, a nice idea, and why not?
The main function is to flash three times for notifications - and it's up to you which notifications you allow through. For example, emails might be too frequent, you'd be forever distracted while at your desk, while an eBay notification (e.g. being outbid for something) might be more of direct interest. Unfortunately, the current system is only specific to an application name, i.e. you have to manage which events an application sends out notifications for in that application itself. Still, there are possibilities here....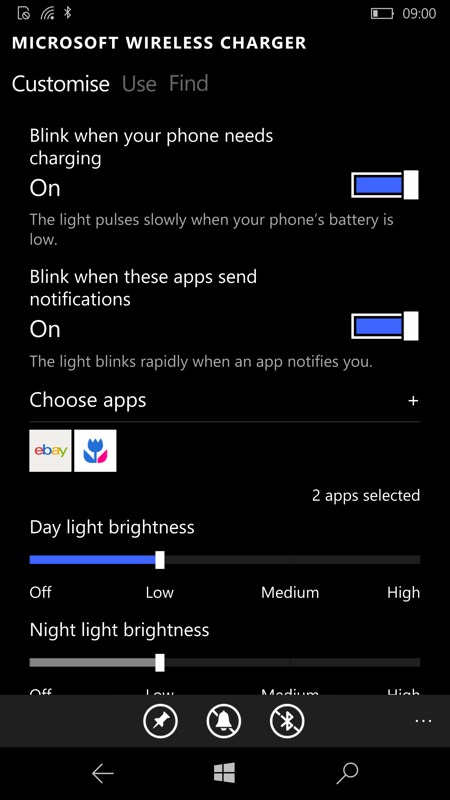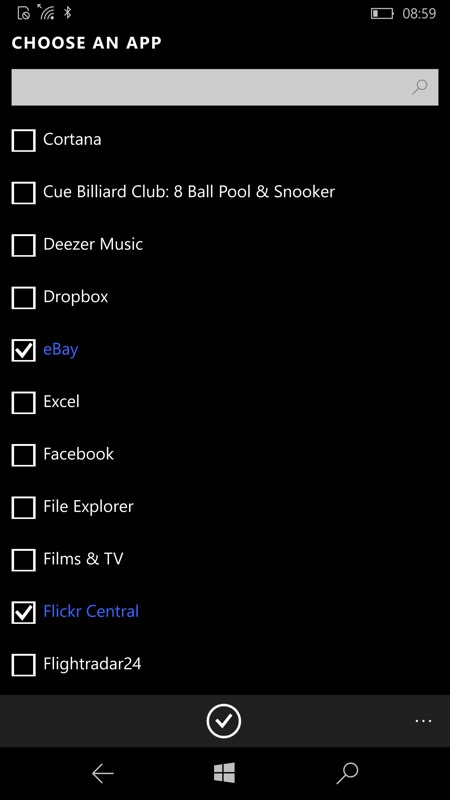 There's also the chance to customise the LED brightness and for day/night profiles, again as shown in the screenshot above, left. Typically you'd have this cranked up a bit in the day and set to 'low' at night, acting as a gentle night light in the bedroom, for example. But it's very much up to you. Any brightness changes are synced over to the DT-904 via Bluetooth in a matter of a second or so.
Ultimately though, the DT-904's LED functions are possibly less important that it simply being a damn good Qi charger, with good looks and a large charging platform that's not too fussy about exactly how precisely you put a phone down on it. Even my very fussy Google Nexus 6, with rather small Qi coil, seemed happy to charge over a couple of inches of the DT-904's surface - and the Qi-compatible Lumias had no issues at all, even when the phone was deliberately misplaced by an inch.
Thanks to Mobile Fun for supplying this DT-904 Wireless Charger. It's not the cheapest option out there, but it does offer something different if your Lumia is compatible and is worth seeking out.
Reviewed by Steve Litchfield at