Review:
Dogfight Elite UWP (MMO)
Score:
80%
Take a classic cross-platform 2013 WW1 flight simulation multi-player game and update it as a full Windows 10 UWP, for mobile, tablet and desktop, add in loads more planes, tanks, scenery and weapons, upgrade all the visuals and music, put it all together and you've got Dogfight Elite UWP. It's impressive in a number of ways if you have a fast enough phone with enough RAM, even if it does require a fair amount of real world cash to get really immersed within.
Buy Link | Download / Information Link
From the far too brief (hence this review attempt) Store description:
Dogfight Elite is a World War I and World War II massive combat airplane simulator.

In Dogfight Elite you can fly an airplane, drive a tank or jump out of the plane and defend your position as a soldier. You can also play alone and fly through training levels all the way up to full-blown dogfights against enemy planes.

This rather undersells Dogfight Elite, which is a 'Massive Multiplayer Online' system, in the same manner as, for example, Infinite Flight, but here with combat, and quite savage (aerial) combat too.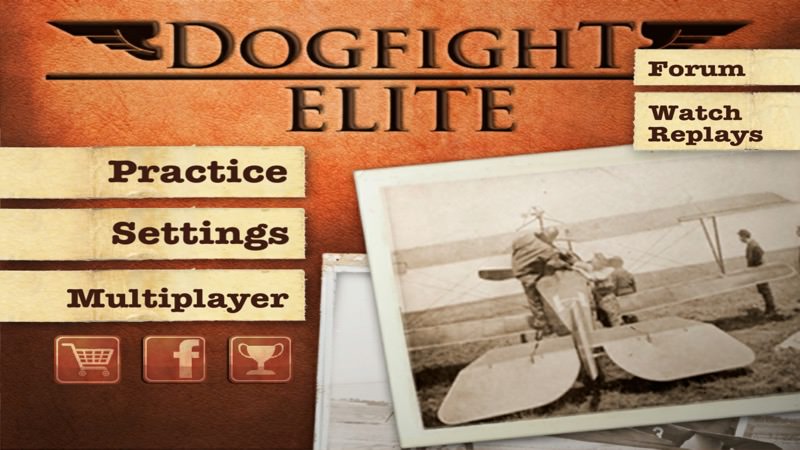 At its heart, Dogfight Elite is a World War I (and, if you progress far enough in terms of purchases) World War II flight sim, with cannons and bombs. The graphics are impressive without being photo-realistic, but then there's a lot happening behind the scenes once you get to real time multi-player dog-fighting, so I'm guessing that some small compromises had to be made in terms of 3D graphics. Regardless, I still very happy with the detail levels and rendering here on my test HP Elite X3.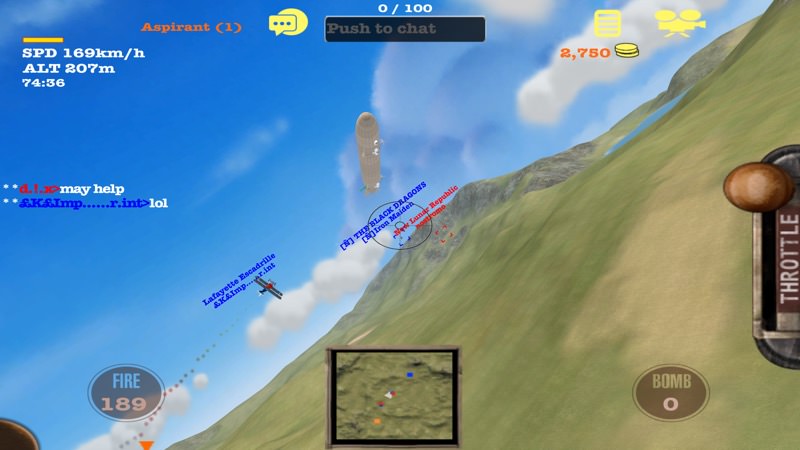 Now, admittedly, this is the fastest Windows 10 Mobile phone in the world right now, so it's not surprising that everything was smooth and dandy. On the flip side, I tried running Dogfight Elite up on the low end Lumia 640, now officially upgraded to Windows 10 Mobile, of course, and the limited 1GB RAM and Snapdragon 400 series processor couldn't cope at all - the main flying interface was accompanied by a blank, black screen.
I then tried something in the middle, a Windows 10 Mobile-upgraded Lumia 930, with 2GB RAM, and at first had issues with the game effectively freezing, though removing a couple of the visual effects seemed to do the trick and, once airborne, flying was pretty smooth. As a rule of thumb, I'd say you need a Snapdragon 800 or above and 2GB of RAM, otherwise you will come a cropper. Plus you need 350MB free to install this in the first place. None of this is too much of a criticism, mind you, since there's a free trial mode and this includes the practice missions and some multi-player action, so it costs nothing other than your own time to try all this out.
There are a dozen practice missions, and these are useful to get a feel of the interface and (pretty realistic) aerial physics, though I'd complain that some of the missions here don't have obvious end points (which are needed to progress to the next mission). So, for example, in the mission shown below, at what point does 'bomb them to hell' finish? I completed a bombing run and smashed up half a dozen enemy huts and yet all I was offered after returning to base and landing was to have my bombs replenished!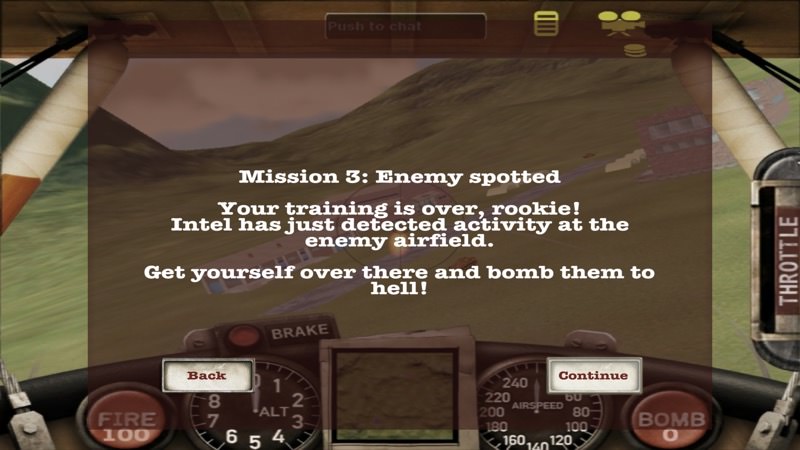 The practice missions do start introducing enemy fighters, so you get experience of being shot at - and it's something of a shock to see shells coming from behind you, putting bullet holes in your windscreen and you'll be doing well if you can wheel around and shoot down the AI-controlled practice opponents. I managed it a couple of times in about half a dozen missions.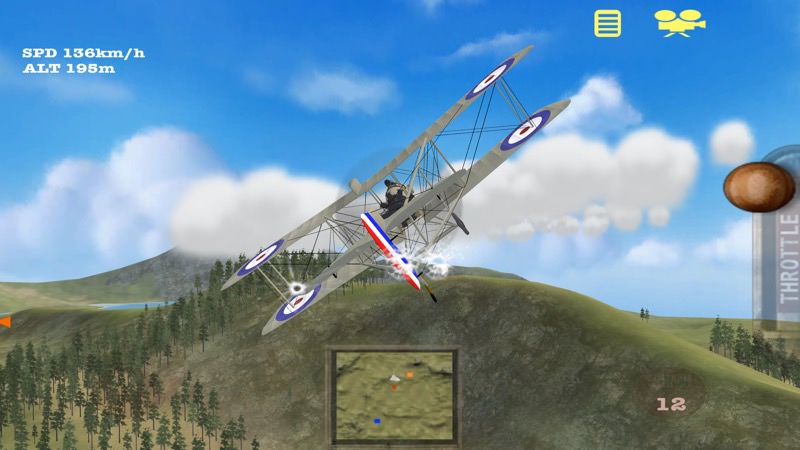 The interface is clear, even when things start getting busy. HUD information is limited to altitude and speed, plus multi-player chat options once you get going, a return to 'menu' control and a choice of in-cockpit or external cameras, all along the top of the screen.
Down the sides are chat messages from others and your throttle (all flying inputs are best done with the phone's accelerometer), while at the bottom are gun and bomb release triggers and a radar display. (Yes, yes, anachronistic, but let's not split hairs - it's downright essential for gameplay here.)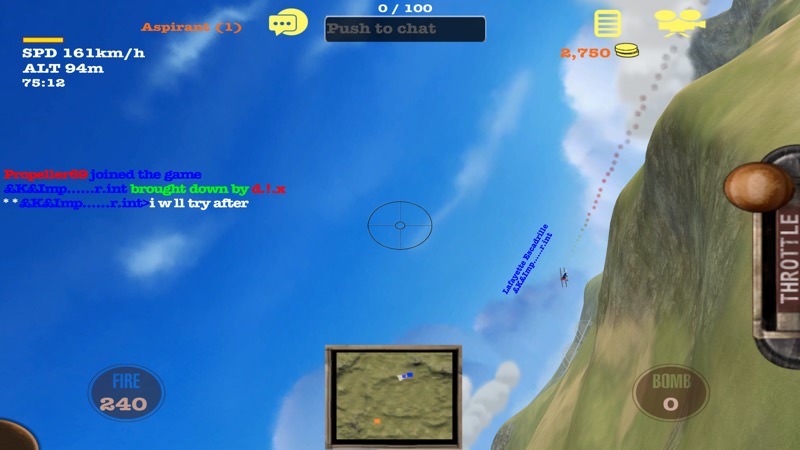 Chat text from others is colour coded and not too tricky to follow, plus (again colour coded) names appear above each plane in your field of view - to make sure you know either who you're up against or who's 'on your side'.
Dogfight Elite is powered by the Unity graphics engine, meaning that the 3D modelling and rendering, plus textures and (in this case) weather effects are first class. For example, in the screenshot below, I'm coming in to land in the pouring rain. Mind you, landing is much easier in these slow biplanes than in modern jet fighters, you basically just slow down a bit and gradually descend, then stop within a few feet!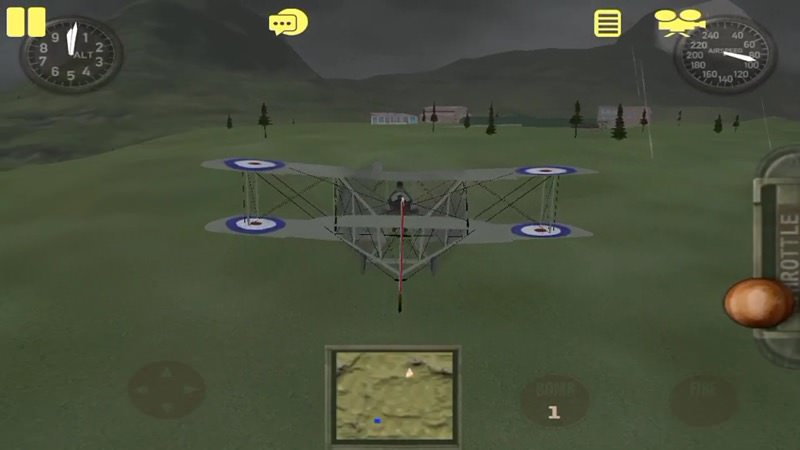 And so to multi-player action, online. The developer's servers have been online now for several years and the interaction mechanics between players is extremely smooth and responsive. Once in the air it's as if the other players are right next to you in terms of latency, rather than in Australia (or wherever). You can join squadrons if you like, or try to go it alone (I didn't get very far with the latter, so committed players will want to invest time in joining up with other friendly pilots).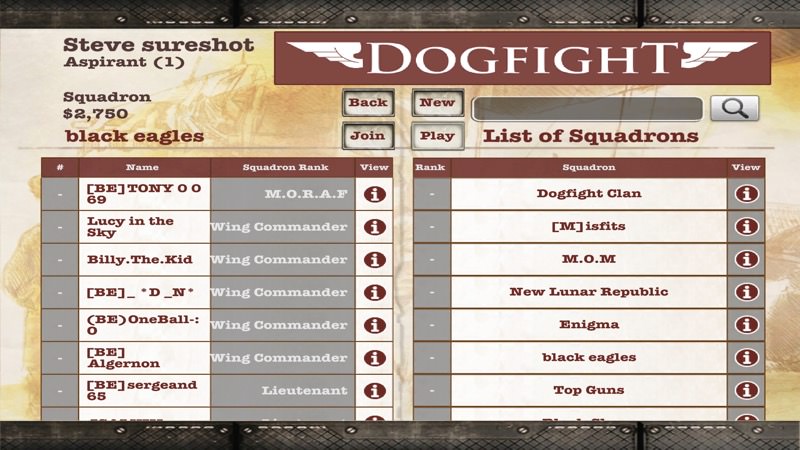 For the review, I opted for just 'random game' and always found a couple of dozen others in the 'lobby' to play with, so wait times were only a few seconds. Multiplayer online games often fall down when starting out because of lack of volume of players, but Dogfight Elite has been around in various forms on all platforms for a while now, so there's masses of action available.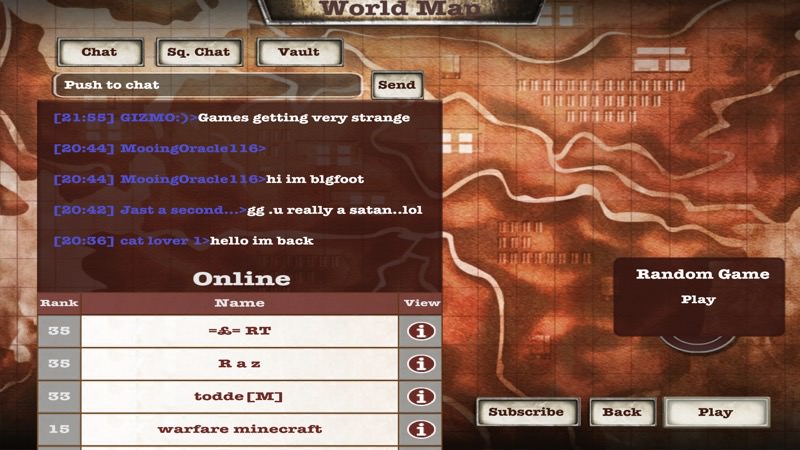 In terms of online combat, I was pretty quickly shown my place and in many cases was shot down seconds after leaving the flying strip - if you're serious about Dogfight Elite then you're going to (in addition to making friends, joining squadrons and picking missions, and so forth) want to invest in some extra purchases, to buy better (and WWII) planes, upgrade your weapons, even buy tanks for some ground action eventually.
Somewhat unfairly(!), you can use WWII equipment against other players with WWI hardware - maybe this was partly why I never lasted long during the review!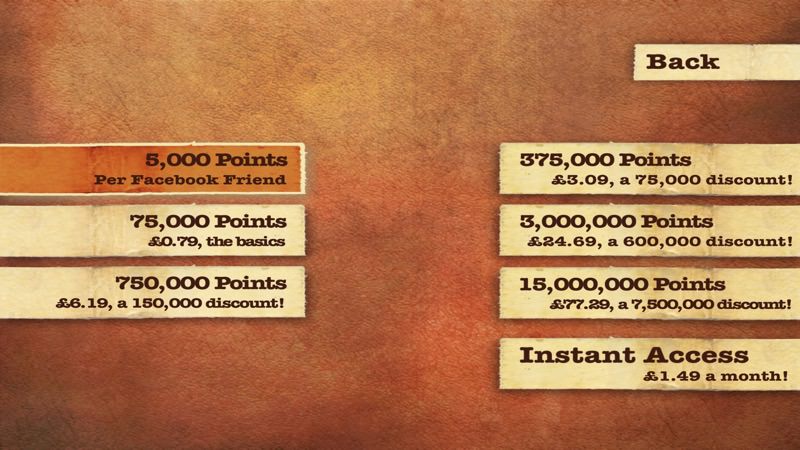 As usual with 'freemium' games (and I use the term advisedly here since you also have to buy the game initially), the use of in-app-purchases going up to silly levels (£78!!) really annoyed me - this is just greed by the developers going after people who are too stupid to read the text on-screen carefully. No one in their right mind would get close to buying at this level, however much of a fan they were of the game. Wouldn't it be better to have fans paying 'as they went'? And yes, on this subject, good to see a £1.50 a month access option, though you'd still need some points to actually buy and unlock specific planes and tanks.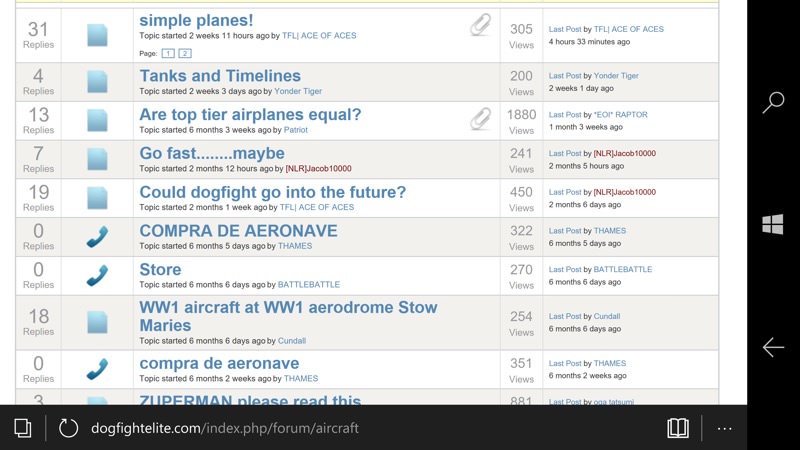 There's a direct link to the Dogfight Elite forums within the game, and this is a useful place to get help and to see what questions others are asking. And usefully the forum system can be auto-set to render in a number of font sizes, to match your eyes and phone screen capabilities. The level of activity wasn't tremendous here, I'm guessing that this UWP release of the game follows a good year or more from the iOS and Android versions, so a lot of the buzz has died down. I also noticed that the 'Watch replays' web link was showing gameplay videos from users from a year or more ago, so this bears out my theory.
Still, all useful to have available from within the game itself.
In addition to buying and driving tanks (which I never managed to get to), there's the option to get out of your craft and err... fight on foot. Here I am advancing on an enemy office, though I'm not sure what I can do with just a rifle. Still, an interesting twist and novelty and it could be fun if other online players were also on foot?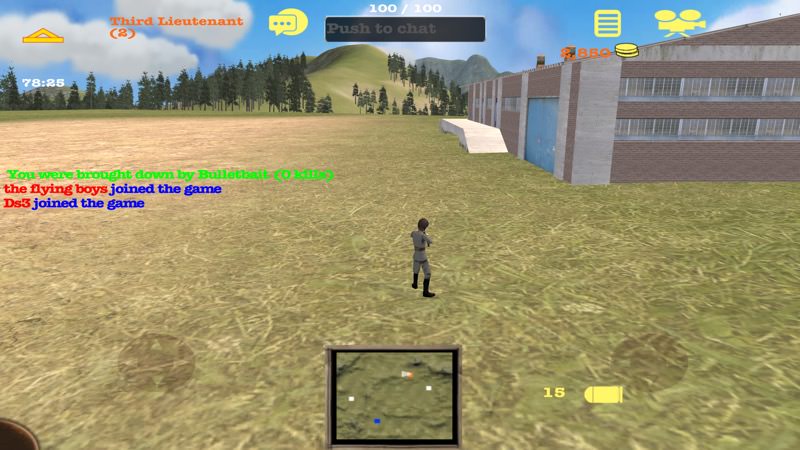 The missions are kept varied and, together with the constantly changing pools of online players from different squadrons, there's always something of interest, some challenge to meet. And if you get shot down, just 'retry' with a different mission in a different area of the online world and mayb you'll have better luck.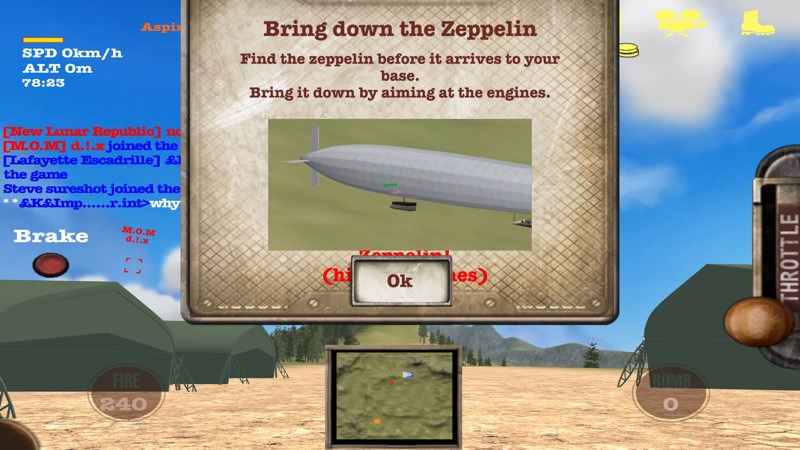 You can buy Dogfight Elite here in UWP form for Windows 10 for just under £4 and from then on it's a matter of amassing points or buying them in-game with further real world cash if you want to acquire more capable and more recent aerial (and ground-based) hardware. Dogfight Elite isn't small or cheap and you're definitely going to want to grab the 'free trial' to test it out on your phone first - but with enough free time and a little spare cash, this can develop into an amazingly challenging and surprisingly social MMO game.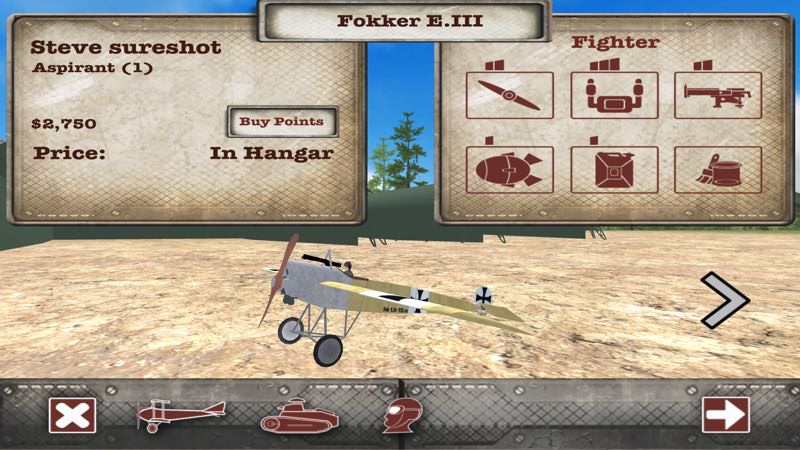 PS. This being a full UWP app/game, you won't be surprised to see that it works perfectly via Continuum, with the phone then used as a (touch plus accelerometer) game controller. Really neat and a whole new way of gaming perhaps?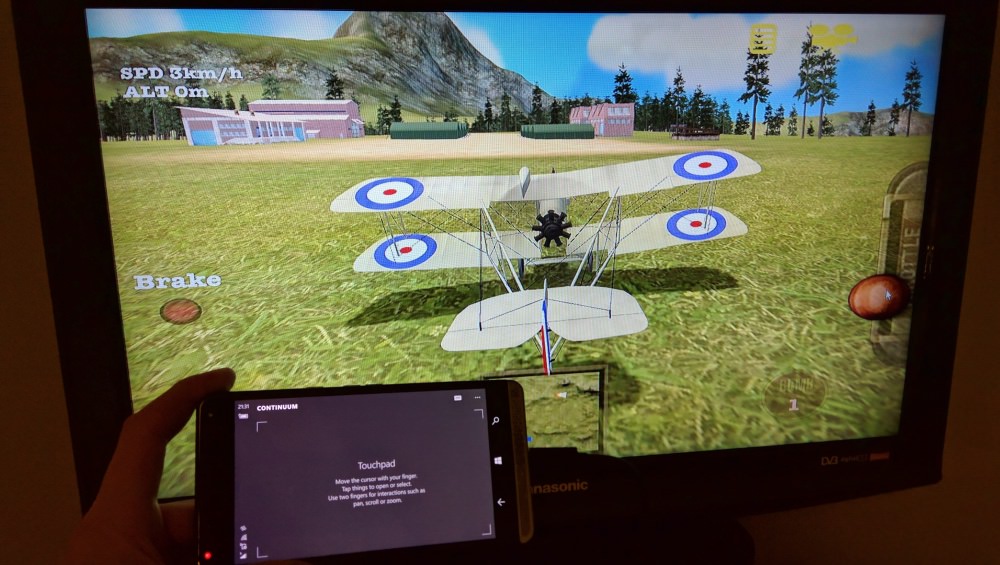 Reviewed by Steve Litchfield at