Review:
DOSBox
Score:
85%
'Why on earth would anyone want to run programs written for DOS on a phone in 2016?' I hear you ponder. And you'd be right, the whole idea is somewhat crazy, yet there might just be a classic game or a specific utility written for DOS (so we're talking about 1980-2000) that you'd still like to have on hand. In which case run, don't walk, to this supremely well implemented DOS-on-Intel x86 emulation, complete with support for audio, games controllers, plus mouse and keyboard. It's newly updated for Windows 10 Mobile and comes highly recommended.
Buy Link | Download / Information Link
It's true that a large chunk of the appeal here is reliving 'how computing looked when I was a youngster', but there just might be a niche use case for others here. Although DOSBox is styled for Windows Phone 8.1, this version now works fine under Windows 10 Mobile too, so should be universally applicable.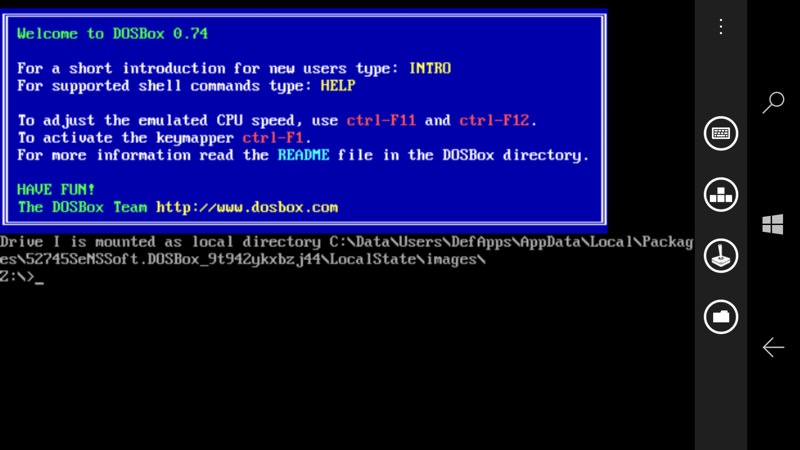 Yes, that is a DOS prompt you see before you. Helpfully, the archetypal C: 'drive' is mapped a to a local internal folder on your phone, but don't worry, you don't have to remember or mess with the path shown. I'll come to that in a moment.
Classic DOS commands work just fine, a couple are shown below. Casting my mind back to my earliest days with PCs, what I would have given for a real computer with 632k of free core RAM and 32MB each of expanded and extended memory! And yes, RAM management was a right pain back in the early days of DOS - it only started to improve when Windows appeared. I'm tempted to say that '95' was the real watershed, after which RAM was never really such a problem again...
Now, although you could, in theory, find your way to inserting files into the emulated C drive, it's 100 times easier to have any DOS applications in folders on your phone's microSD card. I realise that there are a few Windows Phones without card support, so comments welcome if you're facing that situation - I'm going to assume that you do have a microSD card inserted, as is possibly with the vast majority of modern Windows phones.
In my case I made a folder called 'DOS' on the card (though it could be called anything) and used the 'Open folder' control to point to this. This then resets the C: allocation to the chosen folder and you can then see all the DOS goodies that you may have put in there (via drag and drop from a connected Windows laptop or via downloading or via a card reader on a desktop, etc.)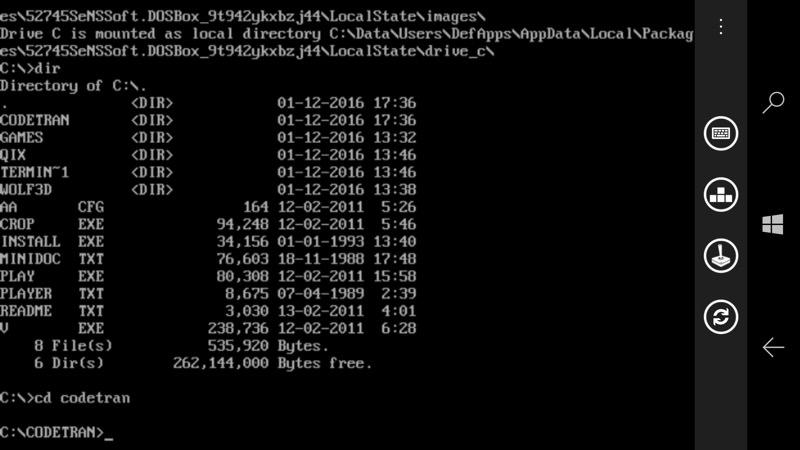 In my case I've put one of my favourite file manipulation applications, Codetran, into a named folder, and I can then run the utility just as I used to on a '286' PC back in 1990: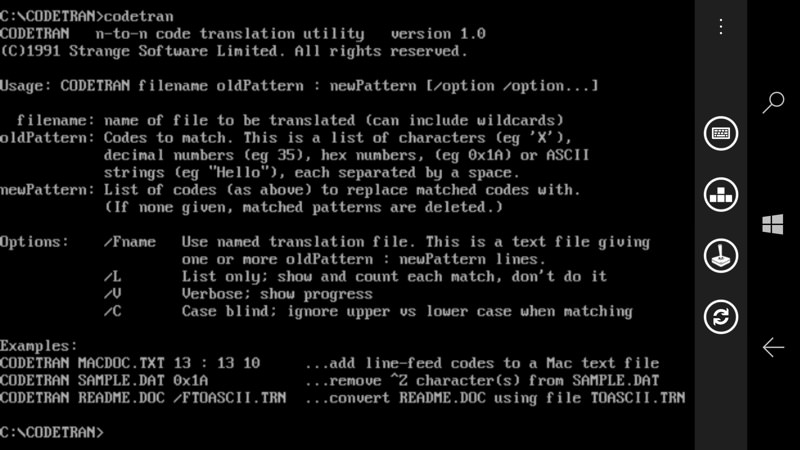 Putting document or indeed any other text or binary files in the same folder would allow me to manipulate them just as I used to (my favourite use was replacing line endings in 'delimited text' files with whatever the destination system or program wanted, along with treating the likes of 'tab' and 'pipe' characters).
Let's try something more ambitious, in this case a game. Anyone remember Qix? I stuck the QIX game files in a named folder, and here they all are, revealed through the delicious use of typing 'DIR'(!)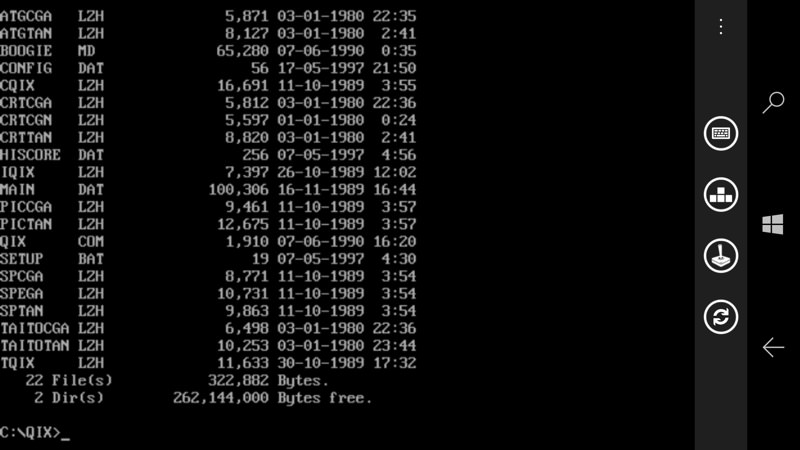 The keyboard for all these commands is popped up with the keyboard control, of course, but there are others, bringing up joystick controls (shown later), emulated arrow keys, emulated control keys and even emulated function keys. These can all be toggled up on screen as needed - as an example, I've put them all up in the screen below, though the visual clutter would normally preclude you from running DOSBox this way: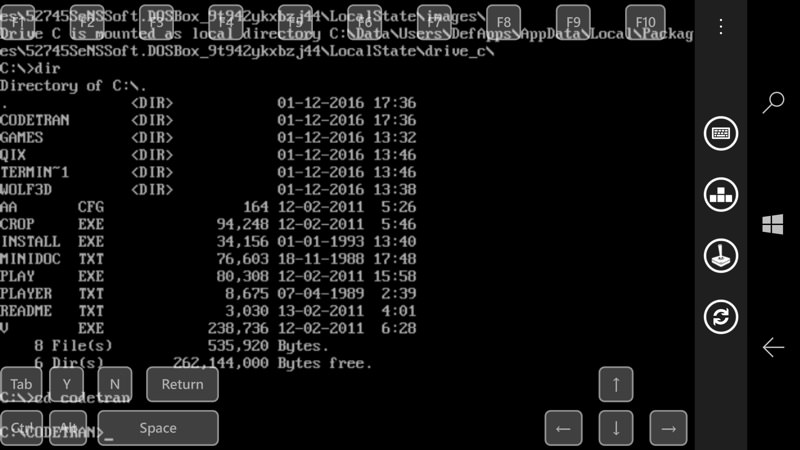 Type 'QIX' at the DOS prompt and we're away, into the game's splash screens: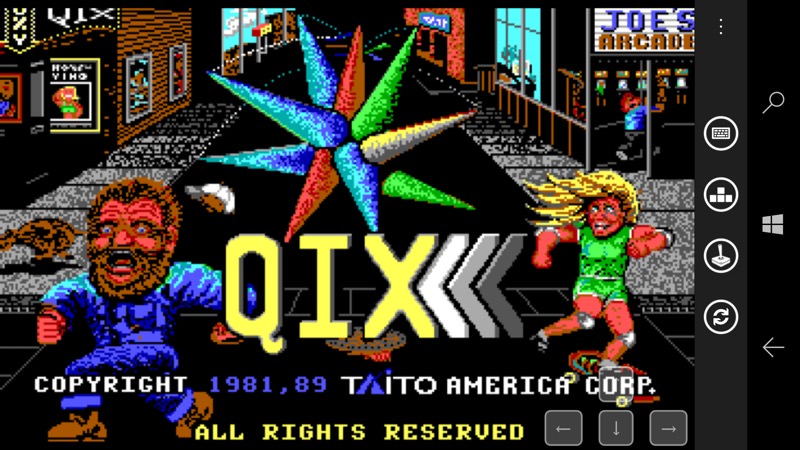 This was all on a HP Elite X3, which is fairly fast, though there are options in DOSBox to adjust the speed of the emulation as needed (usually to help a game be playable).
QIX proved to run about right, you're manipulating a little cursor around the edge of the playing field and trying to accumulate area and take it away from the moving light entity (or something like that!):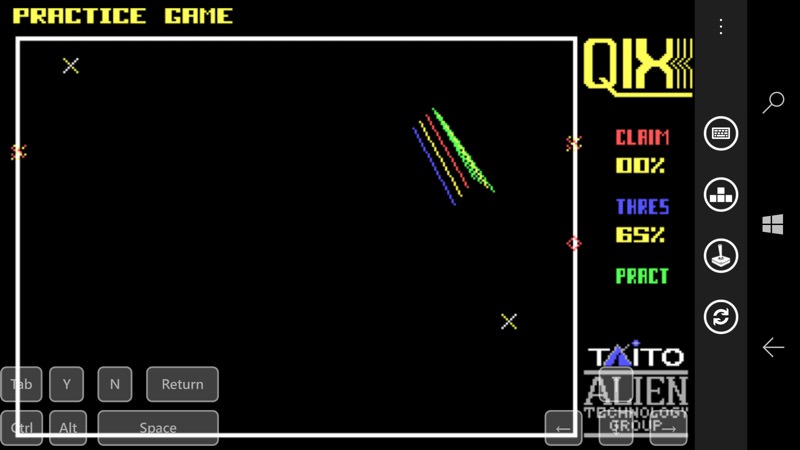 I tried DOSBox with a number of others games and had only a couple of glitches. Here's Terminator 2 - not as good as the movie of the same name (obviously), but looking rather more sophisticated than Qix. I've also popped up the optional emulated joystick - anyone else remember when joysticks were a 'thing'?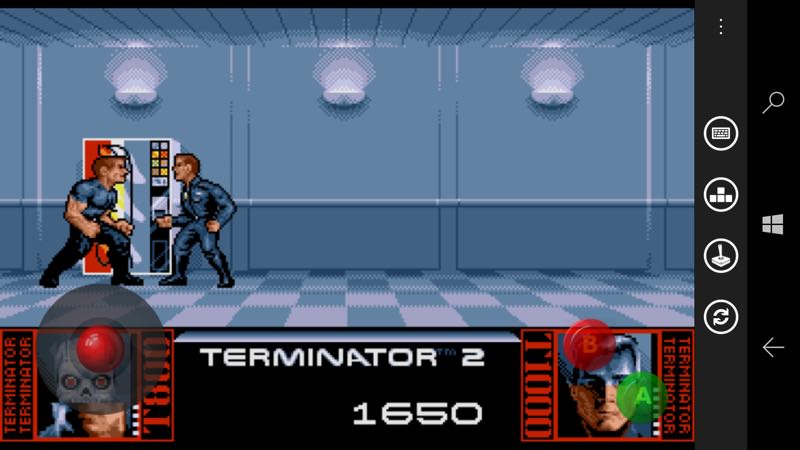 If you have time on your hands - and, let's face it, if you're thinking about messing around with DOSBox then you probably do(!) - then there are a mountain of settings to play with, even hooking up Bluetooth game controllers: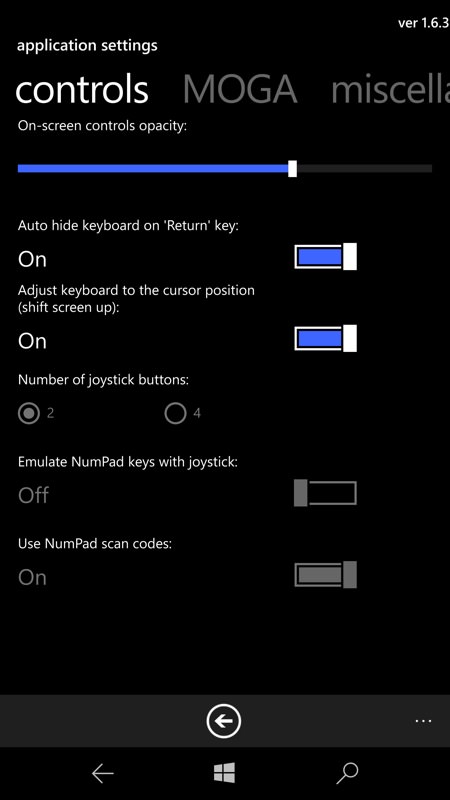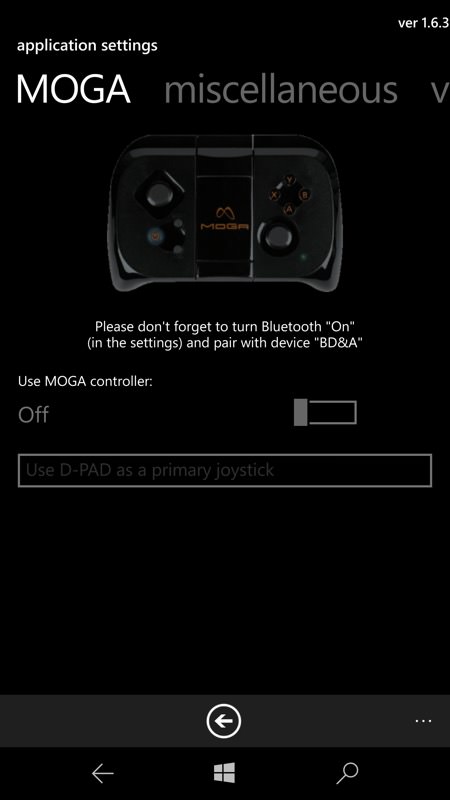 The built-in help facility basically involves linking out to the DOSBox project Wiki, which is absolutely fine and it's handled well in the Edge browser here.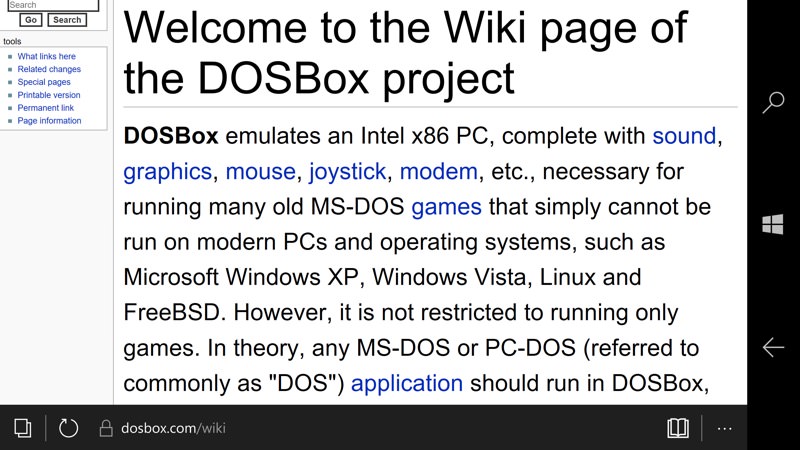 The only real issue I had with DOSBox was when installing a game that wanted me to 'Insert floppy disk 1'! I tried everything I could think of to kick this into using files in the main game folder, to no avail. But on the whole I was very impressed by this as a piece of code - DOSBox is beautifully implemented, by the developer of Cast to and other popular Windows Phone applications. Yes, it's a couple of quid to buy but it enables a whole new (if incredibly retro) lease of life for your Windows phone as the host of a virtual 286 or 386 PC.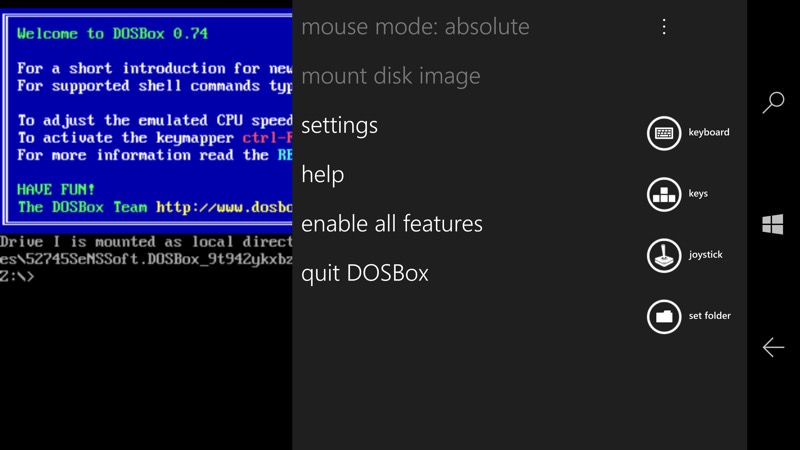 Let your imagination run riot! Well, if you're old enough to remember all this the first time round, anyway!

Reviewed by Steve Litchfield at