Review:
Rail Road Train Simulator 2016
Score:
80%
Last week saw my full review of Avion Flight Simulator 2015, which I was really impressed by, interstitial ads notwithstanding. Happily, for the follow-up simulator, Seven Summit Studios went down the commercial game route, with Rail Road Train Simulator 2016 costing just over £2 in the UK Store, but with the same idea of working your way through many steam engines and accomplishing various missions/tasks. It's not quite as awe inspiring as 'Avion', but as a steam fan anyway, there was still plenty here to find interesting.
Buy Link | Download / Information Link
From the Store description:
Rail Road Train Simulator ™ 2016 is the most detailed 3D mobile train simulator game. Allows you to switch / change tracks, includes 6 vintage steam locomotive engines, 6 detailed vintage old passenger wagons, compartments, carriages and bogies, well-crafted cities with buildings & railway stations, and scenic landscape. Players control anything from American Switcher steam locomotive to the mighty Mikado, 'Emperor of Japan' / Euro Bullet Train of the 20th Century, with realistic train simulation experience. It features an immersive set of 30+ missions, day & night cycles, trees, derail, functional signals, bridges, interactive rails tracks bringing the Steam Train Age to life.

Ever dreamed of driving trains? Now you can! Train Simulator 2016 brings to life some best and amazing extreme train challenges on real world routes and delivers the ultimate railway hobby.

Rail Road Train Simulator ™ 2016 features best 3D detailed vintage steam locomotives & wagons that you can couple with each other, drive and transport goods, cargo or freight or pilot control the passenger car train around the vast track world.

The game features steam, diesel traction trains, gamepad control of throttles, brakes and switches with Simple and Expert driving models for varying player skills. A variety of great scenarios are available for Standard and Career modes, as well as an exploratory style Free Roam mode. Quick Drive mode allows to pick a train (or to put together your own by snapping together cars), choose your route and set departure and destination stations, and decide on the time of day, the season and the weather. Cargos and passengers are animated, and weather changes dynamically with time,

Rail Road Train Simulator ™ 2016 features best realistic 3D train simulation experience - where the pilot driver is required to remain under speed limit or the train would derail and crash - for all the steam locomotives. It contains 6 distinct steam loco class engine train that you can pilot driver, 6 wagons to switch – both passenger & freight that can mix and match, several realistic detailed railway stations & track / rail changing. The game is localised in several different languages.
Most of that is fair enough, though 'real world routes and delivers the ultimate railway hobby' and 'vast track world' and hyperbole pure and simple. 'A decent train driving sim on a smartphone screen' is a better summary!
Unlike with flight sims, there's more of an element of potential boredom with steam trains, as driving at a typical 25mph takes ages to get anywhere. At least in real time, which is why Rail Road Train Simulator 2016 takes two steps. First, the virtual (Unity graphics-drawn) world is more compact than line layouts in the real world, so stations are only a few miles apart. Secondly, the clock is sped-up, so you're often running at well over 60x real time (it varies depending on what you're doing) - making the train journeys faster and more exciting. Yes, it's all a tiny bit unrealistic, but it's also a lot more fun - and this is a game at the end of the day.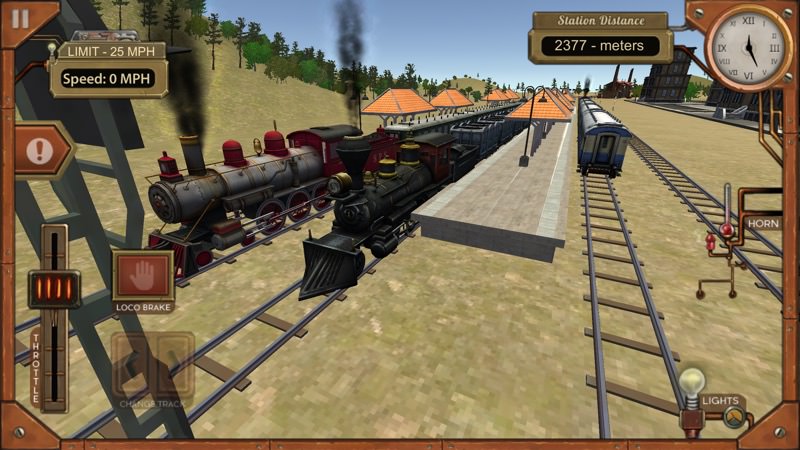 As with Avion, the idea is to take the fun and interesting parts of driving a steam train and to reduce or downplay everything else - and it almost works. I say 'almost' because while you can pan the virtual camera around your trains, there's not yet an in-cab view, complete with interactive controls - that's the point where a rail road simulator starts to become immersive, as to 'just a game'. Apparently an in-cab view is in the works and should appear as an update later in 2017.
As with Avion, you work your way through about 40 missions/challenges, though a number of these, for each engine, are designated as 'free roam', meaning that you can treat the layout and rolling stock as a plaything and simply enjoy the driving process.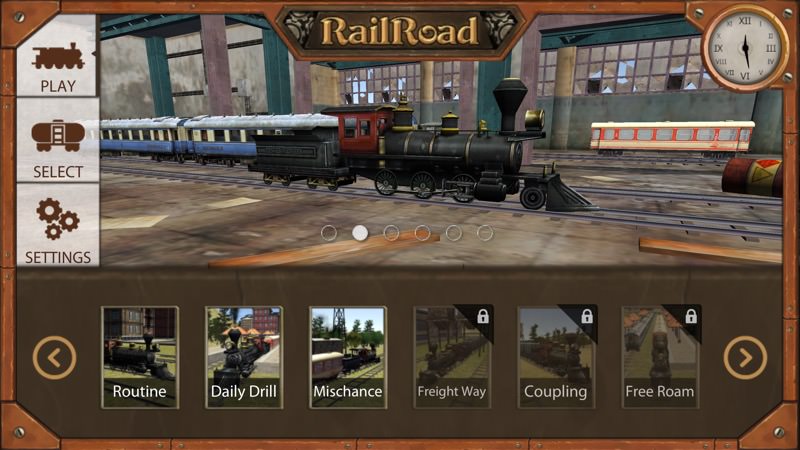 The interface (again, as with Avion) is superbly laid out, with (going counter-clockwise from the top left, below): speed indicator, next instruction or mission brief, throttle (forwards and backwards!), brake, track points switcher, night lights, horn, clock and distance to next station.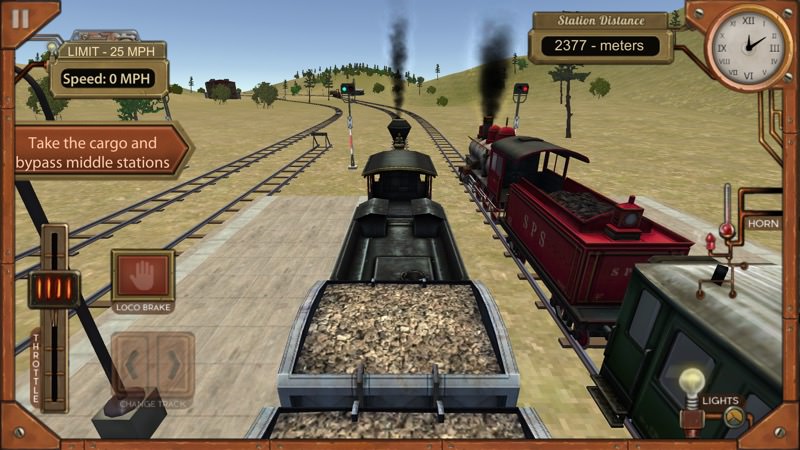 The game revolves, for each mission, around juggling the throttle, points and brake in order to navigate around the layout, obeying signals, observing track speed limits, avoiding other trains, and so on. Most missions aren't that challenging if you concentrate (certainly easier than in Avion) but remember that part of the fun of playing a steam train simulator is doing just that - you play for the experience!
The game is all steadfastedly from the point of view of above and behind the cab (at least, until the update), though there's a temporary camera pan gesture that you can play with (and which I've made liberal use of here) - this gives a few seconds of a panning camera around your engine in real time and is fun to admire when chugging along a piece of track where no action is needed for a while. The gesture is slightly awkwards in that it only works one way and then you have to long press at the end of it - there's a knack!
(There's also a toggle-able cam view from further behind the train, but this is next to useless for actual driving - save this for admiring some of the prettier carriages later on in the game?)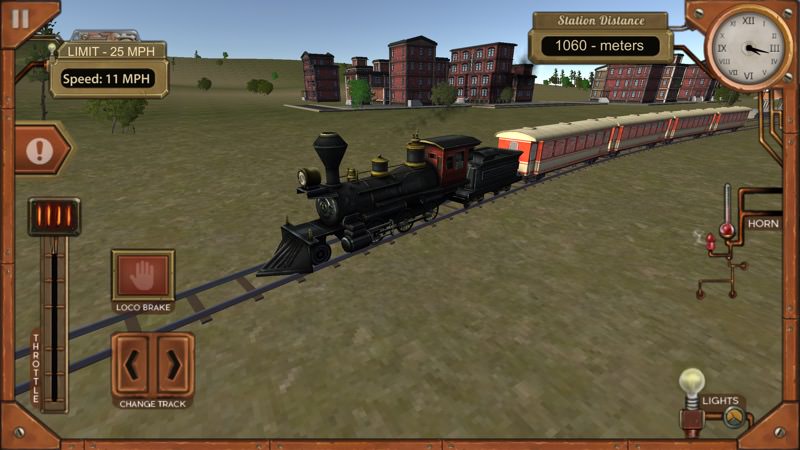 The night lights aren't very bright and you have to operate them manually (hey, this is a old steam train, what do you expect?!), but they're better than nothing when driving at night.
The lighting, visual effects and so on, are all tied into the 'real time' clock, so occasionally you'll be driving towards the setting sun and then it'll gradually get dark - the power of the popular Unity graphics game engine!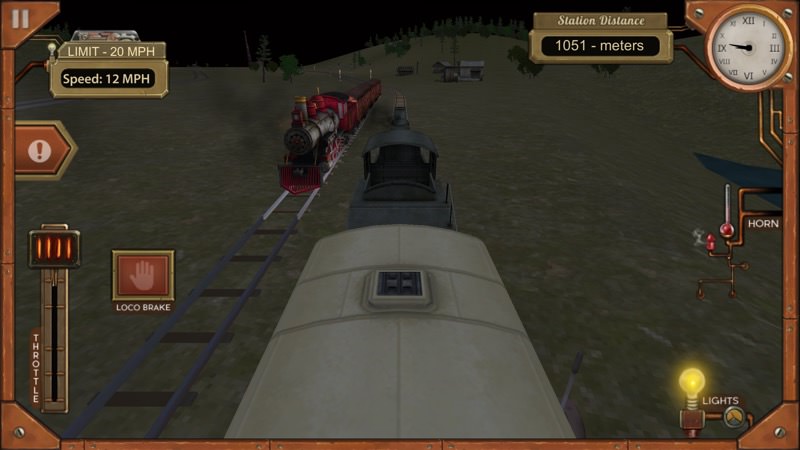 I was testing Rail Road Train Simulator 2016 on the HP Elite X3, so about as high end as you can get in the Windows Phone/Windows 10 Mobile world, though there are visual settings to try scaling down and turning off if you have a lesser device and see some drop in frame rate: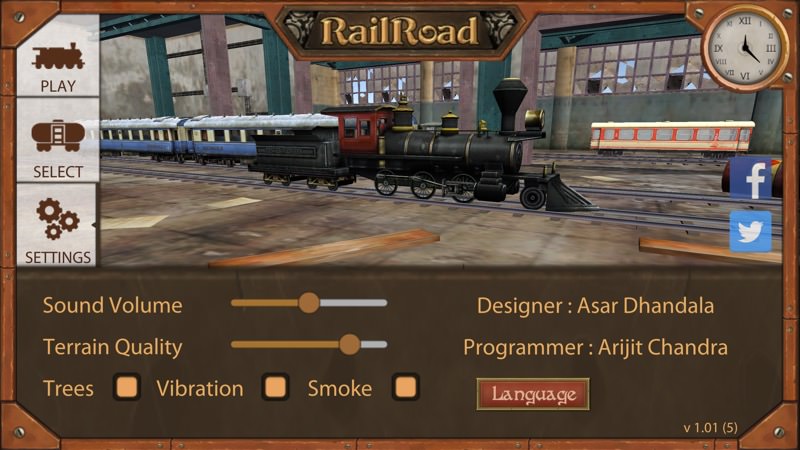 As you play through the various 'free roam' sections, you can choose the engine and type of carriage/truck - these get unlocked as you play through, though I found that it's best to take the defaults all the time until you've more or less played through the entire game. I estimate this would take about 2 hours start to finish if you play non-stop, which doesn't sound like much, but in reality you'll play this in short chunks as you wish and will enjoy dipping back to play through 'just a couple of levels', perhaps in a tea break. And then there's the 'play time' aspect, driving freely with no specific goals.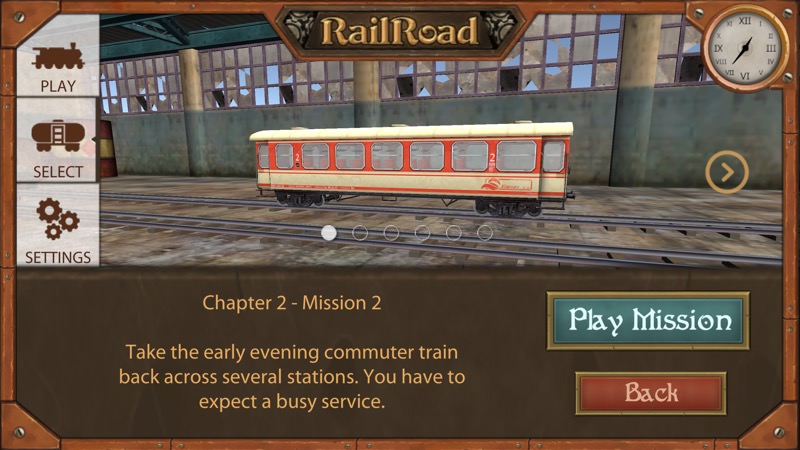 This is clearly Summit Studio's first cut at a train simulator and, for a v1 product, it's really well done. The lack of a 'cab cam' is the glaring omission and, when the game gets updated, it will be worth playing through all over again from the true first person perspective. The modest £2 or so purchase price (and no ads) is something of a no-brainer for anyone with a love of trains.
Recommended.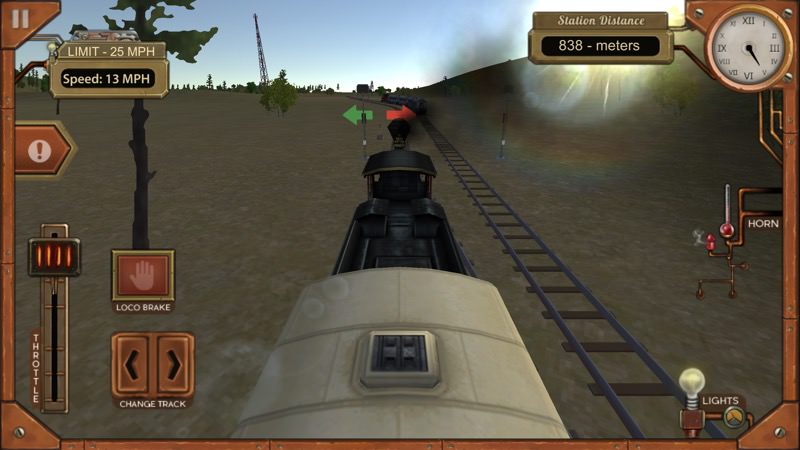 Reviewed by Steve Litchfield at