Review:
Torrex UWP
Score:
90%
Another of the star UWP applications for Windows 10, i.e. for phone, desktop, XBox and more, Torrex has in fact never been covered on AAWP, partly because of the associations with (ahem) dodgy illegal/pirated downloads. But torrent technology is being used to deliver all sorts of large downloads, many of which are 100% legal, so I feel justified in highlighting the application here. It's stunningly and lovingly coded - if you have any awareness of the world of torrents and have a Windows 10 Mobile smartphone then grab this with both hands.
Buy Link | Download / Information Link
From the Store description:
Fully universal application (UWP).
Background mode support. (Pro version only)
Ability to play media files immediately after the start of downloading (streaming).
Built-in viewer for music, video, images and text files.
Plays MKV formatted video files. (Pro version only)
Configurable content view (tiles, table, tree) and various color themes.
Download priority management, filters.
Possibility to stop seeding upon completing a download.
Possibility to restrict downloads to non-mobile connections only.
Possibility to change the download destination.
Connection encryption.
Download speed control.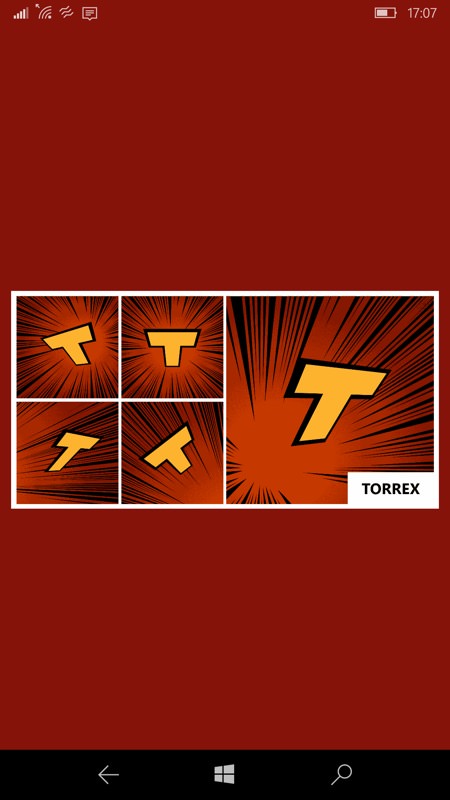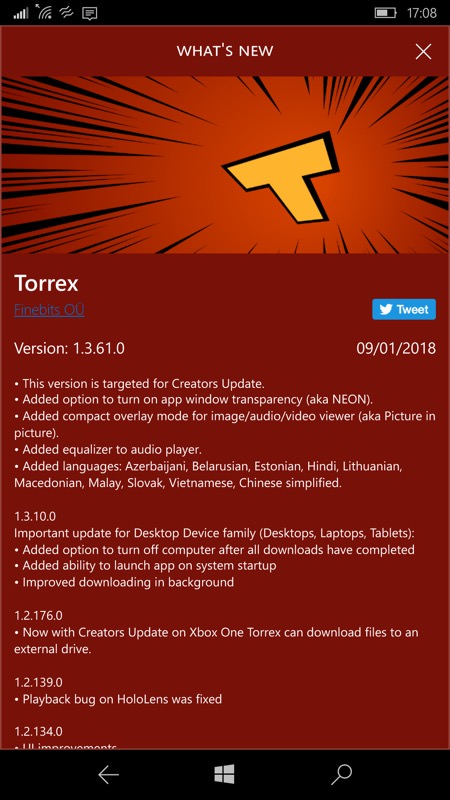 The screens here show a pretty full walk-through of Torrex UWP, here in its 'free' version, evidenced by the banner ads and occasional locked down feature. There's a real sense of whimsy laid on top of the application (go read the Store description, for example) and I liked both the super-hero styling, theme support, and the full changelog available on first launch of each version. Every 't' crossed, every 'i' dotted, etc.
The Torrex UI is as close as you can get to the Windows 10 UWP 'standard', with hamburger menu providing navigation around the app and view, sharing, sorting, and bandwidth controls along the bottom. You can set the maximum rates for both download and upload (if you're not sure why 'upload' is there then you don't understand how 'torrents' work!):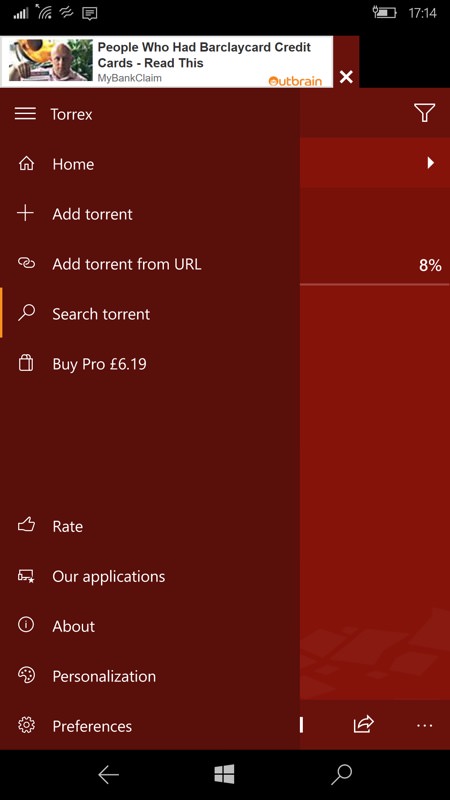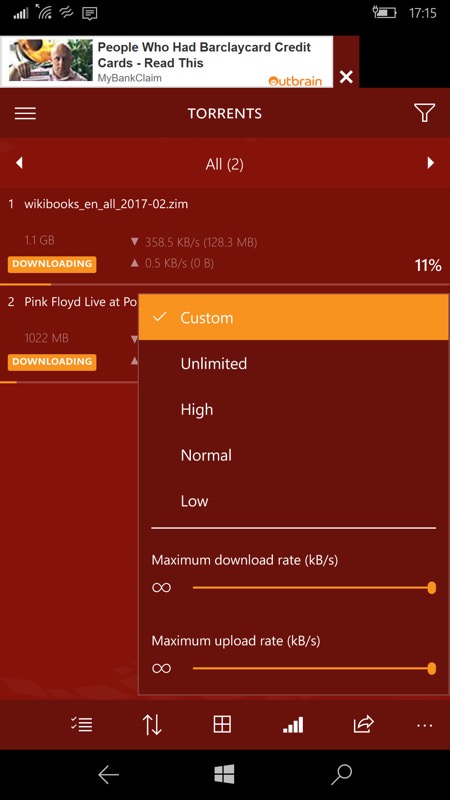 Torrents, as you'd expect, are either searched for from the built-in browser instance or can have their URLs pasted in or, as I found just as easy, to be opened from previously downloaded torrent configuration files (below, right). Once 'Add'ed to your Torrex torrents list, each torrent then starts downloading from other users around the Internet (and, in time, uploading chunks to others), with detailed bandwidth stats and progress bars available to keep you informed.
By default, active downloads get suspended when you switch away from Torrex UWP, which is expected behaviour for a connection-heavy application running under Windows 10 Mobile and you get a little 'toast' confirmation, as shown below, left.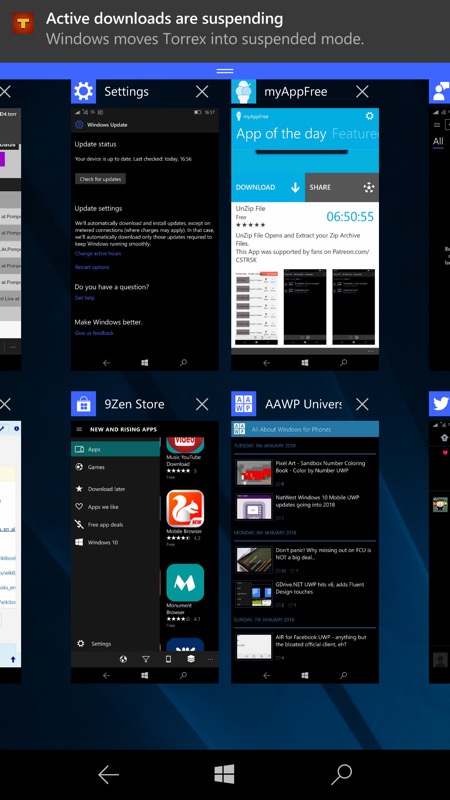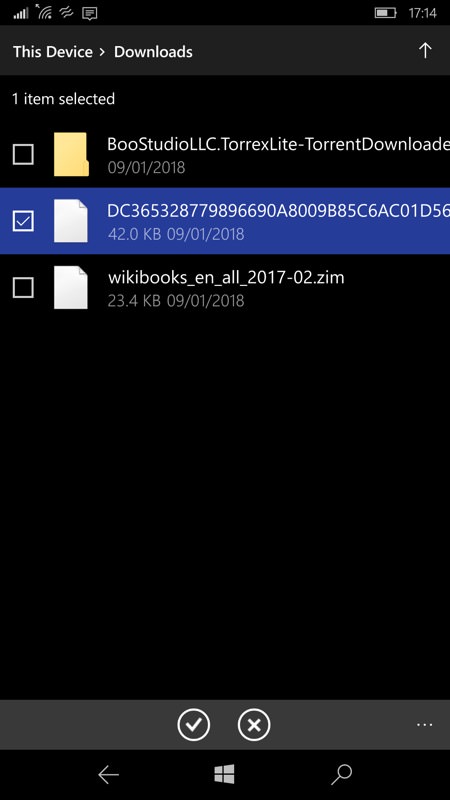 Having said that, one of the options in Preferences is to 'Continue downloading in background when possible' - it's off by default and I presume the idea is that the deliberately limited background capability under Windows 10 Mobile is used to some extent and then, after a while, transfers do finally suspend. Don't worry too much about all this though, since the resumption of both downloads and uploads is utterly reliable whenever you're back in the main application and its UI.
Some of the fiddlier preferences are locked for users of the free version (e.g. below left), but this is absolutely fair enough and in fact I was surprised just how much of Torrex's functionality was available without paying. Including using all the personalisations, see the themes and backgrounds, below, right: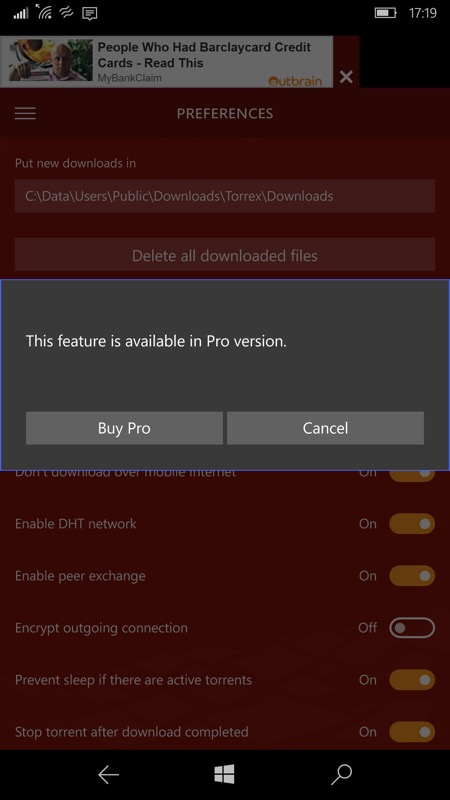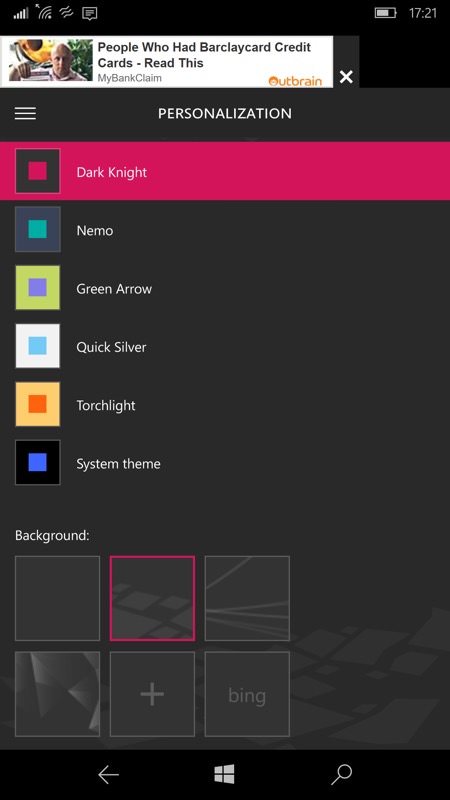 The combination of themes and backgrounds add huge variety to how Torrex looks, but you can go further by turning on (and even adjusting the strength of) background transparency (as in 'Fluent Design') - the effect is trivial when there are only a couple of torrents in action, but if you have a page worth then the effect is dramatic and beautiful.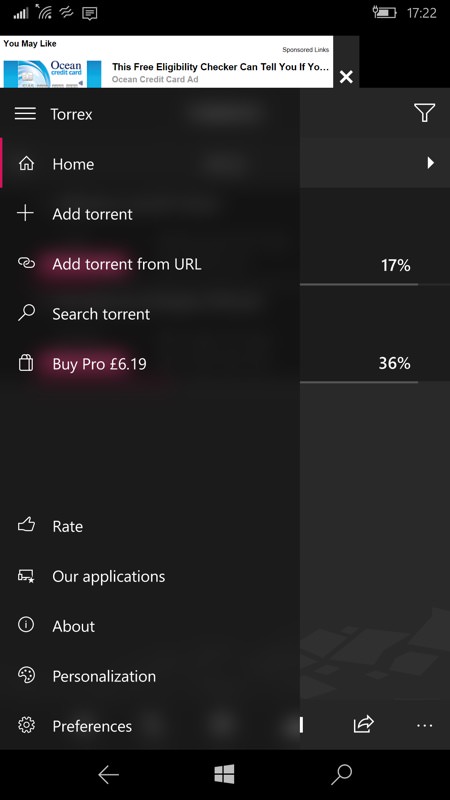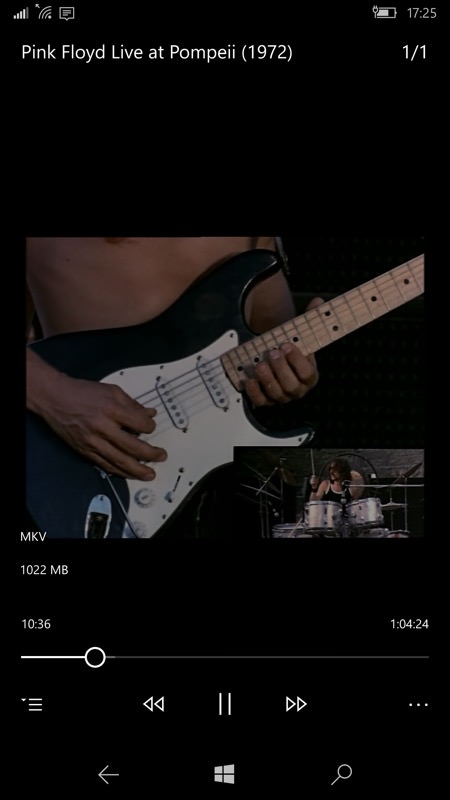 Built into Torrex is a media player, the point of which is that you don't have to wait until your chosen media torrent has completed in order to listen/watch it. In the example above, right, I'm watching part of a music video when it's only 50% complete. This is a useful facility to check that you are in fact downloading the right file(s).
The free version of Torrex has a few limitations in its preferences, or you can pay £6 or so for the 'Pro' version with every option available. In addition, there are on-screen and occasional ads in the free version, with an in-app-purchase of £3 or so in the UK Store to remove these. At the very least, you'll want to avail yourself of these if you use the app more than a couple of times.
Torrex impressed me greatly. Even though I can think of very few uses for it in my own workflow/daily life, it's simply stunningly done from start to finish. No crashes, no rough edges, every setting under the sun, every personalisation option. Kudos to the developers, and I'll certainly be checking out their other titles (of which 8 Zip is one).
Reviewed by Steve Litchfield at