Review:
BlitzWolf PF-2 - ultimate in-pocket power?
Score:
90%
You may remember that I reviewed the nifty BlitzWolf PF-1 last year? Ultra-compact build, Type C-equipped, but with a foot planted firmly in the past with regards to fast charging standards. Jump forward to 2018 and AAWP (exclusively) has access to its successor, the more current (pun intended!) and more capable PF-2, which is shaping up to my ultimate pocket power bank. There's only one catch...
Buy Link | Download / Information Link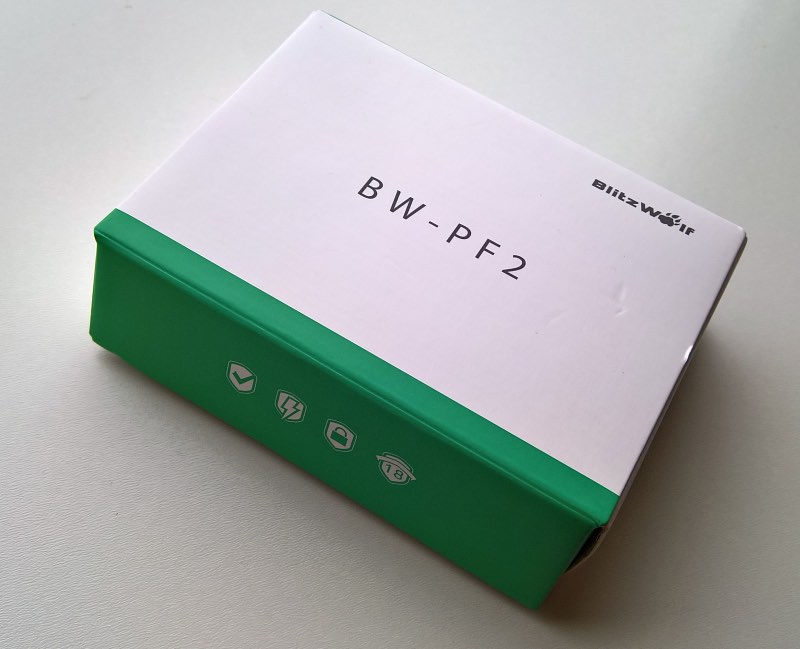 BlitzWolf isn't a big brand at the moment, but it's doing its best to become noticed and accessories like this, reviewed by high profile sites like AAWP, should do the trick nicely. Compared to the earlier PF-1, this has higher capacity (10000mAh, instead of 6700mAh), plus Quick Charge 3.0 compatibility on both its USB-A and Type C ports, for input (i.e. charging the power bank) and output. Plus it comes with a new and nifty dual purpose Type C cable, of which more later.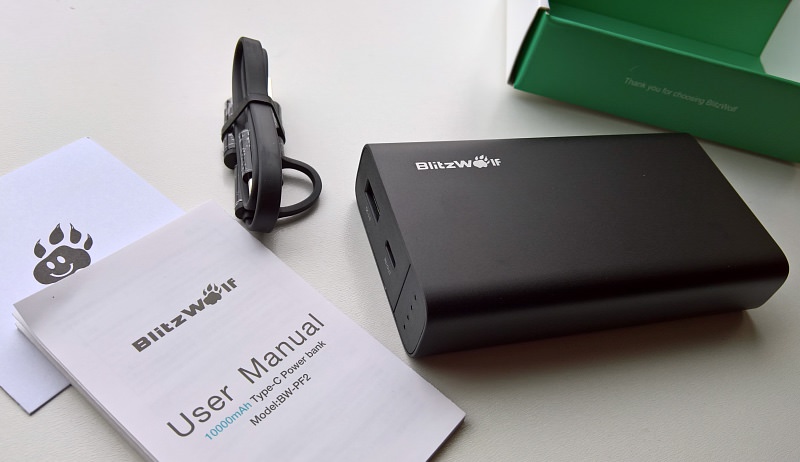 As before, the build is super-solid, with smoth matt metal chassis and plastic end caps, one with the 'business end' and one with all the specs and regulatory logos. The specs are worth reading because of the Quick Charge voltages mentioned above: 9V/2A for input, i.e. 18W, meaning that this power bank can be filled in not much more than two hours if needed; and 9V/2A for output via the USB-A port, also 18W - or 15W, 5V/3A via the Type C port. Although the higher Quick Charge voltages (e.g. 12V) aren't represented here, this gives an excellent showing for such a small accessory, I think.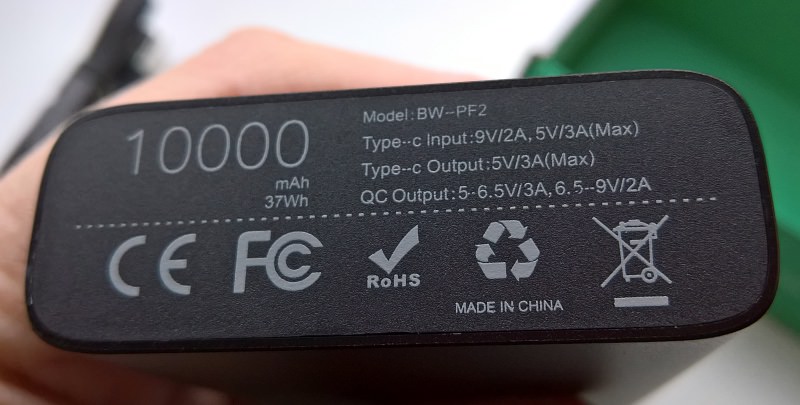 The ports aren't uncommon, physically, in 2018, of course, but there's no pretence at microUSB anymore, even via an add-on adapter or cable. Since this is AAWP, it doesn't make much difference which of these ports you charge (e.g.) a Lumia 950 from, since both can provide 3A at 5V, so go with whatever cable you have to hand and whichever is most convenient. Users of the Elite x3 and Alcatel IDOL 4S/4 Pro phones will probably want to go for the USB-A port and use the full Quick Charge 3.0 charging speed.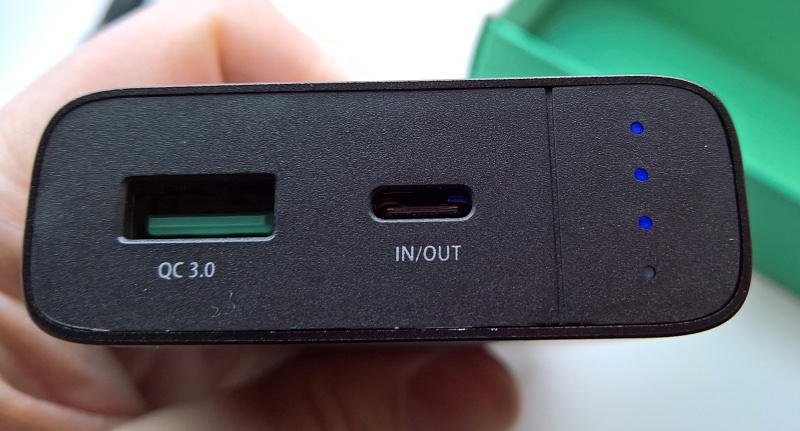 The LED indicators on the right are mounted on a pressable surface, which activates the charging state report, marked in 25% sectors, as usual, but there's a slight twist here in that when the PF-2 is connected up and charging a device (you actually see a flicker initially as the hardware works out which voltage and current to use), the top LED turns green. It's a nice touch that I haven't seen before. Or at least have never noticed!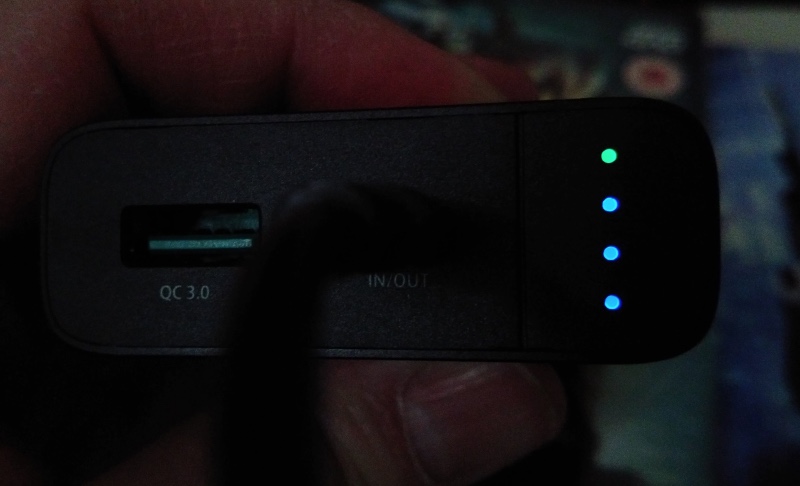 The cable supplied with the BlitzWolf PF-2 is interesting in that it's Type C to Type C with an adapter to convert one end into a USB-A jack. Nicely done. So you can use the cable to charge the PF-2 from either a Type C mains adapter or a USB-A port and you simply use the cable the other way round and with or without the adapter, if you see what I mean.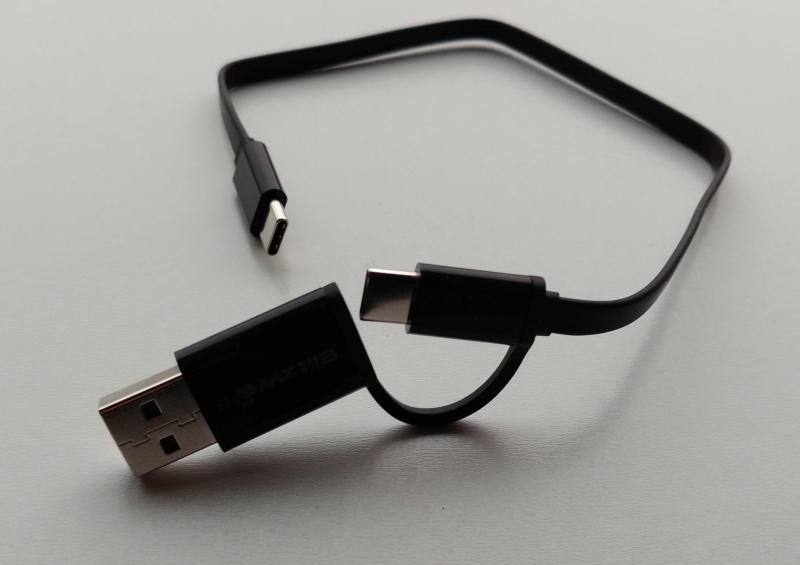 Plenty of options. And anyone with an older phone with microUSB input (or a family member with an iPhone, with its non-standard Lightning port) will simply have to bring along their own charging cable. Hah - serve them for living in the past!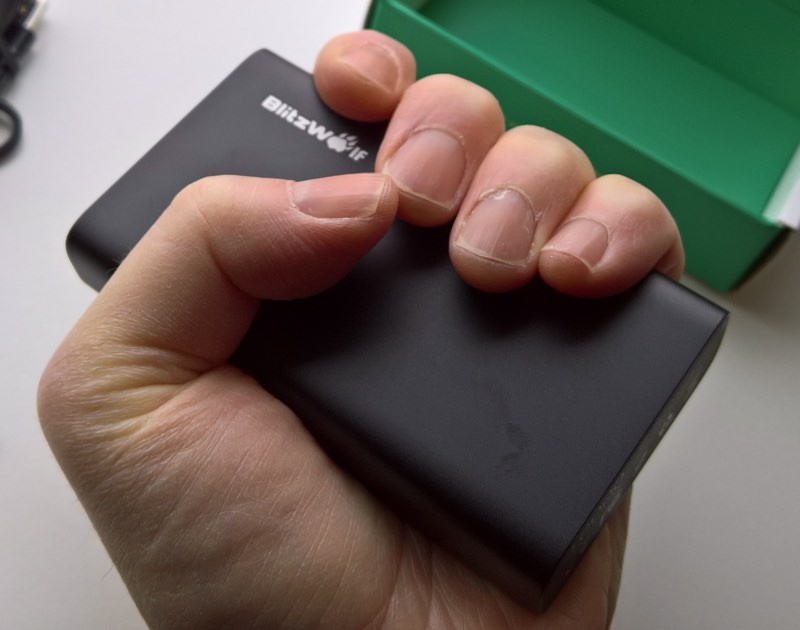 In the hand, the PF-2 is top notch, as compact as is practical for 10000mAh of capacity. It's a genuine figure too - some power banks somehow don't live up to their numeric billing, but this has proved its worth at full capacity several times this week. The PF-2 is perhaps the sweet spot in every way, size, capacity (around two to three phone charges) and price (typical price around £17 plus any shipping charge). And I have no hesitation in recommending it as a result.
There's only one catch with the BlitzWolf PF-2.
It's that actually buying it isn't easy - yet. As I write this, mid-January 2018, you have to go through the Banggood store and even there it's shown as 'out of stock' and 'can't ship', etc. Oh well. I'll update this review as and when BlitzWolf sort out a wider distribution (e.g. Amazon). In the meantime, I've hopefully whetted your accessory appetite!
Reviewed by Steve Litchfield at