Review:
Blitzwolf BW-AS1
Score:
83%
Veering definitely towards form over value is the cosmetically stunning Blitzwolf BW-AS1 20W stereo Bluetooth speaker, styled in machined aluminium to fit right in with Apple Macbooks, Microsoft Surface Pros, and so on. At £60 or so, it's not cheap, but it's in for review, works well, and will appeal to many from a stylistic point of view, I suspect, price being no object...
The comparison here is to what I previously described as the 'Rolls Royce' of Bluetooth speakers, the AUKEY SK-S1, which I still have and use almost daily. They're similar size, but the Blitzwolf BW-AS1 claims an extra 2W per channel (so 20W total for both included drivers) and an extra 1200mAh battery capacity (taking it up to 5200mAh), is around 100g heavier (at 760g) what with the aforementioned machined aluminium casing (the SK-S1 was partly faux-metal plastic).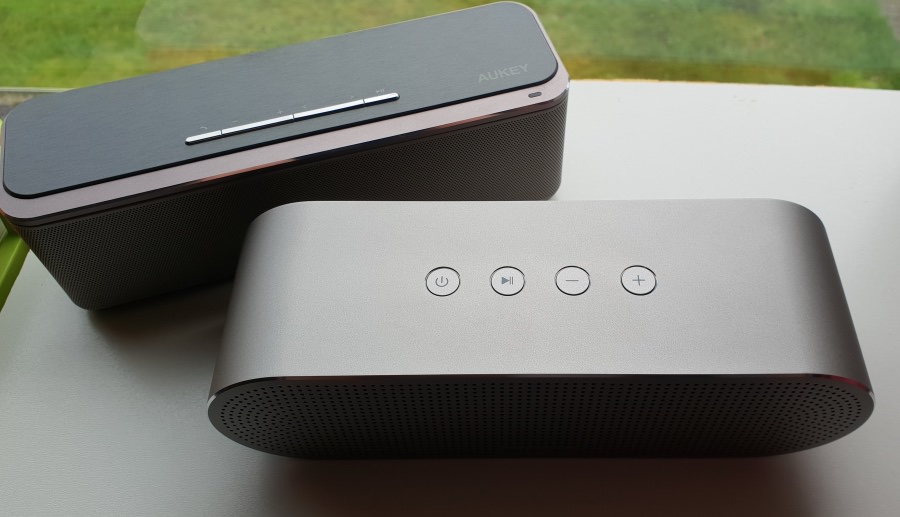 In short, this is quite a gadget to hook your Windows 10 smartphone up to. Unlike the SK-S1, the buttons are multi-function, in that you have to long press the volume up and down buttons to get next-track and previous-track functionality, which is a bit confusing at first - I much prefer having these functions on separate buttons.
What really matters is audio performance, of course and, in use, the two speakers sound identical, both with serious internal technology to pump out a surprising bass and general fidelity. Having been atuned to smartphone speakers, to my ears I'd have liked to hear a bit more of a crisp top end, but that might just be me. 20W isn't that much audio power, of course, you can't use this for the dance room at your next party - but you can use it for high quality background music and for general use around the house at more modest volumes.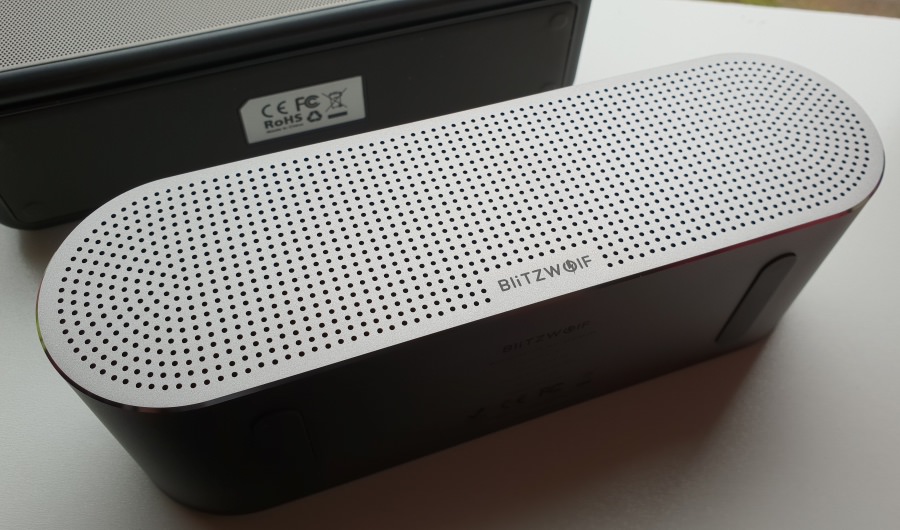 Given that this, the BW-AS1, is twice the price of the identically sized and identically performing (to all intents and purposes) AUKEY SK-S1, it's clear that you're paying for the materials and styling here. It's not all metal - the buttons are faux-metal, as is the louvred back panel, but the latter is needed to let the Bluetooth signals in, of course. But the BW-AS1 looks and feels a million dollars generally.
Twin rubber pads on the bottom ensure that there won't be vibrations through into whatever you put the speaker down on and that it won't slide around. On the back panel are just two ports, for microUSB charging (at 1.5A, so 4 hours to charge up), and for 3.5mm 'Aux' input, should you have a phone or other gadget which doesn't output by Bluetooth - or if you just want maximum audio quality, of course, without the Bluetooth audio compression.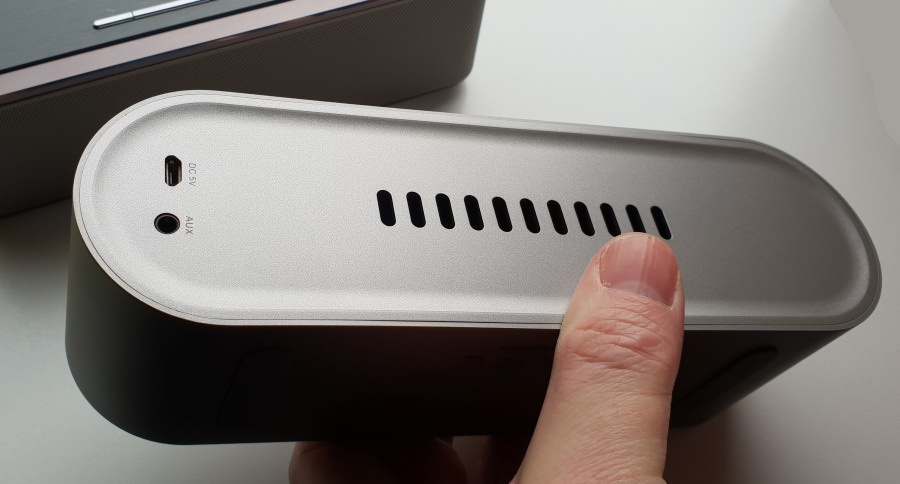 This sounds a bit trivial, but you're paying here for a certain style. If you want the same sound and similar styling but partly in plastic then the AUKEY SK-S1 is the one to go for, at half the price. But if you want something that will look the part next to a (e.g.) Surface Pro then the Blitzwolf BW-AS1 is the one with no compromises.
Extra links: This started out on Kickstarter, here's the information page. And here's the BW-AS1's manufacturer home page.
Reviewed by Steve Litchfield at