Review:
dodocool DA150 multi-source portable speaker
Score:
83%
As is traditional, I save this sort of accessory review for Friday. Bluetooth speakers are very common and commoditised by now, of course, but I chose this one to review because it has a single unique selling point. It has a carrying handle. Don't laugh - it makes a huge difference and is immediately likeable - every other speaker has to be held in a vice-like grip or cradled somehow. The DA150 here can be hooked around a finger while you carry other things, to the beach, to the garden, whatever. Read on...
Buy Link | Download / Information Link
I can't emphasise enough that I get offered a Bluetooth speaker for review every single week through the year and only the very, very best make it to acceptance and then review. The DA150 isn't perfect, but it's so much fun to use - and so flexible as a music player. But I'll come to that in a moment.
(All my smartphone testing with this 'dodocool' accessory was with a Windows 10 Mobile handset, the Alcatel IDOL 4 Pro, by the way.)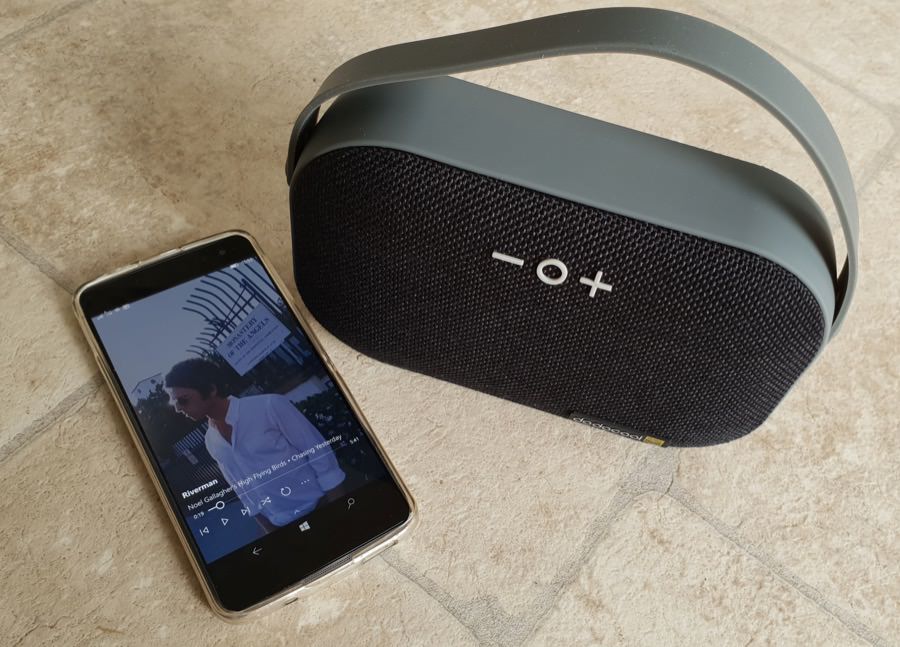 Essentially this is a twin-coned speaker with decent bass reflex and tough cloth weave over front and back. It looks and feels great and the DA150 feels very solid in the hand. It's probably all plastic under the hood, but the materials are very well chosen. The outer edges are all rubberised for extra grip and there's one of those 'stick to anything' grippy pads on the bottom, ensuring that it doesn't slide off smooth surfaces when playing music.
Plus it has a handle! This clips on and is replaceable, should it ever break or wear out. It seems to be made of neoprene or similar and is smooth on the top and pitted underneath, for maximum grip again.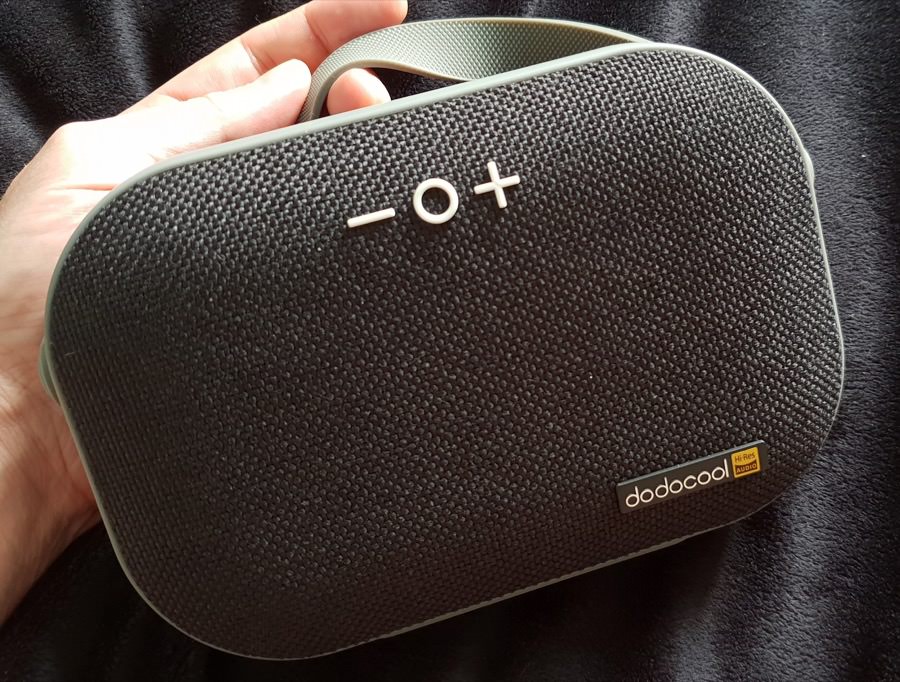 The main reason why dodocool has gone all 'cloth' here and not worried about waterproofing is that the back panel has so many ports, it would be tough to make them all water-tight. So you get maximum flexibility but zero waterproofing. Nothing's directly exposed in a dangerous way, but I'd try not to let this get caught in anything more than a light shower of rain. Still, it's so inexpensive (£25) that a water catastrophe wouldn't hurt too much. Different from when you have a £100 speaker!
The back ports are, clockwise from top left:
USB Type A (e.g. for a memory stick/flash drive, but also for any other mountable storage)
Aux/3.5mm input, though no cable is provided - you'll have to raid your drawers for your own!
Power on/off. When turned on, it automatically connects to or starts playing from the last source.
microUSB (charging only, and yes, a cable is provided)
microSD/TransFlash card slot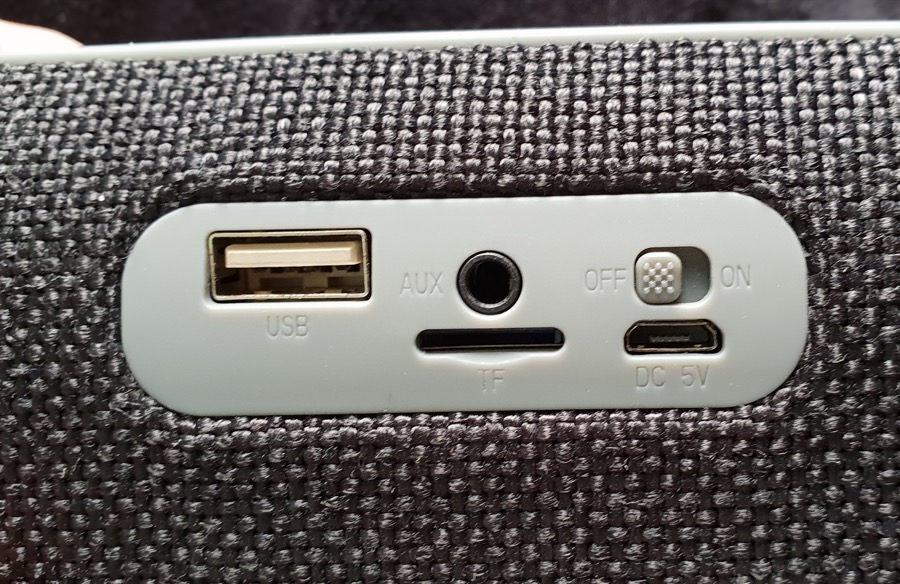 In other words, you can play music from your phone over Bluetooth, via whatever's driving a 3.5mm lead, or from memory card storage, though note that the latter options just play the tracks on your storage in order - there's no control other than to skip forward and back (using the + and - controls).
Staying with Bluetooth, in this case from a Windows 10 Mobile phone, volume control is multiplexed across the phone's media volume out and the speaker's own volume setting. In other words, for maximum volume, both have to be right up - one does not control the other. This is an important distinction, but you get used to it quickly. You also have to get used to volume up and down being a long press on the + and - keys, with the single press skipping tracks. As you might expect, the centre circle multi-function button pauses and plays, plus it answers voice calls if one should come in (there's a microphone included).
In use, the DA150 is really quite loud, with decent bass and treble, though not outstanding in either. This isn't the loudest and highest fidelity portable speaker you can buy (I'm tempted to plump for the AUKEY SK-S1 here), but for the price it's outstanding and... did I mention it HAS A HANDLE?
No boring cuboid, this is rounded all over, has material to love, a superb handle to make this even more manageable, it's a hit with me. The promo material shows the dodocool DA150 playing music at a beach party and, while this is a great use case, it also works well in the garden in the summer. Or at least until the neighbours tell you to turn things down!!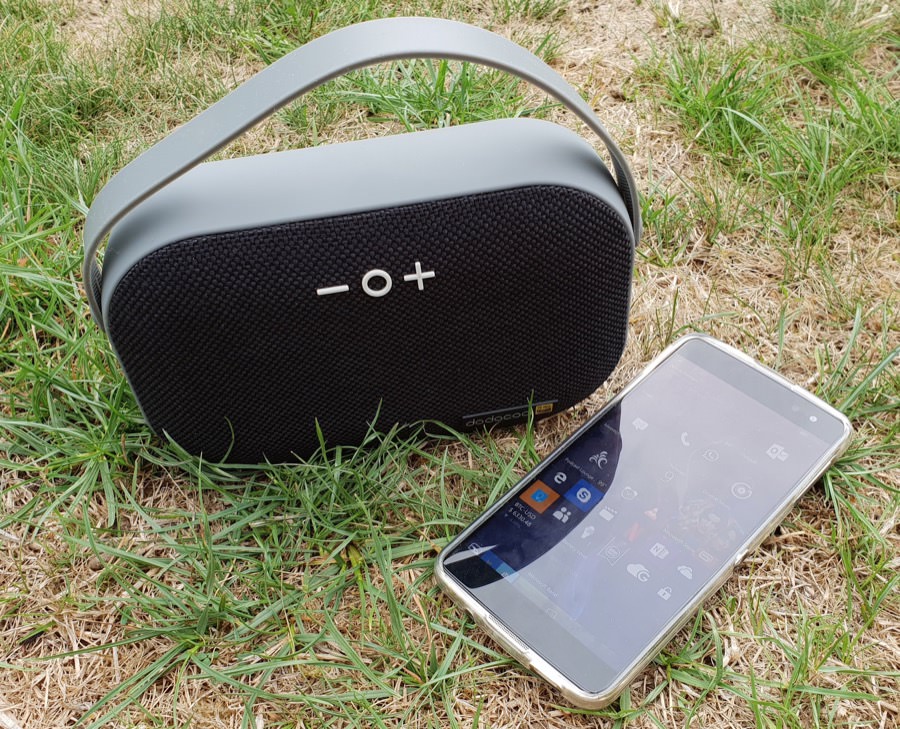 Reviewed by Steve Litchfield at