Review:
Blitzwolf BW-TH3 Type C 4-way USB hub
Score:
80%
Although this can apply to Windows 10 phones as well, it's less likely than for the Surface Go, which is more likely to need to hook up with USB accessories. Either way, this is an ultra lightweight, cheap way to expand a single USB Type C jack to four USB-A jacks. It only weighs 35g, costs just over £8 (including shipping), and is a no-brainer to pick up if you have a Go. Or indeed a recent Macbook or you just like having adapters and dongles in your kit bag!
Buy Link | Download / Information Link
You may remember that I reviewed Choetech's bigger 6-in-1 Multiport adapter recently? That's the bees knees and includes SD card slot and Ethernet, but it does cost £40 and, if all you wanted to do was plug in a few USB-A accessories, the 6-in-1 is overkill.
Enter a true budget hub, a fifth the price and half the weight, this time from Blitzwolf. No frills, just a Type C plug to connect into your Surface Go (or recent Macbook) and enough circuitry to act as a USB hub for four USB-A jacks and whatever you care to plug in: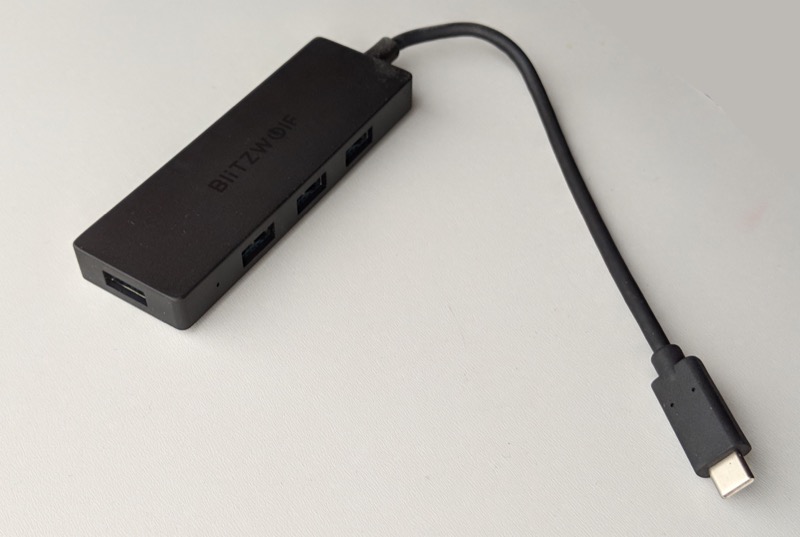 Considering that this is a tiny mini-computer in its own right, able to act as a USB hub and mastermind the various connections and protocols, the £8 price is all the more astounding.
Yes, it's incredibly light, at 35g, but then Blitzwolf is pitching it as a hub you can 'pocket' and always have with you: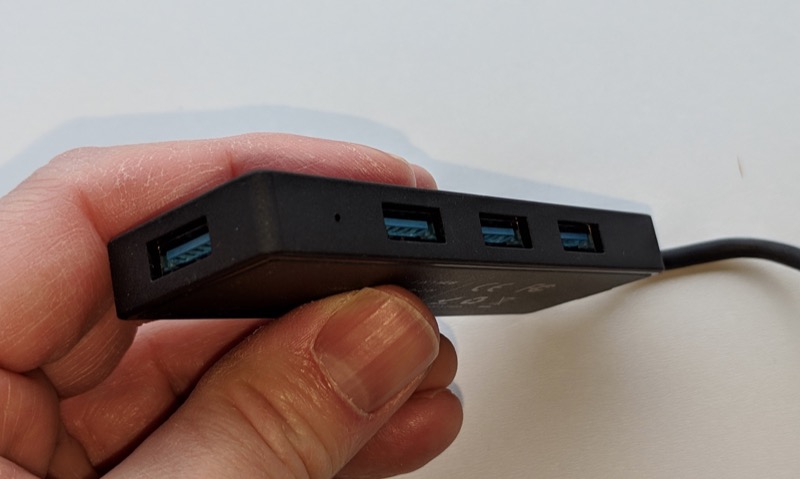 Blitzwolf doesn't include a manual, but does give the advice to plug in the hub first and then accessories later, i.e. your Surface Go (or phone or Macbook or whatever) recognises the hub and enumerates its ports and capabilities, then you plug in the USB-A stuff and all is well. This is necessary advice the first time round, but I found that after that I could get away with just plugging in the hub with gadgets attached. Your mileage may vary here!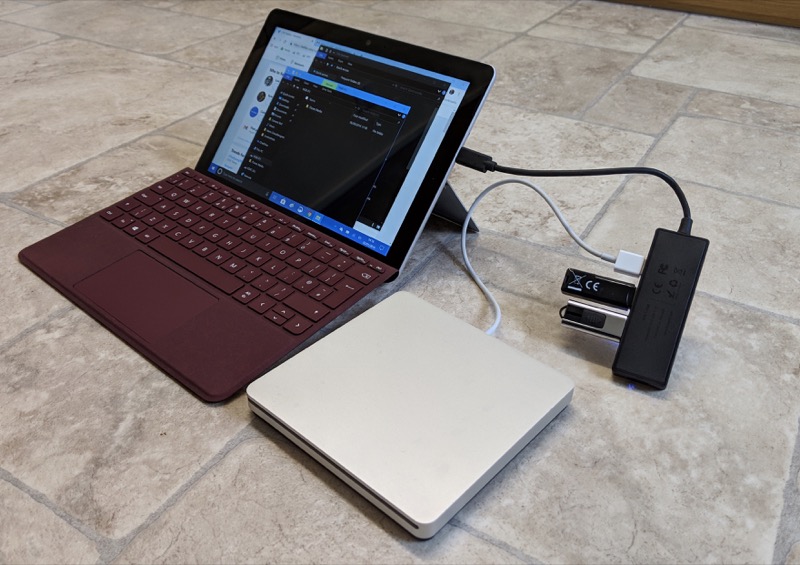 The photo here should give you a good idea of what's going on. As someone who originally criticised the Surface Go for only having Type C and who then came around to the idea because of the convenience of Type C charging, I now have at least three different ways of plugging in USB-A accessories, none of them terribly weighty or costly.
This is a steal at £8, though I can't find a local stockist in the UK, so you might have to wait a week or two while it gets shipped (for free) from China!
Reviewed by Steve Litchfield at