Review:
Adventures in Bluetooth part 5: SoundPEATS Q30 Plus
Score:
78%
My quest to find some decent value Bluetooth headphones which actually deliver good audio continues. I rejected Samsung's new Galaxy buds after five minutes, but these lasted a full day. Ultimately, they fell short, but there's lots to say along the way in the full review, tested with both Windows 10 Mobile and Android.
Buy Link | Download / Information Link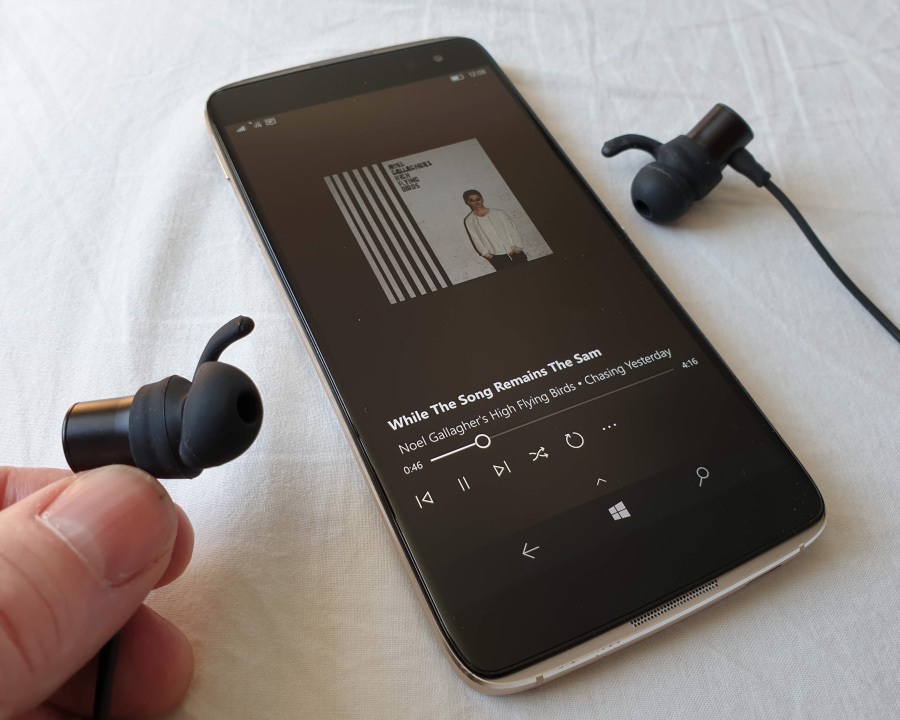 Now, although all Lumias and the IDOL 4 Pro shown above have a 3.5mm audio jack (and the IDOL 4 Pro also has an insanely good DAC), there's still the convenience with Bluetooth of not having a wire snaking down under your clothing and into your pocket, etc. And with the industry starting to phase out the jack now, my quest has been on to find an accessory with:
High audio quality, by which I mean gentle but firm bass (e.g. bass guitar), low frequencies handled solidly (so bass drums, etc,), plus the highest frequencies crisp and clear (hi-hats, vocals)
Earbuds that are joined (so no risk of one falling out or getting lost), plus a cable would also enable...
...a control pod, so play/pause/call pickup, volume up and down, next track, previous track, and so on.
In-ear seals - I can't stand outer ear options, where you hear everything from the outside world and they hear the tsk-tsk-tsk of my beats.
Not too expensive (less than £50, ideally)
Having already tried and appreciated the Tribit XFree Color, these came recommended and are, on first glance, similar: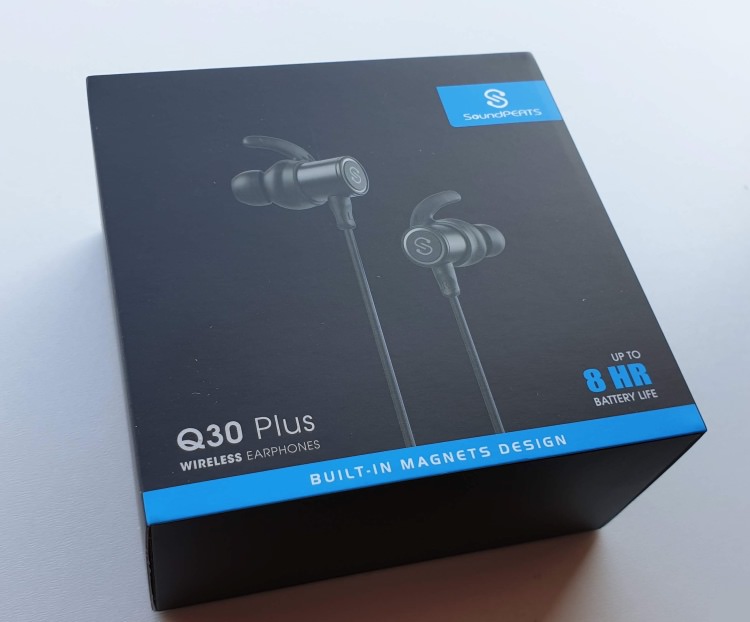 The main differences from the Tribit headset are the support for AptX, a slightly longer battery life, and that the control bud has more prominent buttons that don't require fingernail pinching to operate. Of which more below. The acid test is audio quality, of course, and I'll come to that last (to keep you reading!)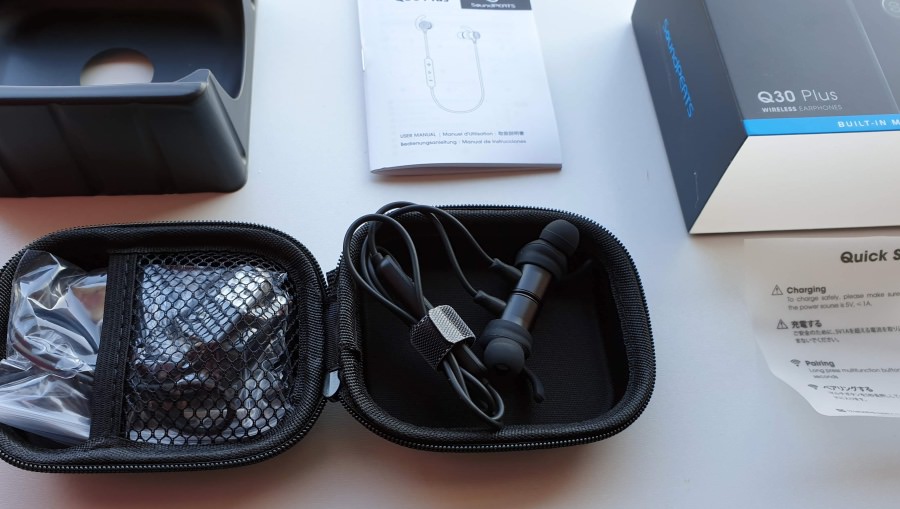 The Q30 Plus is well packaged, with a sturdy zipped carry case, plus four sizes of silicone buds, three sizes of outer ear 'fins', two clips, one camping style clip, and a microUSB charging cable.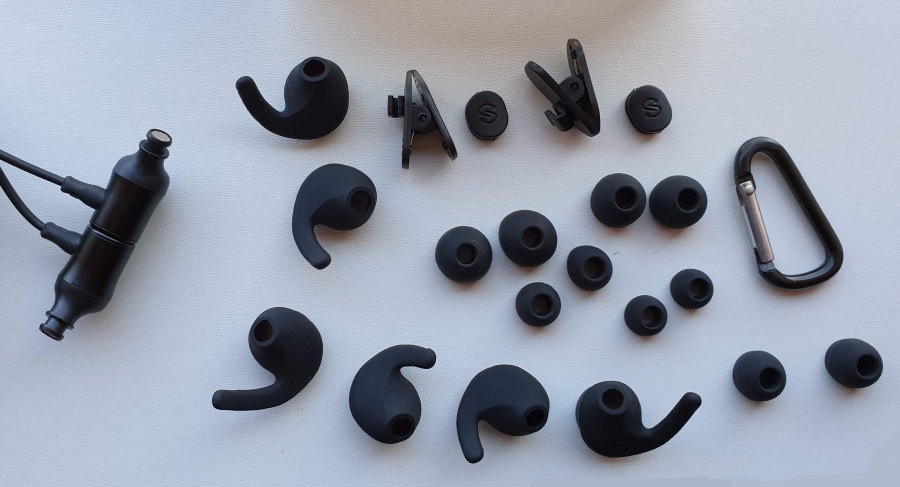 It's a little bewildering, but great to have so much choice. After some experimentation I found the bud size for me and it was then down to whether I used the fin or not. Below, I show one with and one without - as a rule it would be fins if you planned to exercise with these, to keep them in your ear: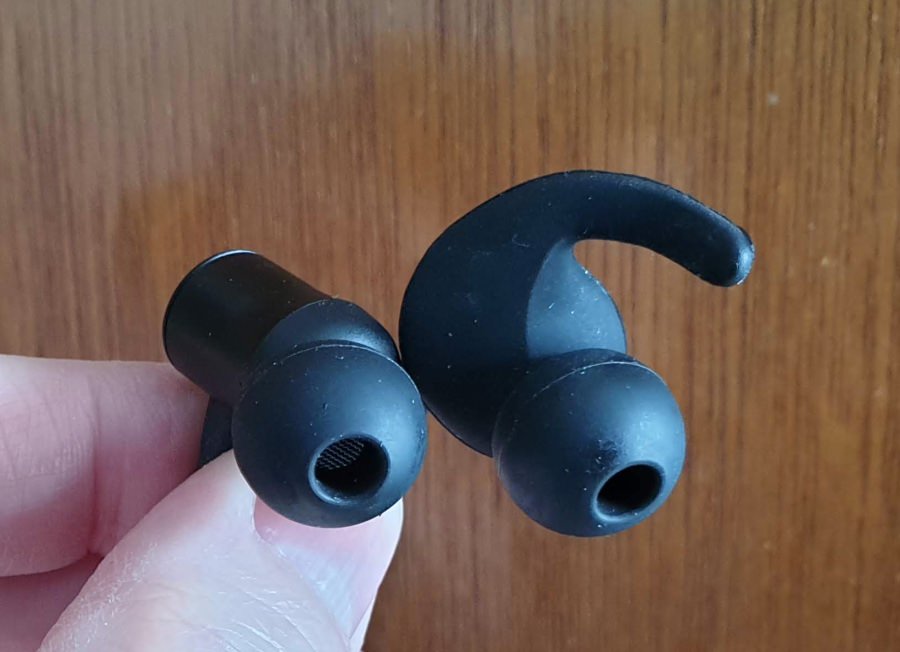 The control pod is nicely done - it's all waterproof and the sealed buttons are easy to press without needing 'fingernail' compression (as on the Tribit). Again, having physical controls like this is a major benefit of having the ear pods conjoined. Note the microphone hole for taking hands-free calls, with the pod dangling near your mouth: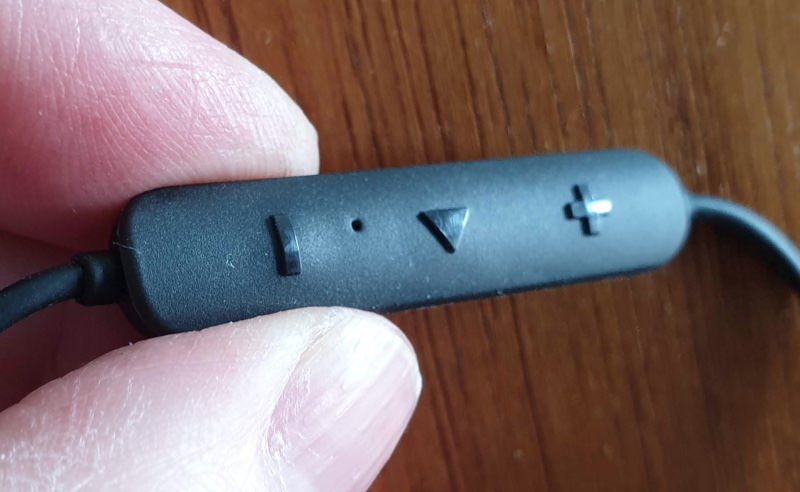 'microUSB' is understandable at this price point, of course - the port is cvered by a rubber flap on the underside. Charging the internal 55mAh battery takes about 2 hours and battery life on a charge is around six hours, depending on how loud you have your music!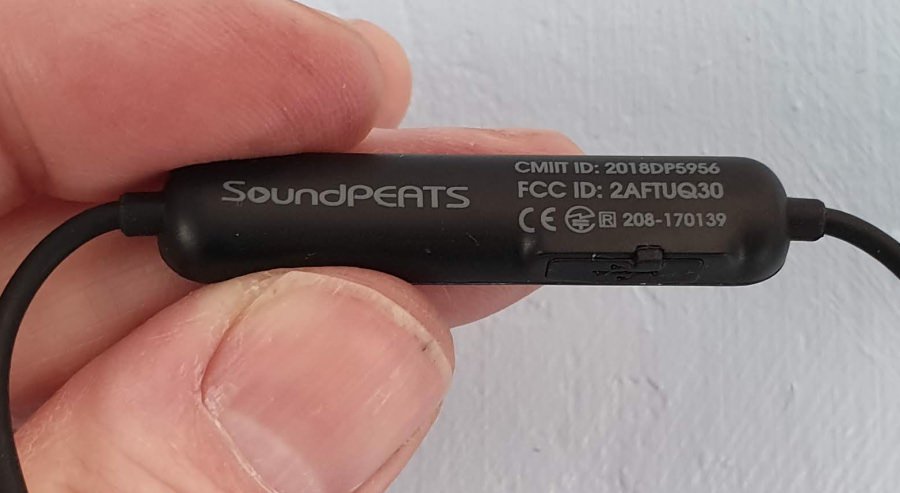 So far so good then. And, listening to the Q30 Plus with AptX (on Android) and without (on Windows 10 Mobile), the sound output isn't bad. There IS some bass, more than you'd get from many budget headsets. But the bass doesn't go low enough - and the high end doesn't go high enough, whatever the specifications might say. As a result, music sounds a bit... flat. Way better than for outer ear accessories (e.g. Apple Airpods) but not as good as I was hoping, compared to the similarly priced Tribit Xfree Color.
At £20 or so, it's hard to complain too much, mind you. The Tribit isn't perfect, in terms of control pod, but at least the core audio quality is super. Here, you get the carry case, the better pods, the (in theory) better codecs, but in practice the Q30 Plus underwhlems.
Just a little.
Reviewed by Steve Litchfield at