Review:
Choetech T521/S - 10W Fast Wireless Car Charger Mount
Score:
90%
It's not often that one can say that an accessory has changed the way you use technology, but this Choetech gadget is one such. Prior to this, I'd been pretty happy with the heavy duty sprung dash clip reviewed here. But, while very secure in my Renault, you had to keep faffing about finding the charging lead and inserting in manually, usually at full arm's stretch. This Choetech mount uses Qi charging and that means that it's a simple 'drop in and go' operation. And it's just as well made, with industrial design. Plus we've got over a third off with a special offer (before June 23)! [Update: new code]
Buy Link | Download / Information Link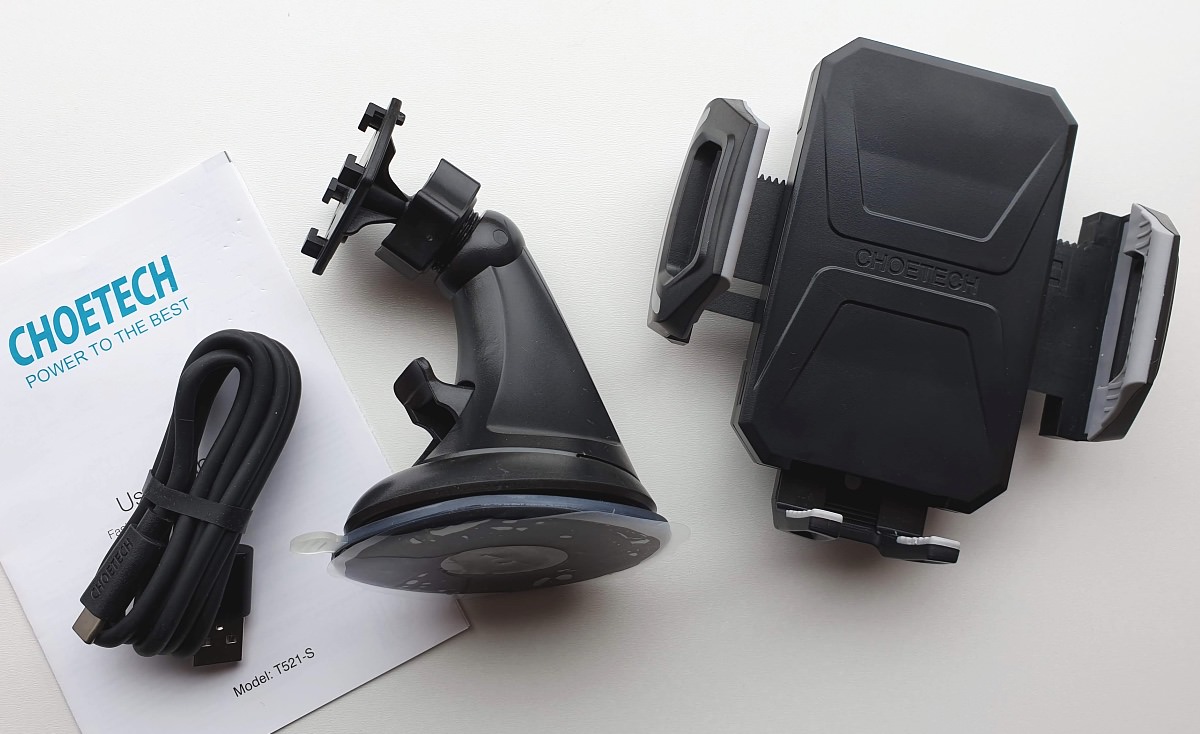 In the box you get:
a terrifically high quality windscreen mount - with 'sucky' plastic and a strong clip to suck back the plastic further and make sure it all never comes off until you release the clip (and even then it takes some doing!)



the spring loaded and 'dampened' mount itself (adjusts to phones from 60mm to 100mm), complete with large integral Qi coil and electronics to prevent over-heating, over-charging, and so on. The arms have thick rubberised portions where the phone rests/gets gripped, to make sure no scratches or marks are put on the device sides/bottom.



a very thick (read capable of handling up to 15W input power, depending on your 12V socket USB adapter, not included) 1m USB Type C power cable.
The design is very sturdy - with quality plastics and two-tone grippy design, made to look space age. And the feel is a bit space age too, since when you press the rear 'release' button, the side arms slide out like they're designed by NASA's engineers - very smooth and all that's missing is a motor's 'whirring' noise. Then, when your Q-enabled smartphone is popped (roughly) into place, a quick press of the left/right arms and the phone is securely held. And already charging.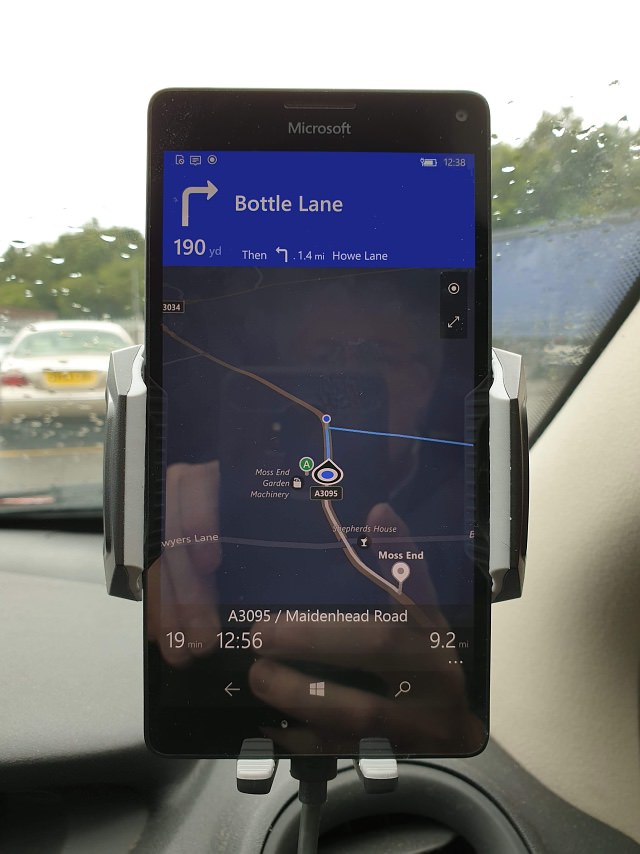 The charging effect is somewhat surreal, since your eyes take in the Type C cable snaking in by the bottom of the phone and your brain associates this with the phone being 'connected' in. But it's not, and being able to press the release and simply lift the phone out always brings a geeky smile to my mouth, at least.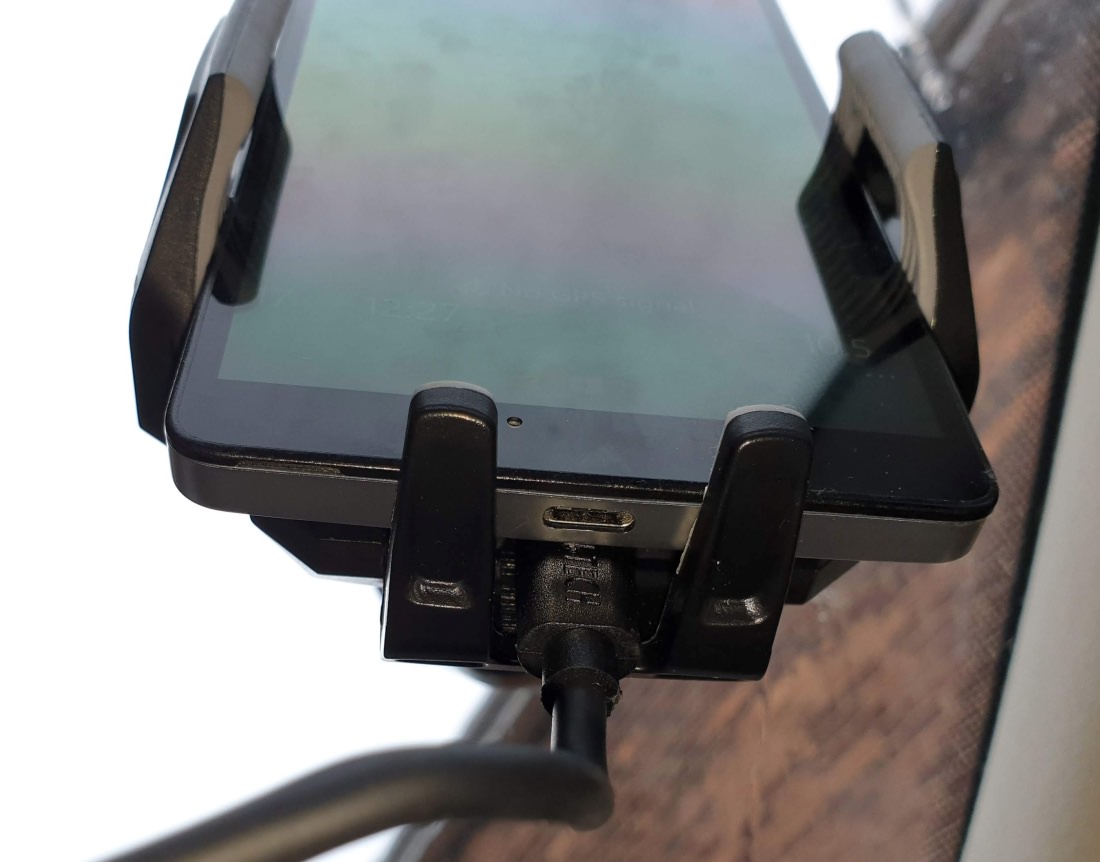 Any Qi-enabled phone will work here, with the bottom 'rests' adjustable to compensate for small devices. So, for example, an iPhone X or Lumia 950 might need the rests pushed in slightly (they're ratcheted). I was fine in my tests with the rests in their 'all the way down' state, for my Lumia 950 XL and Samsung Galaxy S9+.
The exact Qi charging speed will largely depend on what your phone supports. My 950 XL is fairly primitive (being 2015 era) and maxes out at 1A, i.e. 5W, but my much newer Samsung phone (2018) supports 2A, i.e. 10W. This Choetech mount supports both, plus also a 7.5W intermediate mode.
Charging speeds/power will also depend on what you have the cable plugged into. I use this AUKEY adapter and this puts out plenty of current and voltage (with Quick Charge), in addition to providing two extra USB outputs for the rest of the car/family to use.
Choetech has been one of my favourite (Chinese) brands for a while and this is another top offering. Yes, disclaimer, I was sent this for free to review, but especially at the offer price of £15 (see below) I can honestly say that this is utterly terrific value.
It's now in place in my car (as shown) and the only downside I can think of is that smartphones with a fingerprint sensor on the back have this blocked by the dock's back. In the Windows 10 Mobile world, the intersection of Qi-charging and rear fingerprint scanner is limited to the HP Elite x3, but I realise that there are a lot more in the Android world, not least my own Galaxy S9+. But even then there's still Smart Lock so that a swipe opens up the UI or just answer the PIN unlock request. Not a showstopper then.
This is currently £24 on Amazon UK, but this comes down to £15 (before June 30th 2019) with the promo code 'EIS3DIMT'. Grab it! UPDATED.
PS. See here for other Choetech products.
Reviewed by Steve Litchfield at