Review:
Tronsmart PB20: Personal Percentage Power?
Score:
87%
Quite a few power banks get pitched at me here at AAWP, but I do like to cherry pick the best for highlighting here, in illustrated review form. In this case a whopping 20,000mAh in a form factor no larger in plan than a small phone, though obviously a lot thicker. The real USP here (well, rare, if not actually unique) is a digital readout of remaining capacity, so no more guessing based on the illumination of a handful of 25% LEDs... [Update: promo code below now too!]
Buy Link | Download / Information Link
This 'digital display' is something I'd only previously seen on the Veho power banks, but it's really, really useful. I've lost count of the number of times I've pressed a power bank's button, seen (say) two out of four LEDs illuminate and thought, oh it's got loads of charge left, up to 75%, and then seen one LED go off immediately once I start charging something in earnest, meaning that the charge state was actually about 50% and well below half within just a few minutes. So having a reasonably accurate readout on the accessory itself is very handy.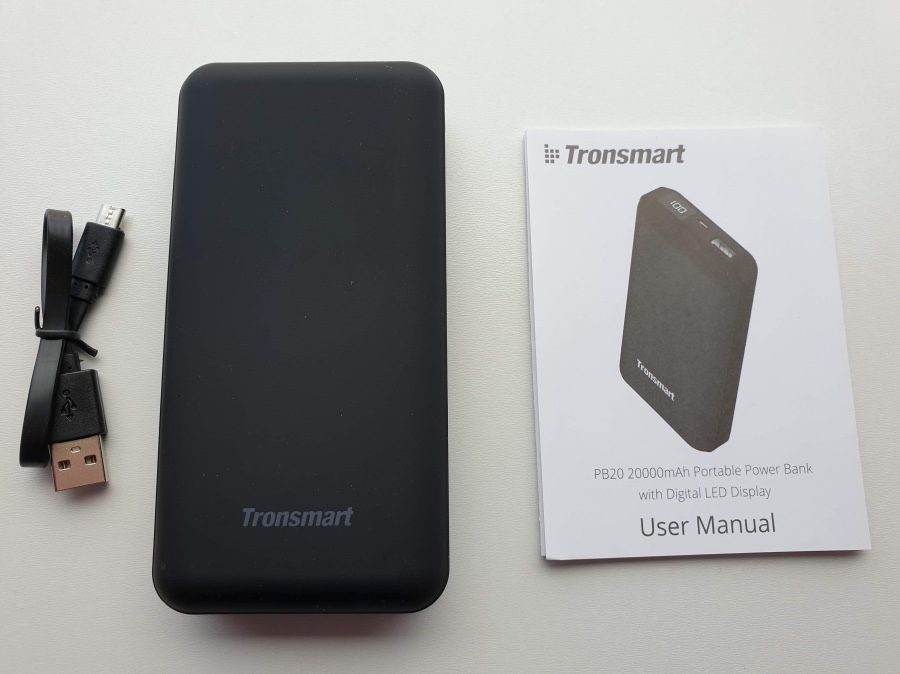 In the box there's just a user guide and a cheap microUSB lead, though it's worth noting up fron that you can charge this up via USB Type C too.
The power bank has all rounded corners, which, when combined with that lovely rubberised plastic finish, makes for a premium feel in the hand. Admittedly the finish also picks up fingerprints and greasy smudges quickly, but somehow these only seem to enhance the ruggedised impression, i.e. look what this gadget is enduring(!)
The photo below gives a good idea of the size in the hand, it's very easily pocketable, though obviously somewhat weighty (342g).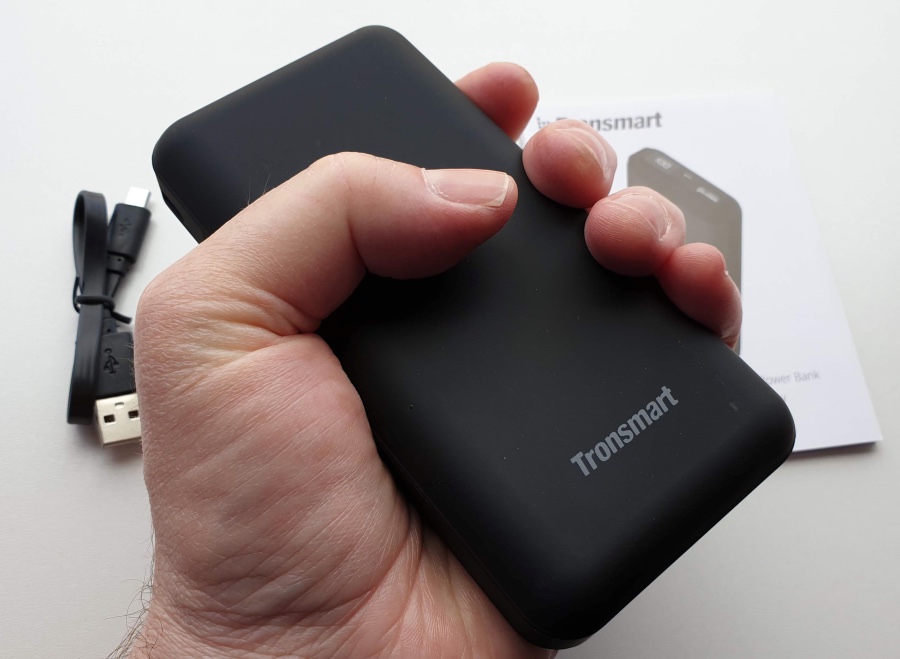 The cells inside make up a full 20000mAh at 3.7V, i.e. 74Wh in total. In terms of charging a smartphone with 3000mAh battery, and allowing for transfer losses (in heat), this equates to about five full charges. Enough for a working week away perhaps or, more typically, keeping multiple family devices topped up over a weekend trip.
Up at the top are two of the main ports, USB-A out (5V at 3A, a subset of the Power Delivery standard and equating to what the likes of the Lumia 950 XL max out at), plus microUSB 'in'.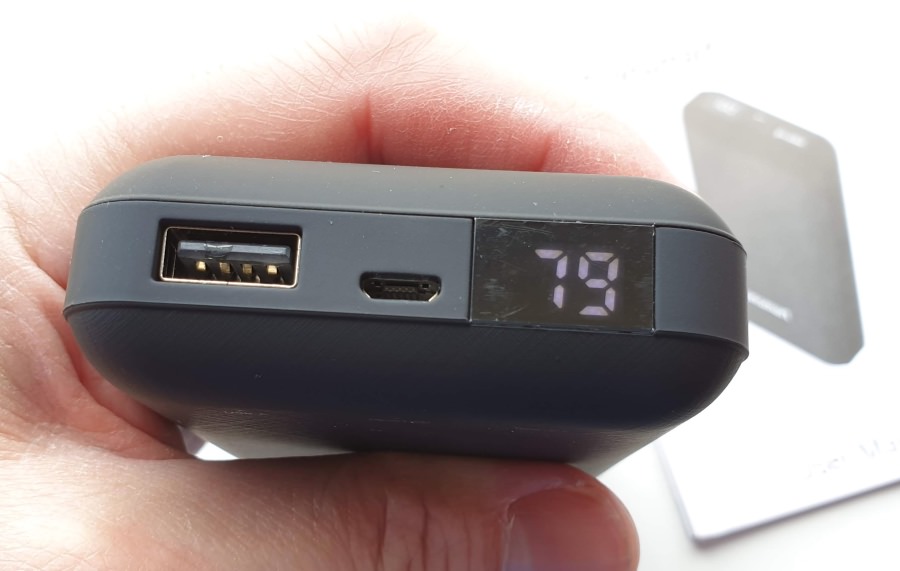 I'd have liked to have seen the Type C input/output port on the end instead, but this is around the corner. On the plus side, you can have cables going off in different directions rather than all squeezed together, but it still seems a little of an 'after thought' to have this off to one side.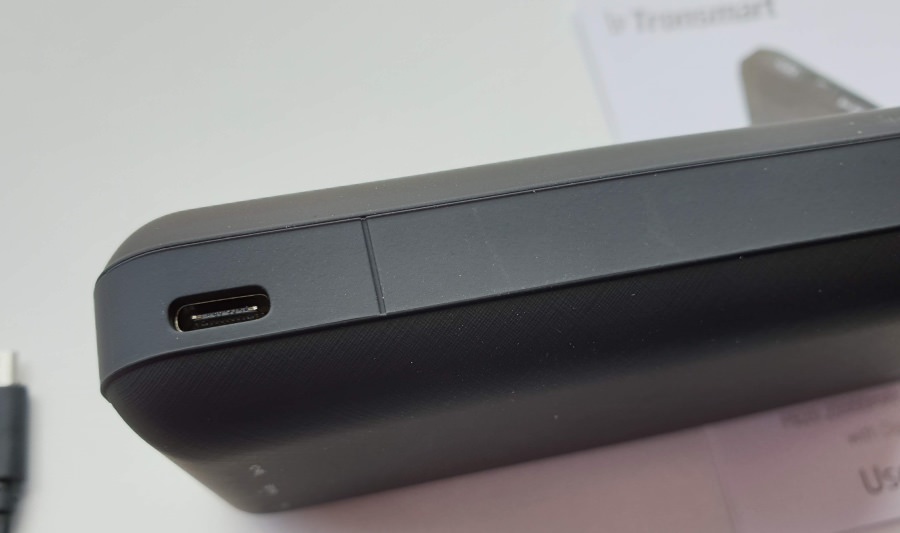 It all works though. The output of 3A can be via either USB-A or Type C, but if you plug in both outputs (as shown below), you still only get 3A output, i.e. 1.5A down each cable. Which is, I think, fair enough - it's not often that you'd genuinely need fast charging on two devices at the same time, hopefully.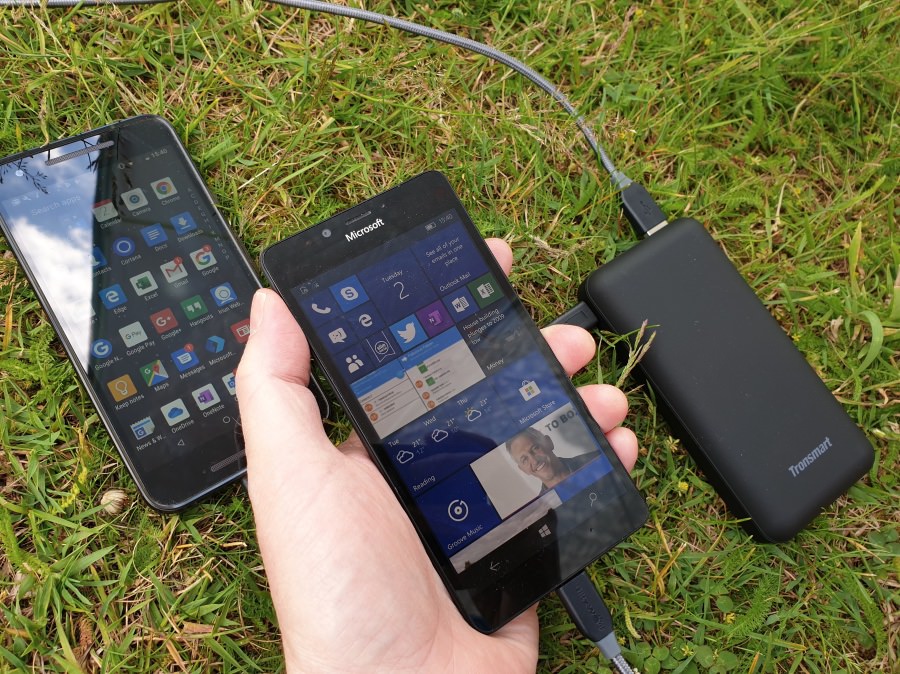 The marquee feature, the digital readout, works superbly well and is visible in bright daylight: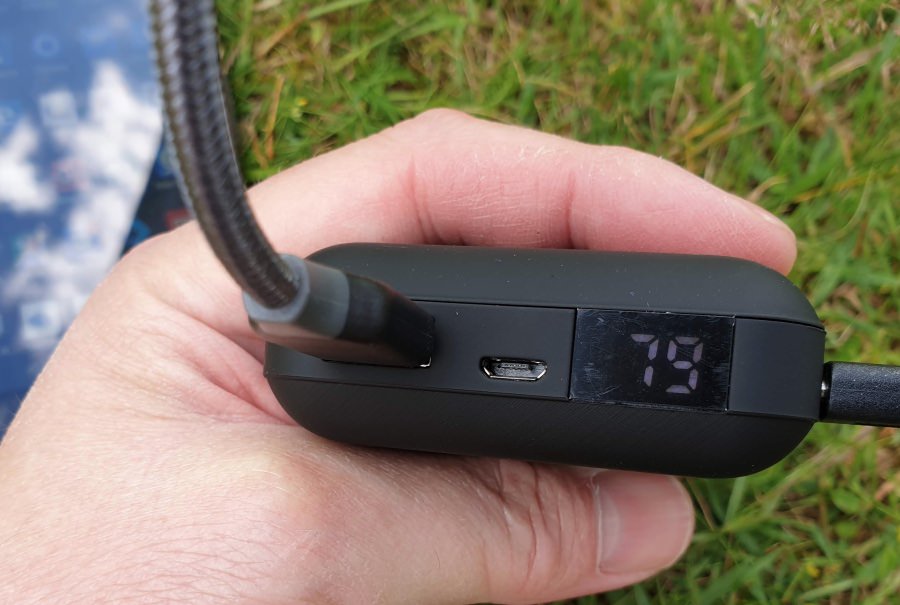 Moreover, the capacity seems genuine. In the photo above, I was recharging both smartphones from under half battery to near 100% - and after all that, I still had 79% of my 20,000mAh in the 'tank'. With power banks (and phone batteries in general) you get what you pay for - though in this case I think the PB20 is terrific value at £24 or so on Amazon UK.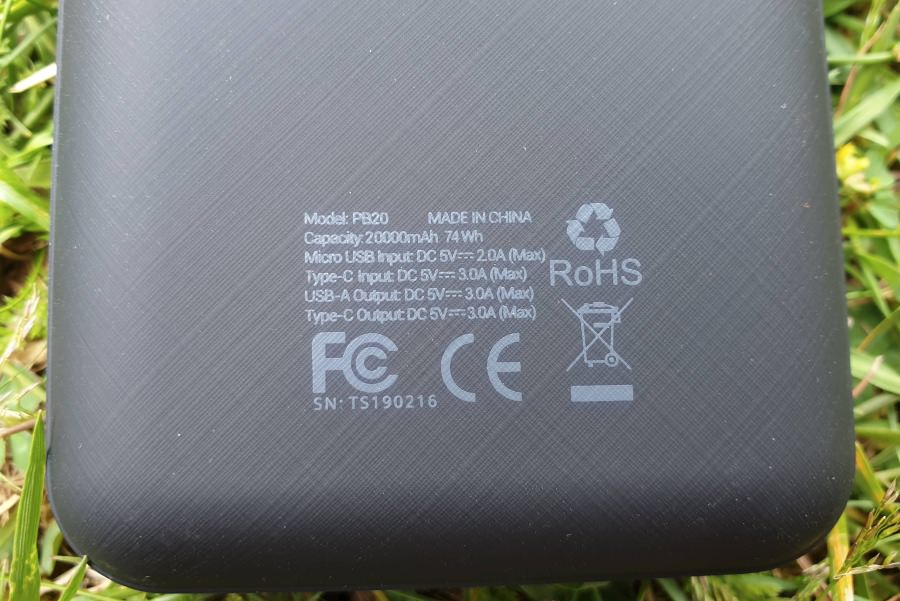 Some power banks run auto-detection on their outputs all the time - so you plug in a phone and charging starts immediately. I'm always a little worried by this active circuitry draining the main battery, though I have to confess not having data to support this. The PB20 doesn't start charging anything until you press the side button - which I like. Moreover, an issue with Type C output power banks is that if you connect a phone to one in the 'wrong' order, you can get the phone topping up the power bank, i.e. the opposite effect of that which was required! Having a button help stop this happening, since you can hook things up and then press the button to ensure an orderly start to the charging process.
So yes, a power bank review - not very sexy. But this is made by Tronsmart, which I've trusted for years, is rugged, capacious... and you always know exactly how much charge you have left to give, at the press of a button!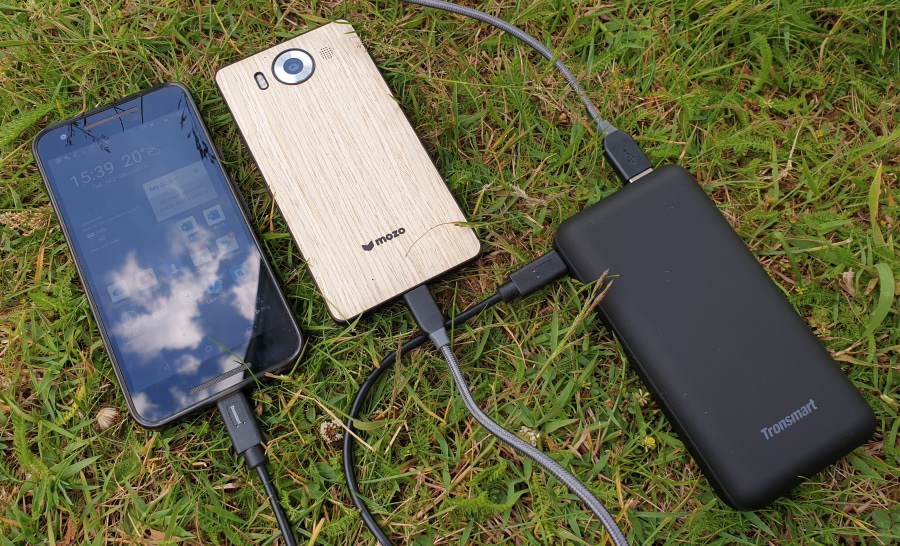 This is on Amazon UK at £24, but I've negotiated a promo code for AAWP users - a whopping 20% off with "W9SGWQ89", valid until the end of July 2019!
PS. Note also the original product page on the Tronsmart web site.
Reviewed by Steve Litchfield at