Review:
Tronsmart Mega Pro 60W 10000mAh Bluetooth speaker
Score:
88%
OK, pedal to the metal, what happens when you take everything about Bluetooth speakers and crank all the possible parameters 'up to 11'? 60W stereo output, twin amplifiers, three speaker cones, rugged and IPX5 waterproof, Bluetooth 5, twin 5000mAh batteries, with power bank mode, NFC for easy pairing, TWS stereo mode, LED strip lit controls. Put all of this together in a single accessory and you have the mother of all Bluetooth speakers. Tronsmart call this 'Portable', which it is - fine to cart from house to house or room to room, but way too heavy for that picnic or hike with the family! But wow, does it deliver.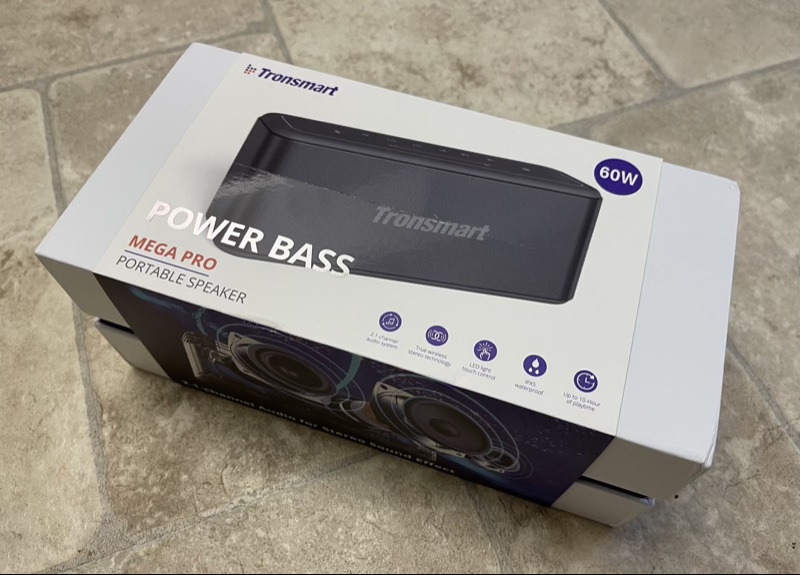 This is the largest and heaviest Bluetooth speaker Tronsmart has ever made - heck it's the largest and heaviest I've ever tested. As with cameras, the rule with speakers is that physics usually wins - the larger the speaker cones and the more heft the frame has, the louder the output. But you also have to have decent amplifiers (two of them here, one for each channel) and decent power management to cope with spikes in demand when playing something with, for example, lots of bass, at full volume. Tronsmart has mastered this over the last few years - see my reviews of their Element Force and Element T6 Plus.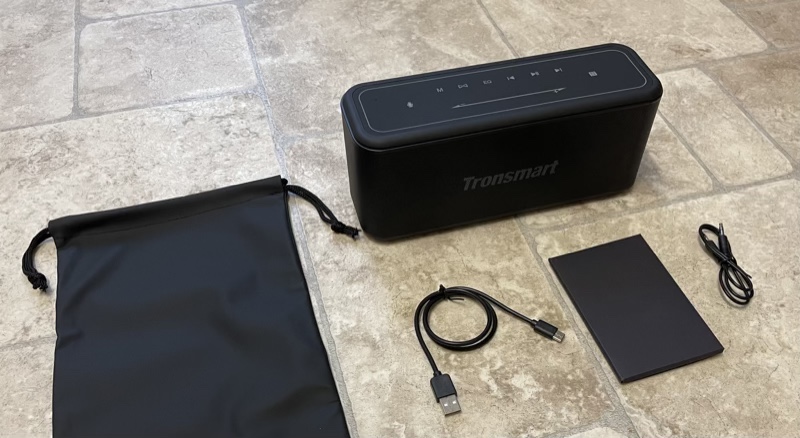 Included is a decent carry bag, a USB-A to Type C charging cable, a manual (in the black box) and a 3.5mm aux/jack lead.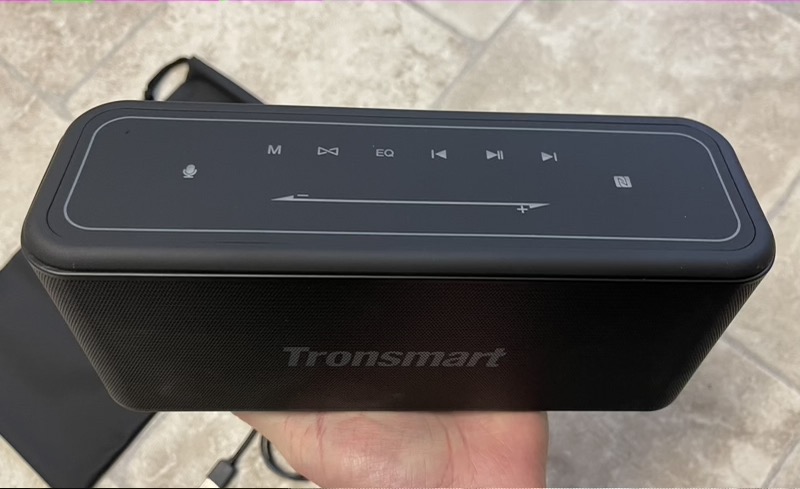 Now 'mastered' sounds a bit gushing, but the great thing about Bluetooth speakers is that it's easy to demonstrate how good they are (to both yourself and to others) in a few minutes. Hook up, put some favourite music on your smartphone and then enjoy. Cue my daughter coming in five minutes later saying 'Couldn't you hear me? I've been shouting in the next room! Can you please turn that down?!?'
In person, the Mega Pro is imposing. Almost 2kg of tough plastic exterior (grilled on the sound-emitting sides, rubberised on top and bottom), almost a two-hand job to carry and place it! But heft in this case will mean better sound, so if it fits your lifestyle then this is the one. The twin internal batteries add up to 10,000mAh and can be charged at 15W, so just under three hours for a full replenish. As a result, Tronsmart claims up to 10 hours of playback, but this depends as always on the music you're playing and the volume. At modest volumes you can get 15 hours, at ear-wrecking volumes make that 6 or 7!
The core of the Mega Pro is a pair of tweeters (for high and mid ranges), plus a large bass woofer, plus a passive radiator at the back to allow the bass cone to 'breathe':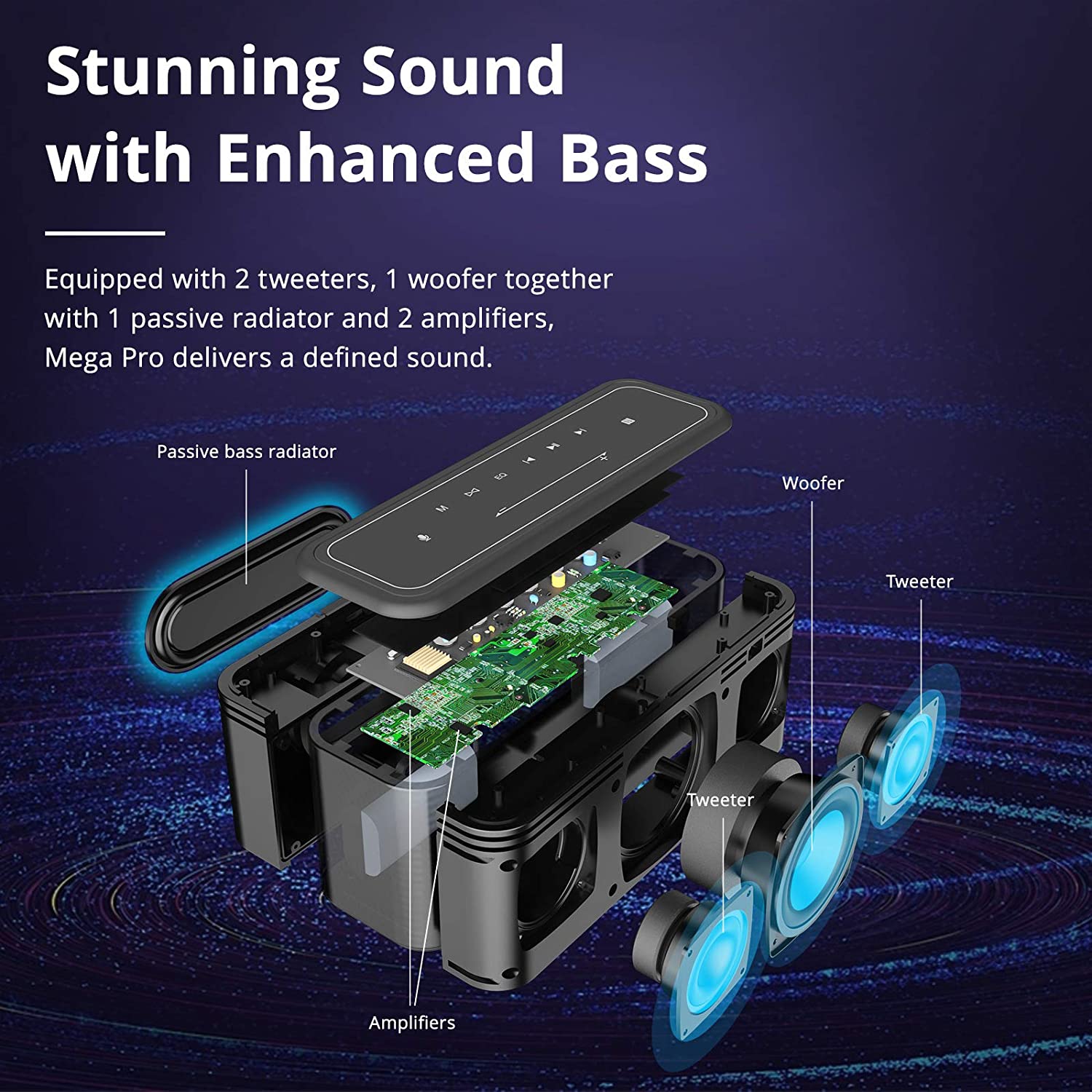 The resulting sound output is joyous. It's as close to a hifi system in your briefcase as you can get. Briefcase? Heck that gives me an idea - I'll make this my sound system when travelling for work (again, after Covid-19). Set up in a hotel or similar bedroom I'll feel right at home, I think.
The use of Bluetooth 5 is significant (assuming your playback phone also supports Bluetooth 5), since all bitrates can be higher (than BT 4.2) and so fidelity is as close to perfect as most ears can tell.
On the back, besides the physical on/off button, underneath a peel back splashproof flap, are the jacks and ports: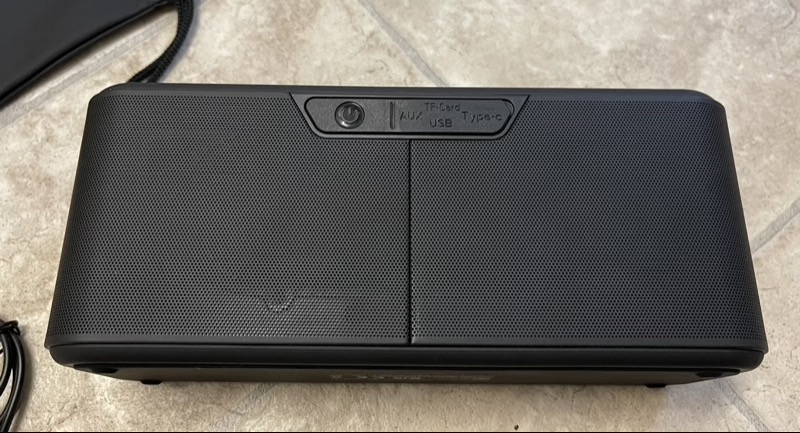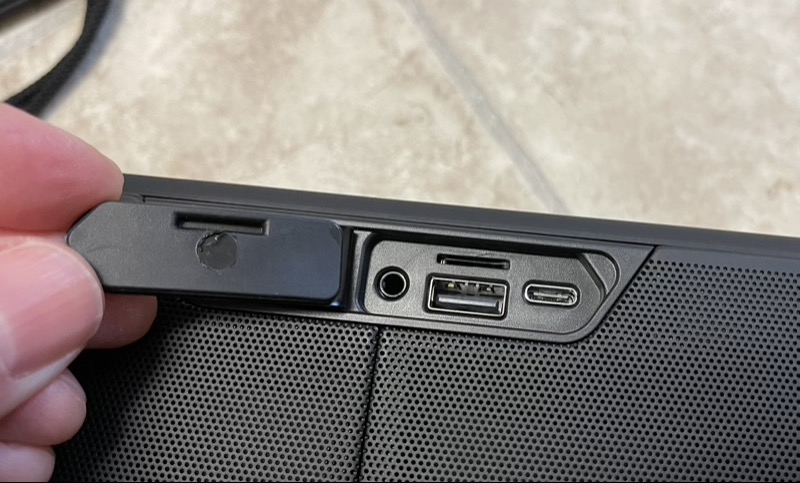 The 3.5mm jack is for input only and I tested this with success to get high quality audio out of a Windows laptop for a family event. (Subject to the vagaries of Windows' own volume control system, so this had to be set right on the laptop, of course - there's no direct volume control of the speaker over a 3.5mm audio cable!)
The microSD slot is a staple of Bluetooth speakers and I have to confess to never having used it - there are always music sources around that I have control of. But, as a last resort, you can stuff music onto (up to) a 32GB card and then the speaker will work its way through all tracks on the disk.
The USB-A port does double duty here - not only can it accept a USB flash disk (up to 128GB) full of music, working through tracks in the same way as on a microSD card, but it can also output 5V power from its 10000mAh store, albeit only at 1A. So probably not a power bank solution for recharging a smartphone in a hurry, but very handy for recharging a smaller accessory.
Finally, the Type C port is power input only, up to 15W, something that most Type C chargers can cope with. You get a cable in the box, but no mains adapter, so you'd have to source that yourself, in the usual way.
The LED lighting is a lovely touch - if you're using the Mega Pro in low light then this is evident and not only makes the controls easy to see, the edge lighting is pure eye candy. The light is even and very stylish: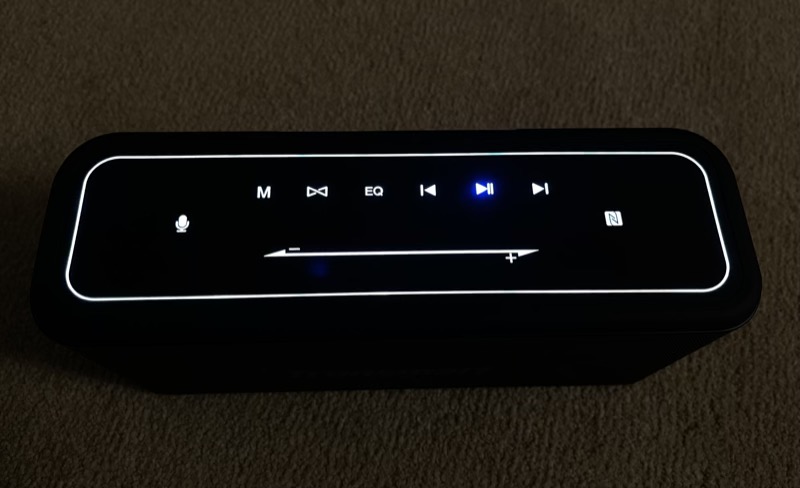 The use of Bluetooth 5 is good to see in an accessory - this makes for longer range and a more reliable connection. In tests, it carried on playing a podcast even when I was a good 20m away. BT 5.0, Type C, waterproofing, TWS pairing, these are all attibutes of a truly modern Bluetooth speaker and the Mega Pro doesn't disappoint. 'TWS' (True Wireless Stereo') is the function where you can pair two Mega Pros in a 120W stereo combination - obviously I didn't have a spare to try this, but I only imagine the audio experience in a standard domestic environment.
Currently selling for £80 on Amazon UK, the Mega Pro isn't cheap. But then it's still much cheaper than other deluxe speakers (the Marshall Stockwell, etc) and just about the state of the art in 'portable' Bluetooth audio. Don't buy this if you want audio everywhere you go - find something smaller and lighter. But if your BT speaker is for your home office or dining room and then you just want to put it in a different room every now and then, or perhaps take it on holiday or on a hotel trip, then 'portable' is just fine - and you gain massively high quality audio on your travels.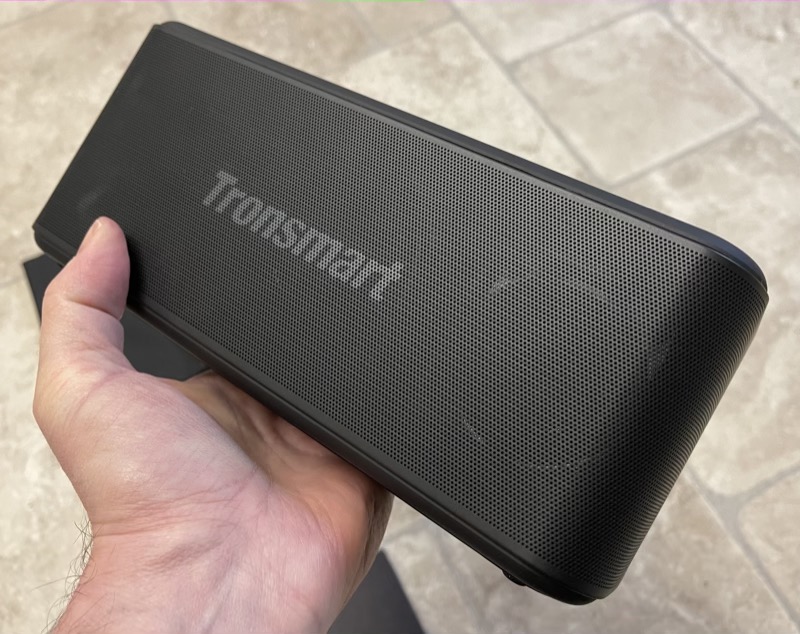 Reviewed by Steve Litchfield at