Review:
Moshi Sette Q 'twin 15W' Qi charger
Score:
84%
Wireless charging continues to grow and grow in popularity. Anecdotally I've only plugged a smartphone in to charge about twice in 2021 - everything else has been wireless. And, although we've been used to trickle charge power ratings from Qi in the past, 'fast wireless charging' (15W and higher) is now almost ubiquitous in smartphone flagships. Meaning that many old pads really need replacing in order to get higher wireless charging speeds. Even my beloved 5-coil Choetech pad maxes out at 10W per device, while generic pads from before 2020 will likely top out at 5W or 7.5W. Enter the Moshi Sette Q, promising dual 15W charging, as well as premium materials and bonus USB-A 'daisy chain' power out.
Buy Link | Download / Information Link
One disclaimer before I start - this was sent in (unsolicited) for review by Moshi. They had no say in the review content, but perhaps allow for the fact that I didn't have to stump up the asking price of £90 - this isn't a cheap accessory! But it's certainly effective, so do read on and enjoy the show.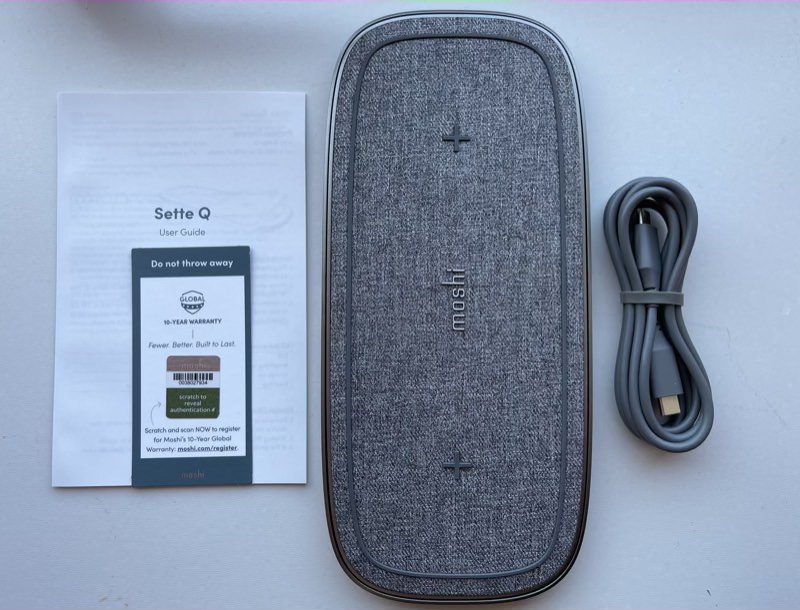 In the box is a 10-year warranty card (as you might perhaps expect at the price, but good to see), a meaty Type C to Type C cable (to handle the high power requirements), plus the Sette Q pad itself, larger than I'd expected. This isn't an accessory that you'd take with you on the road, mind you, so maybe the size is irrelevant - it certainly means that there's plenty of room for a couple of charging smartphones, with space to spare and with the phones at almost any angle.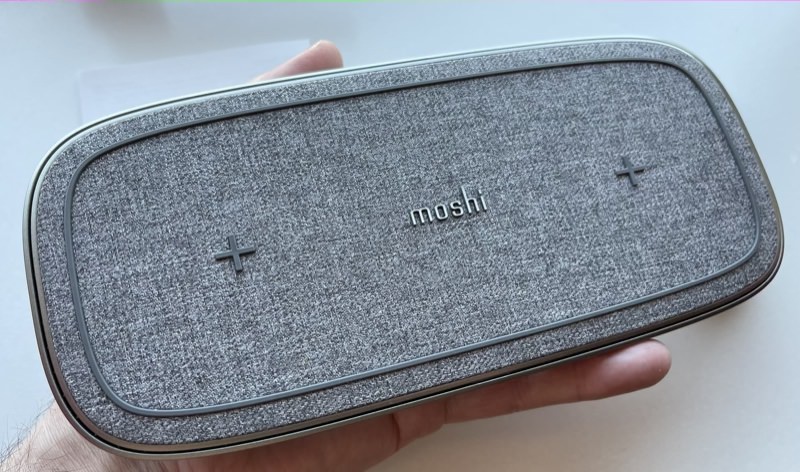 The Sette Q hardware is pretty special. The top surface is all heavy duty (grippy) material, plus an extra, oval rubber grip to keep charging phones from sliding around. Plus rubber '+' signs indicate the exact coil charging centres, helpfully, plus adding even more grip.
On the bottom are two large rubber circles, providing grip to a desk top or similar, and the left hand circle has the basic specs imprinted: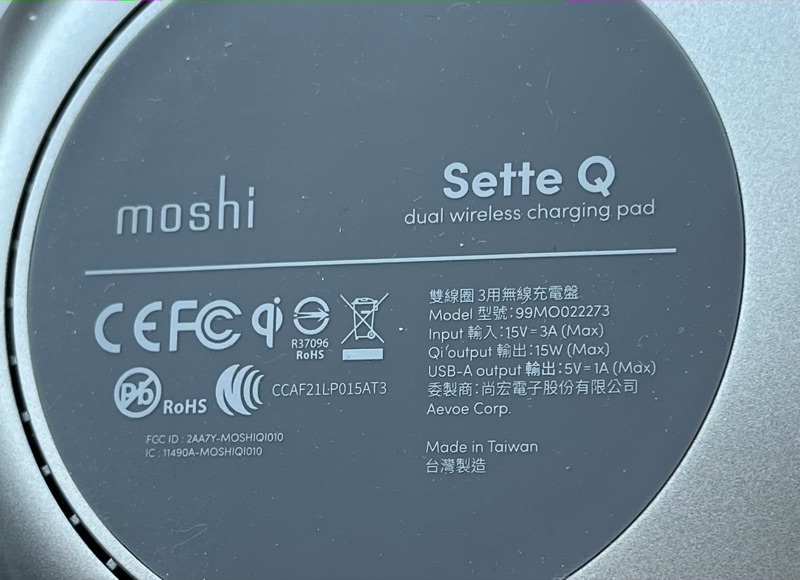 In between the Chinese characters are numbers, so let me translate. In theory, the Sette Q can deliver 15W 'fast' Qi charging to two smartphones at the same time. Which is the main USP, of course. Plus an extra 5W power output via USB-A.
The laws of physics dictate, therefore, that the input power needs to exceed 35W, and adding up inefficiencies all round, I'm guessing that 50W is a realistic input. Moshi in fact recommends a '45W' mains to Type C source, which is also a decent margin of error, but there are indeed plenty of accessories that can supply this, and 65W (as with me) seems to be a common spec point, with masses of overhead available.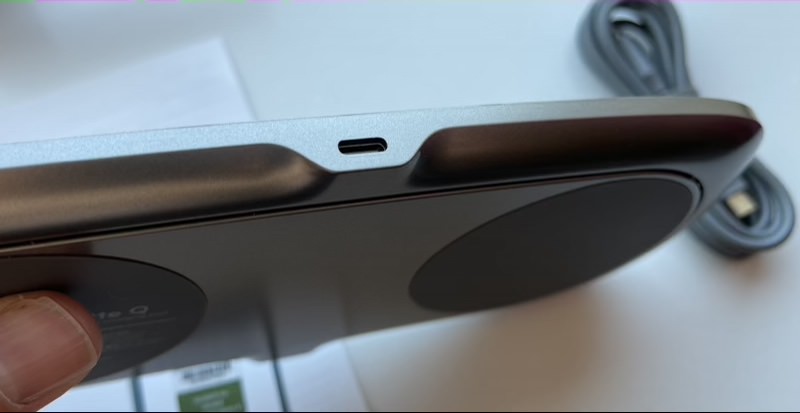 You'll have noted that, as with many 2021 phones and accessories, there's no mains brick supplied here. The ecological argument is that once everyone's stocked up with high current Type C chargers then no one needs to expect, to buy or to have shipped any more for quite a while. The counter argument is that it's more expensive and more of a hassle for users in the short term, but that's a debate for another day.
As it happens, I had a RAVPower 65W mains to Type C charger spare and this was ideal for pushing the Sette Q to its maximum potential.
Interestingly, Moshi do a 'Sette Q plus charger' bundle for only $10 more, but don't get too excited - it's a low power accessory and the pad won't perform optimally. So, as with other modern hardware, equip yourself with some great high current chargers, and you're all set for the next decade.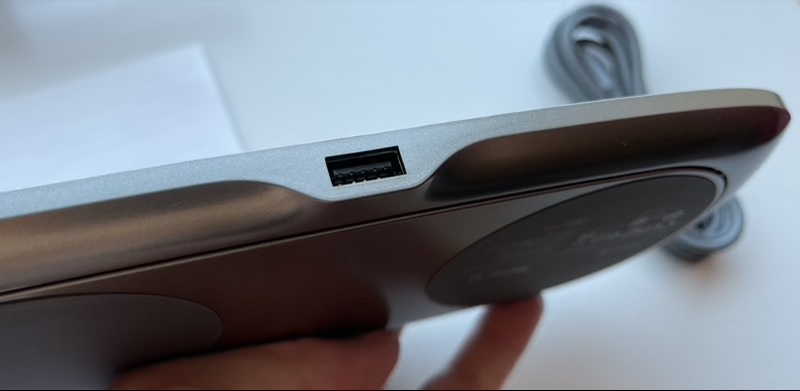 Unusually for a Qi pad, there's an extra 'daisy chain' wired charging option. This is, perhaps, something of an apology for the plug space taken up by your chosen mains brick, and means that you can charge up something else (at 5W, but fine for an accessory such as headphones).
But onto testing and it's here that there's not actually that much to report - which is good. It works as advertised, pumping 15W wirelessly into two smartphones at the same time (I'm showing a Lumia here but I also tested with several other Android and two iPhones). I initially missed a status LED, but then realised that there is one on the underside of one end. Hard to see, but at least it's not going to blind anyone at night by shining too brightly!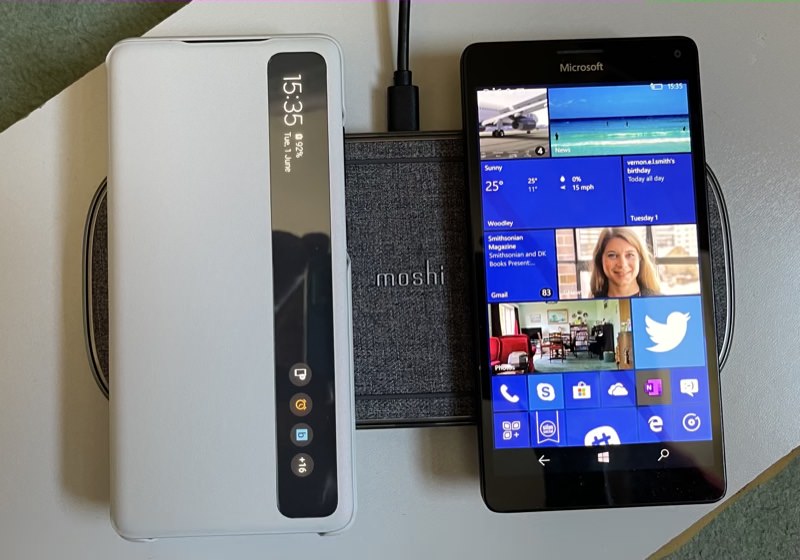 Earning a definite place on my office desk, the Moshi Sette Q just reinforces my view (held for 10 years now since the first Qi-enabled Lumia, the 920) that wireless charging is the future. Ignore the nay-sayers pointing out that the pad is wired, so it's not 'wireless', as they completely miss the point. You just put a phone down, for 30 seconds or 30 minutes or 30 hours, and it acquires charge without having to align anything that precisely, peer down for a Type C or Lightning jack, etc.
And at 15W for each of two phones here on the Moshi Sette Q, we're now charging as fast with Qi as we were with mainstream flagship mains wires four years ago.
PS. There are faster Qi solutions in the world, as you'll probably know, for example in the OnePlus phone ecosystem, but the faster you go with wireless charging, the more heat you generate, naturally. I reckon 15W per phone is a good sweet spot, with charging phones getting merely warm and not so hot that they need pads with special cooling fans!
Reviewed by Steve Litchfield at