The Lumia 610 NFC runs the latest version of Windows Phone 7.5, to which Nokia have added their own software stack to handle the NFC functionality. The necessary NFC hardware has been specifically added to this variant (i.e. there is no hidden NFC chip on the original or Chinese variant of the Lumia 610).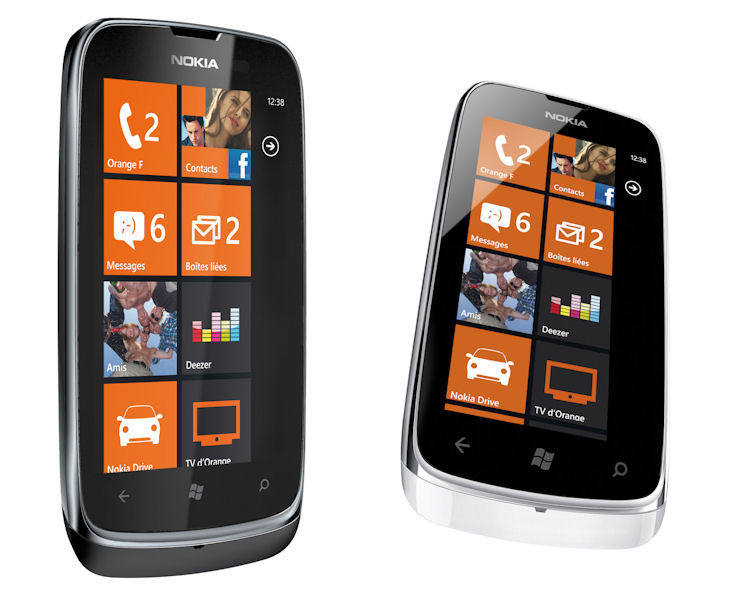 Outside the NFC functionality the Nokia Lumia 610 NFC has the same specifications as the origianl Lumia 610:
Networks: WCDMA 850/900/1900/2100, GSM/EDGE 850/900/1800/1900

Speed: HSDPA cat 7: 7.2Mbps.

Display: 3.7 inch WVGA (800x480) TFT capacitive touch LCD display with pinch zoom

OS: Windows Phone 7.5

Memory: 256MB RAM, 8GB storage

Camera: 5Mpix auto-focus, LED flash, Video capturing MPEG-4 VGA @ 30 fps

Size/Weight: 119.24mm x 62.18mm x 11.95mm (LxWxT) / 77.6cc / 131.5g (with battery)

Connectivity: WLAN 802.11 b/g/n, Bluetooth 2.1, A-GPS, NFC, micro-USB connector and charging, 3.5mm AHJ connector

Processor: 800 Mhz Single Core / Qualcomm Snapdragon S1

Audio: MP3 player, Audio jack: 3.5mm, Supported codecs include: mp3, AAC, AAC+, eAAC+, wma

Battery: 1300 mAh

Talk time: GSM : 10.5 h, WCDMA : 9.5h

Standby time: GSM : 670 h, WCDMA :720 h

Music playback: up to 35 hours
NFC functionality
Initially the NFC functionality in the Lumia 610 NFC will focus on two areas: pairing with Bluetooth accessories and reading NFC information / trigger tags.
As we explained in our October 2011 NFC primer, Bluetooth accessories that are NFC enabled can be paired by tapping the phone to the accessory; subsequent connections can also be activated by a tap. This makes for a much easier user experience than with traditional Bluetooth accessories (e.g. no need to activate Bluetooth, or set into discovery more, or enter pass codes). Nokia has a broad range of NFC enabled accessories, including various Bluetooth headsets (Nokia BH-221, Nokia Essence, Nokia Luna, Nokia BH-130), the Play 360 Wireless Speaker, and the Nokia Wireless Music Receiver (MD-310).
The Nokia Lumia 610 NFC can be used to read NFC tags, which can then trigger actions on the phone. For example, a tag might launch the Internet Explorer and open a specified web page, or launch Nokia Maps and open a specified place. Such tags are increasingly being used by business for promotional opportunities (e.g. Like us on Facebook, Check in on Foursquare, Follow us on Twitter), but might also be used for information (e.g. additional information on a museum exhibit, access to time tables at a bus stop).
In the press release announcing the Nokia Lumia 610 NFC the company notes that the smartphone has been certified for Visa's PayWave and Mastercard's PayPass contactless payment services (currently used in a number of credit cards and mobile phones). Certification is a relatively complex process as it requires stringent security and user experience guidelines to be met. As part of the certification process Nokia has created a demo implementation of a mobile payment service, complete with a Wallet app, shown in the images below. By pre-certifying the handset Nokia is aiming to make it easier and faster for operators to offer NFC based payment services, but it does not guarantee that they will do so.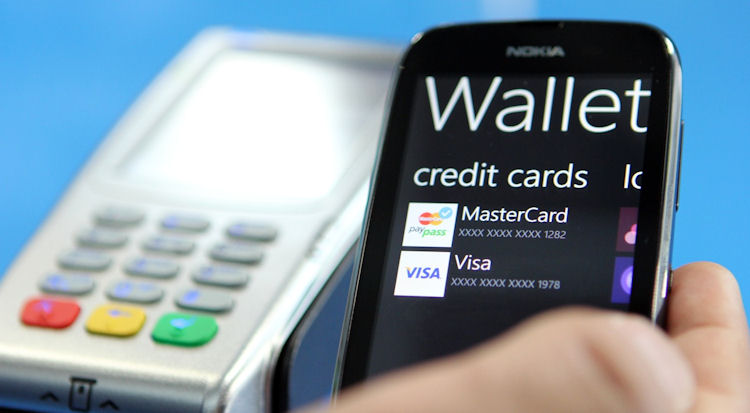 In order for payment to be made safely the phone must have a secure element (usually referred to as Secure NFC). This can be integrated into the NFC chip-set or placed in the SIM Card (and linked to the NFC card by Simple Wire Protocol [SWP]). The Lumia 610 NFC will use the SIM card approach, which is favoured by operators, because it gives them control over customer ownership.
Orange, the operator launch partner for the Lumia 610 NFC, has worked on mobile payments solutions with both Mastercard and Visa, but any formal announcements about mobile payments service availability with the Nokia Lumia 610 NFC are likely to come closer to the device's launch.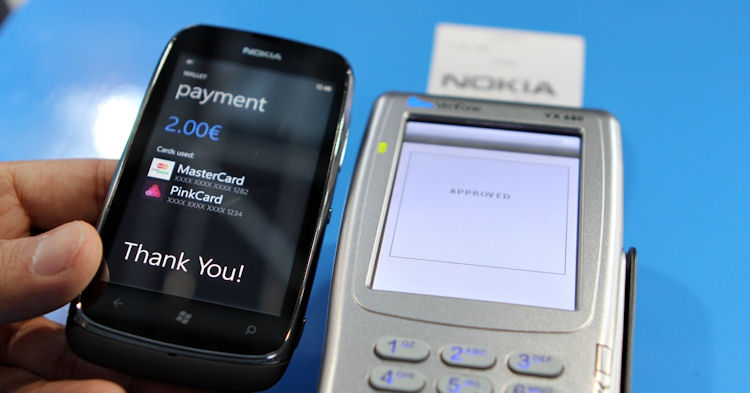 Nokia will also likely expand the NFC functionality of the Lumia 610 over time. This can be done entirely through software updates or by adding apps to the Windows Phone Marketplace. One option would be tap-to-share to allow pictures or contact information to be transferred between devices, although this may have to wait for updates to the Windows Phone platform. A more likely option is a Windows Phone version of Nokia's NFC Interactor app, which is currently available for Nokia's Symbian devices and allow NFC tags to be both read and written to.
Here's a video from Nokia Conversations, in which Andrea Bacioccola, Nokia's lead program manager for NFC, demonstrates the Nokia 610 NFC's functionality.
Pricing and availability
While the pricing of the Nokia Lumia 610 NFC has not been announced, it is likely to be similar to the original Lumia 610 (189 Euro before taxes and subsidies). The NFC components (chip-set, plus aerial) should add only a few Euro to the overall bill of materials. Noting that the Nokia Lumia 710 is currently offered for free on Orange UK's £15 per month contract), we would expect to see, in markets where operators subsidies apply, the handset being offered for free, even on Orange's lower end contracts.
The roll out of the Nokia Lumia 610 NFC is not expected to impact on the roll out of the original Nokia Lumia 610, which is scheduled to start shipping this quarter.
Nokia Lumia 610 quotes
Ilari Nurmi, head of product marketing for Nokia's Smart Devices business unit, at the launch of the handset:
Nokia continues to lead the field in NFC with this latest implementation on the Windows Phone platform, in which we have the full support of Orange. We're bringing NFC right across our portfolio, and together with our ever-growing range of NFC accessories we're making it easy for people to connect via a single tap. We're also enabling operators and other service providers to build NFC payment and ticketing solutions on top of our smartphones."
Yves Maitre, Senior VP Mobile Multimedia & Devices at Orange, said:

"Orange is committed to rolling out mobile NFC services in all its European territories and as part of this goal we're very excited to be the first operator to launch the Lumia 610 NFC. The Nokia Lumia smartphones have been very well received by Orange customers. We are now going one step further and adding an NFC-enabled handset to this popular range of devices, enabling people to use contactless services via a single tap. Nokia is a natural fit for us regarding NFC and, like Orange, has shown a very early commitment to the standard."
More from Nokia at the Conversations blog, or the official press release.